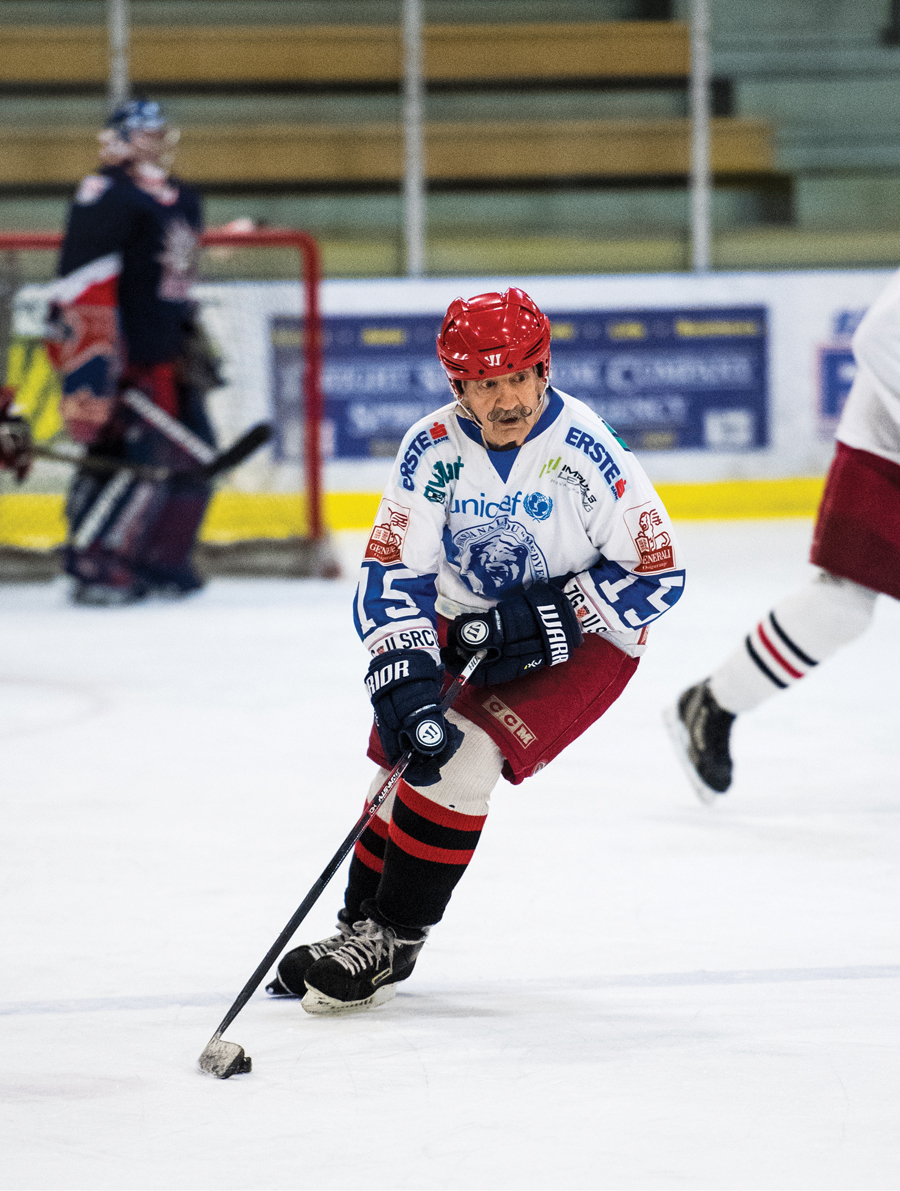 Photo by Ryan Taylor
---
On a typical Thursday morning, Mark Sertich hops over the boards at Duluth Heritage Sports Arena, skates across the ice, fakes out his opponents, and chips a shot into the goal—his second of the scrimmage.
It's just another day at the rink for the 96-year-old, Guinness Records–certified world's oldest ice hockey player, who skates three times a week, year-round, with a group of firemen, police officers, and doctors roughly half his age.
Sertich's agility on skates is legendary, but his reach goes beyond the boards: In 1945, as a soldier in the U.S. Army's 11th Armored Division, he helped liberate Germany's Mauthausen Concentration Camp, something he still can't talk about 70 years later. After raising seven kids, four of whom played hockey, Sertich took up running—he's completed six Grandma's Marathons. Then he got hooked on inline skating and raced his first of those marathons at age 75.
Sertich is such a beloved icon in these parts that fellow hockey-loving Minnesotan and Peanuts creator Charles Schulz once drew a character modeled after him: a dog sporting a beautifully manicured handlebar mustache.
"I've been playing hockey my whole life. My father didn't know a darn thing about hockey. He and my mother came from Croatia, and I grew up in a family that was very traditional. My parents made their own wine and sauerkraut. My sister and I had to put on clean socks and they had us stomping that stuff."
"My culinary specialty is sausage and eggs every day and toast with peanut butter on it. Most of the time when I play hockey I have another meal at five and try to stay with stuff that's good for me, like fruit."
"I've tried to stay in shape from an early age, but longevity runs in the family. My mother lived to 88, my older sister died at 89, and my sister is 93. I still cut my own grass and shovel my own sidewalk. I do some pushups, sit-ups, and stretches. Other than that, I try to get my exercise in hockey. I play every single week of the year. It's fun."
"I'm not going to look too far ahead, but I'm hoping to play hockey at 100."
"I have between 40 and 50 grandchildren, great-grandchildren, and great-great-grandchildren. After my wife died, I told my kids, 'From now on, I'll send you birthday and Christmas greetings, and you send them to your kids.'"
"After I ran my first marathon, this inline skating thing got big. At 75, I did my first inline marathon. I've completed 11 and went for 12, but at the 12-mile marker I fell and banged my head. I gave up rollerblading, but I'm still thinking maybe on my hundredth I'll do my twelfth marathon."
"When I've got an injury, I lay it back a little bit, but I like to get into the action. I believe that my immune system should be able to take care of it. I don't like to take pain medication."
"I've always said that hockey players are the greatest bunch of athletes there are. These guys are special. Of course, I have learned some bad habits from them, too."
"I'm not going to look too far ahead, but I'm hoping to play hockey at 100. It's all a question of whether you're optimistic or negative, as far as your brain's ability to operate your body."
Update: Mark Sertich died Monday, August 24, 2020, following complications of a stroke. He was 99. According to his obituary in the Duluth News Tribune, he was skating right up until the end.
Facebook Comments