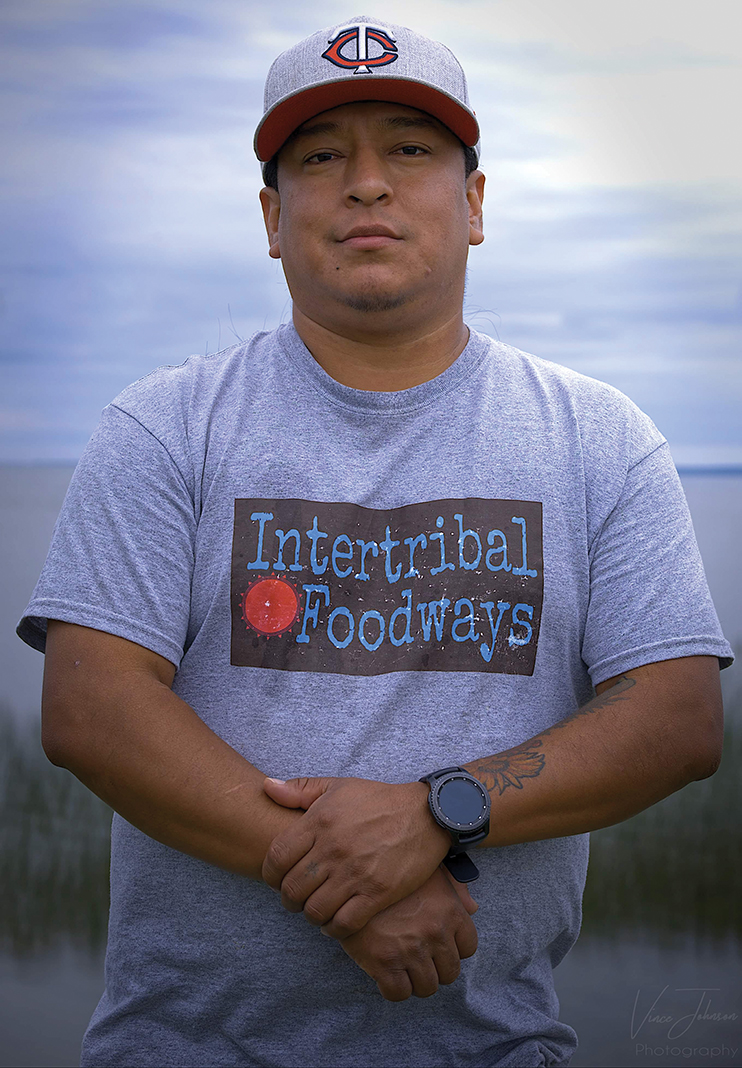 Chef Brian Yazzie is only 33, but he has already tangled with several titans of the culinary world. If getting blocked on Twitter counts, that is: Martha Stewart, Gordon Ramsey, and Southern star Sean Brock. Yazzie, who grew up on a Navajo Nation reservation, tried to open dialogues with each about how they sourced their Indigenous-inspired recipes—such as an Oneida corn soup. And each time? Blocked.
"To have a non-Native person make [those dishes] and not have that connection, and just use it for self-profit—I started questioning these chefs," Yazzie says. Based in St. Paul, Yazzie has spent the last several years making his name a lot harder to brush off on Twitter. He has branded his ventures—which include Twitter, Instagram, YouTube, and a growing media presence—as Yazzie the Chef.
In 2014, local James Beard Award winner Sean Sherman's all-Indigenous concept, the Sioux Chef, gave Yazzie his start as chef de cuisine. Two years later, Yazzie and fiancée Danielle Polk (Diné/San Carlos Apache/Quechan) co-founded a catering company, Intertribal Foodways. It sends Yazzie across the country, fixing Indigenous meals and putting on cooking demos for Native communities.
When we meet at Quixotic Coffee near his home, on an early February afternoon, Yazzie is wearing a black T-shirt designed by a Native artist out west, emblazoned with "Good Medicine," a phrase of respect for nature's sustenance. On his left forearm, a bright tattoo combines the ingredients he used the first time he cooked at an intertribal food summit: cranberries, cedar, sumac, sunflower seeds, black Aztec corn, Bear Island Flint corn, and a cushaw squash, grown on his home reservation.
Not all celebrity chefs have shut him out. Last winter, Yazzie filmed an episode of Taste the Nation with Padma Lakshmi, a Hulu docu-series about U.S. immigrant and Indigenous cuisines (to stream June 18). Lakshmi chose Yazzie, he says, for his tribal connections. The two met on a ranch in Arizona. Firing up the grill, Yazzie cooked antelope meat from a local hunter, plus corn and beans from a Native farm in the area.
"She wanted to know more about the cultural appropriation around it, more about the protocol," he says of the Bravo TV host. "It wasn't ego, like with a lot of celebrity chefs."
Six years into Yazzie's career, Taste the Nation marks his biggest, but not first, onscreen foray. Last year, a camera crew followed him to his childhood home for Alter-NATIVE: Kitchen, a docu-series on Indigenous chefs. Twin Cities PBS brought the story to the Dream of Wild Health farm, in Hugo, Minnesota. There, in the summer, Yazzie mentors inner-city Native youth, showing them how to steam corn the Navajo way (for up to five hours underground, covered in husks and a blanket).
Beyond speaking truth to power on Twitter, Yazzie lets followers know where to order bison hearts, how to tell dandelion greens from poison ivy. "Being a chef is just the tip of it," he says. "Below that, I feel like I became a teacher. That's not just cooking; that's connecting with the landscape, where the food comes from."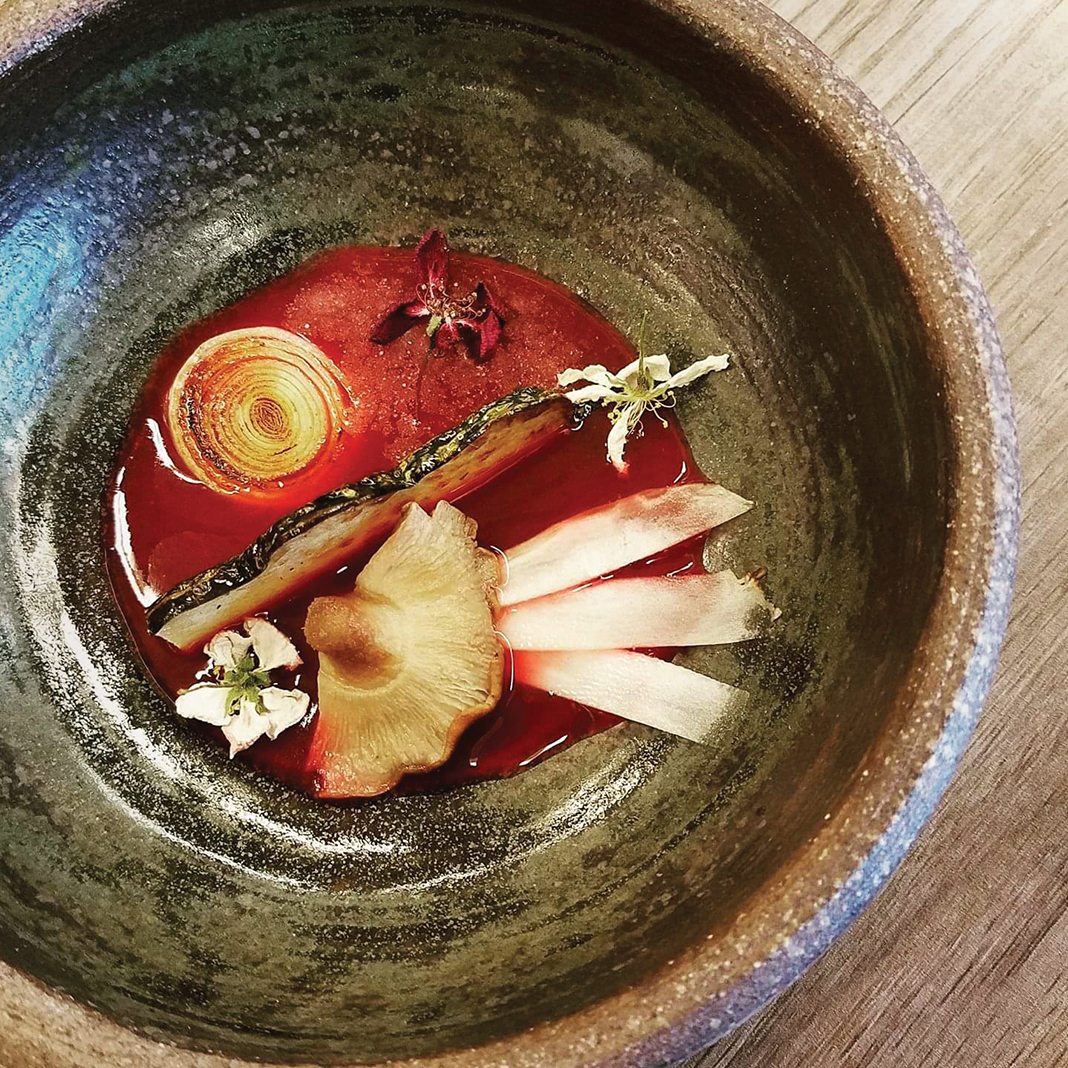 Kitchen Epiphany
Last year, before a powwow in South Dakota, Yazzie prepared a buffet and took questions from the local Native community. His gaze is steady and sincere. Often, he's looking at you from under the brim of a black cap. He doesn't strike you as the emotional type. But when an elder put his career into perspective for him, it drew a rare tear on his drive home: "You didn't pick cooking," she told him. "Cooking picked you."
At 7, Yazzie was home in Dennehotso, Arizona, watching Mighty Morphin Power Rangers on TV when his mom came home from a double shift. Within 30 minutes, chopped carrots and cooked spinach wafted in from the kitchen. It was a soup recipe from her own mom, a forager. Years later, Yazzie realized the ingredients were Indigenous—as were the wild onions, the juniper berries, and the rabbit meat in his grandma's other dishes.
By his early teens, Yazzie had fallen into a bad scene. He started selling drugs, was shunted from school to school, from detention center to detention center across Arizona. He's been shot at, literally stabbed in the back, and put behind bars.
"My sister would call me—'We miss your cooking.' So, I'd come home for a day or two and cook some type of meal." But he couldn't stay. "She had my nephews and nieces, and she was like, 'Not only are you influencing them, but you're coming home with alcohol on your breath, or you're coming home with weed in your pocket.'"
In his early 20s, Yazzie met his now-fiancée, and Polk gave him an ultimatum: In 2013, they moved to Minnesota, where she has family, for a fresh start.
One day, a brochure came in the mail for the culinary program at Saint Paul College. Polk pushed Yazzie to apply.
In his first semester, instructors told students to find a niche. Maybe Japanese, Yazzie thought. Or Southern—so he could cook outside.
Looking though his textbooks, though, he noticed something peculiar. France and Italy use tomatoes, corn, squash. China and Middle Eastern countries rely on spices and chilis from South America. "I realized that not only have my ancestors long survived Manifest Destiny or colonization," he says, "but so have our ingredients."
Parallel to this legacy, historical trauma runs deep: of cheap, low-nutrition federal provisions. Commonly identified Native American foods—frybread, Indian tacos—come from foreign staples given to reservations: lard, sugar, and flour.
Intertribal food summits in the early 2010s fueled what's been called a resurgence in Indigenous cooking. Dozens of chefs started convening—from the Southwest to the Great Lakes—to cook for hundreds, to teach about food sovereignty, and to raise awareness about their communities' health problems due to poor nutrition, including the highest risk of diabetes among racial groups in the U.S. Role models like Sherman emerged, offering resources like The Sioux Chef's Indigenous Kitchen cookbook.
The year that Intertribal Foodways launched, Yazzie says he had to turn down about 2,000 projects. "The majority of tribal communities in the U.S. and in Alaska and Canada are still in third-world poverty status," he says. "They don't have the funds to bring out a chef or a cook to do a demo or a presentation." So, he turned to YouTube as a free, easy way for anyone, anywhere, to consult his recipes.
Intertribal Respect
When restaurants closed due to the spread of the novel coronavirus, Yazzie, like chefs everywhere, did his best to pivot. He upped his online output. In April, he partnered with American Indian Health and Services to host cooking webinars.
He joined a team of five at the Minnesota American Indian Center's café in Minneapolis, cooking meals for Native elders. They use donated ingredients, such as heirloom corn for walleye tacos.
He helped organize a grassroots effort to assist elders and families on his home reservation, one of the hardest hit areas. (Find the GoFundMe page here.)  "It's definitely draining," he says, of all the work. "But at the same time, it's just the path and lifestyle that I chose."
Along the way, Yazzie's profile continues to rise. Bon Appetit magazine recently asked him to comment on COVID-19's impact on Indigenous populations. ("Ensuring access to food, medicine, and water are especially important on reservations, where the nearest grocery store could be more than an hour away," he told them.)
Prior to the pandemic, in early March, Yazzie contributed to a potluck curated by 11 local stars at Rosedale Center's food hall: His wild rice pilaf sat among culturally diverse dishes by Iron Chef winner Justin Sutherland, Pizza Karma chef Raghavan Iyer, and House of Gristle's Jametta Raspberry.
He's still an active online presence. (In fact, the pandemic has made YouTube more relevant, and he has a podcast in the works for this summer.) Correcting misinformed white people is something of a thankless burden, but Yazzie has found a way to approach it with humor. The resurgence in Native cooking has reminded some of a "fad," although it's always been here, and there's a ludicrous Venn diagram that overlaps Native cuisine with recently popular diets. "I had a meme about that," he says. In an Instagram post, "paleo diet" and "keto diet" appear crossed out, and underneath them: "Indigenous foods."
"There are over 560 tribes in the States," he points out, "and at least three to five varieties of corn in each tribe." He navigates cultural appropriation himself—asking elders for permission to use ingredients, noting which are reserved for ceremonies.
After Taste the Nation wrapped, he gave Lakshmi cornmeal from the Hopi tribe of Arizona. "When she asked how to prepare the cornmeal, I told her, 'If you're cooking it, just have that perspective of where it came from,'" he says. "It's not something you can buy at Walmart or Target. It's something you have to purchase directly from the tribe. Just have that outlook and reflection in your cooking, and you can add whatever you want to it. And when you post that on social media, just let people know where it came from."
Follow Yazzie the Chef on Instagram (@yazzie_thechef), Twitter (Yazzie_TheChef), and YouTube (Yazzie The Chef TV).
Facebook Comments