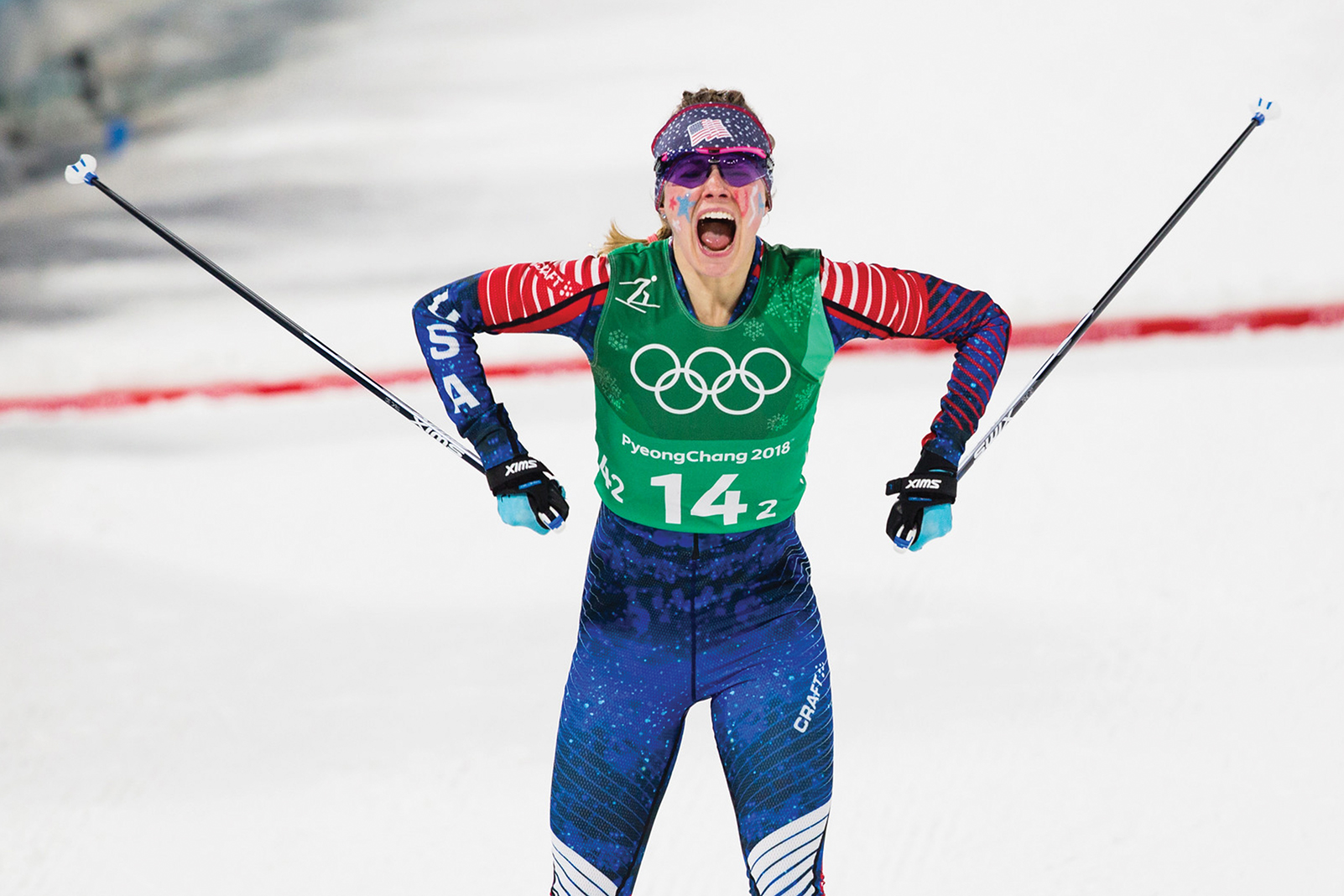 Maybe you watched the 2018 NBC broadcast or saw the clip forwarded by a friend.
Jessie Diggins quicksteps around the final corner of the cross-country team relay sprint at the Winter Olympics in South Korea behind her Swedish rival. At the Sochi Olympics in 2014, the Minnesota native's best result had been eighth. To this point in Pyeongchang, she's finished fifth twice and sixth once. Now, a gold medal dangles tantalizingly close—100 meters away.
She trails Stina Nilsson, one of the world's best sprinters, but jams all of her dreams into each rapid pole plant and stride.
The television announcer cries, "HERE COMES DIGGINS!"
At the line, Diggins thrusts her ski forward, half a length ahead of Nilsson. She's struck gold. And made history. Diggins and her relay teammate Kikkan Randall became the first American Nordic skiers to win an Olympic gold medal.
The moment Jessie Diggins of Afton breached greatness went viral, and so did her celebrity.
Her teammates selected Diggins to carry the U.S. flag in the closing ceremony. The morning TV talk shows interviewed her. ESPN featured her naked in its annual body issue. Sponsors came calling. She inked a book deal. How big was she? The week after the 2018 Olympics ended, when Diggins and Randall walked into a Broadway theater to see Hamilton wearing their white USA jackets, the crowd gave them a standing ovation.
Diggins, 30, competes again in early February in her third Olympics in China. Of the six Nordic events in this edition of the Winter Olympics, Diggins is a favorite to medal in as many as four—and could win any of those. Going into the start of this season, she imposed a media blackout (declining an interview request for this article).
After her historic win, Diggins used her enhanced platform to campaign for issues near to her heart. In her memoir Brave Enough, published in 2020, she opened up about her struggles with bulimia nervosa. She has since become a spokesperson for the St. Paul-based Emily Program, where she sought treatment for her eating disorder. "My biggest goal with this book was to bring some compassion, understanding, and conversation starters for people around the subject of mental health and specifically eating disorders," she explained on her blog
Diggins has also lent her voice to Protect Our Winters, an organization working to save the planet from climate change; Share Winter, a nonprofit providing kids from diverse communities the opportunity to enjoy snow sports; the WithAll Foundation, dedicated to preventing eating disorders and providing access to treatment; and Fast and Female, a charity committed to keeping girls 8-14 healthy and active in sports.
Diggins also leveraged her celebrity to bring the World Cup to her home state. The March 17, 2020, race at Theodore Wirth Regional Park would have been the first FIS Cross-Country Ski World Cup event in the U.S. since 2001.
Then came COVID-19. And a string of hardships.
The World Cup event at Wirth was canceled less than a week before its scheduled start (though Diggins still showed up to ski with a group of high school girls). She spent the 2020-21 season racing in Europe without the chance to see family or her fiancée, Wade Poplawski, for four months, not even at Christmas. Interaction with other U.S. Ski team members was restricted, meaning no team dance videos. "This was the hardest and most challenging season I think I've ever faced," she wrote on her blog.
The pressure, brought on by her Olympic success, was a major contributor. Others expected more of her. To fine-tune her technique; to get stronger, faster. To win. And win again. She felt it from sponsors, fans, coaches. And, mostly, from herself. She has always pushed herself harder than anyone else.
But she's also learned to lean on her psychologist, a core member of her support crew. At the 2020-21 FIS Tour de Ski, Nordic's equivalent of the Tour de France—eight races of varying distances and disciplines (classic and skating)—her psychologist helped Diggins break down what she needed to do: "massage, foam roll, visualize, set goals for the next race, eat enough, drink enough." Still, she sometimes woke at night with her mind fixated on her next race—heart pounding and palms sweating.
The result? Diggins slipped on the leader's yellow bib after the second day and wore it to the finish—the first American ever to win the Tour de Ski. As an encore, she won the season's World Cup in points and in distance—the first American woman to do so.
She proved not only her dominance as a skier, but her ability to handle the mounting pressure. "She's managing expectations for herself from others," says Jason Cork, U.S. ski team coach. "She's recognized you can't do everything. You have to say no at times."
Because of COVID-19 restrictions, Diggins' parents won't be there this time, as they were for her first two Olympics. They'll watch the livestreamed races at their Afton home in the middle of the night. Of course, they would love to see her win another gold medal—or more—but no matter the results, they are already cheering their daughter's success. "We're proud of her, number one, for being the person she is," says her mother, Deb Diggins. "And proud she is able to represent the United States the way she has."
Facebook Comments