It's never been harder to think big. From an economy that keeps many of us clinging to crummy jobs to small-minded partisan bickering that puts innovative projects on hold, looking beyond ourselves and this moment can be mind-bendingly hard.
Nonetheless, there are still dreamers out there—and more important, dreamers who take action. We rounded up 12 Minnesotans who are tackling projects that have the potential not just to change their industry, but to change the state, the country, and the world.
 
Portrait by David J. Turner
Lee Aase 
Brings medical knowledge to the masses
While the rest of the world uses youtube to post videos of their cats curled into shoeboxes, Lee Aase is using the medium—along with Facebook, Twitter, podcasts, and blogs—to upend health care as we know it.
In 2004, Aase and his team at the Mayo Clinic began uploading audio files of its radio program to iTunes. Before long, they were being downloaded up to 75,000 times a month. Then they expanded their efforts, offering interviews on YouTube with doctors on health issues that might otherwise be edited down to an eight-second television soundbite. "For the person who has a specific condition, it's the kind of information they're thirsting for," he says. Sharing in-depth, accurate, and up-to-date health information on the web has proved to be successful, and as a result, the Mayo Clinic has spearheaded a new Social Media Health Network, which aims to help hundreds more health organizations worldwide share their resources with—and listen to—patients. "Social media is giving us a way to connect people all over the world with others who can help," Aase says.
 
Portrait by Thomas Strand
Bin He
Sees a world controlled by thought
Bin he can read your mind.
For decades, the University of Minnesota biomedical engineer has been working at the forefront of brain-computer interface technology, and his most recent breakthrough provides a tantalizing glimpse of a future where the world isn't controlled by the touch of a button, but by our brains themselves. With nothing more invasive than electrodes taped to a volunteer's skull, the technology that He and his colleagues have developed can interpret brain signals and allow a volunteer to fly a virtual helicopter through three-dimensional space in real time.
While He sees the most obvious need for his work in the medical field, for patients with limited limb control, he doesn't anticipate it stopping there. "This technology has the potential to help in the general population—driving, gaming applications, or making calls on your cell phone, for example," he says.
 
Portrait by Jonathan Chapman
Dana Nelson
Gives philanthropy a new twist
When givemn.org hosted its first online event, Give To the Max Day, just two weeks after launching in 2009, nobody could have predicted what happened next. "We raised $14 million in 24 hours," recalls executive director Dana Nelson. "To date, it is the largest one-day online giving event in the world."
Since then, GiveMN has helped thousands of Minnesota nonprofits raise some $46 million for their causes. While the online platform makes it a cinch for donors to do one-stop giving (even providing receipts for tax purposes), it's especially valuable for the nonprofits themselves, who can easily set up organization profiles, use social networking to make fundraising pitches go viral, and ditch expensive direct-mail marketing.
Next up: upending the dreaded school fundraiser. Through GiveMN, Nelson wants to help schools ditch the bake sales and wrapping-paper peddling that takes time and energy away from schools' primary goals.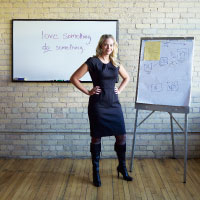 Portrait by David Bowman
Laura Zabel
Helps artists stay strong
Artists spend much of their time and attention on creating beauty and exposing hard truths, but they often fail to focus on things that are even more fundamental, like their health. Laura Zabel, executive director of Springboard for the Arts, knew from her research that artists were twice as likely as other Minnesotans to lack health insurance, often because they were self-employed and had low incomes.
That's why, in 2007, she began building the Artists' Access to Healthcare program, which provides health-care vouchers, preventive care, and help with emergency medical costs. The program has already helped 2,000 Minnesota artists get the care they need, and Zabel is working with other communities across the nation to develop similar programs. "We can't solve the health-insurance problem in this country," says Zabel, "but we can help people go to the doctor when they need to go to the doctor.
 
Portrait by Kelly Loverud
Don Ball & Kyle Coolbroth
Pull innovators together
Much has been made of the new worker—untethered from the cube, often freelance, always entrepreneurial—but until now, not much attention was paid to the new workspace. For those who didn't want to work from home in pajamas, the options were mostly cramped coffee shops.
Don Ball and Kyle Coolbroth, founders of CoCo, knew there had to be a better way. They created two Twin Cities sites where members pay as little as $50 a month for access to beautifully designed spaces where they can work, collaborate, socialize, and guzzle just as much coffee as Starbucks dwellers. "We find that people with complementary skill sets—writers, web designers, programmers—are teaming up here and building alliances that they might not have otherwise formed," says Ball.
Some 200 members work at the Minneapolis and St. Paul spaces, and there are plans for suburban locations.
 
Portrait by Michael Crouser
Rick Klun & Gary Olson
Give shelter to those who need it most
Alcoholism is a devastating addiction. It can lead to tussles with law enforcement, expensive visits to emergency rooms—even homelessness. Rick Klun, executive director of Center City Housing, and Gary Olson, CEO of the nonprofit Center for Alcohol and Drug Treatment, knew there had to be another option. Together, they teamed up to create the New San Marco, a 70-unit residential facility in Duluth that houses alcoholics who would otherwise be homeless.
Residents are allowed to drink in the facility, which caused early controversy, but the model has proved successful: law-enforcement contact and detox admissions by residents have dropped by 90 percent. Similar facilities will soon open in St. Cloud and Rochester, and Klun and Olson have shared their model with others across the country. "We've demonstrated that this is good not just for residents, but for the community," Olson says.
 
Portrait by Ackerman Gruber
Jessi Fett  
Brings world-class dancers to every corner of the state
The Cowles Center for Dance has earned high praise for its ambition and architectural appeal, but some of the most remarkable work happens far outside its walls.
Thanks to its Target Distance Learning program, led by Jessi Fett, school-age kids from Warroad to Wayzata are getting an education in dance without ever setting foot in the building. Through the use of advanced video-conferencing technology, cameras project life-size, real-time images of dancers and students who are hundreds of miles away from one another. Spanish classes get lessons in Latin Dance, and history classes see authentic Native American dance. More than 200 free sessions will be held in schools this year alone.
Fett believes the timing couldn't be better. "Arts programs are getting cut, but this is a chance to help bring the things students study in class to life," she says. "We hope it can show them how big the world really is."
 
Portrait by Joe Treleven
Jennifer Iwanicki
Harnesses the power of the internet
The old model of public relations was about pushing information to the masses through press releases and commercials. Today's model—with likes and tweets and +1s and blog posts—is more about sorting through the clutter to find the information that really matters.
Curation is the new role of media-relations professionals, and Curation Station, the brainchild of serial entrepreneur Jennifer Iwanicki, is at the front of the pack. "As a brand evolves, it needs fresh content provided by authoritative people," she says. A clothing company might use Curation Station to pull together news stories, Facebook posts, Twitter alerts, and YouTube videos about the latest fashion trends, for example. And Curation Station currently boasts clients ranging from corporate conglomerates like 3M to two-person handbag companies, so it's clear that the potential for the business is enormous. Says Iwanicki, "Once companies watch our demo, they say, 'Oh my goodness, we've been looking for this.'"
 
Portrait by Sara Rubinstein
Matt Hardy & Dan Flies
Give teachers a new tool
Elementary school teacher Matt Hardy had long seen the promise of blogging in the classroom, but for his pint-sized students, there were simply no viable options. So he created one himself. It wasn't long before other teachers were clamoring for it.
Teachers have used Hardy's creation, Kidblog.org, to help students connect with authors whose books they're reading, find virtual pen pals halfway around the world, and finally eliminate the "dog ate my homework" excuse. Otherwise quiet students share their thoughts online, and not even a sick day will deter some kids from contributing.
More important, it specifically addresses some of the logistical and privacy concerns that are critical for young users. "We don't require e-mail addresses, there are several layers of privacy, and teachers can approve the content before it goes live," says Hardy.
With the help of business partner Dan Flies, Kidblog has grown to serve more than a million students in 100,000 classrooms—and the numbers continue to climb. "We used to try to keep this type of technology out of students' hands," Flies said. "Now we're trying to figure out how to leverage it."
 
Facebook Comments