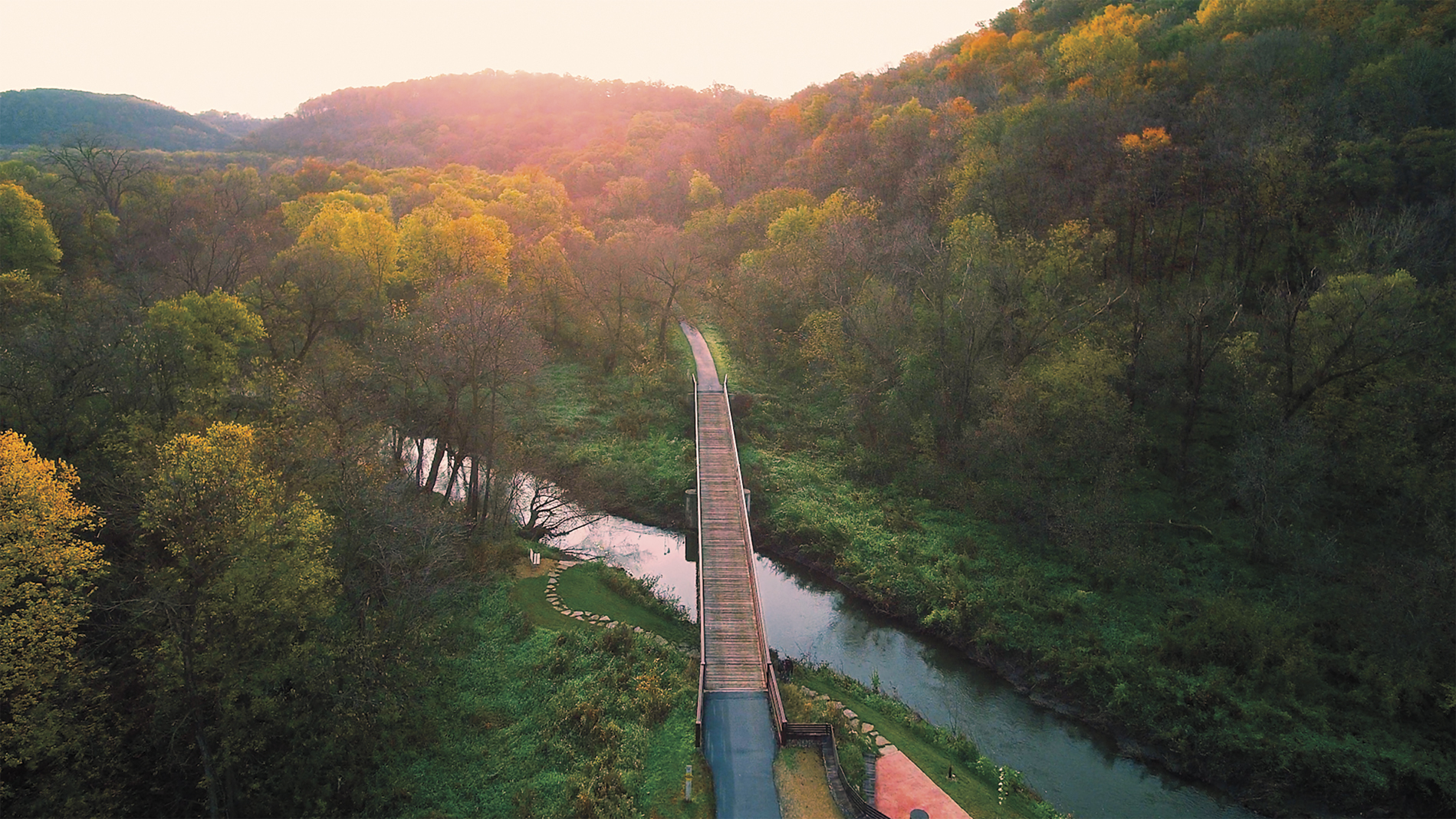 No rough terrain, no mountain biking, heart-pumping, sweaty scrambles.
These bicycle trail suggestions are for cyclists who ride on the recreational side. Preferably on a trail that's shady, where families are welcome. My plans for rides with friends always include, "Where will we have lunch?"
Here's a closer look at five non-metro Minnesota bike trails. They're all rail-to-trail routes—meaning they're not steep. Built on old railroad routes, the pathways don't have hills that a locomotive couldn't handle while pulling cars. There are more than 4,000 miles of paved trails in Minnesota, according to Explore Minnesota. These are my kind of trails, and trips I've taken myself.
Here are tips for a day on each trail, assuming you don't have a vehicle to pick you up at one end. Where to park, what to eat, and unique sights.
Heartland State Trail: Park Rapids to Walker
Stats: The 27-mile segment between Park Rapids and Walker has a paved surface and meets the Paul Bunyan State Trail near Walker for another 100-plus miles of paved trail.
Features: Most of the trail is shaded, with towns every 6 to 10 miles along the route. The trail takes you past lakes, woods, farm fields, and deep ravines.
Day trip: Park in Nevis (either on main street or in the large lot on the east end of town). Head west on the trail through Dorset to Park Rapids for your lunch stop. A friend who summers in the area recommends the Good Life Cafe in Park Rapids, and I've always loved the burgers at Royal Bar. If you're not in a hurry, Park Rapids has loads of shopping spots to browse and a lovely park on the trail with nice bathrooms. Save room for ice cream at the Dorset House on your way back. If you're making a shorter day of it, have a margarita at Compañeros in Dorset.
Head back to Nevis and explore as much of the trail to the east as you want—on to Akeley and Walker. Back at your car in Nevis, the Iron Horse Bar & Grill has a great outside patio
Highlights: Get selfies at the giant tiger muskie statue in Nevis and the unusual Paul Bunyan who is down on one knee in Akeley. You may find kids jumping off the bridge at Lake Belle Taine between Dorset and Nevis.
Cannon Valley Trail: Red Wing to Cannon Falls
Stats: Nearly 20 miles of paved trail between Red Wing and Cannon Falls, it runs parallel to the Cannon River. A $5 wheel pass is required for a day trip.
Features: Along stretches of the trail that run close to the river, you can look down to see clusters of folks tubing on the river. In some places, the rock cliffs run right up from the trail. There are views of prairie and farmland from the trail, and the path goes through a turtle sanctuary 12.3 miles from Cannon Falls and a couple of archeological sites. (The Cannon Valley Trail Interpretive Guidebook is a good resource for things you'll see on the trail.)
Day trip: Since it's a gradual uphill from Red Wing to Cannon Falls, start in Red Wing so your trip back to the car is a little easier. There's parking, water, and trail passes at the Lower A.P. Anderson Park just off Highway 61 in Red Wing.
You might want to fuel up before your ride with an awesome treat from Hanisch Bakery in Red Wing or breakfast at Liberty's Restaurant & Lounge.
The Welch Station rest stop is about halfway between Red Wing and Cannon Falls. It's a good bathroom and water stop and on the Saturday we were there last summer, there was a small community band playing.
At the end of the trail turnaround, Cannon River Winery in downtown Cannon Falls has a nice patio, and there are some tasty cold fillings for cups and cones at CannonBelles Coffee & Ice Cream. The downhill return to Red Wing (it drops 115 feet on the way toward the Mississippi River) seems to fly right by. A couple of casual restaurants along the river in Red Wing, Kelly's Tap House and Bayside Tap & Steakhouse, are good for celebratory beer and eats.
Highlights: The trail is never far from the Cannon River, with bluffs that climb up along the trail on one side and drop down to the river and views of the valley on the other. There are lots of wildlife and panoramic views, all nestled under a shaded canopy of trees.
Willard Munger State Trail: Duluth to Hinckley
Stats: 70 miles of paved trail
Features: Views of Duluth and Lake Superior on the north end, farm fields and small towns as you head south. A portion of the trail goes through Jay Cooke State Park, with a terrific view of the St. Louis River from a high railroad trestle.
Day trip: Since 70 miles makes for a formidable day trip for most recreational cyclists, consider an out-and-back from Duluth, where you can set your own distance. We picked up the trail on the edge of the city on Pulaski Street. The first part of the ride was a bit of a push climbing out of the Lake Superior basin, but it's not too strenuous. If you're not doing the whole trail, at least go beyond Carlton (15 miles) to take in the rugged forests of Jay Cooke State Park. If you go as far as Moose Lake, the Lazy Moose is a good lunch stop. The views of Duluth and the lake on your return are amazing. And your options for eats in Duluth are vast. Grandma's Saloon & Grill in Canal Park is popular, as is Fitger's Inn just outside downtown. Duluth cyclist and journalist Jay Gabler suggests takeout from Northern Waters Smokehaus that you can eat at the lake. Another fun option, he says, is Sir Benedict's, which has a nice patio–and a bike rack!
Highlights: The trestle bridge in Jay Cooke, the views of Duluth, rugged rocks.
Root River State Trail: Fountain to Houston
Stats: The 42 paved miles along the Root River go from Fountain through Lanesboro, Whalan, Peterson, Rushford, and Houston. There's also a branch between Lanesboro and Fountain that goes south to Harmony.
Features: The meandering trail is mostly flat, but there's a "challenging" segment near Houston, and another on the branch trail near Harmony.
Day trip: Lanesboro feels like the heart of the Root River Trail, and a great place to start and end, with plenty of parking, shops, and restaurants in the charming town. It has been ranked in lists of "most stunning small towns," "best small towns to visit," and is on Oprah's list of charming towns.
Start your day trip early enough to bike the 4.6 miles from Lanesboro to Whalan and get there as close to 10 a.m. as you can when Aroma Pie Shoppe starts serving the amazing pies it bakes daily from scratch during the warm-weather months. Pie for breakfast? But of course.
Further down the trail, consider a stop at the 1877 Peterson Station Museum and Visitor Center, just off the trail in downtown Peterson. The old depot part of the museum is packed with pieces of the small town's past, with a newer addition loaded with band and military uniforms and school memorabilia.
We had a fine lunch at the friendly Stumpy's Restaurant & Bar in Rushford before heading back toward Lanesboro. (By the time we passed the pie shop in Whalan at about 2 p.m., the pies were sold out.) For a longer ride, after returning to Lanesboro, tack on the 11 miles to Fountain. Beaver Bottoms Saloon in Fountain is a dandy refreshment stop, and the return to Lanesboro is mostly downhill.
If you're making a weekend out of it, there are hotels and inns and nearby B&B options (it's been called Minnesota's B&B capital), but book early. We had a fun stay at the Stone Mill Hotel & Suites a couple of years ago. And Commonweal Theatre Company is known for high-quality stage productions.
Highlights: Charming Lanesboro, amazing pie in Whalan, rock walls on some stretches that give a real feel for what it was like when this was a railroad track.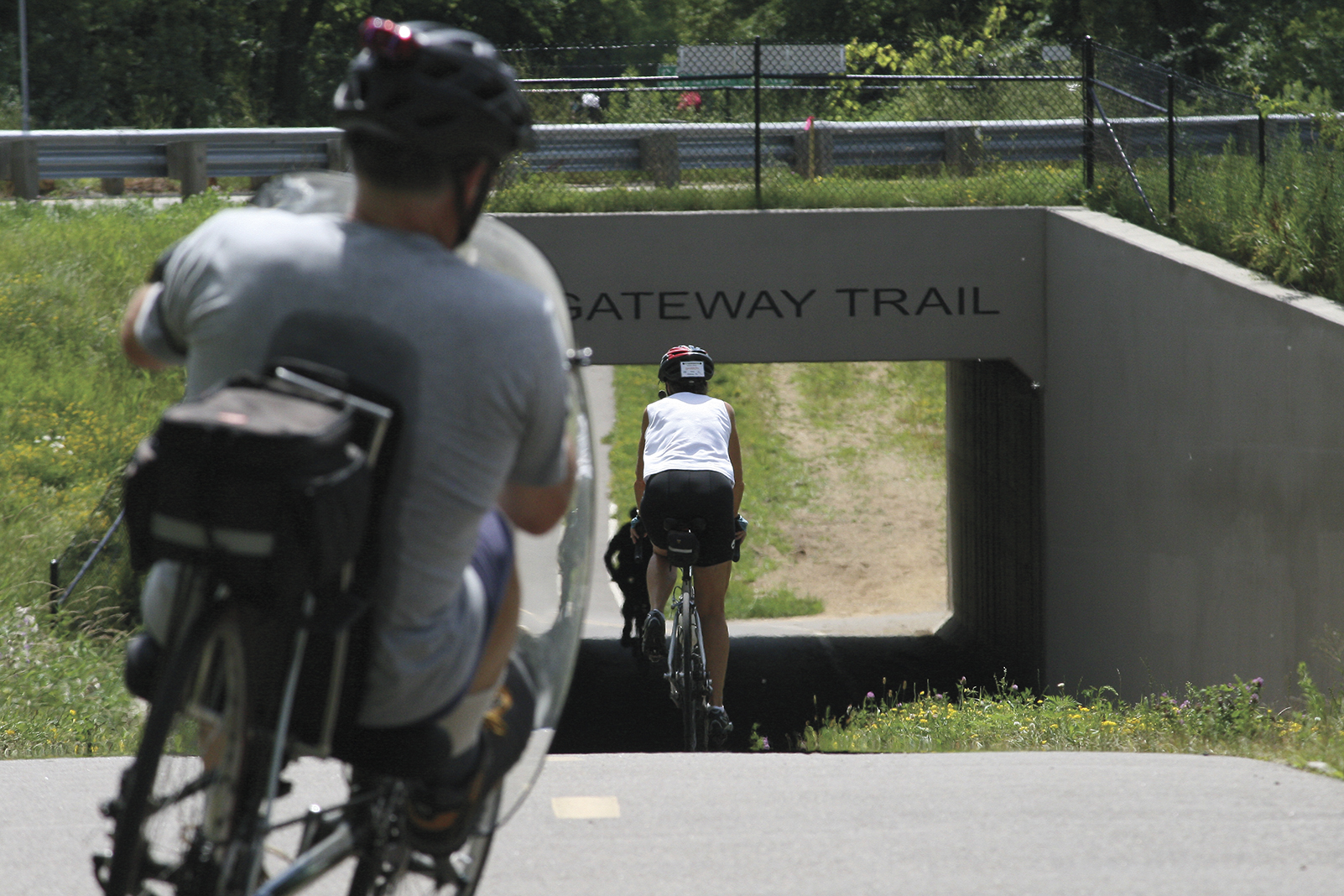 Gateway State Trail: St. Paul to Pine Point Regional Park with a turnoff on the Brown's Creek State Trail to Stillwater
Stats: Though it could be argued that the Gateway isn't entirely a non-metro trail, it can start to feel far away from buildings and busy streets after just a few miles on the paved path. Technically, the Gateway is 18 miles, starting on Cayuga Street in St. Paul and going to Pine Point. A rest stop turnoff at Grant veers off on the 6-mile Brown's Creek Trail.
Features: Mostly wooded and shaded, the Gateway offers views of backyards, marshes, ravines, industrial areas, businesses, the outskirts of North St. Paul (and the giant snowman), golf courses, cemeteries and trees, trees, trees. Along the eastern 10 miles of the Gateway from I-694 to Pine Point Park, there's an adjacent unpaved trail for horseback riding.
Day trip: There are plenty of places to catch the trail in St. Paul, including a link from the Bruce Vento Trail near Lake Phalen. A good parking/meetup spot is at the Maplewood YMCA Community Center. It's about a 13-mile trip to Pine Point from there. As you enter North St. Paul, there's a rest area with good bathrooms.
A mile or two past the Brown's Creek turnoff to Stillwater, look for the Gateway Trailside food truck stop. Open during the warm-weather months, it features a lovely outdoor eating area, with amazing BLTs and unique drinks. At the top of the trail, Pine Point has water, picnic tables, and good bathrooms. If you're looking for a stop on your return trip, turn off the trail at North St. Paul and check out the live bullfrog in the window of Neumann's Bar & Grill on main street. Good burgers and beer at this gathering spot for bikers (the motorized kind, but bicyclists are welcome).
If you take the Brown's Creek Trail into Stillwater, it's a grand, downhill ride that ends up along the St. Croix River in that river town, with lots of options for rest and refreshments. And the uphill trip back isn't awful. The trail can be crowded on weekends, with walkers, in-line skaters, runners, and even flocks of Segways.
Highlights: The Gateway Trail is close, but it feels like a getaway. Stop for a selfie at the North St. Paul giant snowman. And even if it's crowded, the downhill into Stillwater on the Brown's Creek State Trail is a bicycle coasting joy.
—–
Tips for Twin Cities Trails
There are loads of bike trails, links, and connections in the Twin Cities.
With bike trails, bike lanes, and entire streets marked to share with bicyclists, the Twin Cities is webbed with options for two-wheel travel. There are maps on your phone, books, and websites devoted to the best places to ride in Minneapolis, St. Paul, and surrounding suburbs.
Bike trails intersect, branch off, and seem to change names when you change direction. Trails along the Mississippi River get better and longer every year. Greenways go through the heart of the city and the number of off-street bike lanes is increasing.
It can be overwhelming.
Where to start when you're ready to venture beyond your neighborhood? Two Twin Cities cyclists offer a few ideas.
Richard Arey, founder of the Saint Paul Classic Bike Tour and author of the 2003 guidebook "Twin Cities Bicycling," likes loops.
"People are familiar with a loop around a lake," Arey says. He suggests a loop on either side of the Mississippi. "You can make it as long as you like."
There are bike trails along the Mississippi, and you can park almost anywhere to hop on, Arey says.
For one loop, park near the river on Summit Avenue in St. Paul, and follow the trail to the Ford Parkway bridge. Cross the bridge and come back on the Minneapolis side, then take the Lake Street/Marshall Avenue bridge back across the Mississippi and along the river back to Summit. Arey figures it's about an 8-mile loop.
Or, after crossing the Ford bridge, wind your way to Minnehaha Falls.
Loops can be created around the Stone Arch Bridge in Minneapolis, Arey says. Or start at Harriet Island in St. Paul and bike through Lilydale Regional Park.
For long-distance cyclists Dan and Lisa Gjelten, Twin Cities bike trails are often a way out of town, as their journeys start in the alley behind their St. Paul house. They've biked from St. Paul to New Orleans (about 1,500 miles) and St. Paul to Washington, D.C. (about 1,400 miles). The pair, who document their cycling adventures at confluence.blog, have biked more than 12,000 miles since 2017.
They're not your typical leisure cyclists, but they do have some favorite routes inside the greater metro area.
Dan Gjelten likes the Mississippi River Greenway, which can be accessed from the Kaposia Landing Trailhead in South St. Paul and several other locations. The trail has a segment that is not complete but eventually will stretch 27 miles from St. Paul to Hastings.
Gjelten likes to follow the river on his rides. He also suggests starting at Fort Snelling, which could include a stop at the state park's new visitor center.
Though Arey's book was published in 2003, he says it's still 90-95% accurate and can be found at used bookstores or online. He also suggests that organized rides (like the Saint Paul Bike Classic on the first Sunday after Labor Day) can be a good way to get acquainted with trails.