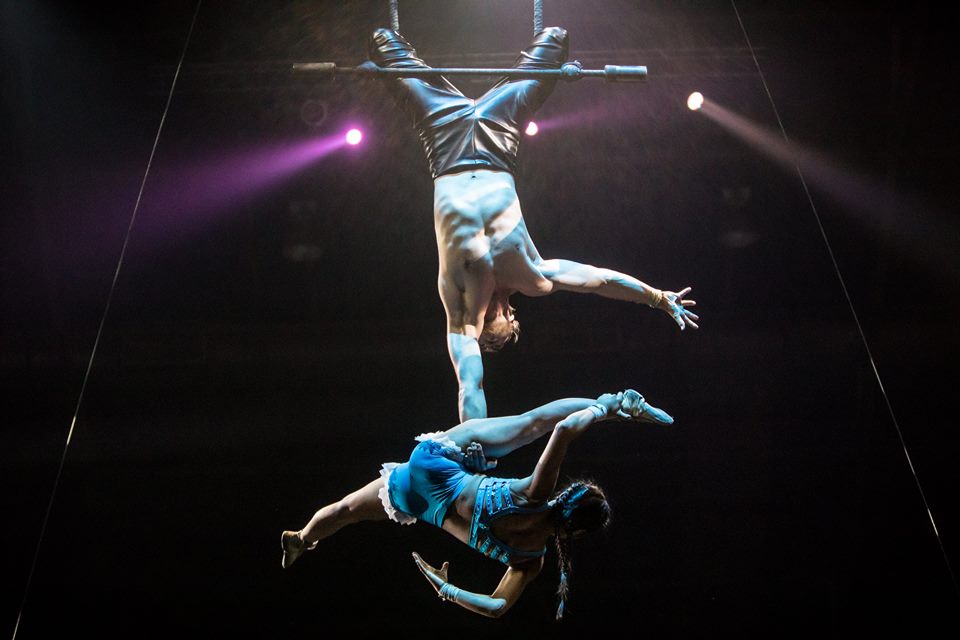 Courtesy of Dan Norman
Popular in the early 1900s, circuses have since faded as a form of entertainment. We now occupy ourselves electronically, and more people are standing up to animal cruelty. The decline in ticket sales and removal of elephant acts caused the traveling Ringling Bros. and Barnum & Bailey circus—the largest and oldest in America—to end this May. But the Twin Cities has its own local gem that's been molding young circus performers and presenting theatrical shows since the mid '90s.
Without any animal acts, Circus Juventas maintains that old-fashioned tradition of amazing physical feats, but its main focus is a theatrical twist on that formula. You can see this in the St. Paul circus's summer show, Nordrsaga. The performance combines acrobatic acts with Norse mythology, all held together by a narrative through line. Norse culture has always felt close-to-home in Minnesota—we have the largest Scandinavian population in the country—and it's gaining national attention with yet another movie featuring Chris Hemsworth as Thor coming out this fall. I got a chance to speak with Betty Butler, vice president and co-founder of Circus Juventas, to learn more about what's helped the local circus remain relevant and what to expect from this summer's Nordic-inspired show.
---
MnMo: What has helped Circus Juventas stand apart from other circuses?
Butler: In the youth circus world, there are two general genres: traditional and contemporary. Probably the biggest difference between us and other circus programs around the country is that we tend to veer more toward a nouveau, contemporary circus style, which tells a story. There's a lot of scenery, unique costuming, and music that supports that narrative. Most youth circuses are more traditional. They go act by act with a ringmaster, which has its place—and it's wonderful. We've just created something that's unique and different.
MnMo: What is Nordrsaga about?
Butler: The inspiration is the creation story of Norse mythology. You have the ginnungagap, which is a nothingness of the world—the creation, all the way to the ragnarok, which is the final destruction. And then it begins again. It's sort of a cycle. There are nine realms that exist in Norse mythology, and all of these nine realms live in this yggdrasil tree, which is the tree of life, the tree of the world. It really just explores all the realms of that, from the asgardians [gods and goddesses] to the midgardians [humans], to the realms of dwarfs and elves and demons. It's very colorful to explore all of these characters, like trolls and helheim, which is the land of the undead, muspelheim, which is the land of fire, and there are giants, of course. At the heart of the story is this boy that gets thrown into this realm. He and Thor are on a quest to find the hammer, which Loki has stolen. That's the plot line. It's kind of a spin-off of the whole Thor and Odin story.
MnMo: How is the story portrayed through circus acts?
Butler: The script and narrative are written with a skeletal foundation of the acts. We have the Vikings involved, and the Vikings have a ship that they swing on. That's their cradle act. The cradle act involves swinging across the arena. Our Vikings are very acrobatic. Our web girls are the undead, so they climb up on black webs. So, you just have to imagine what act would lend itself best to what part of the story. It's all physical performances, but we tend to also have voiceovers. We don't know how many people are really familiar with the Norse story, so it's probably more helpful than some other shows that we've done voiceovers for. It helps to hear Thor's voice, you hear Loki, and the goddess Freya. Professional actors come to the studio to record these. You have to weave the acts and the story together, and it all comes together in the end.
Butler says Nordrsaga features several new apparatuses and never-before-seen acts, including innovative aerial work and performances using fire. Nordrsaga opened this past weekend and has daytime and evening shows running through August 13. Learn more.
Facebook Comments