Stillwater River Boats cruise the St. Croix
photo by kelly brenner
---
Stillwater is only about 30 miles from the Twin Cities, but it feels like another world—your own personal Mayberry. This little town on the edge of the water is also the perfect jaunt for a fun- and food-loving group of friends.
For a wedding, Stillwater checks all the boxes: picturesque, loaded with bars, near the water, historic yet modern, and friendly. It also has more than its fair share of hotels, either for out-of-town guests, or for close proximity to No Neck Tony's—for those of us who prefer drinking $5 cosmopolitans all day. These qualities shine on any low-key summer weekend.
Armed with a few companions, I hit the road in comfortable shoes and a crossbody bag for a day of wandering. Our first stop: Bayport BBQ in the neighboring town of Bayport, a teeny little hamlet that happens to have been visited by Mr. "Drive-Ins, Diners, and Dives" himself, Guy Fieri. The place is small and unfussy, and instead of sports, the TVs play old Rolling Stones concert footage and bluegrass bands.
The brisket is smoky, the corn is creamy, and the ribs are worth taking off your lipstick for. On the weekends, fill your plate for a fair $16, grab a glass of lemonade, and enjoy the simple delights of good potato salad, cornbread, and meat. Try their apple-pie moonshine alongside a pile of delicious meat. It's tempting to go back for thirds, but save yourself.
Summer is when Stillwater's Main Street really shines: It's on the St. Croix River, outdoor-friendly, and has many antique, gift, and candy shops, plus crafting stores. Grab an ice cream cone from the walk-up window at Leo's Grill & Malt Shop, a perfect slice of retro Americana. Honestly, when was the last time you explored a town with such a picturesque, thriving Main Street, eating a strawberry ice cream cone? You could spend the entire day on the main drag, and many do. If crowds aren't your thing, hit up Stillwater on an overcast day when the foot traffic is lower.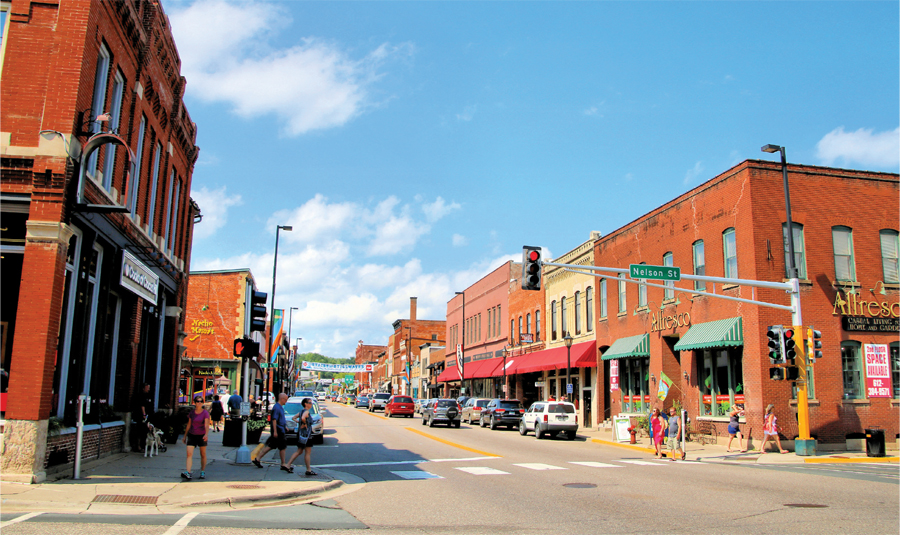 Stillwater's sun-kissed Main Street
photo by thomas wieland
---
We browsed glassware and vintage clothing at the Stillwater Antique Mall, then popped into the Valley Bookseller, a snug but stylish local bookshop with the added bonus of coffee. A block away, the cozy Black Letter Books sells used, rare, and out-of-print books. (There, I picked up a vintage hardcover of Betsy and Tacy Go Over the Big Hill by Minnesota author Maud Hart Lovelace for $30, a bargain considering they can go for $50 online.)
Since 2016, the Tilted Tiki has served handcrafted cocktails amid the requisite tiki decor, including a blowfish lamp and a giant shark. The kitsch factor is just right. Go classic and sip on a Mai Tai—the bar has 13 varieties, from blood orange to Disaronno. Another bonus? They have a special, all-vegan menu for companions with dietary restrictions.
If you want to up your cardio, visit the historic and beloved Main Street steps, a 100-stair climb that ends with a beautiful view. (Stillwater has five such stairways.) The city is also a bicyclist's dream; the novice-friendly Brown's Creek State Trail connects downtown to St. Paul for city dwellers in need of a scenic weekend excursion.
No one was in a hurry to head back to our real lives—why would you want to leave when the sun is out and there's so much to explore? We visited everything from the disco-ball-laden No Neck Tony's Bar, to the Velveteen Speakeasy, to a craft-soap store, to Candyland, to gourmet artisan pasta shop Pasta Perfetta. (My part-Italian pal picked up some handmade basil-garlic shells and pronounced them "the bomb" after cooking.) In Stillwater, time moves a little slower, and that's part of its simple magic.
---
Eat, Play, Stay in Stillwater

The scene inside LoLo American Kitchen & Craft Bar
photo by andrew cebulka
---
Lolo American Kitchen & Craft Bar
The name is short for "locally owned/locally operated," though the dishes and cocktails would feel at home out east, too. (Yes, they do have a spot at MSP Airport.) For a snack during "social hour," order the scallops and prosciutto with wild mushrooms and aioli, plus an order of salty, thin fries for the table.

Lift Bridge Brewing Co.
photo by tony kubat photography
---
Lift Bridge Brewing Co. Taproom
Visit the Stillwater craft brewery for a pint of Farm Girl or Hop Dish. Public tours of the facilities are offered on the weekends.
Riverboat Cruises
These fancy floaters are always bobbing around the St. Croix River, and you can book everything from a brunch buffet cruise to a Sunday jazz cruise. Or, sip some Lift Bridge beer on the Brews Cruise, on July 27, August 17, or September 21.
Lowell Inn
Stillwater is home to several historic hotels and B&Bs, but the romantic Lowell is a go-to for area weddings—and would be fun for a fancy girls' weekend, too. Not into the whole "historic touch" thing? The Lowell also offers a few modern rooms. All booked? Check Airbnb for waterfront locations.