Great Wolf Lodge in Bloomington
Photos Courtesy Great Wolf Lodge
---
My husband dozed in an adirondack chair shaded in pine branches as I sat with our 5-year-old daughter, Vera, coloring at a kid-sized wood table. Roy, 7, darted around, black cape billowing behind him, waving a battery-operated sorcerer's wand to awaken sculptures and screens positioned throughout the resort, collecting virtual dragon scales, hawk talons, and runes. Another wand-wielding kid zipped by in game mode, too, with Dad in tow gripping a koozied beer and wearing swim trunks and a pair of fuzzy wolf ears.
This is why we came to the new Great Wolf Lodge in Bloomington, by the Mall of America—the faux indoor trees, family leisure, and self-contained vacation vibe so consuming that grown adults forget they're sporting the headwear their kid received at check-in. For years, we were regulars at this location's former version, a hotel with waterpark that served as a fine mid-winter pick-me-up, cheaper and easier than jetting off to someplace warm, and near enough to wedge into a weekend. Considering Great Wolf's reputation for fun at its Wisconsin Dells' location, we assumed the ownership switch would bring only improvements, and so we snagged a room within a week of opening.

Bunk beds remain an option in some of the refurbished resort's 404 suites
Upon entry, it's evident that the basic structure remains the same. The grand, open lobby still welcomes with that massive wood-burning stone fireplace. There's roughly the same number of suites—now 404, rather than the previous 403—some still stocked with the bunk beds my kids dig, and all renovated in a north woods-modern style. Even the waterpark is the same, for the most part, though now it is for guests only.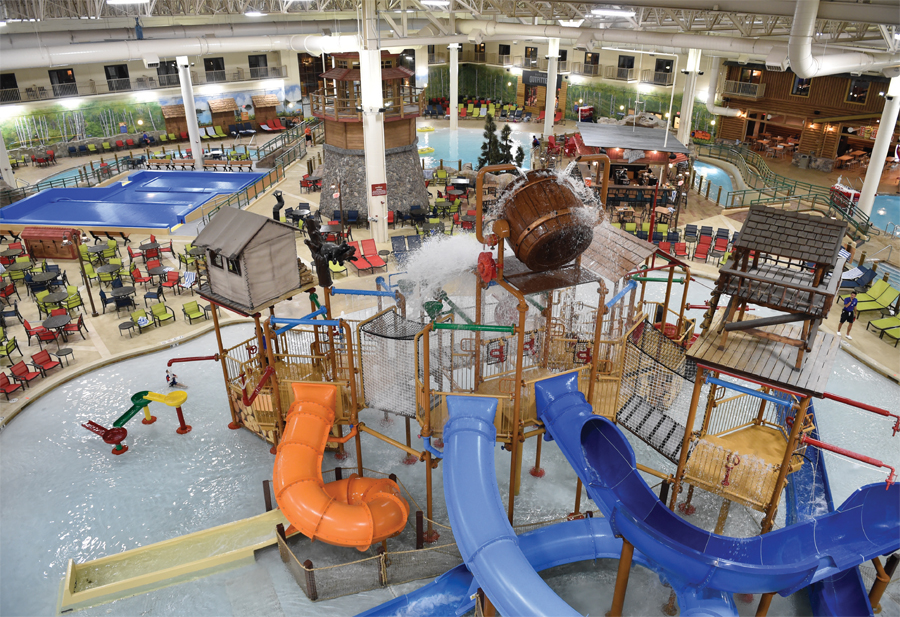 Waterpark
But make no mistake: The place has definitely been Dells-ified. On our stroll to the waterpark, we survey the new Adventure Park—formerly event, office, and meeting space—and all of its reasons to stop, including a gift shop with a Build-a-Bear-esque Creation Station, where kids can stuff Great Wolf characters; a kids' spa for getting braids, chalk hair color, and glitter tattoos; plus candy, ice cream, and coffee shops.

Sweet tooth hankerings are satiated in the candy shop
Then we hit its two-story open core, built around the refreshed arcade, with a climbing wall, an aerial ropes course, a bar, a pizza place, a kid-sized family bowling alley, and more, decorated in Minnesota-inspired murals, plus those faux trees, Adirondacks, and other details that give it an up-north vacation feel. And here, the virtual interactive MagiQuest game that Roy, especially, was so into is scattered about, as well as in all hotel common areas, sending kids—well, let's be honest, entire families—off on various so-called quests. (The game and all other Adventure Park activities cost extra, with a variety of package deals available.)

Extra energy is spent on the ropes course
Waterpark entrance still comes free with your stay, as does a steady stream of scheduled events such as kids' yoga, crafts, games, and shows, many of which unfold in that big lobby. There's a bar tucked into the corner, too. The four of us had an evening snack at a table there, amid the bustle of friends bellied up, entire families in PJs settled in for story time, and a pack of women with their wine glasses camped in front of the fireplace. The transition from hotel with a waterpark into waterpark vacation destination is complete.
And let's not skip over that other major vacation destination less than a mile away, so definitive we just call it The Mall. The 5.6-million-square-foot bastion of consumerism has grown on me since having kids thanks to all the ways to entertain them year round—an ever-expanding list so darn long that we've spent many a day there without stepping inside a single one of the 500-plus stores.

Adults delight at the bar
Did you know, for instance, that it's home to the longest indoor zip line in North America? I recommend the experience—flying 405 feet through the flashing lights and rollercoaster noise of Nickelodeon Universe, over the heads of fellow park visitors. And FlyOver America, too, ranks among my favorite relative newcomers for delivering the thrilling sensation of swooping over America's greatest places, complete with Niagara Falls' mist and sweet, floral-scented Hawaiian air. And, of course, Crayola Experience, with make-your-own coloring sheets, name-your-own crayons, and so many hands-on and digital crafts that we went ahead and got a membership. Also: two mini golf courses, a mirror maze, Sea Life Aquarium, with its touch pool and 300-foot-long shark tunnel. I'll stop there, but the list continues.
And yes, while Great Wolf plans to provide a shuttle to and from MOA as of this month, there are now two hotels connected to the mall—the Radisson Blu and the JW Marriott. Meaning you could make it a focused afternoon visit, or switch home bases. Call it Immersive Indoor Family Vacation Part 2, and bring those wolf ears.
Facebook Comments