The Gonda Building is the largest construction project in the Mayo Clinic's history thus far
photos by ackerman+Gruber
---
In the mid-19th century, rural emergency healthcare was generally in the hands of local small-town sawbones—and there was a reason they called them that. Before ambulances and helicopters rushed patients to high-tech hospitals, your best option was often an informally trained medic with a modified hacksaw and a flask of whiskey in his medical bag.
Only a few decades later, things had greatly improved—especially in Minnesota, where healthcare advanced more quickly than in the rest of the Midwest. The Mayo brothers, doctors Will and Charlie, were carrying on the work of their father—himself a onetime frontier medic—in Rochester, on the banks of the south fork of the Zumbro River. Working far from the prestige of the coasts, the Mayo brothers were laying the groundwork for the clinic that would eventually be known as one of the best in the world. 
The calls came in to Rochester: a train derailment, an industrial accident, a woman stricken with acute appendicitis in Winona. In the case of the sick woman, a Model-T puttering down gravel roads might not reach her in time. So the clinic called on rail workers to detach the engine from a train and make haste to Rochester. Dr. Will grabbed his bag and hopped aboard as the tracks were cleared. Racing to Winona past midnight, the engine beat the record time for that stretch of track by almost half an hour—the first EMT on the prairie.
Since then, Mayo Clinic has built on such innovative spirit and established a world-renowned reputation for its practice and delivery of medicine. And this year, Mayo is taking its biggest leap yet as the major partner in Rochester's new Destination Medical Center—a two-decade development initiative expected to break ground later this year and turn the city into what some are describing as the "Silicon Valley of Medicine."

Physicians Charlie (left) and Will Mayo on the front steps of Will's Rochester home (Charlie lived next door), circa 1915
photo mayo clinic
---
For decades, Minnesota's third-largest city was essentially a sleepy company town. Originally a stagecoach stop between St. Paul and Dubuque, Rochester welcomed its first Dr. Mayo—Will and Charlie's father, William—when he arrived in 1863 to evaluate draftees for the Civil War. In 1919, William's two sons established the Mayo Clinic as a nonprofit medical practice, which distinguished itself not only for its research and innovative treatment but for its integrated, collaborative, patient-centered approach. 
Mayo visits are characteristically unhurried and involve multiple doctors if necessary. (The clinic pays its doctors a salary versus fees for each service they provide, to separate what's best for the patient from what's best for the pocketbook.) Today, Mayo is consistently ranked among the best hospitals in the country, maintaining a position near the top of the U.S. News & World Report for a quarter century, including no. 1 this year. 
Mayo has become such an icon that documentarian Ken Burns has recently been in town combing the clinic's considerable archives (including some of the world's first filmed surgeries) for a new film. Its reputation has drawn celebrity patients from around the globe: U.S. presidents from Lyndon Johnson to Ronald Reagan and George H.W. Bush; activist Helen Keller; evangelist Billy Graham; the King of Jordan. It's where Lou Gehrig received his career-ending diagnosis, where Ernest Hemmingway was treated for depression, and where the Dalai Lama goes for periodic check-ups. 
Mayo Clinic employs more than 4,500 doctors and scientists and a total staff of more than 60,000—making it the largest employer in Minnesota, ahead of even the federal government and the state itself. Aside from an IBM plant on the outskirts of the city, Mayo has long been the main game in town—and the Clinic's marked growth over the past decade (including a new proton beam therapy center and major hospital renovations) has been reflected in the city that it dominates.
"In 2005, there was nothing going on downtown," says architect Adam Ferrari, who has worked on several local renovation projects. "There was no reason to go downtown after five if you lived there. There had been repeated efforts to revitalize downtown going back to the 1980s—and then finally it started to click and to change."
In the past 15 years, Rochester has seen its population increase by nearly 25,000 to a total today of nearly 114,000. (For comparison, the clinic treated more than 1.3 million patients last year.) Mayo's growth has sparked the increase, along with the city's reputation as an affordable, accessible place to work and raise a family. (Livibility, a website that rates mid-size cities, named Rochester no. 1 on this year's list of 100 Best Places to Live.) 
The newly launched Destination Medical Center (DMC) development aims to capitalize on Rochester's assets in employment opportunities and livability and grow them to a far more ambitious level. Its name is somewhat misleading, though, as there is no one "center," no single "destination." The idea behind the DMC is to develop the community as a whole—turning the city into a healthcare and biotech hub with updated infrastructure and amenities for residents and visitors—through projects on the Mayo campus and beyond.      
Over the course of 20 years, the DMC plans to spend $5.6 billion in private funds (consisting of $3.5 billion Mayo is spending on its own major expansion, along with $2.1 billion in private development of hotels, offices, and more in Rochester) along with $585 million in taxpayer dollars. The result will be an explosion in new construction, renovation of existing buildings, and a reshaping of the city. The development plan is the largest in the state's history. (For context, U.S. Bank Stadium in Minneapolis had a $1.1 billion price tag; the mixed-use development Atlantic Yards/Pacific Park in Brooklyn, which includes the Barclays Center arena and high-rise housing, has a decade-plus timeline and a cost of about $6 billion.)
Rochester's Post-Bulletin columnist Jay Furst explained the dramatic change Rochester is about to undergo with a medical metaphor: "Everything that has happened to date has been prepping the patient for a procedure," he wrote earlier this year. As of this summer, 17 projects with a total cost of about $737 million are being built or are about to begin.
New buildings include hotels aimed at elite Mayo customers as well as housing for the professionals the DMC hopes to attract, amounting to at least 25,000 new workers and their families. 
Despite its major contributions, Mayo is careful to depict itself as one among several players in the DMC, which is controlled by a board that includes state, city, and county officials (with former Minneapolis mayor R.T. Rybak as vice chair). But the primary driver is the Clinic and its recent change in attitude regarding employee entrepreneurship. After generations of conservative policies regarding staff participation in outside research and business startups, Mayo now allows its employees greater freedom to participate in medical-related businesses to take advantage of opportunities in the entrepreneurial sphere.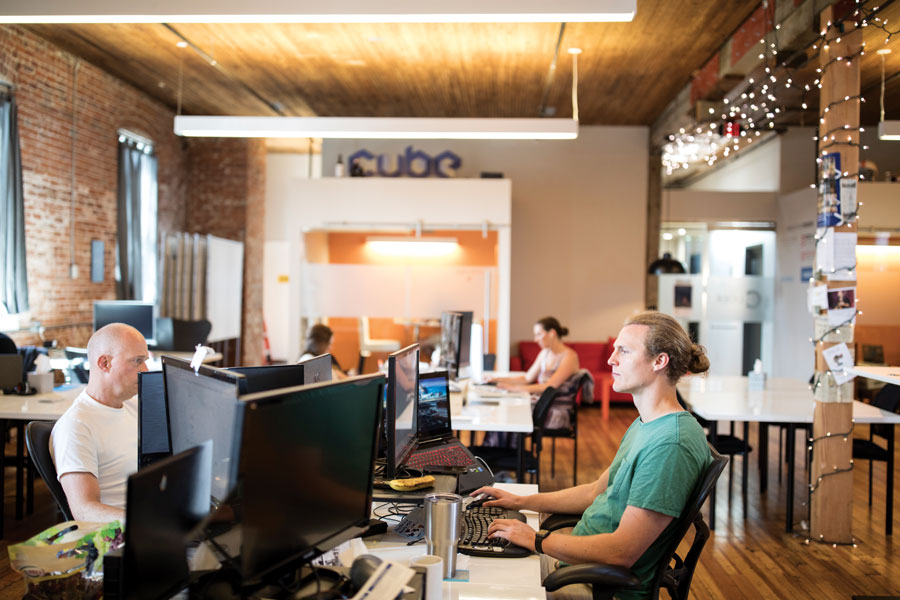 The Collider co-working space
The experience of Jamie Sundsbak, a onetime Mayo research technician, is an example of that new relationship between the Clinic and the startup community. He worked in the Innovation Accelerator of Mayo's Department of Surgery, a group that develops prototypes they hope will spawn new startup companies. Now he's the community manager at the Collider co-working space in downtown Rochester, which provides desks as well as networking and business development opportunities. 
Startup businesses will be primarily housed at the DMC's Discovery Square, a four-story downtown research space with labs, offices, and ground-floor commercial openings due to open in 2019. Mayo is expected to lease space in the building, but it's hoped that other medical and biotech companies and entrepreneurs will more than match the clinic's footprint there. The goal is to bring Mayo employees together with outside entrepreneurs to create the synergy often required to spark and develop major innovations. 
For years, Minnesota prided itself on having among the most Fortune 500 companies per capita, but that ranking has recently slipped—it has 18 today, down from 21 in 2010. And the last time Minnesota founded a brand new Fortune 500 company, it was UnitedHealth Group in 1977. (Its more recent Fortune 500 companies resulted from mergers of existing businesses.) With Mayo's new entrepreneurial engagement fueling the DMC, will the state's next new powerhouse company come not from the Twin Cities but from Rochester?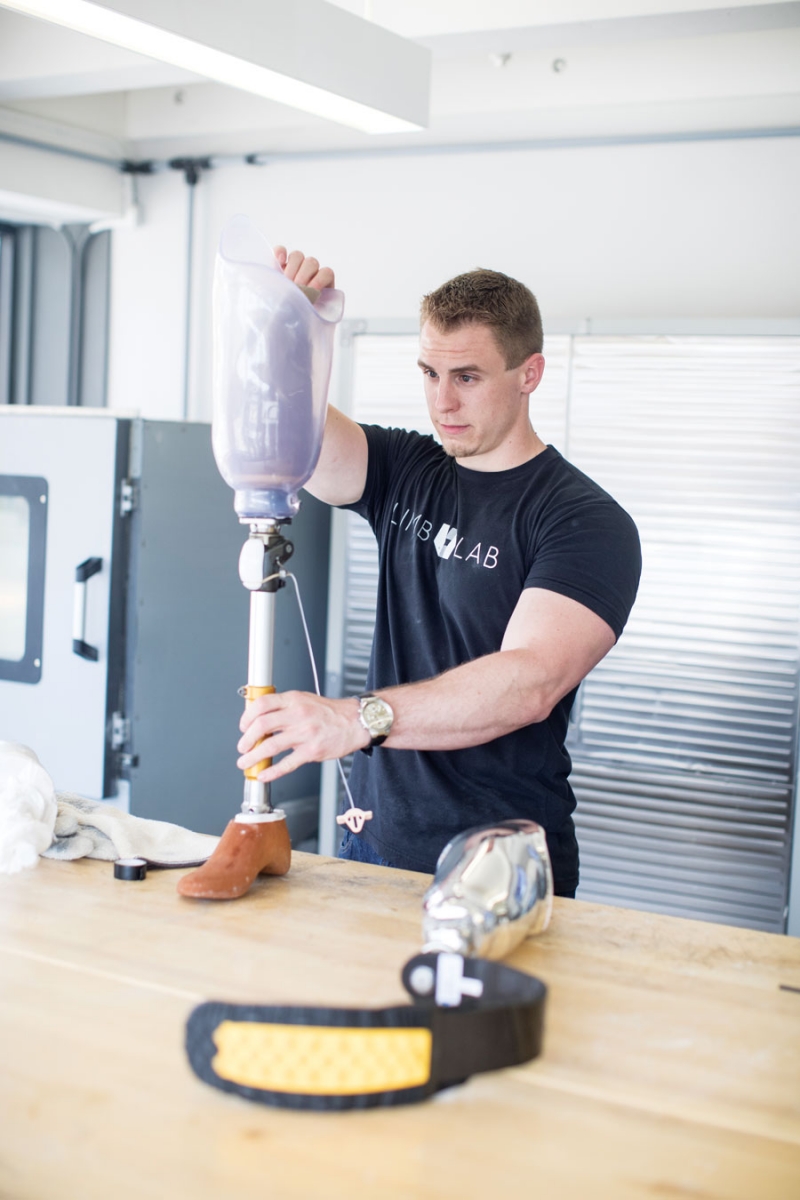 Making prosthetics at Limb Lab
Since long before the DMC was even conceived, Rochester's medical reputation has inspired entrepreneurs. Adjunct medical businesses—places selling everything from wheelchairs to portable oxygen machines—have perennially been a part of the city's economy. Limb Lab, as a newer example, is a downtown prosthetics and orthotics company that came to Rochester in 2014. Its product is certainly not new, but Limb Lab's technology is cutting-edge (they can create robotic prostheses that move in response to thought). Limb Lab also takes a modern attitude toward its profession, encouraging passersby to look through their large street-facing windows and watch practitioners crafting limbs, in order to reduce amputation-related stigmas.   
Mayo patient Traci Downs arrived in Rochester in 2003 to participate in clinical trials for an autoimmune liver disease. After shuttling back and forth from her home in Honolulu for  several years, she and her husband, Hunter, moved their medical software engineering company, Area 10 Labs, to Rochester and put down roots. They made an investment downtown in the $2.2 million renovation of an old brick building, which now houses their company as well as a restaurant, a web and app development company, and the Collider co-working space. "With the DMC happening, our idea was how to create a mini version," Downs says. "We're creating an entrepreneurial culture within a building."
With the growth of Rochester's economy and its population, the city's lifestyle amenities have expanded beyond generic chain restaurants and shopping at the Apache Mall, the longtime dominant retail option. "As an outsider, I've seen how Rochester has grown in three short years," says Sean Baker, who arrived after college and now runs the Med City Beat web-based news site. "New restaurants have popped up, the music scene has gotten stronger, and the entire downtown has taken on a new energy."

Drinking and dining options line historic Third Street
Baker has been able to challenge Rochester's newspaper, the Post-Bulletin, with granular local busness news, lifestyle stories, and videos, some in collaboration with Mayo and the U of M Rochester. (The Bulletin has also stepped up its digital game in the last year or so.) He maintains that the Beat would never have found a niche in a crowded landscape such as the Twin Cities and describes Rochester today as a place where newcomers can stake out turf on the ground floor of a rapidly evolving community. "There are a lot of young people here, like myself, who aren't waiting for things to happen," Baker says. "We're seeing opportunities and taking advantage of them."
Entrepreneurial attitudes like Baker's mark a major shift in the culture of a city that has long felt the influence of the risk-averse hospital business. In the tech world, failure may be a badge of honor, but in the medical field it's a matter of life and death.
Mayo's presence has made Rochester a town that tends to play it safe. Literally, when the Clinic led the charge to place defibrillators in public spaces. But also figuratively, with the Clinic acting as a kind of benevolent and protective presence that earned it the nickname "Mother Mayo," which citizens trust to make good decisions and provide economic security. Now the DMC asks the people of Rochester not to rely so heavily on Mayo to determine the city's future, but to drive more growth themselves.
Paul Bennett, owner of an interior decoration and design shop called Dwell Local, has both an insider's and outsider's perspective on the city. He grew up in Rochester, then spent 25 years in California and Chicago before returning eight years ago. "I feel like there's a big tension between the old and the new," he says. "The people who are from here are very resistant to changing. It's gone from a very conservative town, because of Mayo and IBM, to a more progressive town because of the influx of people from elsewhere."
A generation ago, if you didn't work at Mayo, you more or less lived in a different Rochester from those who did—closer in spirit to its rural surroundings than its downtown core. As America has grown more urban, tensions with rural communities have risen. Many urbanites, for example, have pushed for a publicly funded rail line between Rochester and the Twin Cities. But rural opposition—manifest in the homemade "No Zip Rail" signs that have cropped up in fields alongside Highway 52—is strong. Progress isn't without its costs. 
"Downtown is losing any type of history or real soul," Bennett says. "It's becoming very much a corporate downtown. Rents for businesses are going up astronomically, and that's pushing out a lot of the small business."
Just one example is the old-school local institution Michaels restaurant, which closed in 2015 to be redeveloped as an adjunct to the DMC's Broadway at Center development. The Pappas family, which has owned Michaels since the 1950s, has plans to open a new restaurant in the replacement retail complex, but with $100 million-plus price tags on several of the downtown lodging, residential, and mixed-use projects, it's unlikely that many legacy mom-and-pop businesses will be able to afford the new rents. 
Rochester won't stay the sleepy, low-cost place it was just 10 or 15 years ago, whether Discovery Square hatches the Silicon Valley of Medicine or the DMC misses its mark. (One upside of the future growth: Neighborhoods are starting to develop individual identities and more local character, something they previously lacked.) In the life cycle of cities, nothing remains the same—and as many American cities of Rochester's size remain stagnant or decline in population, the city's goals seem especially ambitious. 
Some risks, however, from a broader perspective, can actually hedge a bet: The state can't simply rely on the Twin Cities to drive its economy. A healthy ecosystem of small and mid-sized cities, Rochester among them, is essential to the state's viability—and cultivate the next visionaries like Dr. Will Mayo, racing down the tracks to save a life.
Above Historical photo mayo clinic