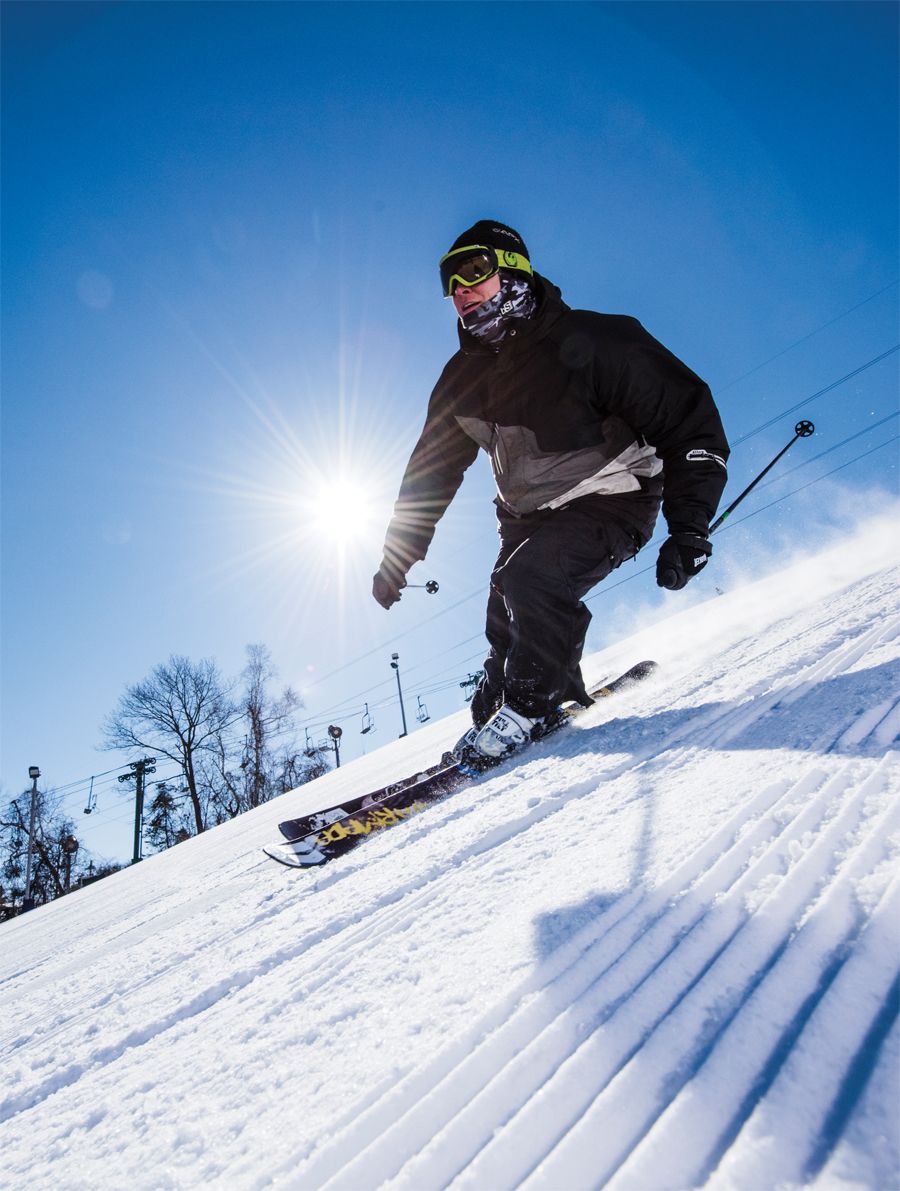 photos by Ryan Taylor
---
On a steamy summer evening a few months ago, Erich Sailer stood in the back room of the restaurant at Buck Hill Ski Area, in Burnsville. It was the first event of the Buck Hill Foundation, formed this year to raise money for aspiring alpine skiers in Minnesota. Sailer mingled with several dozen well-dressed supporters—all of them, more or less, ski nuts—as the evening's honored guest.
Sailer is 93, gnomic in speech and stature ("I used to be taller, really!" he says), with a full head of reddish-brown hair. He wore a dark loden blazer in the style of his homeland, the iconic region of Tyrol in the Austrian Alps, pinned with a large red-and-white cross—Austria's highest government honor, awarded to Sailer for his contributions to the national culture. He is sometimes called the Yoda of ski racing.
Sailer oversaw Buck Hill's ski-racing program for more than four decades, until stepping down this season. He figures he's coached some 25,000 young skiers, including Lindsey Vonn and other Olympians. At the 2002 Winter Olympics in Salt Lake City, the entire U.S. women's slalom team was comprised of his protégés, including Vonn, Kristina Koznick of Apple Valley, and Tasha Nelson of Mound. He is in the U.S. Ski and Snowboard Association Hall of Fame, and there is a room named for him at the association's headquarters in Park City, Utah. For a time, in the 1990s and 2000s, Buck Hill was known as America's "slalom factory," largely because of what he started.
Sailer at Buck in 1972
As the guests tucked into a five-course dinner, someone clanged a cowbell in the alpine tradition. I turned to see a tall young woman enter the room in a tight black dress, blond hair swept back into a bun: Lindsey Vonn, the world's most successful female alpine ski racer with 77 World Cup wins and two Olympic medals, hardly recognizable out of her ski gear except to those in the room. "Hi, everyone," she said sheepishly, as though she were late to a family dinner.
As the evening progressed, Vonn would tell Sailer—in German—"You're the reason for my success." She would give him an award from the Foundation and unveil a large painting of Buck Hill, its snowy slope glowing in the sunset. And Sailer would respond with optimism, declaring that one of his more recent protégés, Isaiah Nelson, may yet be Minnesota's next champion skier.
But Sailer also noted that racing has only become more expensive. Skiers require tens of thousands of dollars for enough training to make the U.S. Ski Team—and then have to pay the team $25,000 a year to stay on it, a sum that's harder to come by in Minnesota than on the more affluent coasts. And then there's winter itself. Seven degrees warmer on average than when Sailer moved here in 1969, winters in Minnesota have become shorter and slushier every year. In fact, no place in the country is warming more quickly than the upper Midwest.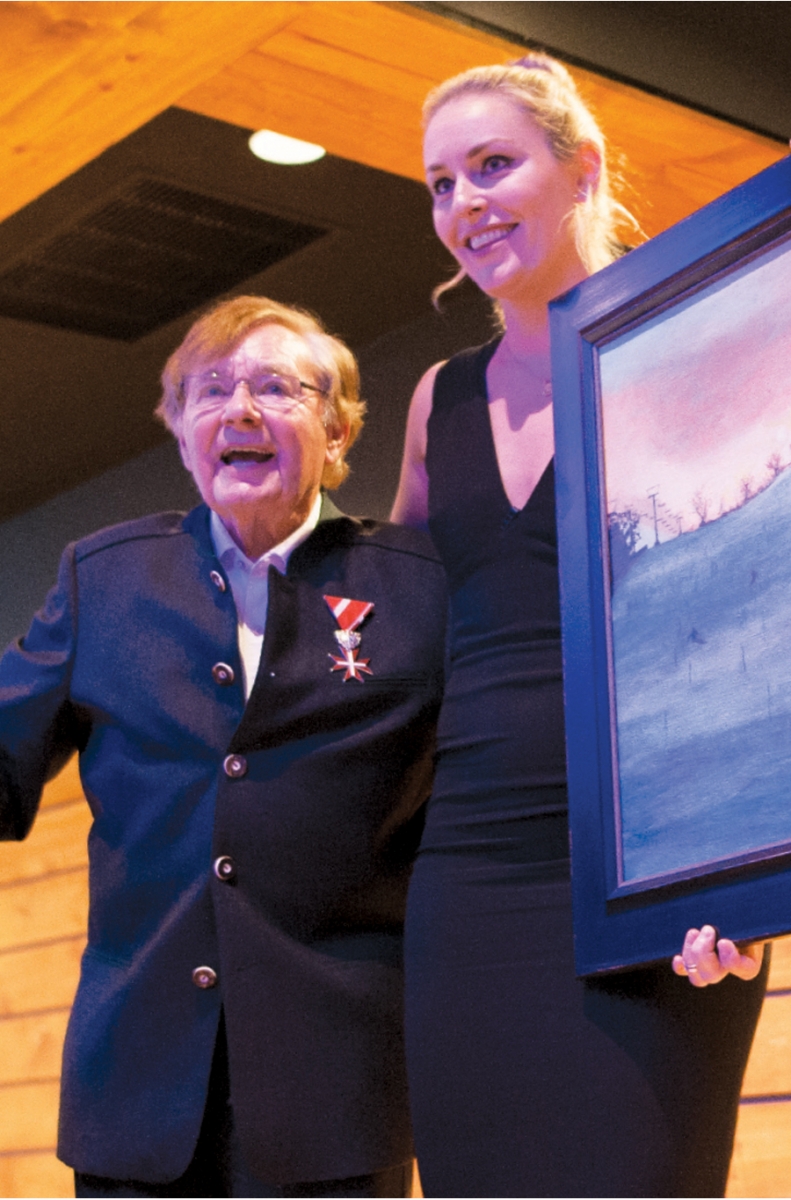 Coach Erich Sailer and his ski protégé Lindsey Vonn were recently honored by the Buck Hill Foundation
For several years now, the Minnesota Legislature has debated extending a lifeline to the state's 18 ski areas, so-called Snow Angel grants that would help them modernize and adapt. (Buck Hill isn't waiting: For a couple summers now, it has deployed a four-acre synthetic ski slope, made of supple plastic mats, to extend the ski season.) The Buck Hill Foundation hopes to help, too, by raising money for skiers—from anywhere in the state—to compete at the highest levels.
"You are the best people for the effort," Sailer told the crowd. But later, as guests lined up for photos with Vonn, Sailer stood alone and anxious. He looked over at memorabilia piled on tables against the wall: old skis, black-and-white photos, weathered racing regalia—a personal history tracing the arc of Minnesota's improbable ascent. "It didn't just happen," he told me, referring to his success. "It was planned." And now his era was ending.
Minnesota, by most measures, should not be in the downhill business. It's not actually that snowy, compared to mountain states or even Michigan. And it's a relative pancake, never mind the romantic monikers accorded some North Shore hills (Sawtooth Mountains, Moose Mountain). It's the fifth-flattest state in the country, by overall elevation. It's flatter than Kansas.
But Minnesota had two things going for it at the turn of the 20th century, when skiing emerged in America. It had the longest, coldest winters of any populated place. And it had Norwegians. 
Norwegians invented modern skiing in the late 1800s. And when they emigrated to America—mostly to the upper Midwest—they brought their fondness for "ski running" with them. They were especially fond of ski jumping. In the hills of southeastern Minnesota—bluff country—the Norwegian immigrant farmers passed the winters amusing themselves by flying off cliffs. 
In 1886, a Red Wing department store owner with a walrus mustache formed the Aurora Ski Club, only the second such organization in America. The following year, during Minnesota's second-coldest winter on record, the club pulled off the first ski-jumping competition in the United States. Mikkel Hemmestvedt, a 24-year-old recent immigrant, established the American record, flying 37 feet over downtown Red Wing and earning himself $35 in gold.
The country was charmed. Mikkel and his brother Torjus had formed the world's first skiing school back in Norway. And now they took turns setting world records. By 1893, Torjus had stretched the jumping record to 103 feet and appeared in an exaggerated drawing on the cover of the leading American magazine, Illustrated Weekly, soaring like a tassel-topped elfin warrior over a mountainous Minnesota landscape. To jump on skis was to do a "Red Wing," and the Minnesotans who did so for fame and fortune were dubbed the "Sky Crashers." 
A Norwegian also opened the first ski factory in North America, in St. Paul. And his apprentice later opened the nearby Northland Ski Company, known for its long, sleek hickory skis, its "How-to-Ski" brochures, and catalog sales that opened the sport to the masses. By the 1930s, Northland was the biggest ski maker in the world, and even now nearly every skier of a certain age recalls starting on Northland skis.
There were still enough Norwegian-speaking skiers in the upper Midwest during World War II to form the 99th Infantry Battalion, intended to engage German troops in Norway in a kind of guerrilla war involving skis, snowshoes, mountaineering, and weaponry. They assembled at Fort Snelling and trained in the Colorado Rockies alongside the more famous 10th Mountain Division. They called themselves the Viking Battalion.
But their mission morphed, and while the 10th battled its way on skis through Italy, most of the 99th fought in France, Belgium, and Germany—forgoing their skis—before eventually arriving in Norway at the war's end. Along the way, men in both units were exposed to the downhill culture that had blossomed in Europe, with colorful chalets and chic restaurants and glamorous racing teams—everything that war was not, and a lifestyle they hoped to emulate back home.
When George Nelson Jr., of the 10th Mountain Division, returned to Minnesota, he pitched a ski resort to his father—who happened to own Lutsen Lodge on the North Shore. The biggest American ski areas were in New England then, with a few in California and the Rockies, most of them founded in the 1930s and catering to the bi-coastal elite who came up from New York or Los Angeles to dine, dance, and maybe take a ski lesson from a European stud. There was little for ordinary Americans. And in Minnesota, aside from what remained of its ski-jumping heyday, even less.
Junior opened a ski area up the road from his family's resort, on four high hills overlooking Lake Superior. ("Most Mountain-Like," bragged an early Lutsen ski pin.) His daughter grew up there: Cindy Nelson, who by 1975 was the top skier in America.
Another 10th Mountain man helped found Buck Hill, in 1954, on a rise so subtle it wasn't obvious to anyone that it should be skied. The couple behind the idea discovered the place only because they looked in the library for the tallest hill close to the Twin Cities, and there it was on a map—300 vertical feet. 
When Erich Sailer first saw Buck Hill, in 1969, he wondered if he'd made a mistake. "Where is the mountain?" he asked himself. He checked into a nearby motel, with no intention of staying in Minnesota beyond the ski season. 
Sailer has now lived in Apple Valley for decades, in a typical, winding subdivision of low-slung houses from which he can get to the Buck Hill slope in about 15 minutes. His spare home reveals little of his success, despite his obvious pride in it. For decades, he had focused on forming champions, to the exclusion of much else—a dedication that might be monastic if it didn't involve, by all accounts, a steady stream of hollering at the students he skied alongside.
A few weeks before the foundation ceremony, I sat with Sailer at his kitchen table as he showed me photos on his iPad of his Austrian hometown. There was no ski area there when he was growing up, no chair lift of any kind; if he wanted to ski down the mountain behind his house, he had to walk up it—and he did. At 17, he began racing, eventually competing in the equivalent of World Cup races today. He placed but never won.
So he moved to British Columbia, in Canada, and became a ski instructor. "Skiing was my life," he told me. "It was not like starting a job, it was like continuing my life." Soon, a fellow Austrian standout, Pepi Gabl, who was already working as a ski instructor in the States, suggested he check out Mount Hood in Oregon. And in 1956, the two of them opened a summer racing camp there for elite young skiers, the first in America.

Sailer slaloming at Red Lodge in 1967
Sailer had connections to many of the world's top skiers, and having Olympians and World Cup racers as coaches became a staple of his camps. In the 1960s, he launched the largest youth ski camp in the country near Red Lodge, Montana, where he happened to coach the daughters of Buck Hill's founders. Their parents asked him to consider Minnesota. He joined Buck Hill as its junior development coach the following season, in the fall of '69, figuring he could recruit "flatlanders" for his camps out west.  
Buck Hill's ski team had never won a race of any kind. But in Sailer's first season there, they did. His protégés followed him around the world—for years he ran as many as five camps in America and Austria—and the wins added up. "No one could touch Buck Hill for a long time," he said.
He met Lindsey Vonn, then Lindsey Kildow, the day she was born. He had trained and subsequently hired her father, who would take Lindsey skiing at Buck Hill in a backpack, before she could walk. By age 7, she was skiing up to 400 gates (the poles that slalom competitors ski around) under Sailer's intense daily regimen, riding the rope tow to the top again and again. That was part of Sailer's signature style: repetition to enhance muscle memory—up to a thousand gates a day on at least one occasion. "I'm sure no other coach was doing that," he said. "I'm sure it's a world record."
Vonn slaloming at the 1997 Whistler Cup
Sailer wouldn't have minded a hill twice as tall to work with, he told me. But the Midwest's short hills lend themselves to repetition and discipline. Learn to turn in Minnesota, coaches say, and skiing real mountains, where you can finally stretch out, will feel like carving through butter. When Vonn moved to Vail, Colorado, at 12, she had already racked up more alpine mileage than probably any preteen in America.
In other, more glamorous places, Vonn told me, people might take their ski areas or their success for granted, but not in Minnesota. "The energy at Buck Hill is different than anywhere else," she says. Here, where there's literally no room for error, she notes, skiing is serious business, and you can perfect your technique. "Don't change the way you ski," Sailer told her when she moved to the mountains. "You're fast just the way you are." It's something she's never forgotten. At the Olympics, or any other competition, she says, she continues to introduce herself the same way: "I am Lindsey, from Buck Hill."
By the time Vonn headed to the 2002 Winter Olympics, at 17, Sailer's success had helped change the game at other local ski areas. Sophisticated training, with experienced coaches and multiple layers of development through every age group, replaced a laid-back ski-bum culture content to win local races. Along with better chalet fare and more learn-to-ski programs, the effort may be reflected in Minnesotans' elevated love of the sport. In recent surveys of alpine skiing participation per capita, only the mountain states of Colorado and Montana have ranked higher.

Vonn at the 2002 Olympics
Sailer's former associates at Buck Hill have been taking his ideas to other Minnesota ski areas for decades now, spreading his legacy and perhaps ensuring its survival. Of the camps still held at Mt. Hood in Oregon, three are associated with Minnesotans, including Tony Olin, who spent more than two decades working with Sailer at Buck Hill. Olin was the coach who opened the doors at 7 a.m., when Vonn's mother dropped her off before school. He put Vonn through her paces. And now he's developing dozens of potential champions at Afton Alps, near Hastings, a former mom-and-pop hill that has become the Midwest's largest metro-area ski resort.
Afton's 300 acres are encased in a bowl of pine-covered bluffs, suggesting a snow globe, an alpine oasis. When I visited last January, the temperature was rising to 35 degrees—11 above the average high—and the skies had dumped rain for the past three days, stripping snow-covered lawns down to grass. And yet there was snow at Afton, and plenty of it. On a Monday morning, the slopes were streaked with skiers. 
Five years ago, Afton was acquired by Vail Resorts, of Colorado, which has been buying up ski areas in the upper Midwest. They've targeted places with outdoor enthusiasts who were trekking out to Colorado anyway, and, by their research, Minnesota was second only to Texas in sending skiers to Vail. Now, with Vail's Epic Pass, these skiers can hit their home slope and the Rockies as much as they want for one discounted price—a kind of spoke-and-hub operation that could reinvigorate Midwest skiing.
Chris Setchell, director of Afton's Ski and Snowboard School, put me in downhill skis for the first time in my life. "Get into your athletic stance," he said. And when I hesitated, he clarified, "Pretend you're about to throw a basketball." Then he demonstrated the two basic ski positions—what the kids call French fries (parallel) and pizza (pointed toward each other). And he showed me how to turn, in the graceful alpine descent that I had always assumed was beyond my reach—like Tahiti or tantric yoga. 
Another instructor was nearby with my wife and 2-year-old daughter, who had quickly shed her skis and was building a snowman. Setchell now oversees about 300 ski instructors and a range of programs aimed at bringing entire families into the skiing fold, where they're more likely to stay if everyone's into it. (Afton's "I Will Ski" package offers free skis and bindings after four lessons; a new "3-Pack" offers three days of skiing for the price of two.) Once you're in, there's enough training and competition during the week to keep you as involved as soccer, basketball, or any other more accessible sport.
Vail has spent more than $10 million improving Afton, mostly on 72 snowmaking guns. ("It's not magic, but it's as close to magic as you can get," Afton's publicist told me.) Despite some sputtering starts to the season in recent years, the ski conditions have arguably become more reliable, even as winters have become less so.
Vail is also reviving some of the après-ski vibes of Afton's 1963 origins, at the outset of skiing's golden era. With its glass-lined chalet bar, warmed by a fireplace in the center of the room, the hill has a transportive effect—what Lake Minnetonka has for boaters—such that young, tattooed skiers in puff ball–topped hats can sip hot toddies there without irony, any day of the week. It's a life.
I rode the chair lift to the top of a beginner slope, where I stood with kids a quarter my age. Snow had begun to fall, as if to remind us that it still could. And as I sailed downhill—with Setchell shouting, "Good! Good!"—I realized not only that I could do this, but that I hadn't missed out on the party. I could still become the kind of Minnesotan who glides through winter, who sees mountains where there are none, who has no business being here at all.
Facebook Comments