As the story goes, a Norwegian immigrant landed on the shores of Grand Marais in the late-1800s knowing just two words, "coffee" and "pie," and managed to survive well into old age. These days, he'd have to include phrases such as "elk carpaccio," "hot-stone therapy," and "in-room Wi-Fi" to truly take advantage of the North Shore's offerings. Such comforts are especially appreciated in the dead of winter, which, incidentally, is one of the most beautiful seasons on the Shore. Whether this winter will mark your maiden voyage or your annual pilgrimage, we've compiled the best places to stay and play along Lake Superior's Minnesota border.
 
DESTINATION:
Duluth / Two Harbors
Drive Time: 2.5 to 3 hours
WHERE TO STAY
Fitger's Inn
Duluth has seen notoriety for a burgeoning fleet of microbreweries that has cropped up around the area's oldest brewhouse, Fitger's, established in 1884. In 2008, the pioneering brewery renovated its hotel rooms and suites, which have some of the best views of Lake Superior and downtown Duluth. The well-appointed rooms are the best kind of historic: charming (old-timey photos and original brick walls) but modern (pay-per-view, in-room coffee, and Aveda products).
If the temps dip precipitously, you never have to leave the Fitger's complex, home of Fitger's Brewhouse (also a great place to catch live music), a fitness center, a salon, and several retail shops, including Alpaca WaWa (alpaca wool clothing), and The Market, a gourmet kitchen store. $$
218-722-8826, fitgers.com
 
Cotton Mansion
If Joseph Cotton were alive today, he'd make the cover of Esquire. The wealthy attorney worked for U.S. Steel and later as private counsel to John D. Rockefeller. In 1908, he built the Cotton Mansion: a 16,000-square-foot Italian Renaissance palace complete with a stained-glass atrium, which has been converted into a B&B.
The mansion's seven rooms are each uniquely—and lavishly—decorated. All but one include a fireplace and whirlpool tub. Guests enjoy a complimentary gourmet breakfast and wine and cheese on Friday and Sunday nights. Specials include a Romance Package ($50 off your third night's stay and a complimentary bottle of champagne) and a Retreat Package, which includes an in-room massage. $$
218-724-6405, cottonmansion.com
 
Larsmont Cottages
Photo by Jeff Johnson
Step into the main lodge at Larsmont Cottages (25 minutes north of Duluth, just shy of Two Harbors), and you'll hear the sweet, soft croon of Bing Crosby (Big Band music plays 24/7 here). On weekends, if you look out the picture window you'll find a snowsuit-clad cocktail hour: guests holding wine glasses through mittens while enjoying a roaring bonfire.
The cottages aren't as quaint as the term suggests. They feel more like suburban condos, a little impersonal but definitely upscale: full kitchens with granite countertops, two-way gas fireplaces, and sweeping views of Superior, which is right out the back door. Each unit includes a telescope and one would be remiss not to use it, especially to see a full moon over the lake.
The resort includes an indoor pool, an outdoor hot tub, a sauna, and massage offerings. The resort's Ledge Rock Grille is one of the most upscale restaurants in the area, with bourbon-planked sockeye salmon and a robust wine list. $–$$$
866-687-5634, larsmontcottages.com
 
Grand Superior Lodge
Just 15 minutes past downtown Two Harbors, this mighty, modern lodge (with accompanying cabins and log homes) attracts city folk with its slick outdoor ice bar. Yet the indoor bar, just off the lobby, offers the same stunning view with cozier digs from which to enjoy a hot toddy and an all-too-early winter's sunset. $$$
218-595-7020, grandsuperior.com
 
Lighthouse B and B
If you've got a thing for lighthouses (you're not alone: the lighthouse thing is a thing), you'll want to stay at Two Harbors' Lighthouse B&B. In this working watchtower built in 1892, you'll share the bathroom facilities with the other guests, but you'll also sleep beneath the mariner's guiding light with Lake Superior at your side. $
888-832-5606, lighthousebb.org
 
WHAT TO DO
Dabble in Beer:
Photo by Luke Kavajecz
Duluth's newest brewery, Canal Park Brewing Company (canalparkbrewery.com), is also its best. The main dining area offers a full menu and features floor-to-ceiling windows that face the lake, while the bar showcases its giant tanks of beer. You may want to walk back to your hotel after one of Canal's double beer samplers, which feature tastes of the brews currently on tap. The Stoned Surf IPA, a hoppy, medium-bodied brew with a bold grapefruit bouquet, is worth taking home in a growler.
 
Go to Italy:
Two blocks from Fitger's, Va Bene Caffe (vabenecaffe.com) Italian bistro is noted for its gelato. (Even in the dead of winter, the tubs are eaten halfway down.) Va Bene's enclosed solarium will make you feel as though you're part of the lake—if it happened to be located in the heart of Rome. Authentic Italian fare includes light, pillowy, homemade gnocchi and a hearty bolognese well-suited to cold wintry nights.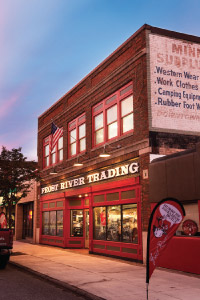 Photo by Rolf Hagberg
Shop Local:
Canal Park is Duluth's main retail draw, and no visit is complete without a stop by the famous Duluth Pack Store (duluthpack.com) for some outdoor haute couture (there really is such a thing) and Waters of Superior (watersofsuperior.com) gallery, which features local artists and authors, as well as clothing, jewelry, perfume, and serveware.
Tourists don't typically venture to Duluth's grittier west side, but that's where you'll find Duluth Pack's worthy—and less expensive—competitor in Frost River Trading Co. (frostriver.com) on West Superior Street. (You can't miss its cherry-red exterior, which stands out among the block's shabbier storefronts.) Frost River's styles are plentiful and its manufacturing local.
 
Release your Inner Adventurer:
Get in touch with your hardcore side with Positive Energy Outdoors (outdooredventures.org) in Two Harbors. You'll feel like an original voyageur as you dogsled, skijor, and ice climb your way along the Shore—no experience necessary.
 
Photo by Jeff Johnson
DESTINATION:
Beaver Bay, Tofte
Drive Time: 3.5 to 4 hours
WHERE TO STAY
Cove Point Lodge
On a wintry night, Cove Point's red and yellow façade, just outside Beaver Bay, glimmers like Santa's village. The two- to three-bedroom cottages or rooms in the main lodge all offer impressive views of Lake Superior. Spring for a room with a fireplace and a lake-facing whirlpool, and you'll never regret passing on that Florida timeshare.    
You can eat up an entire weekend at Cove Point between the pool, sauna, and hot tub as well as area hikes and outdoor campfires. The lodge also offers free snowshoe rental and is conveniently located near several snowmobile trails. The dining-room menu includes local fare such as Norwegian herring salad and crumb-crust walleye. Or opt for a burger and a pint at the more casual Crossings Bar and Grill. $$
218-226-3221, covepointlodge.com
 
National Forest Lodge
You'll feel like a true Minnesotan at National Forest Lodge in Isabella, located 20 miles inland from Silver Bay. You can cross-country ski out the back door of one of its rustic cabins, which are heated… and that's about it. No running water (aside from the main lodge), no cable, and no Internet. You can, however, enjoy one of the greatest of Minnesota pastimes: baking at more than 150 degrees in a wood-burning sauna, then taking a body-numbing dive into Lake Gegoka via a massive hole cut into the ice. Many prefer to simply stay submerged in the large outdoor hot tub.  
For dedicated cross-country skiers, there are nearly 20 miles of trail through 2,000 acres of the Superior National Forest.  A two-night stay includes six buffet-style meals (BYOB) and Saturday night entertainment—live music, karaoke, and the occasional howling of wolves. $
218-353-0707, nationalforestlodge.com
 
Surfside on Lake Superior
Keep the sheen on your city slick at Surfside on Lake Superior. These modern Tofte townhomes, among the newest on the Shore, offer expansive, lake-facing views, cathedral ceilings, slate fireplaces, full kitchens, wet bars, whirlpools, and double-headed showers. (This is where you take your East Coast brother-in-law who boasts ties to the Kennedys—even he'll be impressed.)
The resort is located just eight miles from Lutsen Mountains (lutsen.com) and offers a complimentary shuttle service to and from the ski hill. Free cross-country ski rental is provided through Surfside's sister resort, Bluefin Bay (bluefinbay.com), as well as ski and snowshoe lessons and sleigh rides. Surfside also offers complimentary kids' activities, campfires, and s'mores. $$$
218-663-6870, surfsideonsuperior.com
 
Temperance Landing
Photo by Jeff Johnson
Temperance Landing log homes are a solid choice for a guys' getaway, bachelorette weekend, or family vacation for groups of up to eight. The three-level homes offer full kitchens, stone fireplaces, entertainment centers, and poker tables. They're also minutes from the ski hill and just a short drive from Grand Marais. $$$
218-663-7220, temperancelanding.com
 
Chateau LeVeaux
Chateau LeVeaux, located between Tofte and Lutsen, has experienced new vitality after a recent face-lift. Its lakeside suites and condos (which include kitchens and, in some cases, whirlpools and fireplaces) are pleasantly decorated—each with its own flair. Options include a north woods theme (log beds, walleye-patterned quilts) or a seashore room (complete with a blue sky ceiling and carved wood seagulls). Enjoy spectacular lake views, frequent rate specials, and a pool, hot tub, and sauna. (French accent not included.) $$
218-663-7223, chateauleveaux.com
 
WHAT TO DO
Eat Pie:
It's the moment you've all been waiting for: the "Best Pie" reveal. And the honor goes to… Camp 61 Bunkhouse (campsixtyone.com). New owners have converted this Beaver Bay motel and restaurant from a barebones hunters' retreat to a quaint, expertly styled inn, with antique snowshoes and skis decorating the walls. Despite the lack of lake views, pools, hot tubs, or saunas, this place is truly a hidden gem. The innkeepers are lovely, the herring is delivered fresh from local fishermen, and it employs a team of grandmas who bake what are undoubtedly the Shore's best pies—don't miss the mixed berry.
 
Own Your Yuppie:
In an area where many menus lean heavily on fingers, poppers, and nuggets, Tofte's Coho Café (bluefinbay.com) offers more gourmet fare, including salmon and arugula caprese, gluten-free pasta, shiitake mushroom pizza, and organic wine—as well as a classic mug of hot cocoa.
 
Sneak Off to the Spa:
On any ski vacation there comes a decision point—it's that moment when your feet are so cold they feel painful. Your options are to take another run and wait for them to go completely numb or, around here, sneak off to the spa. On this stretch of the shore, head for Bluefin Bay's Waves of Superior Spa (wavesofsuperiorspa.com) for facials, massages, and manis/pedis, as well as services with a local bent: wild-rice exfoliations and blueberry-soy hydration treatments.
 
Hit the Trail:
Strap on your crampons: Most of the Shore's state parks are open through the winter. Tettegouche's trails overlook the Sawtooth Mountains and wind down to remote inland lakes. The Cascade River is home to several gorgeous overlooks and walking bridges that span the falls. Depending on temperatures, Temperance River may be flowing freely or frozen solid—an ice formation locked in plummet.  
 
Photo by Jeff Johnson
The Shore's Top 5 Cross-Country Ski Trails
Don't let those alpine skiers knock it. Cross-country skiing can be just as spectacular and death-defying—if you know where to go. Here are the best places to get out your boards along the Shore.
 
Tettegouche State Park
Silver Bay
With lakeside trails, expansive overlooks, idyllic picnic spots, and a speedy, downhill return, Tettegouche has it all.
 
Crosby Manitou State Park
Silver Bay
Keep an eye out for the Hobbit as you break trail in this forbidden forest, which is home to the rushing Manitou River. For skilled skiers and adventurers only, this secluded, ungroomed trail is marked "ski at your own risk."  
 
Sugarbush Trail
Tofte
Start the kids and beginners off at Sugarbush. They'll quickly conquer the inner 2.9-kilometer loop and move on to the many miles of intermediate trails, which feature rolling hills and ridges.
 
Suomi/Finland Trail
Little Marais
Pay for a flight to Finland or simply ski the Suomi Trail (Suomi meaning "Finland" in Finnish), which is said to look just like it, with sloping hills, hardwood forests, and an abundance of lakes and ponds.
 
Pincushion Mountain
Grand Marais
Fair warning: You may be inspired to get down on one knee on Pincushion Mountain, where certain trails are lit up at night for the diehards and romantics.
 
DESTINATION:
Lutsen / Grand Marais
Drive Time: 4 to 5 hours
WHERE TO STAY
Lutsen Resort
Al Capone once stayed at Lutsen, and, for sport, riddled his cabin with bullet holes. When Lutsen founder C.A.A. Nelson surveyed the damage, he demanded that Capone pay him an extra $20. Surprisingly, the gangster obliged.
Though the current owners have significantly expanded Lutsen's holdings to include additional condos, cabins, and townhomes, they've maintained the property's natural aesthetic and the historic main lodge, established in 1885. The latter is no small feat due to the structure's age, but the owners are committed to its preservation as part of Minnesota's rich past. The main lobby lures guests with a roaring fire and oversize burlap checkerboards, and the log cabins are especially cozy—each with a full kitchen and a wood-fire stove.
You can easily find your way up Oberg Mountain with its eight impressive overlooks, but Lutsen's expert activities staff also offers daily snowshoe and cross-country ski tours throughout the area. They'll take care of the driving and equipment and provide fascinating tidbits. (Those "moose tracks" are, in fact, from a snowshoe hare!) $$
218-206-8157, lutsenresort.com
 
Naniboujou Lodge
In the historic Naniboujou Lodge's dining room, the domed, canoe-shaped ceiling painted in bold Cree Indian designs is positively awe-inspiring. The kaleidoscope of primary colors brings to mind that classic Sesame Street video that goes behind-the-scenes of a crayon factory. One almost expects meals (served weekends-only in winter) to be presented by elves and garden gnomes.
You can practically spit to Canada from Naniboujou's deck—or head to the shore's northernmost state park, Judge C. R. Magney, with its 3,000 acres of trails and the incredible Devil's Kettle Waterfall, in which half of the Brule River disappears into an enormous pothole. Bring a deck of cards and avoid any sensitive family discussions, as you won't find phones, television, or Internet in any of the rooms (cell service also is spotty). The Twitter withdrawal will only last a day or two. $$$
218-387-2688, naniboujou.com
 
Seagull House
If seagulls begin to flock at Seagull House, don't panic—they don't answer to Hitchcock's call. More likely, they were drawn to the mother ship—from an aerial view, Seagull House was designed to resemble one of them. John "Jack" Howe, Frank Lloyd Wright's chief draftsman, designed the house in 1982, utilizing Wright's philosophy of "organic architecture," through which buildings are integrated into their natural surroundings.
Built from red cedar, now worn to gray, the home blends in with the craggy shoreline. Inside it's modern—angular with sleek lines and custom built-ins. With three bedrooms, three bathrooms, and a full kitchen, it can accommodate a family with room to spare. It's a short drive to Grand Marais and to the area's many hiking and ski trails, but that's not its main draw. Instead, light a fire in the home's impressive granite fireplace, and park yourself in front of its expansive windows for an unparalleled, seagull's-eye view of Lake Superior. $$$
218-663-7971, cascadevacationrentals.com
 
East Bay Suites
Enjoy an "urban" experience at East Bay Suites in downtown Grand Marias. These modern apartments offer gas fireplaces, flat-screen televisions, and full kitchens. The sport here is shopping and dining: Walk to Sivertson Gallery (sivertson.com) for local art, and meet all your Woolrich, Carhartt, and vintage toy needs at Joynes Ben Franklin (joynesbenfranklin.com). Indulge in that third Lake Superior Ale at the Gun Flint Tavern (gunflinttavern.com) and toddle back to your abode. $$
218-387-2800, eastbaysuites.com
 
Thomsonite Beach Inn and Suites
There's nothing glamorous about Thomsonite Beach Inn and Suites. The 1970s-era rooms are clean and simply appointed (some with kitchens and fireplaces). There is no main lodge, no sauna, and no ski-hill shuttle. You'll have to settle for affordable rates, incredible Lake Superior views from a private beach, and the soothing sound of waves lulling you to sleep. $
218-387-1532, thomsonite.com
 
WHAT TO DO
Explore Lutsen Mountains:
In 1945, two lumberjacks cleared Lutsen's first two downhill ski runs with hand axes and saws. Today it boasts 92 alpine runs across four mountains—pretty serious pow for a plains state (lutsen.com). Take a gondola ride to the top of Moose Mountain and feel like you're in the Alps, complete with panoramic views (and cold brews) on an outdoor deck. After hours, there's live music at mountainside bar, Papa Charlie's, also the best place to pick up a snow bunny.
 
Forget Cooking (sort of):
Your best dining options are in Grand Marais, but there's a catch: Winter hours are flaky. Some restaurants close completely in winter, while others are only open weekends. If you time it right, cowboy-themed Hughie's Taco House serves a mean sauerkraut taco (we are, after all, in the Midwest). The Pie Place Café (thepieplacecafe.com) is somewhat mis-advertised: The pie is delicious, but so are the entrées, particularly the three-meat maple meatloaf and the classic chicken potpie. For upscale fare—free-range chicken and demi-glace—try the Crooked Spoon Café (crookedspooncafe.com). Get gritty at My Sister's Place (mysistersplacerestaurant.com), where the gizzards go down surprisingly easy.  
 
Photo Courtesy of North House Folk School
Fashion a Knife:
Catch up on all those essential life skills you're missing at North House Folk School (northhouse.org). Tricks taught include how to make a timber-frame cabin, birch-bark skis, a Norwegian skiff, a wooden bowl, and an antler basket among a host of other traditional crafts. Classes run all winter. After-class activities may include Norwegian movies and a wood-fire pizza party.
 
Drive to Siberia:
Drive up the Gunflint Trail in the dead of winter and you may feel as though you're driving through the Siberian tundra. (Fill up your gas tank before you go, as there are no gas stations, and you'll see barely another car on the road.) It's an otherworldly experience, however: perfectly serene with untouched snow and, if you're lucky, a moose sighting. You'll end at the historic Gunflint Lodge (gunflint.com) where you can warm up with a bowl of its signature walleye chowder while overlooking frozen Gunflint Lake.
 
Meet Me at the Spa
Photo by Gennadiy Poznyakov/Fotolia
Does Carol Einwalter perform most of her massages on lumberjacks? The owner of WatersMeet Spa and Wellness Center at Lutsen Resort doesn't miss a muscle. Hers are massages for working people with serious aches and pains. While some spas can feel as though the masseuse is simply playing patty-cake on your back, Einwalter kneads, digs, and stretches each muscle into submission. An elbow to the shoulder blade never felt so good.   
Einwalter introduced massage to the area more than 20 years ago, when resorts wanted nothing to do with it. ("At that time, they considered it unseemly," she says.) Lutsen finally took the bait and offered her space in its main lodge. With demand for her services continually increasing, the resort ultimately built her a separate, on-site structure a few years ago. The space's Mission-meets-north-woods style has a hint of Asian influence, which gives it a monastic feel that instantly puts one at peace. The rooms are spare but enormous, with windows that peek onto Lake Superior.
Einwalter conducts a thorough intake prior to each service, inquiring as to one's massage history, desired level of pressure, scent preferences (she uses primarily Aveda products), prior injuries, and problem areas. Massage is the spa's main offering, but the treatment options are plentiful, with services dedicated to the hands, feet, face, neck, and/or shoulders; prenatal massage; sports massage for those with chronic pain or injuries; and deep-tissue and hot-stone therapies (the stones are gathered straight off of Superior's lakeshore). One can also indulge in a body polish treatment—a full-body exfoliation followed by massage—and reiki, which is intended to stimulate energy points throughout the body through gentle pressure from the practitioner's hands.
WatersMeet does not currently offer manicure/pedicures, or waxing. (To be peeled, extracted, and more traditionally pampered, head to Bluefin's Waves of Superior Spa, which offers more fragrances, services, and ambiance.) Einwalter, like a true artisan, is focused on her craft: making
your mogul-worn body feel as good as new.
 
Facebook Comments