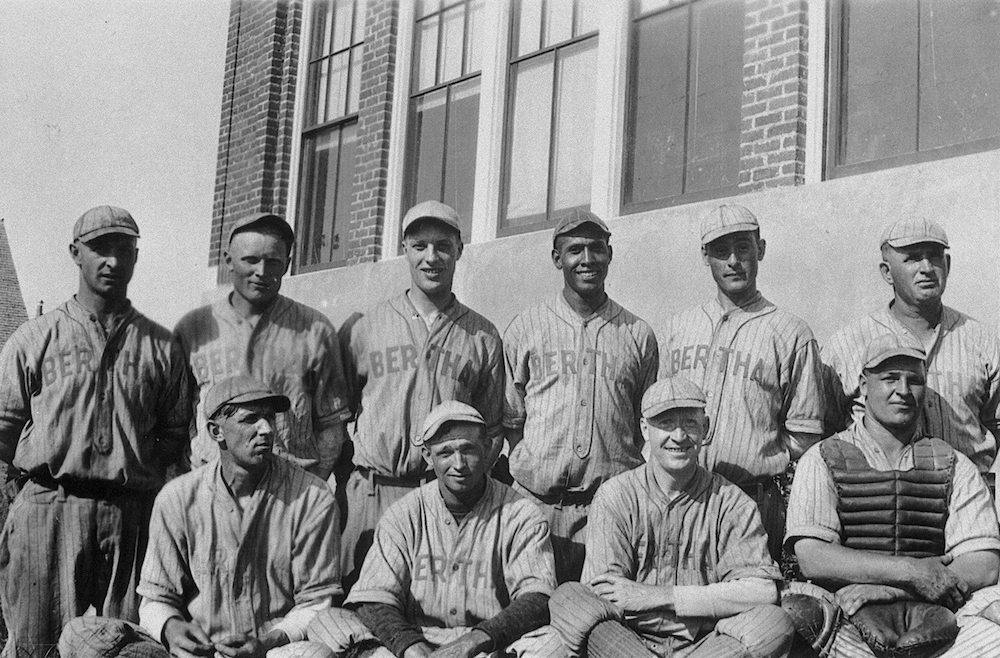 When Pete Gorton came across a 1924 photo of a semi-pro baseball team from the central-Minnesota town of Bertha, he was startled to see a Black man among the players. The Negro Leagues baseball historian quickly discovered the man was John Donaldson, often cited as one of the game's greatest pitchers, though he's far from a household name.
Gorton's research over the past 20 years—scouring more than 7,854 newspaper accounts—uncovered that Donaldson amassed 418 wins, 5,116 strikeouts, 14 no-hitters, and two perfect games over 33 years. Those feats could land Donaldson in the National Baseball Hall of Fame in Cooperstown, New York, during the next, once-a-decade vote by the Early Baseball Committee, scheduled for late 2021.
Perhaps most remarkable about Donaldson's career, from 1908-1940—a period before Major League Baseball ended racial segregation—is that he was usually the lone Black man on the field. Throughout the 724 towns, 25 states, and six Canadian provinces where his teams played, he was a pioneer who won people over with his talent, showmanship, and impeccable character. "There were people in the Midwest who loved John Donaldson when it was not popular to love an African American," says Gorton, a 51-year-old communications consultant who lives in New Brighton.
Donaldson's impact was widely felt in Minnesota. From 1924 through 1930, at a time when the Ku Klux Klan's second wave swept throughout the North, Donaldson starred for teams in Arlington, Bertha, Lismore, Madison, Melrose, Minneota, and St. Cloud, playing games in 131 towns across the state. On a day he played in Staples, there was also a cross-burning in town.
Donaldson was born on February 20, 1891. Before he turned 20, 17 Black men were lynched within 75 miles of Glasgow, his hometown on the Missouri River. With a fastball thrown hard enough to break his catcher's hand, an even-tempered demeanor, and a conviction in himself, Donaldson thrived on the baseball diamond and learned to navigate racial prejudice. "How he survived travel across our country as much as he did is an amazing story," Gorton says. "Decades before Green Books or anything like that."
Donaldson was under contract with the Kansas City Monarchs of the Negro National League through much of the '20s and played parts of several seasons with them, but the team's owner, J.L. Wilkinson, gave him wide latitude to barnstorm for other teams, where Donaldson could make more money. Wilkinson called him "the greatest pitcher that ever threw a baseball." New York Giants manager John McGraw once said, "If Donaldson were a white man, I'd give $50,000 for him."
Indeed, McGraw offered Donaldson $10,000 if he would go to Cuba, change his name, and return under the guise of being a dark-skinned Cuban, but Donaldson refused. "I am not ashamed of my color," he once said in an interview. "I am clean morally and physically."
Donaldson was humble and not given to self promotion, but he was every bit as good and entertaining as mentee Satchel Paige, a Negro League star 15 years his junior who eventually played for three major league teams. Well before Paige became the showman he was, Donaldson would walk the bases loaded then strike out the next three batters, tell the outfielders to sit down, and so on.
Watch: John Donaldson in action
The only known footage of his pitching is 39 seconds of grainy black-and-white film captured in 1925 in Fergus Falls. It shows a hapless batter that has no chance of connecting with Donaldson's pitches.
"He showed Satch the way," said Buck O'Neil, a star player and manager with the Monarchs.
Gorton's efforts have elevated Donaldson from obscurity to the probability of immortality as a Hall of Famer. Last September, Gorton and others dedicated a baseball field named after Donaldson in his hometown of Glasgow and unveiled a larger-than-life bronze likeness at a time when monuments dedicated to white confederates were coming down.
To this point, Gorton believes Donaldson's legacy has been "neglected, minimized, and all but forgotten," because society judged him first by the color of his skin. When asked what he would do once his work on Donaldson is finished, Gorton replied, "Each of us needs to help create a world that does not diminish John Donaldson by calling him a Negro Leaguer. We must strive for a world where John Donaldson is remembered as a ballplayer. Period."
Learn more at the Donaldson Network site, johndonaldson.bravehost.com
Facebook Comments