The Twin Cities might not be your first thought when thinking of incredible views, but it has both the spectacular sights and those hidden gems. Although these sites can be pretty year round (just check out the last spot on the list), with the summer season upon us, the weather is perfect to check out these sites.
Stone Arch Bridge
This bridge and its view are a Minneapolis classic. The skyline of buildings beautifully captures those cityscape vibes to remind us that Minnesota definitely isn't in the middle of nowhere (as some of our coastal cousins seem to think). Offering a stunning view of St. Anthony Falls, this bridge captures the idea that Minneapolis is the perfect blend of city and nature. This bridge has both a biking and walking path that provides anyone a real Twin Cities experience.
Location: 100 Portland Ave., Minneapolis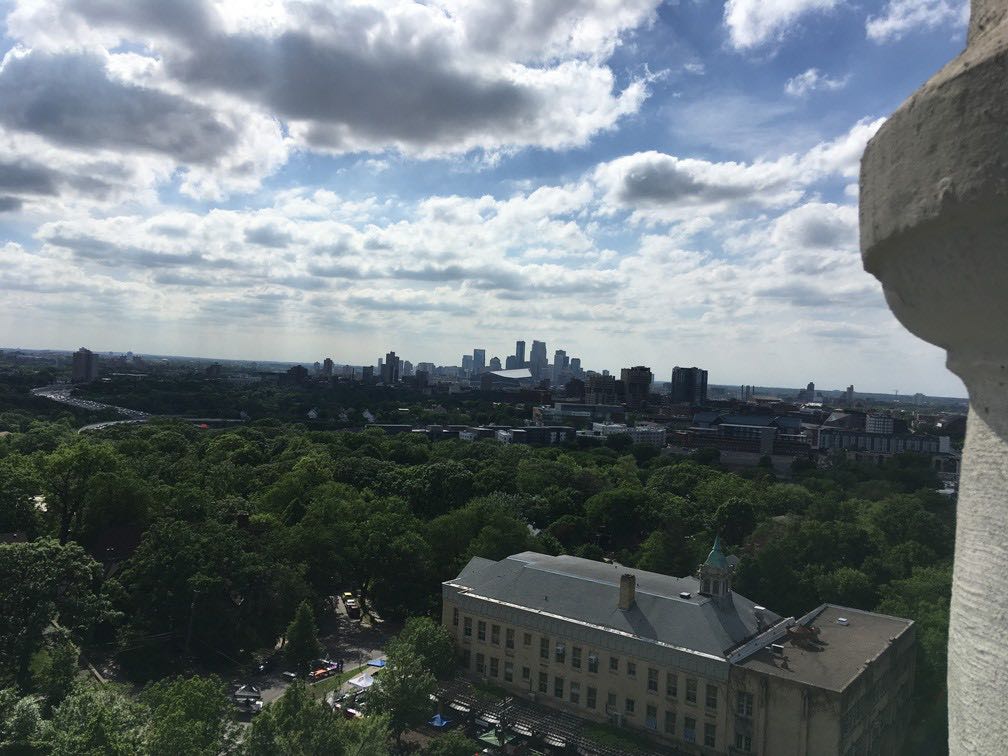 The Witch's Hat Water Tower in Tower Hill Park
Located in the quaint Minneapolis neighborhood of Prospect Park, this tower not only looks intriguing from the exterior but, once inside, provides visitors with spectacular views of Minneapolis and St. Paul. How do you get in? This tower is so exclusive that visitors are usually only allowed to ascend to the top once a year during the Pratt School Ice Cream Social—the Friday after Memorial Day Weekend. It's well worth the wait!
Location: Tower Hill Park, 55 Malcolm Ave. SE, Minneapolis
The Yellow Room
You can appreciate this view through a yellow-tinted lens. Literally. Nicknamed the Yellow Room, this site juts out from the side of the Guthrie Theater. It provides its visitors with the ability to take in the Minneapolis sight in a unique way. Most notably, the Gold Medal Flour sign is a prominent landmark to see from this room, especially so with the bright yellow tint complementing the yellow-gold sign.
Location: 818 S Second St., Minneapolis
Oheyawahi/"The End of Pilot Knob"
Known well among high schoolers in the surrounding suburbs, this place sure has an amazing view. Located at the end of Pilot Knob Road in Mendota Heights, this view is only achieved by walking down the park to the edge of the hill. It was once a gathering site for the Dakota, Ojibwe, and Iowa people to carry out ceremonies and burials, called Oheyawahi, "a hill much visited."
Location: 2044 Pilot Knob Road, Mendota Heights
Foshay Tower
This is a tower that has ingrained importance in Minnesota's history. Built back in 1929, it was the highest building in Minneapolis until 1972. The 360-degree view mostly includes Minneapolis buildings, but no one's complaining. It puts you smack dab in the middle of the city's action with huge skyscrapers, people bustling about below, the city life, all for $5 admission (including both the tower and museum.) Bring a coat as it can get pretty chilly at such a high altitude. 
Location: 821 S. Marquette Ave., Minneapolis
Facebook Comments