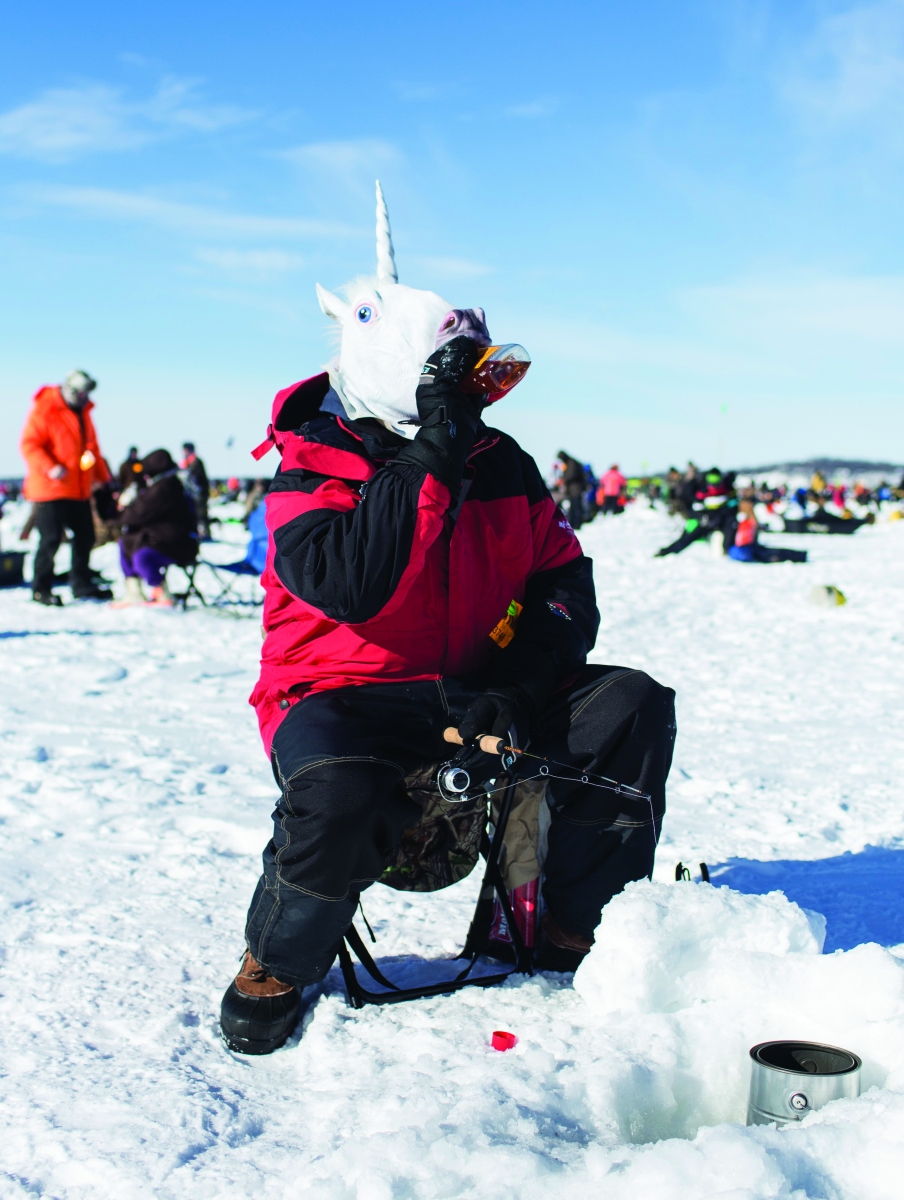 There's $150,000 in the game, but the Brainerd Jaycees Ice Fishing Extravaganza is not all serious.
Photos by Ackerman + Gruber
---
The carnival atmosphere all over the ice at Brainerd's Ice Fishing Extravaganza, on January 26 on Gull Lake, keeps folks coming back. Anglers don superhero costumes, set up full-scale tiki bars, and grill food like tailgating titans. All that action staves off boredom, which sets in quickly once you realize plenty have come to the tourney for years without catching a single fish. When Ronda Brade and her friends get bored, they get creative. 
"Because there's so many people [at the tournament], we wanted to be able to let people know where our location was on the ice, so we made a bra flag," says a chuckling Brade, a 55-year-old legal technologist from the small, west-metro town of Mayer. "We added to our bra theme by having bra pong [a beer pong-esque affair]. We also have 'Drinko,' which is like Plinko. It's a big board, like six feet tall, and you drop hockey pucks in there. Wherever it lands is the drink you gotta take a shot of."
Brade and her girlfriends first met on a softball field many summers ago and have been organizing what they call Women's Outing Weekends for 25 years as a way to stay connected and let off a little steam. About 10 years ago, one of the crew members was turning 40 and chose the Extravaganza as a destination. Although they were experienced anglers, they didn't get lucky until a few years in. All that waiting made the payoff on Brade's first fish that much sweeter.
"Probably the thing that took the longest was getting the girls out of my way because everyone was so excited," she recalls. "They're all getting crazy trying to look in the hole, it was like [comedy troupe] Keystone Cops."

A sled is the best way to bring supplies to your fishing hole.
---
Packing List + Tips
– Ice fishing pole and bait can be found at S&W Bait and Tackle nearby
– Your warmest and most-waterproof clothing (heating implements allowed): "The elements always play a tough part if you're new to ice fishing," Brade says. "You cannot fish with your fish house, so if you're gonna check the line and take it up, even a little bit, that cold wind hits that wet line, and now you've got ice on your line."
– Cleats for traction on the ice
– Cold-weather food and refreshments: "Once it was 35 below wind chill, but we've never left the ice early," she says. "It's one of the things that we're really proud of: No matter what the temperatures are, we stick it out. The alcohol helps, I can tell you that."
– A children's sled to drag gear to your fishing hole
– To gain a competitive edge, some anglers bring high-end ice rods, GPS, and fish-location electronics. But be warned: Shiny new gear won't guarantee you a fish.