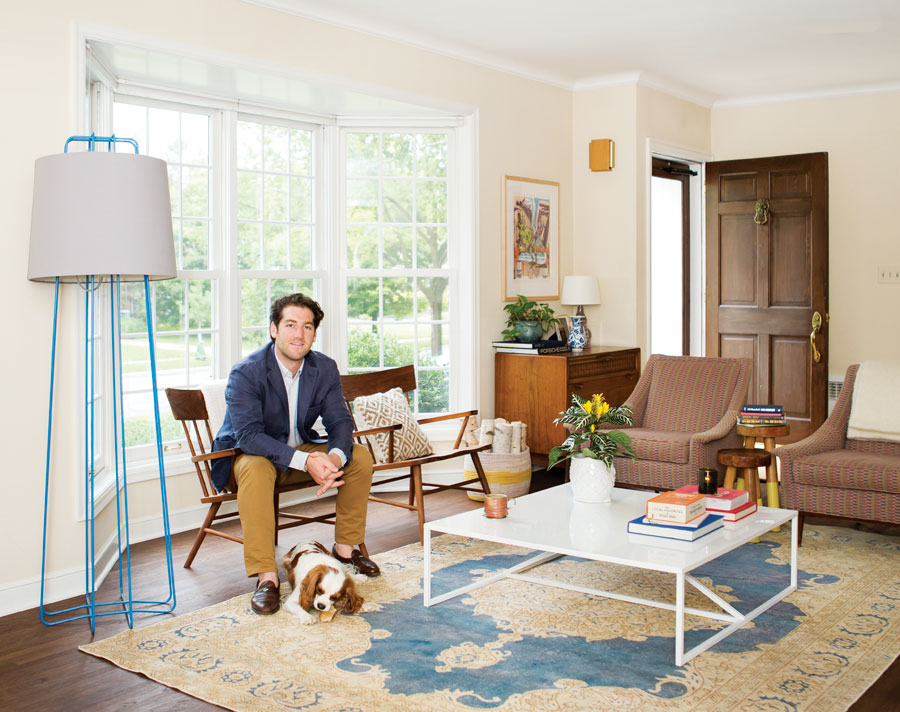 LBM 1911 jacket, $665, Schnayderman's shirt, $195, Unis pants, $198, all @ Askov Finlayson, 204 1st St. N., Mpls., 612-206-3925, askovfinlayson.com; Alden penny loafers, $660 @ Hubert White, 747 Nicollet Mall, Mpls., 612-339-9200, hubertwhite.com; Benjo's penny loafer pennies, $14 @ benjos.com. photos by wing ta.
Ben Hertz was visiting his sister in Rome six years ago when his laces broke, so he stopped into a nearby shoe store and decided on a pair of red shoelaces to match the red soles of his nubuck shoes. "I'd walk into meetings and people were remembering me as the red shoelace guy," he recalls. 
Eventually, that pair broke, too. The next several times he traveled, Hertz stopped in shoe stores, looking for colorful shoelaces; coming up empty handed, he recognized an untapped market. One manufacturing order of 10,000 laces later, the Benjos brand was born. Today, bright-hued Benjos laces are sold at Brooks Brothers, Shinola, and Steven Alan stores across the country, and locally at MartinPatrick3, BlackBlue, and Hubert White, plus 65 more stores throughout the U.S. 
The real-estate developer/serial entrepreneur originated his latest business venture, CAMA, from a late-night call he received from his childhood friend and fellow idea-generator, Scott Hattis, who was having a eureka moment and asked, "Why aren't my bed sheets special?" The two took a simple idea—that sheets should feel special—and created a company by sourcing a high-quality product and marketing it well. 
"The ability to commoditize stories about brands is becoming more and more important," Hertz says. "People are doing things to build their personal brand like buying Warby Parker glasses because they have an interesting story behind them. I call it conversation capital, which I think is really valuable."
The most special part about CAMA is high-quality cotton—extra-long staple, or Supima. More than 90 percent of the world's Supima cotton is grown, cut, cleaned, and baled in California. Usually, cotton for sheets is spun and woven in India or China, and cut and sewn in South America before making its way back to the U.S. as a finished product. Hertz's plan: keep the production stateside. 
In January, the CAMA team headed to a menswear tradeshow in New York, but instead of renting a booth, they booked a suite at the nearby Ludlow Hotel, cleverly replacing the hotel's sheets with their own. Steven Alan, the founder of NYC-based designer clothing and home store Steven Alan, met with them for "breakfast in bed," where he placed CAMA's first order. It promptly sold out; this fall, the retailer is selling the sheets at its dozens of stores in the U.S. and Japan, as well as online. 
Like his taste in shoelaces and bedding, Hertz's personal style is classic yet playful. Locally, he favors men's stores BlackBlue, MartinPatrick3, and Askov Finlayson, and is usually shod in penny loafers, chukkas, or limited-edition Vans sneakers with colorful Paul Smith socks. 

CAMA sheets and neon sign, left, and a pair of vintage armchairs with Serena & Lily stools
The 1940s home he shares with his wife, Lauren, and Cavalier King Charles Spaniel, Bernard, in St. Louis Park has a similar aesthetic of clean lines and colorful accents. Blankets from his travels to Uruguay and Melbourne and pillows from Buenos Aires are paired with mid-century modern pieces, including Blu Dot's iconic "Real Good" chair and a pair of vintage armchairs that were gifts from a favorite mentor. White walls and tall windows fill the space with natural light, while oriental rugs, fresh-cut hydrangeas, and dark wood floors give the home texture and warmth.
The bedrooms, of course, are freshly dressed in CAMA sheets. 
"By the time you die, you spend a third of your life in bed," Hertz says. "Why not have really special sheets?"
Ben Hertz's Style Crib Sheet
On his go-to stores. He frequents Askov Finlayson for Schnayderman's shirts, Unis pants, and LBM 1911 jackets; BlackBlue for A.P.C. jeans; Phenom for sneakers; and Hubert White for Alden chukkas and penny loafers—"My grandpa probably wears the same ones," he says. 
On his signature accessory. Hertz admits to being an eyewear geek. "One of my favorites is a pair of mint-condition American Optical sunglasses from the '40s," he says. He also collects Warby Parker sunglasses and Garrett Leight frames.
On his grooming routine. He uses Baxter protein shampoo and Aesop conditioner from MartinPatrick3, Grown Alchemist cleanser from Idun, brown pear glycerin bar soap, bought by the case from an East Village bodega, and moisturizes with Jao Goē Oil from Mille. He keeps his locks under control with Bumble & Bumble sumotech and ARROJO ReFINISH dry shampoo.
Behind the Scenes Shots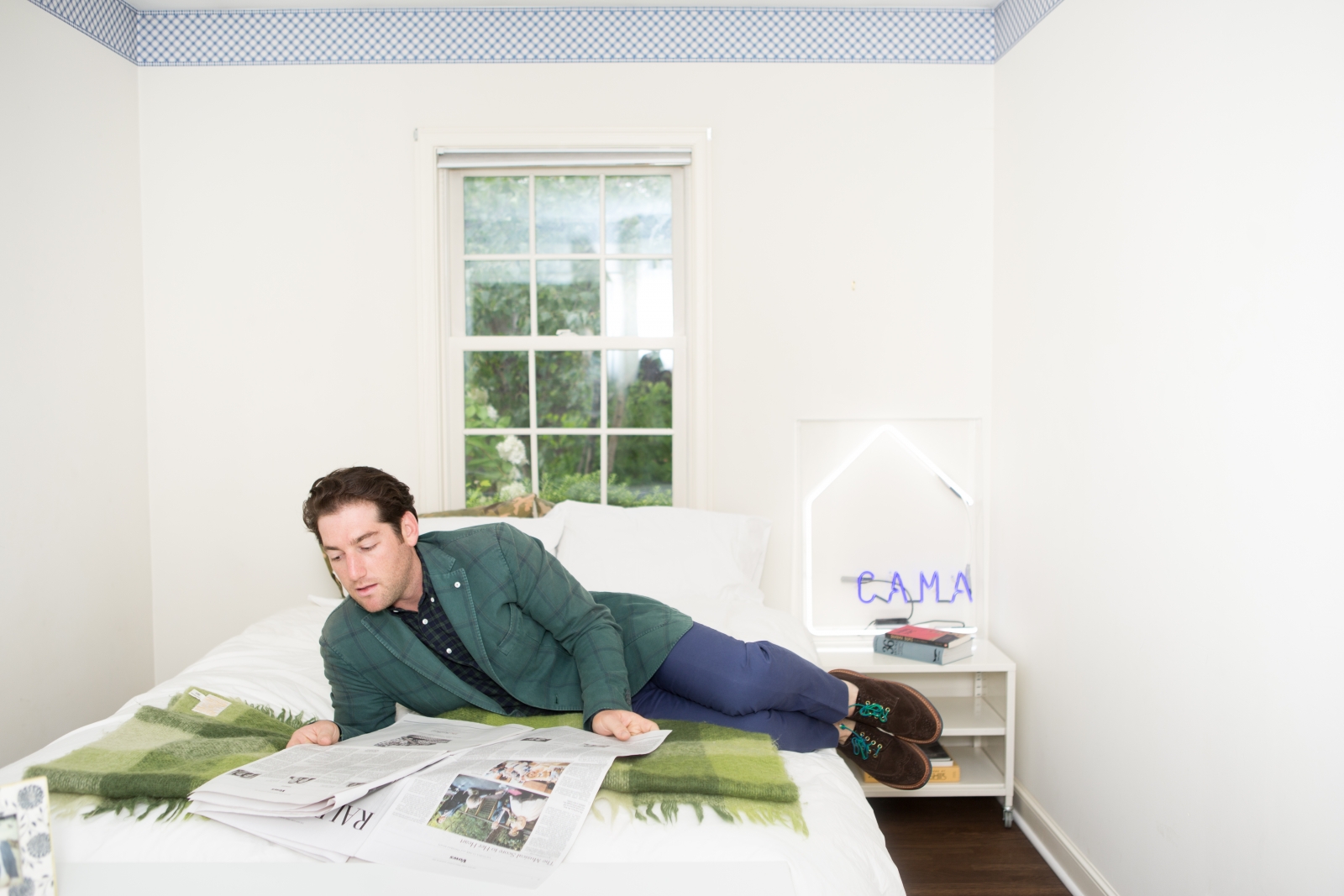 Facebook Comments