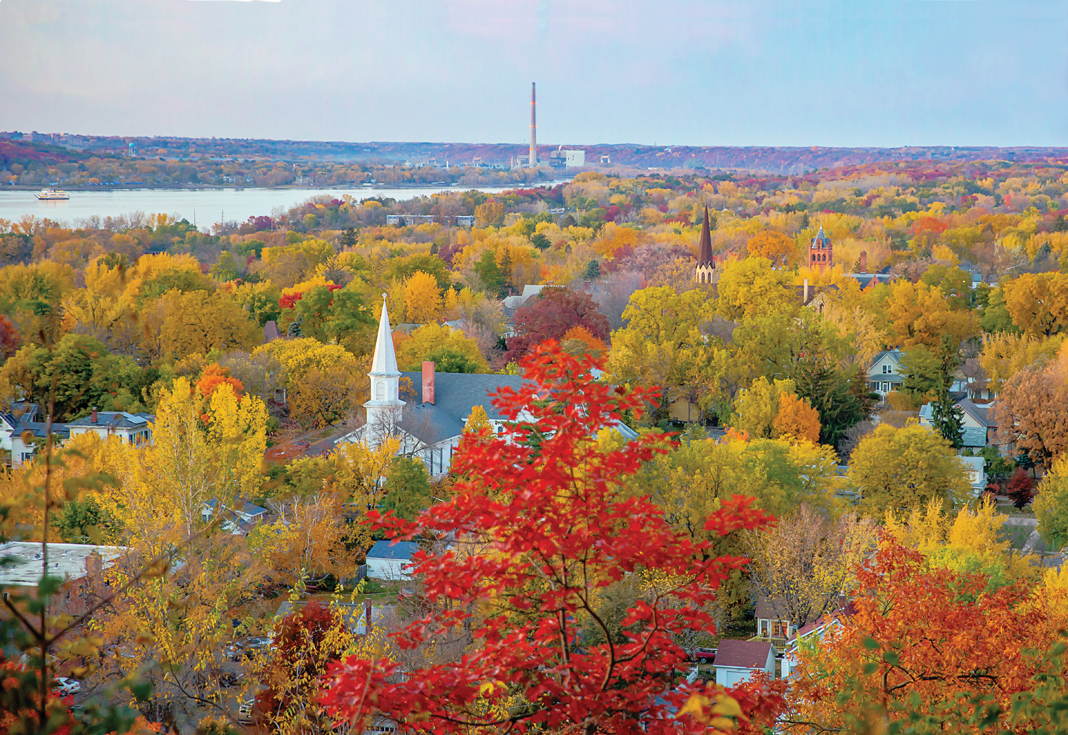 Seasonal color as far as the eye can see in Hudson
photo by fred sobottka
---
Your summer tan has faded, and the days are getting shorter. Tick-tock—daylight saving is around the corner, and it's time to take advantage of that extra hour before we lose it. Relax, there is plenty to experience and enjoy within a 30-minute drive from the heart of the Twin Cities. It's autumn, so lace up your Red Wing boots, toss on your favorite Filson jacket, and embrace the season.
In search of a perfect day trip combining hiking, a culinary scene, and explosive fall colors, I headed across the border to Hudson, Wisconsin, situated on the banks of the St. Croix River. Hudson was named by its first mayor, native New Yorker Alfred Gray, who found the geography of the town reminiscent of the banks of the East Coast's Hudson River.
For a perfect view of the fall foliage, bursting along the winding river, consider the two-hour St. Croix River Cruises departing from the pier in downtown Hudson ($22 for adults, $12 for children). Owned and operated by the Jarvis family since 1988, the boats also offer food and beverages. And when is the peak time to see the fall colors along the river? Insider tip here from the pros: Mark your calendar for either the first or second weekend of October.
There are three casual rooftop dining options in downtown Hudson. Mallory's, Smilin' Moose, and Pier 500 offer prime spots for viewing the river and the bluffs. Locals informed me these places get very busy, so plan accordingly, and stake out your viewing spot with an order of Pier 500's Brie cheese curds, served with lingonberry ketchup, and a frosty mug overflowing with one of Wisconsin's finest brews.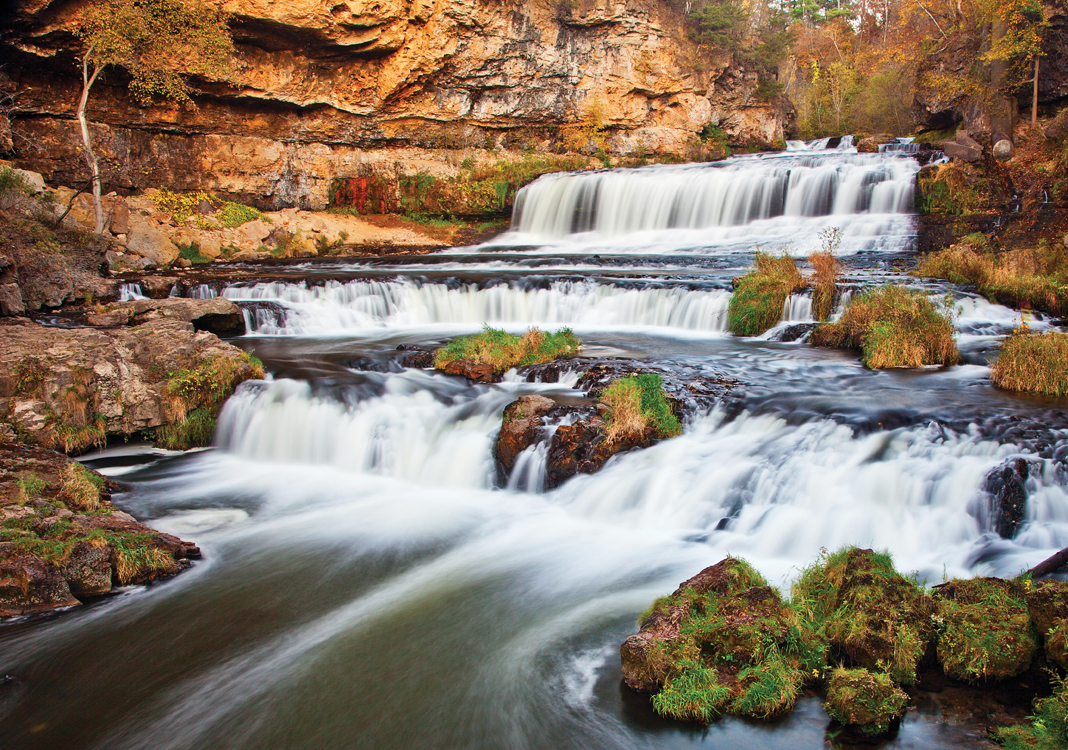 Willow Falls is a rushing highlight of Willow River State Park near Hudson
photo by jeff bucklew
---
For those interested in foliage viewing while getting a bit of exercise, I suggest the 2,900-acre Willow River State Park. The highlight of hiking this park is Willow Falls, a magical waterfall in a deep crevice nestled into the cliffs.
For a family trip to Hudson, schedule in the annual Hilltop Pumpkin Party on October 20 at YMCA Camp St. Croix. The event is free and includes horse-drawn wagon rides, a pumpkin patch with free pumpkins for the kids, pony rides, and traditional fall food and drinks.

Scallop appetizer with coconut creamed corn and bacon at San Pedro Cafe
photo by marnie marie photography
---
And don't head back across the border without checking out the exploding downtown culinary scene. The three-hour Hudson Food Walk takes place on Saturdays and Sundays. For $45, you stop at six locations and learn a bit of the quintessential small town's history. I enjoyed the Caribbean-style conch-and-smoked corn chowder with coconut milk and chorizo sausage at San Pedro Cafe, located in a historic building on Second Street. It was the perfect blend of spices for a chilly fall day. After fooling yourself into thinking you're in the Caribbean, head out back through the patio to the Key West-meets-Havana bar Pedro's del Este for a craft cocktail or Latin-inspired small plate.
For the sweet tooth in all of us, stop by Knoke's Chocolates & Nuts. After sampling a few of the treats at this Instagram-worthy shop, I spotted what appeared to be one of my favorites, a Special K bar. To my surprise, it was actually made of Frito's. I say "pshaw" to the purist, because wow, wow, wow—be sure to save room for this treat.

City sign at Lakefront Park
photo by fred sobottka
---
After all the leaves have fallen, one more reason to head back to Hudson is the Christmas Tour of Homes. This year, the event, attracting close to 2,000 guests, takes place November 16-18 and features four beautiful homes. This weekend has become the city's largest for shopping and dining.
Until then, I'm content making the drive into Wisconsin for a taste of crisp fall indulgence—before the days get even shorter.
---
Eat, Play, Stay in Hudson
The Postmark Grille
Opened earlier this year, this converted post office has become a popular destination for anyone seeking a unique dining experience. For an intimate space, reserve the Vault for two. The house favorite is the Spitini, a Sicilian family recipe of tenderized steak brushed with olive oil, rolled with salami, provolone cheese, Parmesan, breadcrumbs, and green olives, and then grilled with bay leaves.
Second Street Shopping

Minnesconsin beer from Hop & Barrel Brewing
photo by brand yourself consulting
---
There is no shortage of specialty shops in downtown Hudson. Grand Fête has various items for entertaining and offers hands-on group cooking classes. Twin Cities forager chef Alan Bergo teaches a pasta-making class in October. Once the shopping and the fall color viewing is behind you, head to Hop & Barrel Brewery Company for their Minnesconsin Lager.
Phipps Inn Bed & Breakfast
This Queen Anne Victorian bed and breakfast is a short walk from the bustle of downtown, with a fireplace in every room.