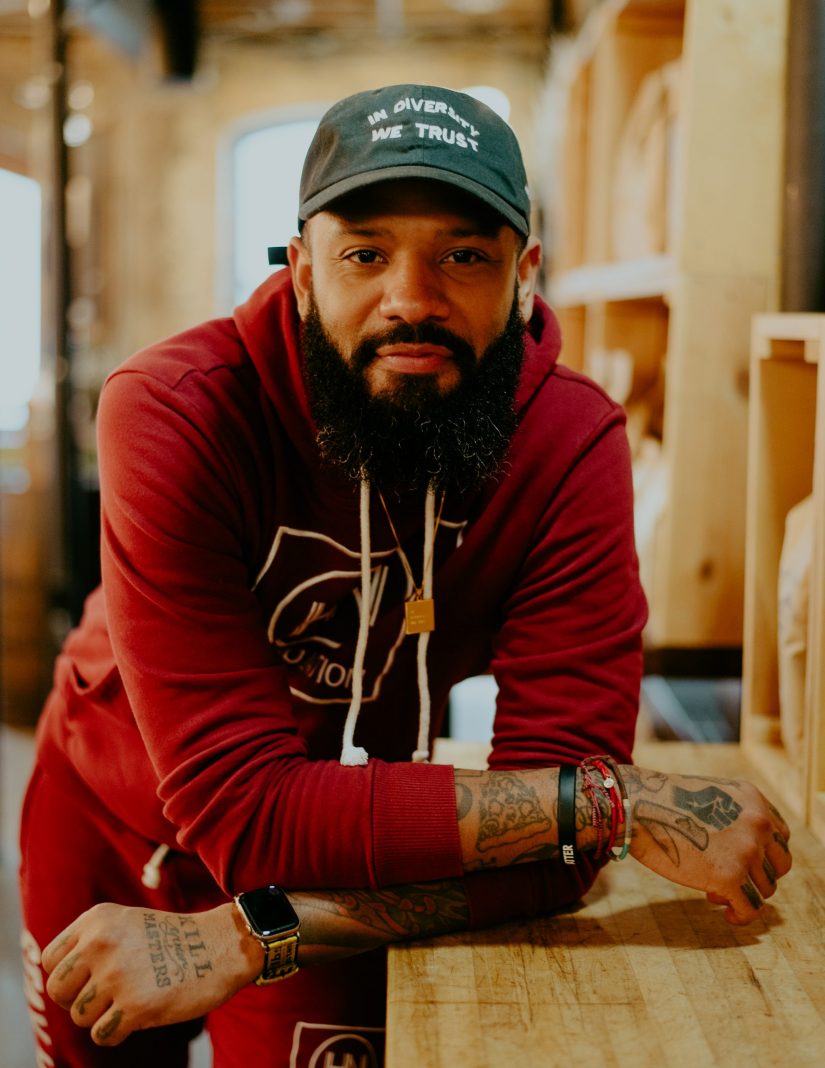 Chef, restaurant group owner, and TV star Justin Sutherland is ready to shift into high gear for summer. It was a brutal year for local restaurants, including his own. To stay afloat, he had to move his beloved Handsome Hog from Lowertown to Cathedral Hill. Following George Floyd's murder and the subsequent social justice uprising, Sutherland donated his time and talents and urged others to do the same. In an extensive conversation with Minnesota Monthly, Sutherland discussed new projects, his latest TV show, and more things he's excited for ahead of summer.
What are the things you look forward to each summer?
I'm looking to get back outside, and all the festivals that we put together so well in the Twin Cities. Music has been the biggest thing that I've missed. I'm a huge concert guy. That's been the number one escape from everything else. Not having that has been pretty devastating. Also, being able to get up north to the cabin and get out on the water.
What's on your agenda for the months ahead?
I'm consulting on some projects and have a few new solo projects—yet to be announced. With Handsome Hog and the patio, we're trying to engage as much outdoor activity as we can. Patio space is extremely important. People are feeling good about the vaccine, but it's going to be a while before people feel comfortable being close to other people. We will be reopening the rooftop at Ox Cart, but not the lower level this year. With the arcade concept, it's just a sanitation nightmare right now for the new normal. We're excited there is soccer again. I'm the culinary director for Allianz [Field], and we're getting that food program put together. I'm super excited to be cooking back at the stadium.
Entrepreneur Houston White recently told me about using the pandemic pause last year to assess all his businesses. When you had downtime in 2020, how did you spend it?
Last summer, at the beginning of this, we were fully shut down. I did take a couple months and went up north to the cabin. Just kinda turned it off for a minute for a personal hard reset. That didn't last long. I've stayed pretty busy. Houston's a good friend of mine. We actually had that conversation about the ability to take a pause and lay everything out and make sure you're moving in the right direction. I definitely did that as it pertains to everything that I'm working on.
Handsome Hog moving to a new space feels like part of that process.
Absolutely. The move up the hill started pre-pandemic. I knew it was coming. I wasn't happy about it, but it ended up being the biggest blessing in disguise. We would not have survived in Lowertown. We probably would not be open today if we wouldn't have made that move.
The restaurant business has always been cutthroat, but 2020 seemed especially hard with so many places closing in a concentrated period.
Yes, 100%. One of the things about this hard reset for everybody is that a lot of people had to say goodbye to some passion projects. We really had to evaluate what were smart business decisions and what we were doing just to feed our own egos. We saw a lot of our greatest restaurants disappear. It was heartbreaking for the city, let alone the owners. Everything I closed down, I was OK doing. There were things that weren't working. Seeing places like Bellecour and Butcher & the Boar disappear—it's tough.
It was exhausting, and tiresome, and depressing just to constantly see bad news. We work in a very transient and volatile industry. Five years, for some restaurants, is a great benchmark, and 10 years is a lifetime. We all know that we go away at some point, but just watching it happen day after day after day, and watching it happen to places where it definitely wasn't their time…
Your Fast Foodies show's concept makes total sense—remaking foods that were baked into our brains from a young age.
That's what makes this show so great for this year and this time: the lightheartedness of it, and the connectivity. Everybody has some sort of connection to this kind of food. When we're stressing out, that's the way we're eating right now. People are so mentally and emotionally drained that we're leaning into those comfort foods that make us smile and bring a good memory.
There's great chemistry on the show, too. How does that compare to what you see locally?
I think we're very lucky in the Twin Cities area with the group of chefs and restaurateurs that we have. For the most part, it's a very tight-knit community. Even more in the last year with everyone coming together to take care of each other. We all can't wait for the day when we're getting together to do dinners and pop-up restaurants together. Especially over the course of the last three to five years, that's really developed in a positive way. We feed off each other and we all want to do better [and] like to see each other succeed.
It's no secret that people are still struggling out there—because of the pandemic and because of social inequities. As we see life return closer to "normal," what still needs to change?
We all want to return to normal when it comes to our social lives and being able to get out and have fun. Restaurant people want that kind of normal back. When you're talking about the different issues that are happening here, especially in Minnesota, from George Floyd to anything else, we're not looking for a return to normal. We're definitely not at a point yet where we should be feeling comfortable. As far as I'm concerned, there's a lot that still needs to be done. Conversations have been started, but we are a long way to go. Before this past year it was always a weird balance of being a business owner and keeping personal feelings on social issues separate. This year, for me and for a lot of people, we became humans and members of our community first and business owners second. Those things will always be much more important to me than making an extra dollar. It's important people know what I stand for, and what I won't tolerate. You can choose to come to my restaurant or not based upon that.
In the conversations you're having, how much has equity become a priority?
It's at the forefront of most conversations in a positive way. A lot more people are talking about it out of genuinely caring, though some are wrapped up in the trend of what's happening now. My biggest concern is that whenever the next big headline happens, it falls by the wayside and then the progress is lost or not even started. It's important that the conversation be continuously out there. I make things known, so it stays at the forefront of peoples' minds. Humans, especially Americans, are very good at forgetting. We're very good at thinking something is the most horrible, traumatic experience in the world and then totally forgetting about it a week later.
Now that you're hiring staff back, how are people feeling?
[In the fall], it was pretty difficult to get people to come back to work, from a health and safety perspective. Now, we haven't had any issues staffing. We've been getting more calls for people looking for jobs than we have available. For those that still aren't comfortable, it's totally fine to wait until they're ready, but I feel like the majority of the people in the hospitality industry are ready to go.
The pandemic forced more dine-in places to embrace takeout. How has that affected you?
We didn't have any choice but to reflect on that and make it work. There's definitely been a substantial shift that will never go back. Takeout is bigger than it was before. A lot of restaurants shied away from it because we didn't know how the food was going to arrive. Finer dining restaurants just refused to do it, and scoffed at it. We needed to change our minds on that. Going forward, 30%-50% of our business will continue to come from some sort of carryout.
Ghost kitchens also have seen a rise in popularity. How deep have you gone into that concept?
I've definitely thought about it and consulted with people who are doing it. People have asked me for kitchen space or advice. I personally won't be doing it. That's not where I'm at in my career with restaurants right now. I think it's a good idea, and I wish everyone luck with it. It offers opportunities for start-ups or concept testing, and opens things up for minority communities and people of lower means that have the ability to produce phenomenal food. If you can't just walk into a bank and get a loan for $1 million, it can make success much more accessible.
Some of the best ideas and personalities have risen from outside brick-and-mortar.
They've been born out of that. Look at the El Norte Kitchen guys. They did pop-ups forever, and I just sold them my food truck so they could get started. There's Pimento Kitchen, and so many other restaurants. Some of the best food in our city started that way. Look at Animales Barbecue. I hope they never get a brick and mortar (laughs). They're doing it perfectly. It just makes the diversity of our food so much greater.
How does it feel to have five years under your belt with Handsome Hog?
I feel very blessed. We were just trying to just make it to the next day. We have been very grateful to a community that loved it and allowed us to keep going. Even with the pandemic, we still had a pretty phenomenal year.
What is the type of restaurant atmosphere you want to see return?
Speaking specifically to Handsome Hog, there's nothing like walking out into the dining room at 8 o'clock on a Saturday and every single space in the restaurant is full. Then, walking around, mingling. We always say that we're throwing a party every night. That aspect has been kind of restrained. We like to be close. Having to tame that back this year has been difficult because that's been the environment we've cultivated these past five years. Dancing on tables and taking shots and keeping the music loud—that party that Handsome Hog likes to throw.
For a tip on what's coming next, Sutherland has just dropped details for Side Chick, set to come to Lyn-Lake.
 

View this post on Instagram

 
Facebook Comments