This brunch feast at Centro in northeast Minneapolis includes (clockwise from top left): Lonestar Taco, Tomatillo Bloody Maria, Huevos Rancheros, Chilaquiles, Rosarito, Carnitas Torta, Frioles Barrachos, and Avocado Toast with a side of bacon
Photo by Josh Grubbs/Styled by Lara Miklasevics
---
Has Minnesota hit peak brunch? It sure doesn't feel like it. Every week, another restaurant announces it's adding weekend mid-morning service, and it's far from an excuse to day-drink (although it is still an excuse to day-drink). Brunch has become exciting from a food perspective. Some spots are serving four-star dishes, others are introducing us to global flavors, and others still feature drag queens. From bagels to popovers and brunch burgers, this guide to the best brunch spots will keep you busy for the next 52 weekends.
(Find a roundup of the Twin Cities' best new restaurants—for eating at all hours—here.)

This bounteous brunch at Bellecour includes (clockwise from upper left: Steak Tatare, Le Plateau de Fruits de Mer, Salade D'Endives, Short Rib Hash, Pastry Basket, Croque-Madame Tartine, Duck Confit Crêpe, Buttermilk Waffle with fruit compote, and Oeufs Mimosa)
Photo by Josh Grubbs
---
Next Level
Gone are the days when brunch was an outlier, a throwaway where restaurants assigned their least-experienced cooks and put forward their most-boring menus. These restaurants bring their A-game in terms of food, cocktails, ambiance, and service. Brunch is not only reflective of the feel and style of these restaurants, but it compels you to want to come back. Again and again.
So: Chef Jamie Malone's Ham and Egg Cocotte is a bite I won't soon forget. The rich and creamy, delicate yet decadent plate at Grand Cafe in south Minneapolis is emblematic of the most exciting trend in 2019 brunch: breakfast food as exciting as a four-star dinner.
Grand Cafe
PHOTO BY ISABEL SUBTIL
---
You see it at Martina, where Daniel del Prado's addictive, crispy potato churros are the perfect accompaniment to…well, anything on the brunch menu. Try the lobster toast to enjoy the dance between light, sweet seafood and a perfectly fried egg. Or how about Martina's double cheeseburger, featuring a bit of lemon-fueled vinaigrette on the side, from the chef who created the iconic Parlour Burger?
Adam Eaton has another iconic burger at Saint Dinette, in St. Paul's Lowertown neighborhood. He makes his own American cheese (actually a combo of Gruyere and cheddar), which cascades over the spongy bun. Add an everything bagel with lox, all the fixings, and a beignet, then call your cardiologist.
Along Lake Minnetonka, Wayzata has become a hot spot for chef-driven brunch. At ninetwentyfive, new chef Daniel Cataldo offers a premier Midwestern brunch, with house-cured ham, free-range poached eggs, and smoked local trout on his benedicts.
Just up the street, Gavin Kaysen's Bellecour was born to be a brunch destination. (The French invented the "put an egg on it" theory with the Croque Madame sandwich!) Bellecour's ham is bathed in not-insignificant amounts of mornay sauce and served on bread that is, of course, made in house. The pastry basket changes from week to week, but always includes one of chef Diane Moua's impossibly flaky croissants. Frankly, you can't go wrong at Kaysen's original brunch spot, Spoon and Stable in Minneapolis' North Loop. Eggs poached in red wine are not just extremely sexy; they are rich in flavor, with a double dose of earthiness from the wild mushrooms and seeded toast.

Shrimp cocktail with bacon mayonnaise at Grand Cafe
Photo courtesy Grand Cafe
---
Bellecour
739 Lake St. E., Wayzata; bellecourrestaurant.com
Grand Cafe
3804 Grand Ave. S., Minneapolis; grandcafemn.com
Martina
1555, 4312 S. Upton Ave., Minneapolis; martinarestaurant.com
ninetwentyfive
925 Lake St. E., Wayzata; ninetwentyfive.com
Saint Dinette
261 Fifth St. E., St. Paul; saintdinette.com
Spoon and Stable
211 N. First St., Minneapolis; spoonandstable.com
ALSO TRY:
Alma Cafe
528 University Ave. SE, Minneapolis; almampls.com/cafe
Burch Steak
1933 Colfax Ave. S., Minneapolis; burchrestaurant.com
Meritage
410 St. Peter St., St. Paul; meritage-stp.com
---
Lonestar Taco at Centro
PHOTO BY JOSH GRUBBS
---
Global
One of my brunch pet peeves is a restaurant that does one thing with flavors and approach at night, and then abandons it by the next morning. Fortunately, there are great local chefs incorporating techniques from around the globe, making sure every meal in every time slot reflects their vision. Brunch is a great way to challenge our Minnesota palates, especially with some less-adventurous friends.
When we go to Hai Hai for brunch in northeast Minneapolis, we want funky, interesting combinations of sweet and sour, just like what we get from their dinner menu. Some of the brunch dishes are essentially dinner items with an egg added—not that there's anything wrong with that. I gravitate toward menu items that are exclusive to weekend mornings, like eggs Benedict topped with pho-spiced corned beef! Chef Christina Nguyen's shrimp and grits take on a coconut curry flavor, served with Thai chilis and lots of lime.
Okonomiyaki at Kado No Mise
PHOTO BY TOMOYUKI AOKI
---
Kado No Mise's brunch fare packs elegant, precise, subtle Japanese flavors just like it does when you're sitting in their modern white room enjoying dinner. Don't miss the rich, creamy, vegetal Okonomiyaki (cabbage pancakes) topped with kewpie mayo and a rich katsu sauce. Eat them alone or add the perfectly marbled, melt-in-your-mouth A4 Wagyu beef.
Over at Grand Catch in St. Paul, it's thrilling to see avocado toast elevated with chef Sameh Wadi's intense Cajun and Mediterranean flavors. The spicy issan sauce he uses in the seafood boil at night becomes a base for a vinaigrette on the lobster-and-avocado toast. Shrimp and grits are topped with Awesome sauce, my favorite on a fish boil, too.

Bread Pudding at Hai Hai
PHOTO COURTESY HAI HAI
---
Centro in northeast Minneapolis plays the hipster card with a DJ during brunch spinning vinyl, but the food is all from Jose Alarcon's Mexican soul. Somehow, poblano, bacon, potatoes, and eggs combine for an incredibly craveable Lonestar taco. Alarcon's salsa verde is so incredible I sometimes dream of it—the bright acidity makes Centro's brunch chilaquiles sing.

From left: Tomatillo Bloody Maria, Rosarito, and Beer-mosa at Centro
Photo by Josh Grubbs
---
Centro
1414 Quincy St. NE, Minneapolis; popolvuhmpls.com/centro
Grand Catch
1672 Grand Ave., St. Paul; grandcatchmn.com
Hai Hai
2121 University Ave. NE, Minneapolis; haihaimpls.com
Kado No Mise
33 N. First Ave., Minneapolis; kadonomise.com
ALSO TRY:
Chimborazo
2851 Central Ave. NE, Minneapolis; chimborazorestaurant.com
Cook St. Paul
1124 Payne Ave., St. Paul; cookstp.com
Hola Arepa
3501 Nicollet Ave., Minneapolis; holaarepa.com
Mandarin Kitchen (for dim sum)
8766 Lyndale Ave. S., Bloomington; mandarin-kitchen-bloomington.sites.tablehero.com
Victor's 1959 Cafe
3756 Grand Ave. S., Minneapolis; victors1959cafe.com
---

Lox bagels (top) and wonton bagels (bottom) at Rise Bagel Co.
Photo by Josh Grubbs
---
Bagels
As a Midwestern kid, I grew up with Bruegger's chocolate chip bagels and Panera's asiago cheese as my favorite flavors. To be honest, I loved them! Come on, it's bread boiled, baked, and stuffed with flavors. They tasted like bread donuts. I know: judge away. I can already hear the chorus of: One time I was in New York City and had a bagel that changed my life. I tell ya, you can't get a decent bagel in this town. What the heck is wrong with Minnesota?
Times have changed. We now have incredible bagels and fantastic people serving them up. St. Paul Bagelry has dipped bagels in everything spice (the right way—on both sides) for decades. Sisters Dodie Green and Peggy Teed bought the place 10 years ago. They make 17 varieties of bagels and all their own cream cheeses. (I'm partial to the jalapeño and the smoked salmon.) For brunch, do the Luther Vandross sandwich, with fried egg, sausage, bacon, and ham. You can find their bagels at Lunds & Byerlys and co-ops, too.
Rise Bagel Co. is also the work of two sisters, Jen and Kate Lloyd. They started at farmers' markets and graduated to the North Loop of Minneapolis. The bagels are chewy and crispy, with just enough yeast, just enough salt, and all organic ingredients. Both the rosemary and the salt bagels give me life, as does their scallion cream cheese. The harvest sandwich with kale, seasoned mushrooms, and caramelized onion is a brunch treat.
Meyvn (rhymes with haven), the latest bagel specialist to bring a twist to this old-world craft, makes a Montreal-style bagel. Chef Adam Eaton worked on his bagel at Saint Dinette's brunch, then elevated it by baking in a wood-fired oven. Try six varieties—I adore the everything and the garlic-and-onion bagels—as a sandwich, with an incredible homemade pastrami, or with luscious Canadian lox. Take that, New York City. Minnesota's got a bagel game.
Meyvn
901 W. Lake St., Minneapolis; meyvneats.com
Rise Bagel Co.
530 N. Third St., Minneapolis; risebagel.com
St. Paul Bagelry
Locations in Minneapolis and Roseville; stpaulbagelry.com
---

Baked delights at the Copper Hen, including Bacon Blueberry Breakfast Cupcakes and the pastry-topped Copper Hen Bloody
Photo by Ryne Martin Photography
---
Bakeries
The best thing about brunching at a bakery is that you don't need to make an excuse for having a sweet treat or two. The Lynhall's lemon funfetti cake with prickly pear mousse and sprinkles? Salty Tart's pastry cream-filled brioche or salted caramel tart? Rose Street Patisserie's Kouign Amann or Paris Brest? You're not having dessert. Brunch at one of these bakeries is like escaping into a Parisian street cafe or a small hideaway in the Spanish countryside. Nestle into a nook with a friend, or with a book, and escape the reality of the outside world.
One of the most elegant, big-city brunch seats is in Lowertown, St. Paul. Sunlight bathes the interior of The Salty Tart through floor-to-ceiling windows. Even as shadows dance across the room's greenery, your eyes are drawn to the real works of art on your plate. Michelle Gayer's shirred eggs, baked in cream with spinach and bacon, plus a side of her mind-blowing bread are to die for. The earthy, savory buckwheat crepe with prosciutto, gruyere, and arugula feels like you're eating healthy, but the Croque Michelle is the absolute opposite: a messy, decadent, magical marriage of gruyere, crème fraîche, ham, and caramelized onion.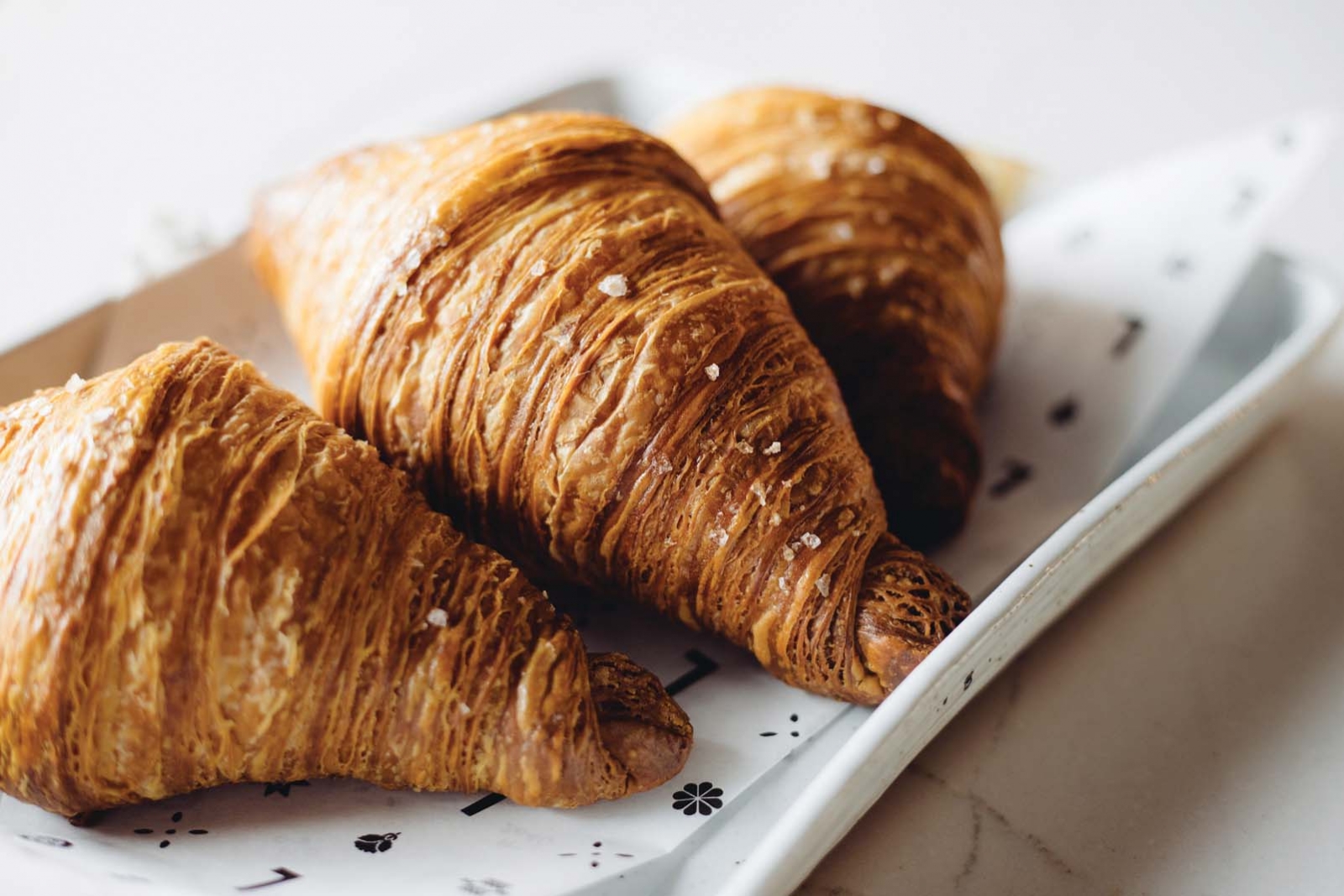 Croissants at the Lynhall
Photo courtesy the Lynhall
---
The Lynhall is a vast, bustling south Minneapolis space right out of an Instagram photo shoot. Sit by a roaring wood fire and indulge with French toast on a thick, rich fig spice bread, topped with sherry maple syrup and foie gras butter. Or go simple: Pastry chef Katie Elsing's buttery croissant is the perfect foundation for an egg-and-bacon sandwich.
Patisserie 46 and Rose Street Patisserie are the brainchild of internationally known pastry chef John Kraus. Brunching with a Pain au Chocolat and bacon-and-cheese croissant feels right, doesn't it? Ask them to slice their incredible olive sourdough bread, then spread a little apricot toasted-almond jam on it, or maybe just a tiny bit of salted caramel spread. These newer spots join some incredible bakeries already killing it for brunch. Sun Street Breads makes my favorite biscuits and gravy in the world—get the sausage gravy. The Copper Hen adds a fried egg and uses tomato jam on their glorious spin on the BLT, the Farmhouse BELT, and don't forget to order a boozy cupcake.
The Copper Hen
2515 Nicollet Ave., Minneapolis; copperhenkitchen.com
The Lynhall
2640 Lyndale Ave. S., Minneapolis; thelynhall.com
Patisserie 46 & Rose Street Patisserie
Locations in Minneapolis and St. Paul; patisserie46.com, rosestreet.co
Salty Tart St. Paul
289 E. Fifth St., St. Paul; saltytart.com
Sun Street Breads
4600 Nicollet Ave., Minneapolis; sunstreetbreads.com
ALSO TRY:
The Buttered Tin
237 Seventh St. E., St Paul; thebutteredtin.com
Turtle Bread Company
Four Minneapolis locations; turtlebread.com
---
Chicken and waffles at Martha's Daughter
Photo by Wolfskull Creative
---
Brunch in Duluth
Duluth-based Lissa Maki is a regular Minnesota Monthly contributor and frequent drinker of Bloody Marys. Here are her favorite brunch spots.
At Sara's Table
1902 E. Eighth St., Duluth
Some favorites: wild rice sausage benedict, vegan okonomiyaki (Japanese pancake) with cabbage, potato, kimchi, etc. And, of course, fab bloodies and mimosas.
Boat Club Restaurant & Bar
600 E. Superior St., Duluth
There's a lobster tail Bloody Mary with sriracha maple bacon and other additions. It's a bit ridiculous but worth getting for the bacon.
Dovetail Cafe & Marketplace
1917 W. Superior St., Duluth
The biscuits and sage sausage gravy (if available) are highly recommended. Plus, there are vegan baked goods, great coffee roasted on site, and a stellar beer list, too.
Lake Ave Restaurant & Bar
394 S. Lake Ave., Duluth
Expect great food and brunch cocktails, including a Bloody Mary with basil-infused vodka, cucumber liqueur, and clamato juice.
Martha's Daughter
107 E. Superior St., Duluth
Get the chicken and waffles with Yker Acres candied bacon.
Zeitgeist Arts Cafe
222 E. Superior St., Duluth
Two highlights: smoked salmon hash and rosemary or bacon/cheddar biscuits and gravy. There's also a host of special brunch cocktails to choose from.
ALSO TRY:
Birch's on the Lake
1310 Wayzata Blvd., Long Lake; birchsonthelake.com
Bleu Duck Kitchen
14 Fourth St. SW, Rochester; bleuduckkitchen.com
Chester's Kitchen & Bar
Shops At University Square, 111 S. Broadway #108, Rochester; chesterskb.com
Daube's Cakes & Bakery
1310 Fifth Pl. NW, Rochester; facebook.com/DaubesBakery
Nelson Bros. Restaurant
950 MN-24, Clearwater; clearwatertravelplaza.com/nelson-bros
Number 4 American Bar & Kitchen
124 E. Walnut St., Mankato; number4mankato.com
Rustic Inn Cafe
2773 MN-61, Two Harbors; rusticinn.cafe
Vanilla Bean Restaurant
Locations in Duluth and Two Harbors; thevanillabean.com
---
Phi Phi O'Hara performs at Union Rooftop
Photo by Darin Kamnetz
---
Themed
Unique, glam, and unforgettable ways to brunch
Como Park Zoo and Conservatory
1225 Estabrook Dr., St. Paul
Check the calendar for a rare chance to dine surrounded by tropical plants at the annual Brunch Under Glass event this December.
Famous Dave's
3001 Hennepin Ave., Minneapolis
The Calhoun Square location hosts a Blue Brunch with a buffet and live music on Sundays.
McKinney Roe
530 S. Fourth St., Minneapolis
Check the downtown eatery's schedule for New Orleans-themed brunch, often the second-to-last Sunday of each month.
Nicollet Island Inn
95 Merriam St., Minneapolis
Each Sunday brings a four-course tasting menu brunch to this luxurious locale.
Union Rooftop
731 Hennepin Ave., Minneapolis
The weekly Drag Brunch celebrates fabulous entertainers—from Beyoncé to Bowie and beyond.
---
Icons
These Twin Cities brunch spots get packed on the weekends for good reason: top-notch meals, and experiences to remember 'til next time
Benedict's
845 Lake St. E., Wayzata; benedictswayzata.com
Birchwood Cafe
3311 E. 25th St., Minneapolis; birchwoodcafe.com
Blackbird
3800 Nicollet Ave., Minneapolis; blackbirdmpls.com
Bunny's Bar & Grill
Locations in Minneapolis and St. Louis Park; bunnysbarandgrill.com
Eli's East
815 E. Hennepin Ave., Minneapolis; elisfoodandcocktails.com
French Meadow Bakery and Cafe
Locations in Minneapolis and St. Paul; frenchmeadowcafe.com
Hazel's Northeast
2859 Johnson St. NE, Minneapolis; hazelsnortheast.com
Hi-Lo Diner
4020 E. Lake St., Minneapolis; hi-lo-diner.com
Jax Cafe
1928 University Ave. NE, Minneapolis; jaxcafe.com
Moose & Sadie's
212 Third Ave. N. #107, Minneapolis; mooseandsadies.com
Muddy Waters Bar & Eatery
2933 Lyndale Ave. S., Minneapolis; muddywatersmpls.com
Nighthawks Diner & Bar
3753 Nicollet Ave., Minneapolis; nighthawksdiner.com
Red Cow
Locations in Minneapolis, St. Paul, and Edina; redcowmn.com
Red Stag Supperclub
509 First Ave. NE, Minneapolis; redstagsupperclub.com
St. Paul Grill
350 Market St., St. Paul; stpaulgrill.com
Tilia
2726 W. 43rd St., Minneapolis; tiliampls.com
Tongue In Cheek
989 Payne Ave., St. Paul; tongueincheek.biz
---
A beastly Bloody Mary at Hell's Kitchen
Photo courtsey Hell's Kitchen
---
Bloody Marys (& More)
Fine local options for the liquid portion of breakfast
Hell's Kitchen
80 S. Ninth St., Minneapolis
The Jacked Up Bloody Mary and Champagne Mimosa Bar is 35 feet long and completely custom to your thirst needs.
Moto-i
2940 Lyndale Ave. S., Minneapolis
The house-made sake is the base for both Bloody Marys and Mimosas.
Icehouse
2528 Nicollet Ave., Minneapolis
Get a Bacon and Mini-Doughnut Bloody during Revival Brunch featuring top local musicians playing live.
Republic
221 Cedar Ave., Minneapolis
A memorable brunch flight features Modist First Call Cold Press Lager, Bent Paddle Cold Press Black Ale, an orange juice, and cold press coffee.
---
Breakfast
Where to get your morning coffee and protein ASAP
Colossal Cafe
Two St. Paul locations; colossalcafe.com
Curran's Family Restaurant
4201 Nicollet Ave., Minneapolis; currans-restaurant.com
Fat Nat's Eggs
Locations in St. Anthony Village, New Hope, and Brooklyn Park; fatnatseggs.com
Good Day Cafe
5410 Wayzata Blvd., Golden Valley; gooddaycafemn.com
Groundswell
1340 Thomas Ave. W., St. Paul; groundswellmn.com
Hen House Eatery
114 S. Eighth St., Minneapolis; henhouseeatery.com
Hot Plate
5204 Bloomington Ave., Minneapolis; hotplate.co
The Kenwood Restaurant
2115 W. 21st St., Minneapolis; thekenwoodrestaurant.com
Keys Cafe & Bakery
Locations in Minneapolis, St. Paul, Forest Lake, Roseville, Spring Lake Park, White Bear Lake, Woodbury, and Hudson, Wisconsin; keyscafe.com
Marna's Cafe
4150 W. Broadway Ave., Robbinsdale; marnascafe.com
Mickey's Diner
36 Seventh St. W., St Paul; mickeysdiningcar.com
Milton's
3545 Douglas Dr. N., Crystal; miltonsvvb.com
---
Lake Elmo Inn
Photo courtesy Lake Elmo Inn
---
Buffets
Where to have quality and quantity
6Smith
294 Grove Ln. E., Wayzata; 6smith.com
Beaner's Central Coffeehouse
324 N. Central Ave., Duluth; beanerscentral.com
Granite City Food & Brewery
Locations in Eagan, Maple Grove, Roseville, and St. Cloud; gcfb.com
Lake Elmo Inn
3442 Lake Elmo Ave. N., Lake Elmo; lakeelmoinn.com
Lord Fletcher's
3746 Sunset Dr., Spring Park; lordfletchers.com
Manny's Steakhouse
825 S. Marquette Ave., Minneapolis; mannyssteakhouse.com
Morgan's Farm to Table
14201 Nicollet Ave., Burnsville; morgansfarmtotable.com
Northern Divide
1308 18th St. N., Virginia; northerndivide.org
Pinstripes
3849 Gallagher Dr., Edina; pinstripes.com/edina-minneapolis
Facebook Comments