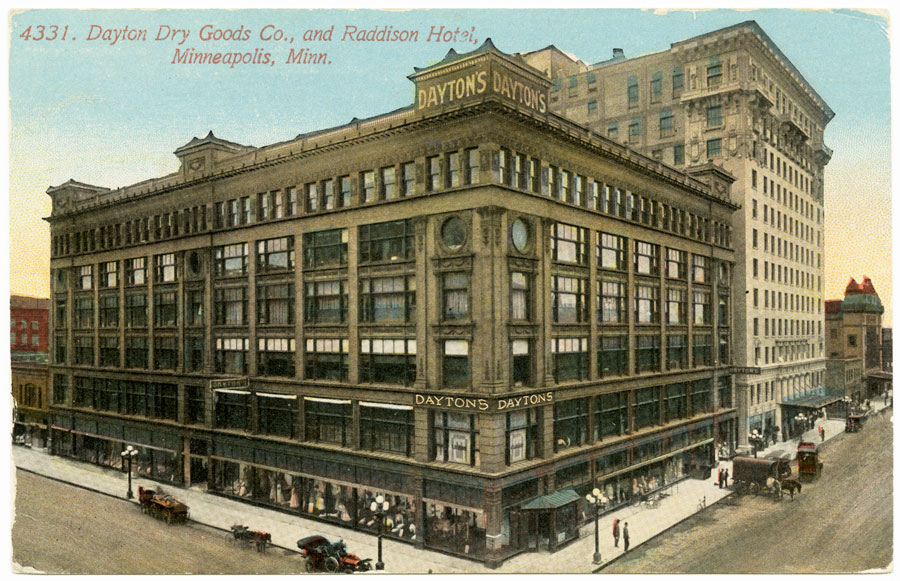 A painting of Dayton Dry Goods Co. and Raddison Hotel
photo courtesy minnesota historical society
---
My earliest memory of the downtown Minneapolis dayton's is a field trip. My first-grade class had been invited to the department store for a special live show of Lunch with Casey. (TV host Casey Jones, a.k.a. Roger Awsumb, was the Jimmy Fallon of the first-grade set in the 1960s and early '70s, entertaining kids with skits, songs, and more.) I recall little of the show. What impressed me was the glamorous 12th-floor women's bathroom: A row of delicate chairs perched before lighted mirrors so that elegant ladies could powder their noses; numerous sinks skirted the expansive circular periphery of an adjacent mirrored room. We 7-year-olds had never beheld such grandeur. 
In today's marketing parlance, the store was all about "surprising and delighting" customers—and had been ever since 1903 when wannabe-minister-turned-businessman George Dayton bought out R.S. Goodfellow & Company, and soon began operating the dry goods store with sons Draper and Nelson.
Well before my time, Dayton's had a French Room, known for its European designers and fashion shows. Also: ladylike tearooms and its own radio station, along with employees who formed both bobbysoxer bowling teams and a choir that sang carols before the store opened each morning in December. There was even a private swimming pool for the family on the 13th floor. (It's still there, apparently—now housing file cabinets.) 
I learned about the company's storied past and vibrant present through my role as editor of the employee magazine, Headlines, in the late 1980s. I once accompanied a buyer on a trip to the New York City fashion houses for a "day in the life" report. I got to tell great customer-service anecdotes like the time a sales consultant drove 75 miles to bring a suit to a customer who discovered, at the very last minute, he needed a different size. And then there was the obituary I composed for our cherished employee greeter. Only he hadn't died after all—a fact we learned, fortunately, just before distributing in-memoriam flyers. 
I loved working at Dayton's—for its speed-is-life retail environment, its genuine customer service, its generosity to the community, and the myriad niceties of its staff. Like the first wintery day I forgot my shoes. Would I be stuck wearing snow boots to meetings? Nope. My beautiful colleague led me to the "model closet" where I got to choose from dozens of size-nine heels. Perhaps I "forgot" my shoes more frequently after that. 
Longtime Minnesotans share so many Dayton's memories: Shopping the Daisy sale, and getting a much-needed jolt of spring at the annual Dayton's-Bachman's flower show. Indulging in buttered popovers in the clubby Oak Grill. And dining in the Sky Room, where in 1949 for $2.35 you could gaze out on Minneapolis in all directions while enjoying half a broiled lobster, potatoes, a salad, roll, orange ice cream, and coffee. 
But perhaps the favorite universal memory is the annual eighth-floor Christmas display, an ever-changing, enchanting fairy-tale land inhabited by mechanized dolls, Santa and his elves, and bakers whose ginger and sugar cookies made enduring the lines for Land of Trolls (1964), Santabear's High-Flying Adventures (1987), or Harry Potter (2000) more bearable. 
Dayton's has been absent from downtown Minneapolis since 2001, but many passionate fans fill Pinterest boards and Facebook pages with photos and memories. Last December, after learning that the building (now Macy's) would close, nearly 100 former employees packed the Local to network and share favorite memories: the unveiling of holiday windows every Thanksgiving evening, the "Dayton's boys" handing out boxes of chocolates every Christmas Eve, and the 1960s-era Saturday-morning teen dances in the eighth-floor auditorium.
As for me, I sometimes park in the "Dayton's" ramp and peruse Ebay for Dayton's souvenirs (I've got a pristine hatbox and an original receipt from R.S. Goodfellow & Company). Most importantly, I'm still married to a fellow Daytonian—even without his employee discount.