Rag & Bone blazer, $895, American Retro shirt, $155, and Goldsign jeans $216, all @ Bumbershute, 5014 France Ave. S., Edina, 952-475-2684, bumbershute.com; Bettye Muller loafers, $250 @ Pumpz & Co., 3511 Galleria, Edina, 952-926-2252, pumpzco.com; chain link bracelet, $90 @ Melly, 3327 Galleria, Edina, 952-929-9252, mellyonline.com.
Dressed in a navy Ralph Lauren blazer, skinny jeans, and Tory Burch flats, Linda Kaysen appears to be every inch the all-American girl. But she was, in fact, born in Sweden, which her soft, lilting accent (and head of naturally blond hair) quickly gives away.
Linda Kaysen is an interior designer by trade, so when her husband, nationally acclaimed chef Gavin Kaysen, decided to open his own restaurant, she collaborated with him and Shea design director Cori Kuechenmeister on its look and feel.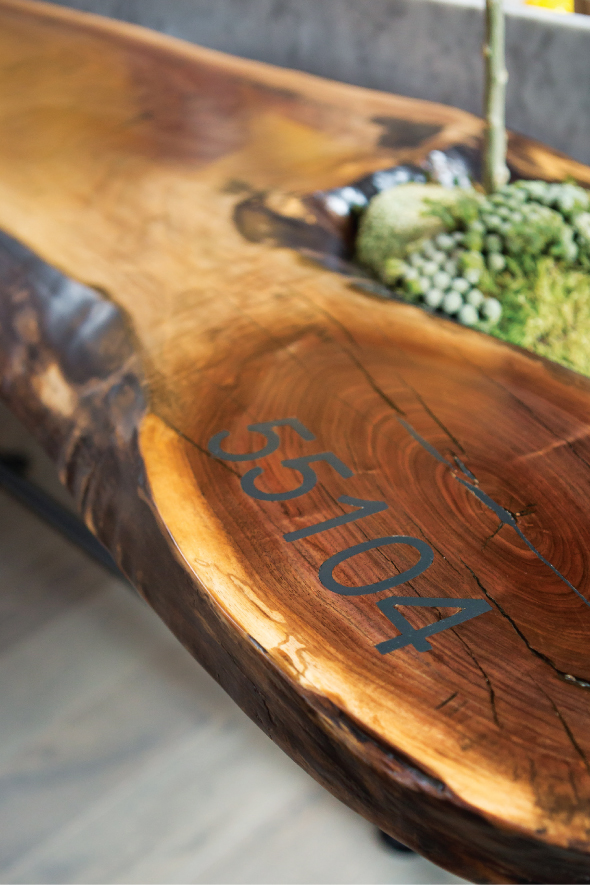 The chef's bar is custom-made from salvaged wood.
To Linda, a great dining experience begins when you take a seat, so she spent months finding just the right chairs for the space. "I think a chair can ruin a restaurant if they're too bulky, too ugly," she says. "There are so many of them, so the chair has to be great."
Inspired by Scandinavian, mid-century modern furniture and contemporary design, the restaurant's dining, lounge, and bar seats are equally stylish and practical, featuring sleek, dark wood and covered in fabric instead of leather to better absorb ambient sound.
She also came up with the idea for the spoon-and-driftwood decorative art piece—a nod to her husband's infamous penchant for stealing spoons from restaurants—and the striped wool Faribault Woolen Mill blankets in the entryway, a reference to the space's history as a former horse stable.
After looking at a lot of real estate, the Kaysens quickly fell for the vintage North Loop charmer. "We knew we wanted something light that still had a rustic elegance to it," Linda says.
The couple first met in French class in Switzerland in 2001 when she was 20 years old, and lived in San Diego and New York City before moving to Minnesota last summer. During that time, Linda worked for a few interior-design firms before devoting herself to raising their two children—Emile, 5, and Julius, 3—full time while Gavin moved up in the ranks of the restaurant world. Once the kids go to school, she'd like to do more residential and commercial design work. "With Gavin's hours, I want the kids to have some stability because he's gone so much," she says. "Design is so consuming—it eats you up. It's really hard to have time for both."
Linda's design aesthetic is a mesh of Scandinavian—sleek, light, and modern—and classic American style, which is apparent in her personal style as much as in the restaurant. "I think Scandinavian design is really engrained in me from growing up there—the lightness of it, the refined quality, and all the natural elements of it," she says, pointing to the chef's bar crafted from a large piece of driftwood.
Conversely, her favorite designers are decidedly American: J.Crew, Ralph Lauren, Citizens of Humanity and Hudson jeans, Theory, and Diane von Furstenberg. She's also a big fan of cashmere knits, which she loves to wear during winter, spring, and fall.
Judging from her favorite piece— a long, cable–knit open cardigan with a big collar from Ralph Lauren—it sounds like Linda is already adapting to winter in her new home.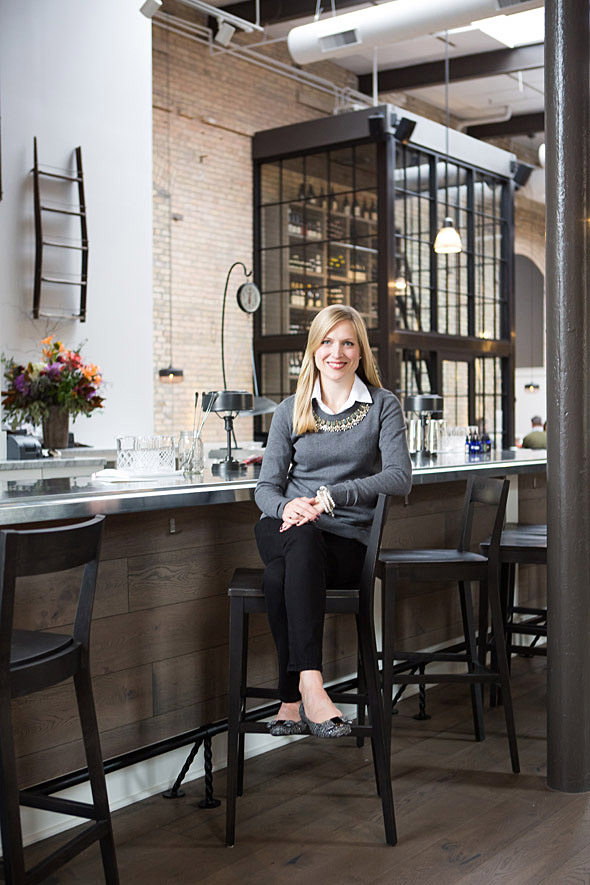 Ark & Co. dress, $64 @ Proper & Prim, 2743 Lyndale Ave. S., Mpls., 612-345-5486, properprim.com; necklace, $30, and earrings, $170, both @ Lily & Violet.
---
Linda Kaysen's Style Crib Sheet
Wardrobe Staples
"During the week, I wear mostly pants and I always wear flats or boots since I have to chase two little boys around. My favorite shoes are from Tory Burch and Prada."
Finishing Touches
"I love accessories. I'm more of a minimalist when it comes to the amount worn at the same time, but I love big, bold statement pieces."
On Nordic and Minnesota Culture
"People really take advantage of the outdoors every season: the beautiful summer; fall and spring; the long, dark, cold winter. The cabins, the lakes, the farming communities—there are a lot of similarities between Sweden and Minnesota."
---
Bonus: View Photos of Spoon and Stable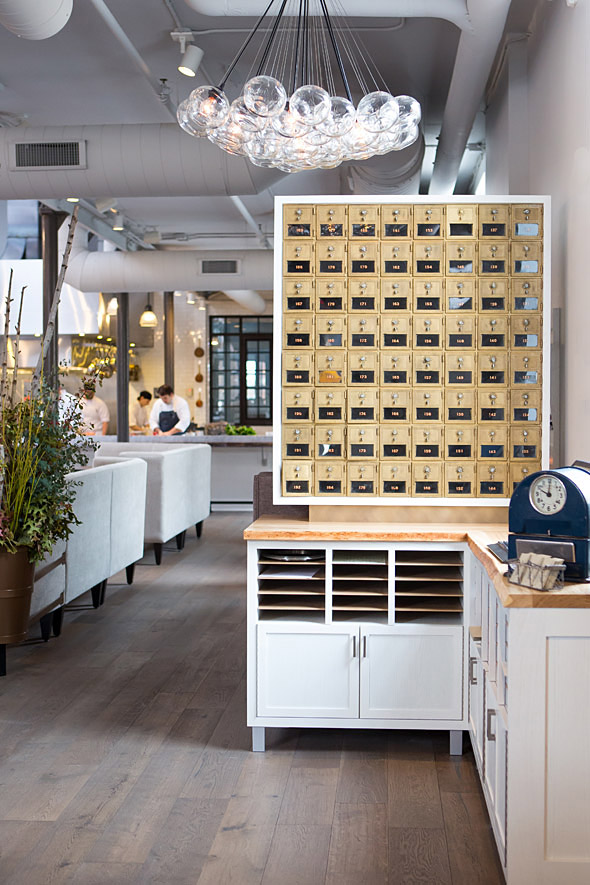 The chandelier is a custom glass-blown piece by Jackson Schwartz of Minneapolis glass studio Hennepin Made. "He got pretty much free hands to create a statement piece," Linda says, adding that "Jackson is a great friend of Gavin's uncle."  

Decorating the entrance of the restaurant is a trio of Fairbault Woolen Mill blankets, which Linda says are inspired by the idea of a horse blanket hanging in a stable. "We wanted to use as many local resources as possible since so much amazing products comes from here," Linda says, adding that they "add some softness, color, and a sense casualness to the space."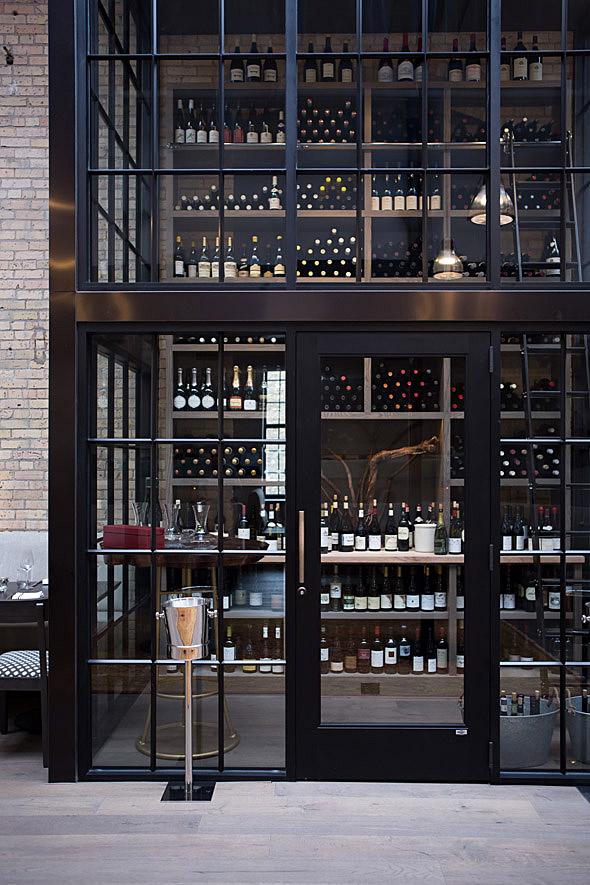 David Shea of Shea Inc. was the mastermind behind the wine display, while La Belle Vie sommelier Bill Summerville helped with the design of the interior. "We could not have done any of this with out Zeman Construction," Linda says. "They have been amazing, and stuck to our aggressive timeline."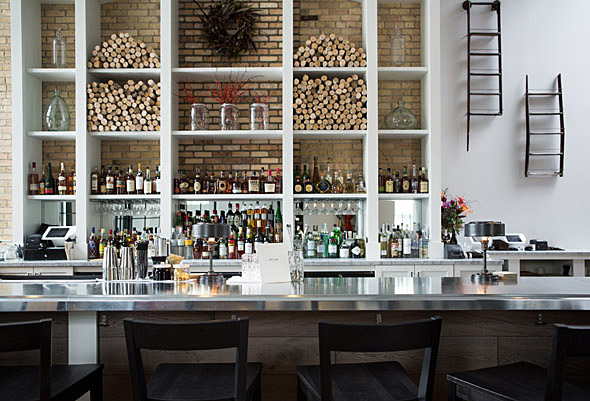 All the floral pieces are from Tangletown Gardens, while the ladder to the right was found while digging out the basement. "We thought it was a perfect art piece for the space," Linda says. During the its installation, it broke in half, which Linda says "turned out even better."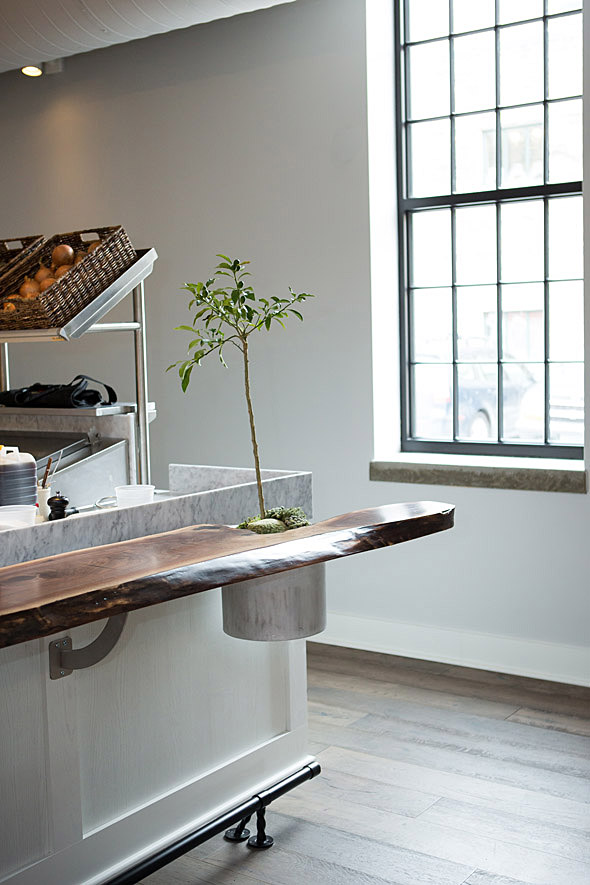 The chef counter is a black walnut that was cut down in St Paul. Wood from the Hood, a design business that reclaims discarded trees, sourced the raw material, and custom woodworking company Aaron Carlson Corporation used their magic to create this piece.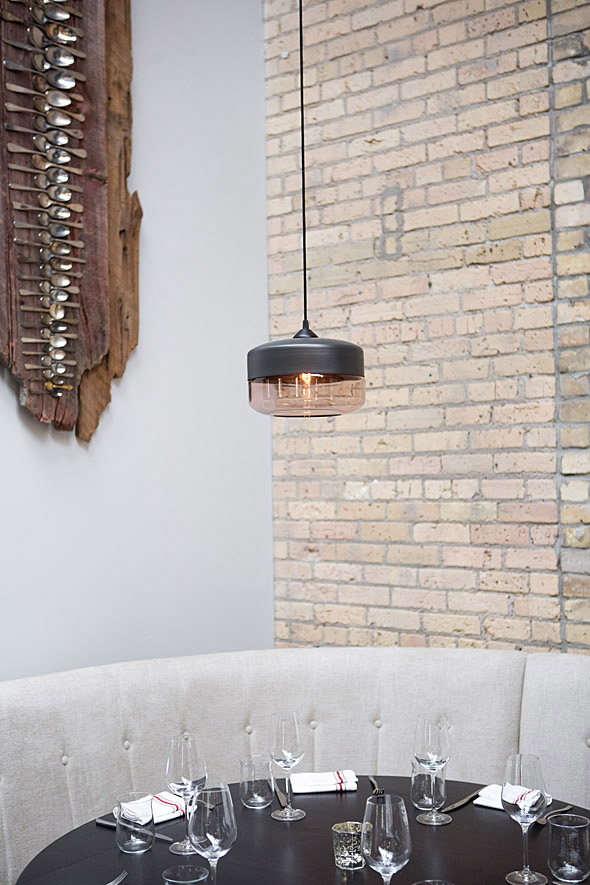 The spoon display was a collaboration between Shea Inc., Gavin's brother Sean, and Linda as a gift to Gavin. "Sean did all the hard work," she says, adding that he brought the driftwood from California. The spoons were sourced from Gavin's personal collection. The pendant lamp is from Hennepin Made.
Facebook Comments