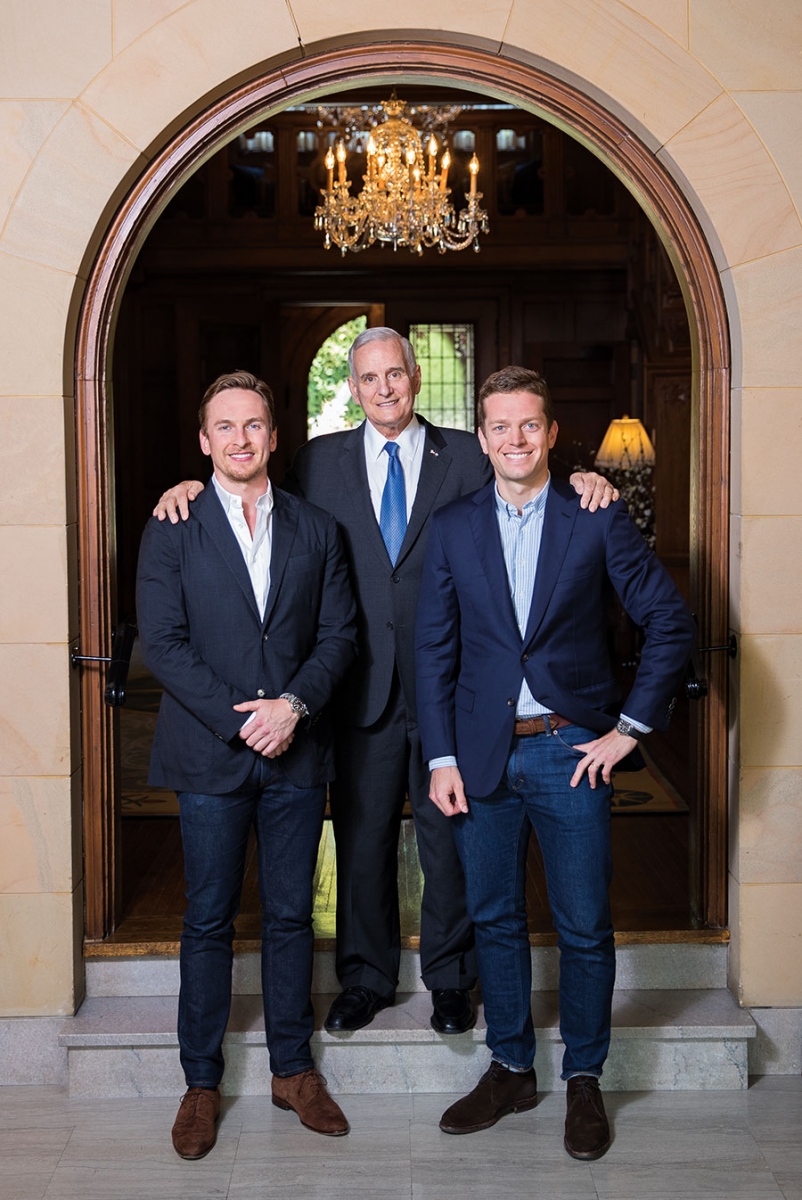 Gov. Mark dayton with sons Andrew (left) and Eric
portraits by David Ellis
---
Dynasty Directory
Ali
In the last two decades of war and upheaval, the century-old Somali cultural history museum in Mogadishu has been destroyed, its artifacts dissipated across East Africa and the world. In 2013, amidst worries among Somali locals that their children would be born in America with little or no connection to their heritage, Osman Ali, who came to Minnesota in 1995 and had been collecting Somali artifacts for years, opened the Somali Museum of Minnesota. It holds a collection of more than 700 pieces and offers educational programs about Somali traditions, with Osman's son Mohamoud serving as the museum's program director for youth and performance, planning special events and managing the Somali Museum Dance Troupe.
Bell
James S. Bell was a miller who served as CEO of the Washburn-Crosby Company in Minneapolis. In 1873, Bell married Sallie Montgomery Ford; they eventually built Belford, a red-roofed mansion overlooking Lake Minnetonka, and had a son, James Ford Bell. After working his way up Washburn-Crosby, James F. formed General Mills in 1928 by merging several Midwestern millers and founded the Bell Museum of Natural History, the Bell Library at the University of Minnesota, and donated much of the American art collection at the Mia. In the 1950s, James's son Charles took over General Mills. His son, Ford Bell, founded the Red Owl grocery chain. Finally, Ford's son Ford Jr. was head of the American Alliance of Museums before becoming head of the Hennepin Health Foundation.
Bellamy
In 1976, Lou Bellamy founded a grassroots theater company in St. Paul called Penumbra, where African American playwrights, including Pulitzer-winning author of Fences August Wilson, could stage realistic works delving into the social issues of the day. Penumbra has remained a diversity magnet in drama for 40 years, one of only three professional African American theaters in the country offering a full season. Lou's daughter, Sarah Bellamy, leads the company's Summer Institute, where students use theater to unpack themes as urgent and timely as extrajudicial police killings, and took over from Lou as artistic director of Penumbra this year.
Sarah Bellamy with her father, Lou
Sarah Bellamy: "In terms of the theater's social-justice spine or skeleton, the fact that we are inside the Martin Luther King Center is important. That we are in the old Rondo neighborhood. I mean, this was the seat of black political power in St. Paul. One of the country's first anti-lynching laws was put forward from this community. So there are ways in which that advocacy piece is really informed by our roots. Also, the fact that there is such tremendous philanthropy for the arts in Minnesota has been hugely instrumental for Penumbra's success. Not just in terms of how it's benefited our institution, but by virtue of the fact that the actors and the artists with whom we work are able to have a landscape of other arts organizations where they can also be employed."
Burnet
In 2011, real estate mogul (he founded Burnet Realty in 1973 and grew it to become the third-largest real estate company in America before he helped transform the 32-story Foshay Tower into the W Hotel and created the LeMeridien Chambers boutique hotel) and major art collector (think: rarities like a 17-foot Damien Hirst) Ralph Burnet and his wife, Peggy, were downsizing from their Romaldo Giurgola–designed lakefront Wayzata home. Who'd they enlist to help sell the multimillion-dollar property? Their son, Ryan, who has followed in his father's footsteps and is known for several high-profile real estate and restaurant ventures, including Burch Steak, Bar La Grassa, and Eastside.
Cargill/MacMillan
In 1865, William W. Cargill started a small grain storage business in Iowa, which eventually became Cargill, Inc., the largest privately held corporation in the United States. Cargill underwent various iterations over the years, with Cargill and MacMillan family members assuming leadership positions. In present times, the business has been run by a string of non-family members, though the Cargill and MacMillian families still own about 90 percent of the company. Longtime arts supporters Nivin MacMillan and her late husband, Whitney Duncan MacMillan, great-grandson of William and a longtime Cargill director, recently endowed the Minneapolis Institute of Art's leadership post.
Carlson
Carlson Companies is one of the largest family-run corporations in the United States, employing some 175,000 people in more than 160 countries worldwide, with a recorded revenue of $4.4 billion at last fiscal year's close. Carlson was founded in 1938 by Curt Carlson, who used a $55 loan to start the Gold Bond Stamp Company, a consumer incentive program used by grocery stores. Carlson expanded into the hotel, restaurant, and travel management businesses (the company owned T.G.I. Fridays and Country Kitchen and recently sold its hotel brands, including Radisson and Country Inn and Suites) before Curt was succeeded by his daughter, Marilyn Carlson Nelson. Marilyn's daughter Diana assumed chairmanship in 2013. Marilyn's sister, Barbara Carlson Gage, succeeded Curt as head of the Carlson Family Foundation before passing the reins to her niece Wendy. Following Curt's $25 million donation to the University of Minnesota, the School of Management was renamed in his honor.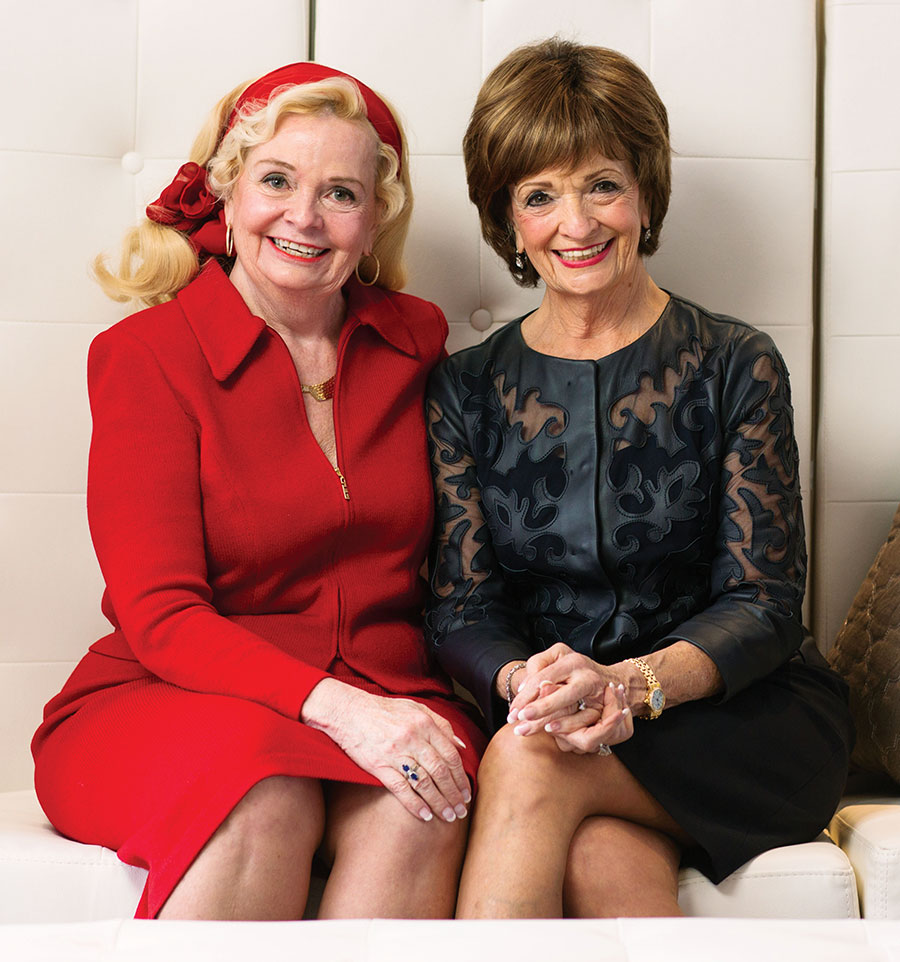 Marilyn Carlson Nelson (right) with her sister, Barbara Carlson Gage
Marilyn Carlson Nelson: "Of our family's contributions to Minnesota, job creation would be number one. We believe the best philanthropy is a job. Building a company known for its ethical way of doing business and its corporate citizenship is an extension of that."
Christian
A Minnesota ice hockey legacy, the Christian family launched Christian Brothers Hockey Sticks in 1964 in Warroad, birthplace of founding brothers (and 1960 Olympic gold medalists) Roger and Bill. Sales took off after 1980's "Miracle on Ice," when Bill's son Dave and the rest of the U.S. Olympic team, many of whom played with Christian Brothers sticks, defeated the defending gold medalist Soviet Union.
Colson
Jake's Northwest Angle is one of the remotest resorts in the contiguous United States, on a peninsula that dips into Lake of the Woods and is only accessible by boat or driving through Canada. In the 1930s, Jake Colson established the first post office in the area before launching the fishing resort in '45. In 1995, his grandson Paul with wife Karen took over management from Paul's parents and continue to run the forgotten-by-time resort with the help of their three sons (who were, for a time, the only students in the town's one-room schoolhouse).
Dayton
In 1902, George Draper Dayton founded Dayton Dry Goods Store, which would later become Dayton's, a department store chain serving the upper Midwest before later evolving into the retail powerhouse Target Corporation. While current Minnesota Governor Mark Dayton, great-grandson of George, took the non-retail route—Mark's father, Bruce, was among the last generation to run the company, as well as a major arts patron who donated tens of millions in artworks to the Minneapolis Institute of Art—Mark's sons, Eric and Andrew, followed in their great-great-grandfather's footsteps, opening three award-winning and community-forward retail and restaurant spaces in the North Loop: Askov Finlayson, The Bachelor Farmer, and Marvel Bar.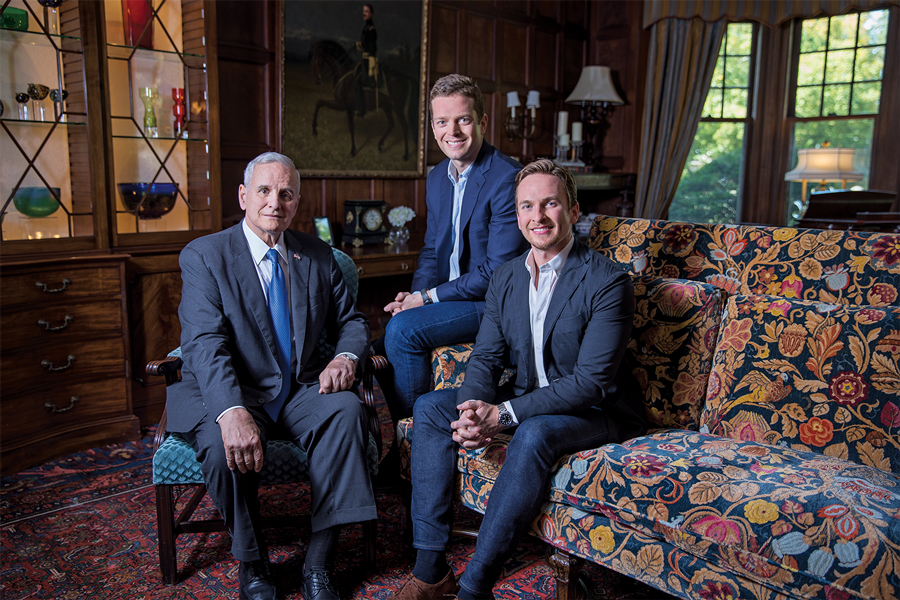 Gov. Mark Dayton with sons Eric and Andrew at the Governor's Mansion
Eric & Andrew Dayton
Eric: "The two values that really stand out for us are to work hard and give back—this feeling that we are really fortunate, and we were brought up to be aware of how fortunate we are and to be grateful for that. The expectation was the Luke 12:48 Bible verse, To whomsoever much is given, of him much shall be required. That was the idea: We're very lucky, we've been given a lot of opportunity, and that means a lot is expected of us."
Andrew: "When I was younger, there were more pet peeves associated with having a family legacy and family history that was so outward facing. I'm thinking of this time when I was in grade school, when a teacher held me after class to see if I could be helpful in getting her to return a broken product to Target, which was a strange position for a kid to be put in."
Freeman
Orville Freeman, a 1940 graduate of the University of Minnesota, served as the 29th Governor of Minnesota, the U.S. Secretary of Agriculture under John F. Kennedy and Lyndon B. Johnson, and was one of the founding members of the Minnesota Democratic-Farmer-Labor Party. Orville's son Mike was elected to the Minnesota Senate in 1982, and now serves as Hennepin County Attorney. His son Matt is currently a senior aide to St. Paul Mayor Chris Coleman.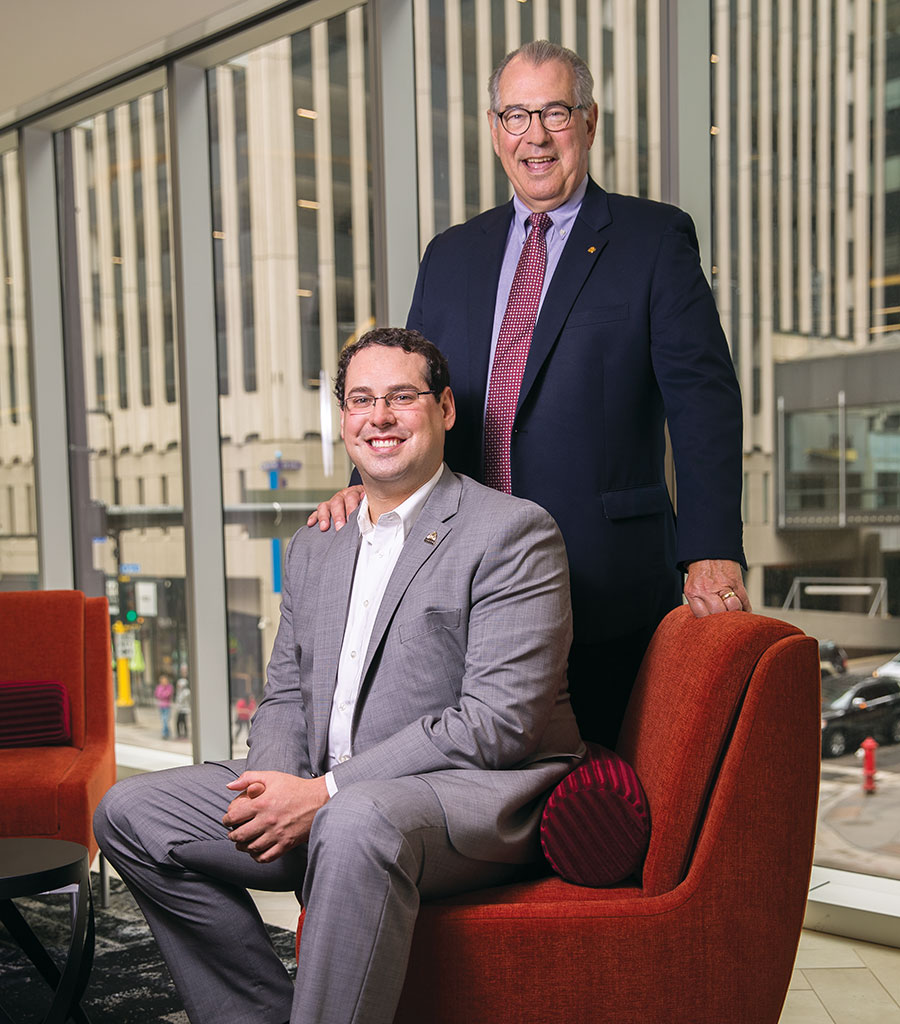 Matt Freeman with his father, Mike
Matt Freeman: "The most pressure I felt related to my family reputation was working in the Freeman Building as staff for Commissioner Frederickson in the MN Department of Agriculture. To work in a building named after Grandpa was both incredibly special and intimidating. Particularly with having grown up in the city, I am far from an expert on any aspect of agriculture. However, as the grandson of a U.S. Secretary of Agriculture, folks expected me to at least know the difference between corn and soybeans. Luckily, I am a quick learner and there were a lot of experts at the Dept. of Ag that I could rely on and learn from."
Givens
Archie Givens, Sr., was considered the first African American millionaire in Minnesota—an especially difficult feat in 1950s America. After opening Givens Ice Cream Bar in North Minneapolis, he broke into the housing and long-term care markets, including the first integrated nursing homes in Minnesota, which he ran with his wife, Phebe. His son, Archie, Jr., has continued the development business, particularly affordable and subsidized housing. The Minnesota African American Museum, started by his daughter, Roxanne, has closed, but the Archie Givens, Sr., Collection of African American Literature at the University of Minnesota remains home to more than 10,000 archival and manuscript materials documenting the history of black literature and culture.
Graves
In 1979, Jim Graves founded AmericInn as a small business in Rogers, Minnesota, which then expanded into a nationwide hotel chain (which just sold to industry giant Wyndham Hotel Group for $170 million). In 1993, Jim and his son Ben began Graves Hospitality Group, specializing in luxury hotels, including the Graves 601 Hotel (now rebranded as the Loews Minneapolis Hotel), which helped kickstart downtown Minneapolis' hospitality revival. Ben now heads Graves Hospitality, creating properties around the country such as forthcoming luxury hotels Minneapolis' Moxy Uptown and the 12-story InterContinental Hotel at MSP Airport (where the Graves' pioneering cocktail spot, Bradstreet, will relocate).
Kerfoot
Justine (Spunner) Kerfoot and her mom bought the Gunflint Lodge, one of the oldest and best-known destinations on Minnesota's Gunflint Trail, in 1929, and during the Great Depression they moved from Chicago to the Gunflint indefinitely. Justine ran the lodge and a canoeing outfitter and married Bill Kerfoot, son of the president of Hamline University. Their son Bruce and his wife, Sue, took over in the late 1960s and ran it until 2001, when their son Lee took over. These days, Lee runs guided zip line tours in the Minneapolis and Brainerd areas.
Klobuchar
Jim Klobuchar spent his career as a venerated sportswriter, journalist, and travel guide, writing for the Star Tribune for three decades. He's also the author of 10 books, including Will the Vikings Ever Win the Super Bowl?, and he's the father of the first woman to be elected as one of Minnesota's U.S. Senators, Amy Klobuchar. Her political positions on food, trade, foreign policy, and more have been markedly progressive, and her name has been shortlisted among women who would be strong Presidential candidates.
Lahammer
Mary Lahammer, Emmy-winning political reporter for Twin Cities PBS, followed in the footsteps of her father, Gene, who spent half a decade as intrepid Capitol reporter for the Associated Press, exhaustively covering local and national politics. Mary also co-hosts TPT's Almanac at the Capitol on her father's old stomping grounds.
Mondale
Walter Mondale has been a politician for most of his life, most notably as Vice President under Jimmy Carter and 1984 Democratic presidential nominee. Walter and his wife, Joan (or "Joan of Art" because of her advocacy of the arts), had three children: the late Eleanor, radio and television personality; William, former Assistant Attorney General; and Ted, politician, entrepreneur, and former CEO of the Minnesota Sports Facilities Authority who oversaw the new Minnesota Vikings U.S. Bank Stadium.
Morrison
Sometimes family legacies can get strangely cyclical. Take that of Hunter Palmer Wright. Her mother, née Julia Washburn Morrison—Washburn from the milling family (the Washburn A Mill, the largest flour mill in the world built in 1874, now the site of the Mill City Museum) that helped found Minneapolis; Morrison from businessman Dorilus Morrison,  the first and third mayor of Minneapolis. Dorilus's son Clinton lived on Villa Rosa, a 10-acre estate, which he would later donate to become Mia. Finally, Hunter Palmer Wright now works at the Mia as its venture innovation director, bringing the family legacy full circle.
Murray
Murray's Steakhouse, started by husband-and-wife team Art and Marie Murray, has been a Minneapolis institution since 1946. The winner of the prestigious Silver and Gold Butter Knife Awards (bestowed by a New York gastronome who traveled the globe in search of the perfect steak) has topped just about every Best Steakhouses list in the country. Today, third-generation Murrays—Tim, Jill, and James—who spent their lives in the family restaurant, are now part of the Murray's management team.
Nguyen
Among Minnesota's Vietnamese restaurants, the original Lotus in Uptown Minneapolis, opened in Calhoun Square in 1983 by Tri and Le Tran, was a pioneer. Over time, Lotus became a sort of local franchise, opening about half a dozen restaurants. But these locations eventually shuttered, save for the family's 1984 classic at the edge of Loring Park, run by Van Vo (a sibling of Le Tran) and Trung Nguyen. Their four children—Yoom, Toom, Hung, and Joey—grew up in the restaurant and just opened their own Lotus branch at 29th and Hennepin.
Parise
J. P. Parise (b. Jean-Paul Joseph-Louis Parise, 1941) was an ice hockey star from Ontario drafted into the NHL by the Boston Bruins but achieving legendary status playing for the Minnesota North Stars. J.P.'s youngest son, Zach, followed (um, glided?) directly in his father's footsteps and is a standout as left wing and alternate captain for the Minnesota Wild. Zach was also alternate captain for the United States at the 2010 Vancouver Olympics and captain at the 2014 Sochi Olympics.
Paulucci
Jeno Paulucci (b. Luigino Francesco Paulucci, 1918) looked like the guy many a Martin Scorsese character was modeled after: a shrewd and successful entrepreneur. (He once told MPR: "I'm a businessman, I'm not going to say, 'Oh gee, I'm a nice guy.'") During his career, the Hibbing-raised Paulucci started more than 70 companies, including a frozen foods empire (i.e., Bellisio Foods and the titular Jeno's Pizza Rolls). He also started the Chun King line of canned Chinese foods flavored with Italian spices, which, by the early 1960s, was raking in $30 million a year. Jeno's son Mick founded and ran Duluth's Grandma's Saloon and Grill chain, among other Canal Park businesses (including Little Angie's Cantina and Bellisio's).
Phillips
When Dean Phillips became head of Phillips Distilling in 2001, he was the fifth generation president in the family line. His great-grandfather, Jay (namesake of the University of Minnesota's Phillips-Wangensteen Building, the Phillips Eye Institute, and the Jay Phillips Center for Interfaith Learning—the Phillips trust is one of Minnesota's largest family foundations), led Phillips Distilling Co., which  produces some of Minnesota's most recognizable and ubiquitous spirits (including America's first schnapps brand and Prairie Organic Vodka). Dean's grandmother Pauline was better known as the advice columnist Dear Abby. Dean himself, who has worked everything from busboy at Runyon's to co-founder of Talenti Gelato, is now running for Minnesota's 3rd Congressional District.

Dean Phillips
Dean Phillips: "My great-grandfather Jay Phillips used to tell me stories of being a newspaper boy when he first came to America. Because of our family's values, he would leave a couple pennies at the local baker at the end of the day to provide bread for some of the homeless men in town that he would see. That story really embodies the way that the family developed: He created a business that became very successful and made philanthropy and sharing the hallmark of our family principles. The legacy that he left was a foundation that I now co-chair, and that is really our family business. We create for-profit businesses, of course, but ultimately we see that as a means to an end, and that is to share out of gratitude. So, our legacy is both gratitude and sharing—starting many generations ago, and it continues to be passed down…One of my favorite quotations from my great-grandfather was, 'Money is like manure: you stack it up, it stinks. And if you spread it around, it fertilizes.'"
Pillsbury
In 1872, C.A. Pillsbury & Co. was founded on the banks of the Mississippi at St. Anthony Falls by Charles Alfred Pillsbury and his uncle John. Pillsbury helped make Minneapolis one of the world's milling centers with its innovative techniques and signature flour, "Pillsbury's Best." Over the years, Pillburys have served as mayors, governors, senators, and congressmen, in addition to their far-reaching philanthropy work. Today, the company's brands are owned by General Mills and Smucker's, with Sally Whitney Pillsbury (wife of the late George Pillsbury, a grandson of Charles Alfred) representing the last generation in the Minnesota family business tree.
Sally Pillsbury
Sally Pillsbury
George Pillsbury, on his mother's behalf: "Two pet peeves about being a part of a family legacy are being viewed as special due to having a brand name or being known as a donor rather than a doer. Giving money, though my parents were generous, was never their main focus. They were more interested in their public life in helping others succeed in politics, the arts, community leadership, and in life—and in having time, like anyone, to enjoy family and friends."
Pohlad
Carl Pohlad was born into a poor family in Des Moines, Iowa. While serving World War II, the budding entrepreneur ran a loan business out of a mess tent. Afterward, he got married, moved to Edina, and built a banking empire. He owned the Twin City Rapid Transit and the Minnesota Twins, as well as controlling interests in PepsiAmericas. Carl's three sons have continued his business legacy: Jim now owns the Twins, Bob is the former president of PepsiAmericas, and Bill divides his time between Minneapolis and Los Angeles, working as a film producer (Brokeback Mountain, 12 Years a Slave) and director as well as leading the Pohlad Family Foundation.
Ramaswamy
Dancer and choreographer Ranee Ramaswamy created a space for classical Indian performance in Minnesota after she moved here from India with her three-year-old daughter, Aparna, in 1978. In the mid '80s, one of India's premier dancers visited the Twin Cities and took Ranee and Aparna under her tutelage. Around 1992, the year she founded Minneapolis' Ragamala Dance Company, Ranee started adapting her centuries-old art for mainstream audiences. Since then, as co-artistic director and artistic associate, Aparna and her younger sister, Ashwini, respectively, have worked alongside their mother to maintain Indian cultural integrity while achieving global accessibility.

Ranee Ramaswamy with daughters Aparna (left) and Ashwini
Aparna Ramaswamy: "It's hard for people to get their minds around the fact that we do create work together. I think especially when it's me and my mother, people often think: Ranee started it, now Aparna's throwing it on. But it's only when they hear our story that they understand how we are partners. She is not grooming the next generation. We've always been one generation. And I've been observing this my whole life, so it feels natural to slip into the mix. And now Ashwini's joining us. It's a mother, one daughter, and then another daughter…The fact that we have this perspective that comes from different ages and different experiences and different immigrant stories is really valuable to our work."
Silva
Tomas and Maria Silva migrated from Aguascalientes, Mexico, to St. Paul where, in 1979, they transformed an 800-square-foot space into what would become El Burrito Mercado, with Tomas trekking to Chicago every week to load up on authentic goods for the Twin Cities' best-known Mexican market. Today, the Silvas' daughter Milissa serves as CEO while her sister Suzanne serves as head of HR, with Suzanne's daughter Analita overseeing catering and events.
More Insight from Legacy Family Members