Teo Nguyen wears many hats—and not just the 34 fedoras stacked in teetering columns in his closet. He is a stylist at Uptown Hair District whose clientele books a month in advance to sit in his chair. He is an artist on the radar of curators and collectors. He is a lover of jazz with a cat named after Nina Simone. He is a cook (his specialty: bouillabaisse), a traveler (he hit Ireland this spring), and a collector of beautiful things (from a vintage rug he bought in Morocco to a pair of 150-year-old hand-beaded Native American moccasins he picked up in Santa Fe). What he is not is a hipster—and woe to anyone who looks at his 58 pairs of skinny jeans and suggests otherwise. "Would a hipster wear a kilt?" he asks with mock indignation. "I am too weird to be a hipster."
Point taken. His Comme des Garçons kilt comes out mostly on his yearly trips to Paris. "I wear anything there," says Nguyen, 37. "Here, I don't want to stand out." Hipster or not—a closet full of Yves Saint Laurant and Comme des Garçons argues against him—Nguyen will have to get used to being the center of attention. Nearly a decade after he and his longtime partner, Micah Tran, decided to trade the traffic jams of southern California for the art, music, and quality of life in the Twin Cities, he is in talks to open his own salon—and to have his work featured in a show at the Burnet Gallery at Le Méridien Chambers hotel in Minneapolis. "This community's civic pride is infectious," he says. "I'm going to be here for a while."
And so he has adapted his kookier couture inclinations to the local market: think a fitted gray blazer hand-embellished (by him, naturally) with rabbit-fur and gunmetal paillettes, along with Gucci sneakers he spray-painted on a whim. Wait, scratch the sneakers. "I didn't like how they came out," he says with a laugh.
Experimenting with the expression of beauty has motivated Ngyuen since he first picked up a paintbrush as a grade-schooler in his fishing village in Vietnam. At 15, he moved to San Jose, California, where he lived with one of his 10 siblings and scoured thrift shops to find his style—"anything but Abercrombie," he says.
After high school, Ngyuen moved to Paris, where he was a student at the prestigious École des Beaux-Arts but dropped out in part because, in true artist form, he doubted his own talent. He moved back to California, went to school to become a makeup artist, then, hanging around the salon of a friend, learned to cut and color. "Making other people feel good about themselves makes me happier than anything," says Nguyen. "It's a natural high."
And another way to express beauty. On any given day, Nguyen might work at the salon, do makeup for a photo shoot, and fit in a Saint Paul Chamber Orchestra concert. Then, late into the night, he paints. "I'm a regular at the frame shop now," he says. "The way they look at my work makes me feel so good. I think, 'Wow, maybe I am an artist.'"
Jennifer Phelps thinks so. In March, the director of the Burnet Gallery went to see his pieces at the behest of a local collector. "They were beautiful, haunting," she says. "To be truthful, I was completely amazed. We're really excited to show his work." Keep an eye out on opening night; maybe he will wear his kilt.
TEO NGUYEN's STYLE CRIB SHEET:
Favorite shops:  Martin Patrick 3, gh2, AllSaints, anywhere that sells Levi's
Greatest temptation: "Brown shoes. My favorites are a distressed Beatles-looking pair by Agnès B. My friends want to borrow them and I say, 'No!' You can borrow anything else but not these.'"
Confession: "Sometimes if what I put on in the morning isn't working, I'll drive home from work to change. If I'm in an outfit I don't like, it puts me in a bad mood."
Online Extra: Tour Teo Nguyen's studio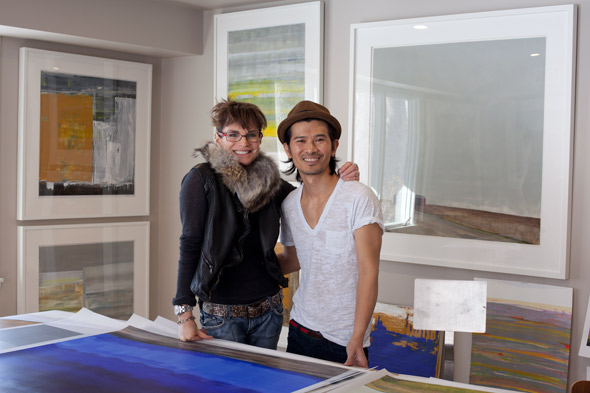 Karen S. Schneider with Teo Nguyen
Facebook Comments