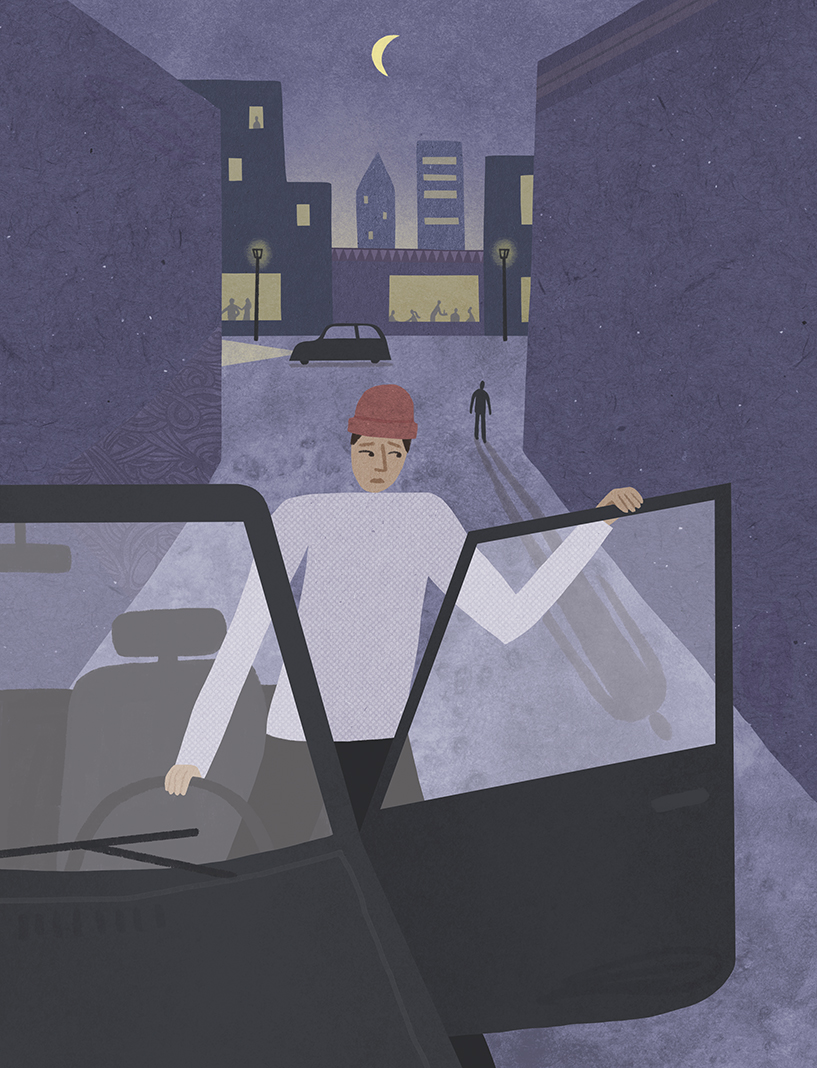 After running an errand on a sunny Saturday afternoon last winter, Melanie McCall pulled into the detached garage at her Linden Hills home and looked at her phone to read a text. Suddenly, two young men appeared at the window of her Jeep Cherokee. One of them pointed a semi-automatic handgun in her face. "Don't look at me, bitch, or I swear I'll kill you," he shouted.
They demanded her phone and the keys to her Jeep and the Infiniti Q50 parked beside it. The gunman yanked her out of the car, got in, and drove off.
But before he left, he said, "I know your name and where you live. If you do anything stupid, I'll come back and hurt you and your family."
"They were saying it to scare me, but it worked," McCall, 57, explains during an interview on her back porch almost a year later. "I was completely freaked out for several days. Something has been taken from me, and I don't know if I'll ever get it back."
The criminals stole not only her cars and phone, but her sense of security. And she's not the only one concerned. The spike in violent crime the past two and a half years in Minnesota—and especially in the metro area—has violated the victims but also shaken those fearing they might be next. Constant chatter on Next Door, along with other social media platforms, warns of crimes and suspicious activity. Recently, several high-profile and brazen crimes have taken place in unexpected places—the carjacking in an Edina Lunds & Byerlys parking lot in December 2021, the daytime murder of a teenager at a downtown light rail station in August 2022, the 15-year-old charged with shooting two others at a Richfield High School football game in September 2022, and the mid-day murder of a patron and injury of an employee at a restaurant in a Bloomington strip mall in November 2022, where the owner of a neighboring restaurant had been attacked in 2020. All of this has left us wondering: Are things as bad as they seem?
Since early fall of 2022, some crime rates have dropped in Minneapolis, the city that figures most prominently in discussions about "Minnesota" crime. The state's major crime combatants—the U.S. attorney's office, state and federal agencies, and a new Minneapolis police chief, for example—are moving in and cracking down. But the hard fact remains that violent crimes have increased dramatically in the state since pre-pandemic times. Minnesotans may wonder if the perceived spike in violence matches reality. The numbers are telling.
In 2020, violent crime—homicide, rape, aggravated assault, and robbery, which includes carjackings—increased statewide by 16.6% over the previous year, as reported by Minnesota police in the Uniform Crime Report. Murders alone jumped 58.1%, from 117 in 2019 to a record 185 in 2020. Violent crime continued to rise at an alarming rate in 2021, jumping another 21.6% over 2020. The murder rate statewide rose to another record level, 201, in 2021. In the seven-county metro area of Anoka, Carver, Dakota, Hennepin, Ramsey, Scott, and Washington counties, violent crime incidents rose at a slightly higher pace, 23.9% in 2021 over 2020.
Nationwide, violent crime has increased since early 2020. But Minnesota has seen the steepest spike in gun violence of any state, according to a 2021 study published by Scientific Reports with data from the nonprofit Gun Violence Archive. Perhaps not surprisingly, the Minnesota city with the highest rate of violent crime is Minneapolis, the most populated city and a place of unrest and police depletion following George Floyd's murder by Minneapolis police on May 25, 2020. The rise in murders and shootings citywide was especially unsettling. Minneapolis' homicide increase was one of the highest in the country, more than doubling from 46 in 2019 to 93 in 2021, per Uniform Crime Reports. Through the first half of 2022, the number of murders in Minneapolis ranked in the top quarter percentile of cities per capita nationwide (19th of 70), according to the Major Cities Chiefs Association. Meanwhile, across the river in St. Paul, 2021's homicide count of 38 pushed past the capital's previous peak of 33, set in 1992, placing 2021's homicide count slightly higher when figured per capita: 12.4 versus 12.2 per 100,000 people.
Making crime potentially more dangerous over the past two years, guns have been used in crimes where they had not in the past. A gun can turn an assault into an aggravated assault or even a homicide. Firearms were used in 75% of murders committed throughout the state in 2020, up from 69% the previous year, according to the Uniform Crime Report. "The introduction of a firearm dramatically increases the severity of the crime," says Chris Uggen, distinguished McKnight professor in sociology, law, and public affairs at the University of Minnesota. "If a gun is available, the probability a dispute escalates is more likely."
Sense of fear
Crime occurring in normally less affected neighborhoods has further put people on edge. This was particularly true with carjackings. Not only were they happening with alarming frequency—655 in Minneapolis alone in 2021—they were happening in neighborhoods where some residents didn't lock their doors at night and in suburbs typically viewed as safe, such as Edina, Woodbury, and Chanhassen. The ubiquity of carjackings made it seem like anyone could be a victim at any time—just as McCall had been that afternoon in Minneapolis' Linden Hills.
All of this has created a climate in which many people reported they did not feel safe in their neighborhood, regardless of where they live. According to a poll conducted in September by the Star Tribune, MPR News, and KARE 11, 17% of Minnesotans said in the past year there had been at least one time when they "feared that someone might threaten or physically attack" them in their neighborhood. In Hennepin and Ramsey counties, more than one in four—26%—reported that fear.
The jump in crime also sparked another fear: that communities may be headed back to the way things were in the mid-'90s, when Minneapolis was tagged "Murderapolis." The old nickname popped up as a reference point in national media and news reports last year. Though Minneapolis has inched closer to that epithet—after a quarter century of pretty steadily falling violent crime rates—the city is not there yet. In 1995, there were a record 96 homicides reported in Minneapolis; in 2021, there were 93, according to police data. That works out to a rate of 26.6 murders per 100,000 people in 1995 compared to 21.9 per 100,000 in 2021. Violent crime and homicide trends statewide have followed Minneapolis closely throughout the past several decades.
A dip in violent crimes committed in Minneapolis since early fall of 2022 may signal a downward trend. Still, rates remain far above pre-pandemic levels. "To keep this in perspective, we had a long period of decline in crime beginning in the late '90s, but the last few years saw a meaningful increase, particularly in homicides," Uggen says. "The rise in homicides and shootings are of great concern."
Why now?
The image of the Third Precinct police station burned by arsonists on May 28, 2020, seared into our collective consciousness the symbolic fall of law enforcement and marked the turning point for violent crime in Minneapolis. The pandemic lockdown and the unrest in the wake of Floyd's murder no doubt contributed to the lawlessness. So, too, did the protests over the death of Winston Smith, shot by members of a U.S. Marshals task force in the Seven Points parking garage a year later. The killing sparked a summer of violence localized in the Uptown neighborhood of Minneapolis. Pinpointing an exact cause for the rise in violent crime, however, is not clear-cut. "Explaining the increase is something academics argue about," Uggen says. "Parsing through the effects of the pandemic is really tricky."
Racial inequity, a driving force in the protests following Floyd's murder, also likely figures into the rise in crime, Uggen notes. Other than carjackings, much of the violent crime in Minneapolis has been concentrated in specific neighborhoods. In 2021, according to the Minneapolis Police Department's daily updated crime database, the highest number of homicides (26) occurred in Ward 4, or North Minneapolis, and the second highest (16) in Ward 5, the Near North side. That's almost half of the city's total homicides, 45%. Those are areas where racial covenants relegated a majority of the city's Black population to neighborhoods where the quality of education, health care, and employment opportunities have lagged behind other areas of the city—another situation the pandemic put into stark relief. "We do still have great inequality," Uggen says. "We haven't made much progress in reducing basic economic inequality and racial inequality, which means we have a fair amount of people [who] feel left behind and alienated. Those neighborhoods suffer more from crime and violent crime."
Experts generally agree that the depletion of the Minneapolis police force by nearly 40% has factored into the crime resurgence. In the time since Floyd's murder, along with the conviction of four Minneapolis police officers and the calls to defund the police, about 350 officers have quit or retired. Amelia Huffman, interim Minneapolis Police Department chief from January to November 2022, told CNN she thought the attrition locally was due to sagging morale among the rank and file, mirroring the low morale of law enforcement agencies nationwide, as reported by the National Police Association. The city has hired 62 officers since the beginning of 2020. Still, the total of 599 sworn officers as of mid-October 2022 is far short of the 731 the state Supreme Court said the city must employ in a ruling the previous summer. In September 2022, St. Paul's police force, meanwhile, reported 64 fewer officers than its authorized total of 619.
The Minneapolis Police Department has sought support from other law enforcement agencies, such as the State Patrol, Minnesota Bureau of Criminal Apprehension, U.S. Attorney's Office, Hennepin County Sheriff's Office, U.S. Drug Enforcement, FBI, and U.S. Bureau of Alcohol, Tobacco, Firearms & Explosives. But its force remains seriously shorthanded. Huffman declined an interview request for this article.
Fewer cops also means longer wait times for officers to arrive at the scene of a crime. Minneapolis police response times to 911 calls reporting "priority 1" incidents (which are life-threatening or pose imminent damage to property) increased from an average of 12 and a half minutes in early 2019 to 16 and a half minutes in 2021, and 17 minutes in the first five months of 2022. CNN reported that response times in the North Side's Fourth Precinct exceeded those averages in 2021. The delay can diminish the police force's chance to prevent the escalation of violence and can give criminals more of a head start in fleeing the scene, decreasing the chance of arrest.
As part of the Minneapolis police force's recent attrition, about 100 investigators have left since early 2020. This means fewer people working to solve more crimes. In itself, this can lead to more crime. "What deters people from committing a crime is not the length of a sentence but the chance of getting caught," says Mark Osler, a former federal prosecutor who is now a professor and distinguished chair in law at the University of St. Thomas law school. "When people hear crime rates are going up, crime goes up because there's less chance of being caught."
That may explain in part why we seem to have witnessed an uptick in more brazen crimes and the prevalence of carjackings, where a relatively small number of thieves have accounted for a large number of the crimes, as reported in the media and apparently substantiated by several arrests of serial carjackers. "When you see statistics for something like 600 carjackings a year, that doesn't necessarily mean 600 individuals are doing that," Uggen says. "A relatively small number of people can be responsible for a high number of crimes. Carjacking is rather specialized."
In McCall's case, the thieves left behind a stolen car when they stole hers. Once her two cars were recovered, she found in one of them the credit card of another southwest Minneapolis woman whose home had been burglarized.
A mechanic going through one of McCall's cars found bullet casings that police investigators had missed despite dusting the car for fingerprints and examining it. Tests the police subsequently ran on the casings matched those run on a gun suspected to have been used in some 30 other crimes, according to McCall. The fingerprints found in both cars matched those of two people known to the police with outstanding warrants for other crimes, but McCall pointed out that limited resources kept the police from seeking their arrest. "They recognized the prints because they'd had these guys in before, but that doesn't mean they're going out to look for them," she says.
Some hope
Since early fall of 2022, rates for some crimes have been dropping in Minneapolis. As of early November, homicides, robberies, and gun violence (measured by reports of shots fired and gunshot wound victims) were down over the past year and also over the past 28 days, as per the police department's crime dashboard. Burglaries were up over the past year but down over the past 28 days: 159 in about a monthlong timespan in the fall of 2022 compared with 241 during the same period in 2021. Assaults, however, including domestic aggravated assaults, were still occurring at more frequent levels in 2022 over the previous year. Carjackings, down only slightly from 2021 to 2022 (from 470 to 461 by early November), had dropped significantly in the past 28 days over the same period in 2021, falling from 87 to 31.
It is just as hard to explain the drop in crime as it is to explain the rise, but several recent efforts to combat crime may have contributed. On November 1, Minneapolis Mayor Jacob Frey attributed the drop in part to Operation Endeavor, which coordinates the efforts of several agencies to use data to better target crime. "We're using data to focus our resources in areas where criminal activity is most impacting the safety of those living, working, or visiting the city of Minneapolis," explained Cedric Alexander, who was hired in August to head the city's new Office of Community Safety. As part of Alexander's role in violence prevention efforts, Operation Endeavor was introduced in September. "The effects of what we're going to do here is going to have citywide impact, to every citizen and every neighborhood in this community."
Neither Alexander nor Frey has gone into detail about how exactly the data is being used and how they can quantify its impact on crime.
Results may be more readily apparent from the efforts of the U.S. Attorney's office, which since last spring has lent its investigative and prosecuting resources to the cause of catching and convicting adult carjackers statewide. Their busts have included an 18-year-old and 19-year-old who had stolen several dozen vehicles in 15 cities throughout three Minnesota counties during a two-week period in January 2022, and four people, ages 18 to 21, who targeted numerous Uber and Lyft drivers later in the year. Those arrests and others like them may have influenced the recent downturn in carjackings by taking some of the key players off the streets and erasing the notion that thieves won't get caught. As of mid-September, however, the Minneapolis Police Department had cleared only 12% of carjackings for 2022.
The assistance of federal and state agencies also has increased the number of outstanding warrants police can execute and helped them close more cases in general. As the police close cases and the overall number of crimes drops, investigators and prosecutors have more time to devote to each case. "More resources per case gives them a better chance of solving it," Osler says.
In November, Minneapolis swore in a new police chief, Brian O'Hara, which could give morale a boost. As an outsider, O'Hara—formerly deputy mayor of Newark, New Jersey, where he oversaw policing strategy—might be able to correct some of the problems critics believe have been endemic to the Minneapolis department's culture. "The police force needs a cultural change," Uggen says. "A new chief coming from the outside creates an opportunity. The power of the insiders who haven't exactly been effective is going to be reduced."
While all these factors look like small steps in the right direction, it's too soon to know if they will be enough to sustain Minneapolis' downward trend in violent crime. Osler is encouraged but cautious. "It's down compared to last year, but there's the rub," he says. "We want to get back to where we were before the pandemic."
So, are Minnesotans safe? It's a question that can be answered only about the past. Maybe you were safe last night. No one mugged you, burglarized your home, or stole your car. As for today or tomorrow, it is conjecture, and the best indicator seems to be the crime rate. As it drops, we may feel more secure. But no one knows how long it will take for a steady decrease in crime to ease people's worries. McCall moved to Minneapolis from Edina and wants to stay, but only if she and her husband can feel safe in their home. "I hate to be another statistic, but if it doesn't get better, we'll leave," she says. "If I believe we can fight to make this a decent place for everybody to live, then I want to be part of the solution."
Editor's note: Since the publication of this story, it has been reported that Minneapolis homicides fell by about 17.5% in 2022, while homicides in St. Paul set a new record.