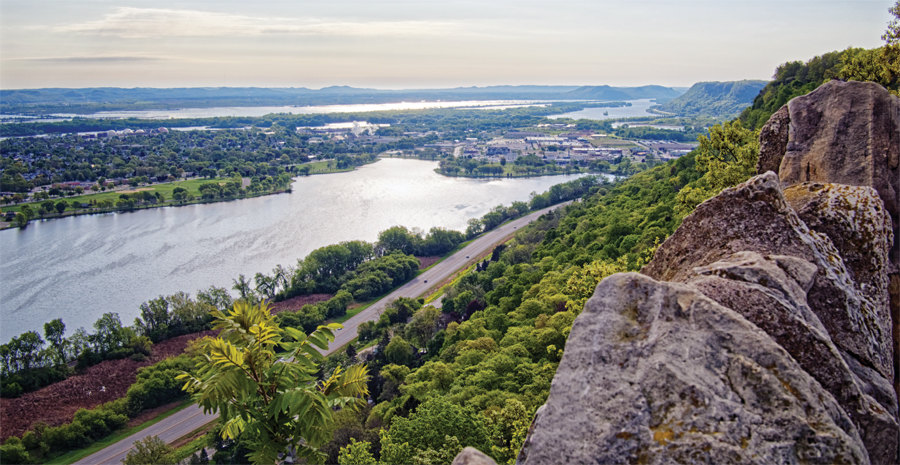 The bluffs overlooking Winona and the Mississippi
photo by Kari Yearous
---
On the drive along highway 61 into Winona, it feels like you've left behind the flat prairies of the Midwest and entered a more hilly state. Bluffs appear all around, and the Mississippi River stretches out as wide as a lake. Eagles fly overhead, although they're slightly outnumbered by the Dairy Queens along the way.
From the north, the drive to Winona passes through Red Wing and the idyllic Lake City, dotted with colorful sailboats. Race a train car or two into town, and behold the private estates peeking out between trees high above.

Bloedow's Bakery
photo by Kari Yearous
---
Winona is breathtaking, but also extremely down-to-earth and unfussy. Getting hungry? The town makes a great comfort-food destination. Riverside restaurants such as the Jefferson Pub & Grill, Betty Jo's, and the Boat House serve up Midwestern fare to please both parents and kids. Bloedow's Bakery has doughnuts so puffy and light they drove Krispy Kreme right out of town. Head there early in the day, or you might leave empty handed.
The giant, cabin-like Black Horse Bar & Grill offers a true "up north" experience. Its party-friendly staff serve up solid fare in the Diners, Drive-Ins and Dives vein—think hamburgers with hash browns on top. Chow down and marvel at dramatic hunting-dog art and unique wood carvings, plus volleyball and live music at the Barnyard venue onsite.

A performance at Ed's No-Name Bar
photo by Cynthya Porter
---
Nighttime libations await at Ed's No-Name Bar and at Bub's (pronounced "Boob's" by the locals). Catch a show at Ed's and take in the vibes—red Christmas lights and quirky wall art. Then end the night at Bub's with a plate of their cream cheese-stuffed cellar mushrooms. For craft beer lovers, there's Island City Brewing Co. in downtown Winona. Fill up a growler with their rich, hoppy Docksider double IPA. The brewery offers non-alcoholic beverages, too, including kombucha and grapefruit soda, plus games and live music.
Not fit to drive? Lyft recently launched in Winona, and plenty of drivers are available. Bars in Winona close at 1 a.m., but night owls can cab across the bridge to Wisconsin.

Island City Brewing Co.
photo Courtesy Visit Winona
---
Don't spend too much time inside, though. Nature viewing awaits along the river. Head up to Garvin Heights at sunset for a romantic place to experience the changing sky reflected across the water.
Dig deeper into the city's history at the Watkins Heritage Museum and store. After learning about Winona-based natural wellness brand J.R. Watkins, grab some of the pain-relieving liniment that started it all. Five minutes away, the Minnesota Marine Art Museum explores humanity's relationship with water, and boasts some world-class pieces by Van Gogh, Renoir, and Picasso. You can nurture your own connection to the river with one of many boat tours.
Home to both Winona State University and Saint Mary's University of Minnesota, the city's coffee shops are full of young people dreaming up the next band, art exhibit, or great American novel. It's no wonder the city's Mid West Music Fest draws more and more attention every year. You'll have to wait till next spring to attend, but it's not too late to get tickets for the Boats and Bluegrass festival this fall.
The more time you spend here, the more you'll appreciate the richness of Winona's culture. Sure, it's easy to get caught up in the dramatic bluffs, but beneath those heights sits a town that's both rooted in tradition and  looking firmly to the future. There's plenty to toast to in that.
---
Eat, Play, Stay in Winona
Hei 'N Low Tap
Head over to the Hei 'N Low Tap and enjoy a pizza heated right behind the bar while surrounded by custom stained glass. The strong rail drinks will put you out only about $5.
Holiday Inn Express & Suites
Try the Holiday Inn Express & Suites for cozy rooms, free breakfast, and a kid-friendly pool. A handful of Airbnbs let you live like a local. Or, if you prefer a more traditional B&B, try the Alexander Mansion Bed & Breakfast.
Boat House
At Boat House, Winona's food culture reaches its peak. Try the Boat House Lucy, stuffed with cheese curds and served with hand-cut fries.
---
Digital Extra: Whet Your Appetite in Winona
In Winona for a weekend? Scope out the top dining and nightlife options before you start wandering downtown.
Facebook Comments