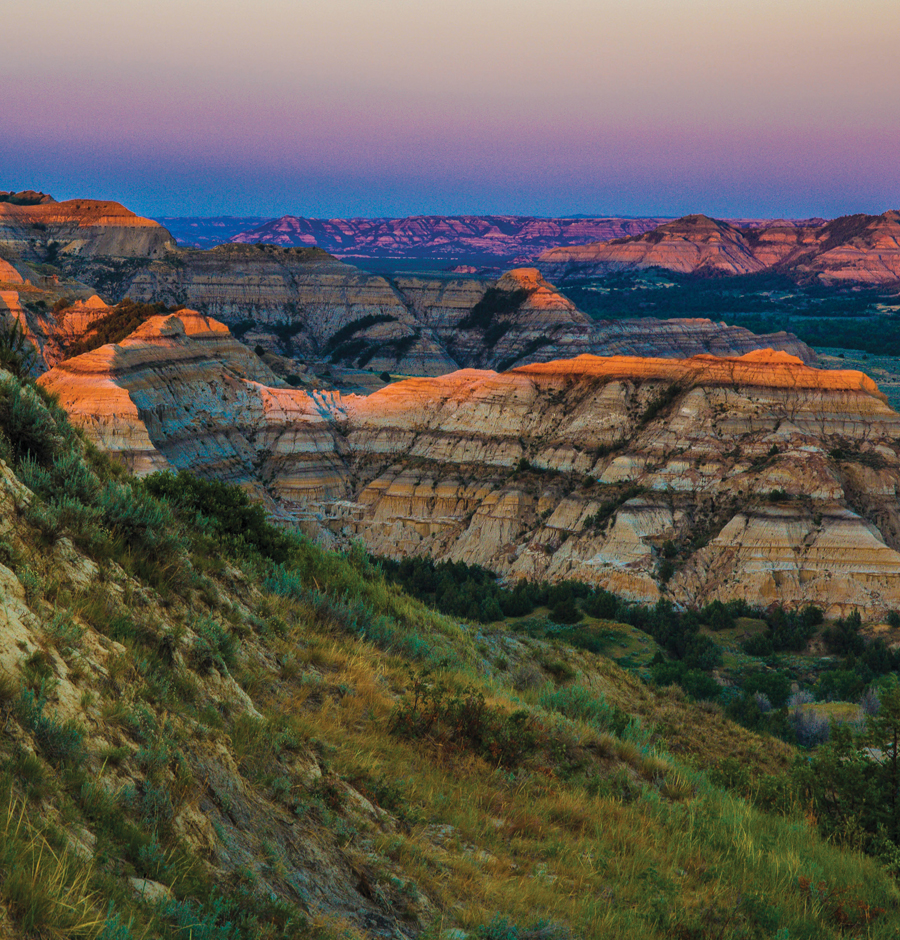 Theodore Roosevelt National Park
photo by mike hanson
---
The first time my wife and I visited North Dakota's Theodore Roosevelt National Park, we were settling in for the night at our campsite near the Little Missouri River when we heard a low rumble. The rumbling grew louder, joined now by deep grunting noises. Lisa and I frantically wriggled out of our sleeping bags and scrambled from our tent just as a herd of bison stampeded by, no more than 50 feet away. Our terror gave way to awe as the magnificent beasts thundered past, seemingly oblivious to our presence.
A close brush with a bison herd is just one of the many astonishing spectacles we found in the park, a realm of starkly beautiful badlands, carved by water into a fantastic layer cake of geological formations. Though comfortably within a day's drive from the Twin Cities—it's located at the state's western edge, split into two main units by I-94—the park had escaped our notice until it appeared on a map as a convenient stop-off for a road trip we were planning to Glacier National Park. It came as even more of a surprise that it turned out to be an oasis of unspoiled nature in the heart of the heavily tapped Bakken oil field, where bobbing pump jacks seem to outnumber trees on the wide-open prairie.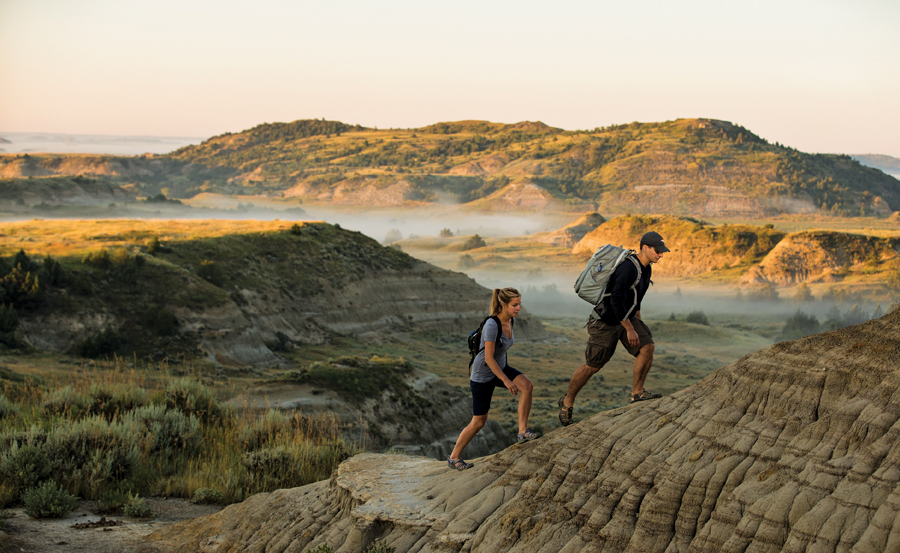 Hiking Theodore Roosevelt National Park
photo by jim gallop / north dakota tourism
---
We recently returned to the park, this time starting out with an exploration of the south unit that we had bypassed on our last time through. Our first stop, just inside the park's entrance in the tiny town of Medora, is the small log cabin that Teddy Roosevelt's ranching partners built for him in the 1880s after he bought a stake in a cattle operation a few miles south of town. Peering into his humble home, I can't help thinking it's a tad ironic that a park that serves as a bison refuge bears the name of a man who originally came to the area to hunt buffalo. Of course, Roosevelt later became famous for natural-resource conservation, setting aside public lands that would provide safe harbor for wildlife great and small. And in that regard, the rugged, 70,000-acre park named in his honor does his legacy justice.
Setting out on the 36-mile loop road that circles the heart of the south unit, we soon come across some of the park's most prolific inhabitants at one of several prairie dog towns along the route. The town's plump ground squirrels perch on mounds that rise like miniature volcanoes from the flat prairie floor. Between their manic whack-a-mole routines and choruses of high-pitched squeals, the furry little creatures could coax a smile from even the most ardent rodent-hater—though perhaps not from ranchers, who tend to view prairie dogs as pests.

Wild horses can be seen streaking across the prairie
photo by Alexandria Shankweile / NPS
---
Ranchers—and more than a few environmentalists—also take a dim view of the animals we spot next on our drive. A small herd of wild horses (or, as some people insist, "feral," since their ancestors were once domesticated) scampers down a dusty slope, the foals doing their best to keep up. While they no doubt take a toll on rangeland vegetation, it's hard not to admire the majestic profiles of these untamed animals that Congress characterized as "living symbols of the historic and pioneer spirit of the West" in a 1971 act mandating their protection.
From the pullout for the Wind Canyon Trail, a short stroll takes us to the edge of a high bluff overlooking an oxbow bend in the Little Missouri River. The panorama is spectacular, though we're surprised to not see any signs of wildlife in the wide-open river bottom. But then we hike a short distance farther to a rocky point, where we're rewarded with a view in the opposite direction that reveals hundreds of buffalo grazing in a grassy valley.
Theodore Roosevelt National Park is home to creatures great and small, including prairie dogs
photo by Jeff Zylland / NPS
---
Early the next morning, I set out alone to explore the park's petrified forests—fossilized remnants of prehistoric trees thought to be related to California's famous sequoias. I drive along the western park perimeter on a deserted dirt road, passing several oil rigs but no other vehicles, to the equally empty trailhead parking lot.
After passing through an entrance to the park's fenced-in wilderness area, I follow the narrow trail through the tall grass, reveling in the total solitude. But then I spot a giant bison bull grazing just a stone's throw from the trail. I flash back to a warning sign on the gate that said something about bison being dangerous. It occurs to me that I've heard of all sorts of actions to take if you encounter a bear, but I draw a complete blank about what to do if faced with an unfriendly 2,000-pound bison on a treeless prairie. With my heart racing, I walk on by, my best "nothing to see here" expression pasted on my face.
Park namesake Theodore Roosevelt worked to protect the bison. The animals were reintroduced to the south unit of the park in 1956 and to the north unit in 1962
photo by Jeff Zylland / NPS
---
Fortunately, the bison ignores me completely, and I continue unmolested to the impressive collection of massive rock-hard stumps sticking out of the eroded hillsides, the furrows of their bark still clearly visible. On the way back, I pass my bison friend again, still munching contentedly on the prairie grass. Realizing now that he means me no harm, I'm actually happy to have his company in this expanse of unpeopled wilderness.