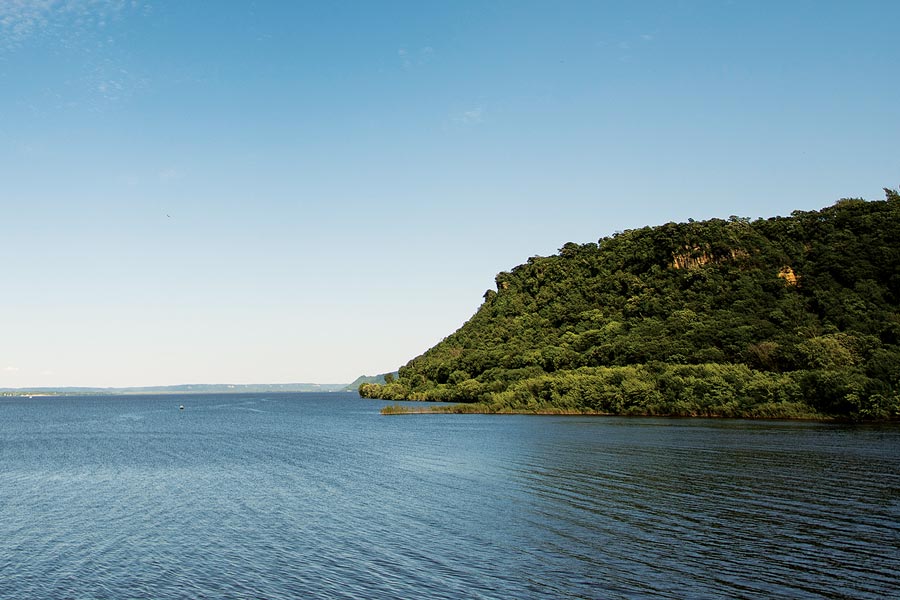 Bluffs along the
Mississippi River, just outside Winona
photos by Jamey Guy
---
Perhaps the most challenging thing about visiting Wabasha is getting there. Not that it's a hard drive. Quite the opposite. If you're coming from the Twin Cities, that 75-ish miles to the southeastern Minnesota, Wisconsin-border river town often traces the Mississippi, a shimmery vision from whichever side you travel it.
Now add in all those little towns, shops, forested parks, and such that place their worth on river views. Next thing you know, you've stopped for a quick DIY antiques-store crawl in Red Wing, a leg-stretching hike at Frontenac State Park, and maybe a pint at Reads Landing Brewing Company.
So, yeah. It can be tough to keep your eyes on the prize.
My road-giddy family and I, for example, barely make it out of the metro proper before indulging in the wilderness exhibits at the Great River Road Visitor & Learning Center, surrounded by native and butterfly gardens on a Prescott, Wisconsin, blufftop. Back in the minivan, armed with a detailed map and a few Wabasha-area recommendations, it's time to put pedal down and declare the view the attraction. Meaning I urge the kids, ages 5 and 7, to act appropriately amazed by our national bird soaring above America's second longest river, while I resist the call of so many art galleries and pie shops.
LARK's mini-golf course
Our reward, just a few miles south of Wabasha, is LARK Toys—a somewhat misleading name on account of all its non-toy attractions. There's a fantastical basswood carousel, hand-carved on site over a period of nine years; an 18-hole outdoor mini-golf course with waterfalls and a play-through bluff; a cafe; a fudge shop; and a hall of not-for-sale collectible toys—nostalgia triggers for children of the '80s include Frogger and Donkey Kong cartridges and Castle Grayskull. I spotted grown adults there without so much as an infant in tow for justification. All the many toys LARK makes and sells are cool, too. They're mostly battery-free, grouped by type, and arranged in linked-together rooms with testers waiting. And if you, say, fall into heated competition in the game-and-puzzle room for the better part of an hour, no one blinks an eye. Do peek into the onsite toy-making shop, staffed by two woodworkers my kids may now believe are Santa's backup elves.
We backtrack the 10 minutes to Wabasha to check into the AmericInn, a more personalized version of the usual chain, with Grumpy Old Men movie posters and a little two-shelf gift shop with crafts and stuffed animals that spill out into the lobby.
Slippery's, the inspiration for the watering hole featured in Grumpy Old Men
Then we grab dinner downtown, a mile away, at Slippery's Tavern & Restaurant, known for inspiring the watering hole featured in Grumpy Old Men. Exactly zero of that movie's scenes were filmed in Wabasha, though it was set in and inspired by the town and so has been appropriately co-opted. It plays on a loop near the hostess-station, but on mute, with deference to Aerosmith and Tom Petty overhead. Locals talk Twins at the split-log bar while the kids and I, sitting window-side, watch the sun lower into the Mississippi and enjoy the walleye. At the eatery's gift shop, my 5-year-old daughter falls in love with a baseball cap emblazoned with the words, "Grumpy Old Man." Of course I do, too.

A handler at Wabasha's National Eagle Center
In the morning, we walk around downtown Wabasha's three main blocks before heading to one of the daily 45-minute programs at the National Eagle Center. It's an exhibit-packed, 15,000-square-foot, two-story building with a brick face and two walls made of glass that showcase the Mississippi, where about 40 resident eagles make treetop nests and hundreds more flock in winter, to fish in the running river.
Every folding chair in room is taken, with visitors from as far away as Germany. Naturalist Scott Mehus has shown the center's resident eagles off to Today Show audiences and knows how to hold a room, passing around handling gloves and other visual aids, inviting kids up to measure their own "wingspan," and dropping max amounts of eagle knowledge (the fact that one could easily spot a rabbit on the hillside across the river in Wisconsin, and they're so sensitive to lead that even a speck left behind from a hunter's bullet or angler's lure can mean death).
Toward the end, a handler brings in Was'aka, blind in one eye and unable to hunt, who repeatedly refuses a bit of rabbit and sizes up the crowd. Afterward, he returns to his perch in the glass-walled room alongside the four other "eagle ambassadors," whose injuries and health problems have led to their residence here, with no barrier between them and the tens of thousands of visitors who file by each year.

The pretty patio at the Nelson Cheese Factory
Just across the river, the century-old Nelson Cheese Factory, in ivy-blanketed brick building, no longer makes cheese, but it does sell plenty of it—on plates alongside glasses of wine; pre-packaged to go; in deli sandwiches; and topping personal pizzas (on weekends). The ice-cream cones are popular, too. Definitely buzz over if you're operating out of Wabasha, or stop in before you take the Wisconsin way home. Just remember that it's only one of many Wabasha-area destinations, lest an umbrella-topped table in the courtyard suck you in. 
Facebook Comments