Feel the greenhouse effect
Flout the frost at the new, luxurious RH Rooftop Restaurant in Edina. Or engage with the Como Park Zoo & Conservatory in St. Paul for the Music Under Glass series. Eight shows feature local artists in soul, blues, jazz, and more—in addition to the conservatory's vibrant Winter Flower Show. Plus, there's a red panda, a western African dwarf crocodile, and plenty other expert winter-avoiders on the Minnesota Zoo Tropics Trail.
Spread out at a food hall
Twin Cities-area food halls let you and your consensus-averse family or friends skip arguments and enjoy a la carte eats like it's still State Fair season. Potluck at Rosedale Center in Roseville is a recent reboot of its dining area, featuring Nordic Waffles, build-your-own hummus bar Chickpea, a new Smack Shack location, and plenty more. Graze Provisions and Libations in the North Loop has Honey & Rye Bakehouse, Soul Bowl, and top-notch cocktails among its offerings—with North Loop Galley a few blocks away. In St. Paul, there's Keg and Case Market on West Seventh with the massive wood-burning hearth at In Bloom. And, in south Minneapolis, Midtown Global Market is the enduring standby. (Get used to them; food critic Jason DeRusha predicts more food halls to come in 2020.)
See epic bird paintings come to life
Find out what CGI can do for John James Audubon's legendary 19th-century works of naturalism at the Bell Museum's Audubon Animated, opening January 25. Inside "The Audubon Experience" video room, there's a virtual swamp and forest, and 20 bird paintings from the pages of The Birds of America take wing. To add another sensory dimension, the Bell offers a monthly yoga series inside the exhibit.
Get sober-curious with fun flavors
For those who like their non-alcoholic bevs hot: at Jinx Tea in Linden Hills, try the Ginger Spice (rooibos, ginger, and more wintry spices), the Matcha Drinking Chocolate (Laoshan Green tea, with housemade cocoa mix and matcha), or a variety of mocktails blending teas, kombucha, and playfulness. (For more hot chocolate, see p. 77.) Over at Treats Cereal Bar & Boba in St. Paul, four hot milk teas await. A cold option: Minneapolis-based Hairless Dog Brewing Co. is taking a satisfying bite out of the non-alcoholic beer market in local liquor stores.
Live your game show dreams
Even without Steve Harvey, Drew Carey, or Vanna White on the premises, Game Show Battle Rooms in Golden Valley lets you take part in the heart-pounding drama of Family Feud (they call it "Friendly Feud"), Wheel of Fortune (er, "Wheel of Phrases"), and more.
Unwind at six new drinking dens
Take your pick: Formerly a convent, Celeste St. Paul is a lovingly restored spot downtown with fireplaces, fancy wallpaper, and near-heavenly cocktails. Plus, it's a hotel, so a great night can become a greater weekend. Meanwhile, private parties can now inhabit the Clover Club, added to Tattersall Distilling's facility in northeast Minneapolis, or check out the space during its public "open hours." The Dampfwerk Distilling cocktail lounge brings exacting concoctions to St. Louis Park. New in North Loop, there's also the hybrid brewpub ONE Fermentary & Taproom, and the Bar Brava natural wine bar. And in north Minneapolis, Meteor Bar is a new cocktail haven that has taken over the long-time home of Donny Dirk's Zombie Den.
Get active at U.S. Bank Stadium's Winter Warm-Up
On select Mondays and Wednesdays, the Minnesota Vikings' stadium opens for inline skating on the main concourse and running on the upper concourse. Wearing a Stefon Diggs jersey is optional.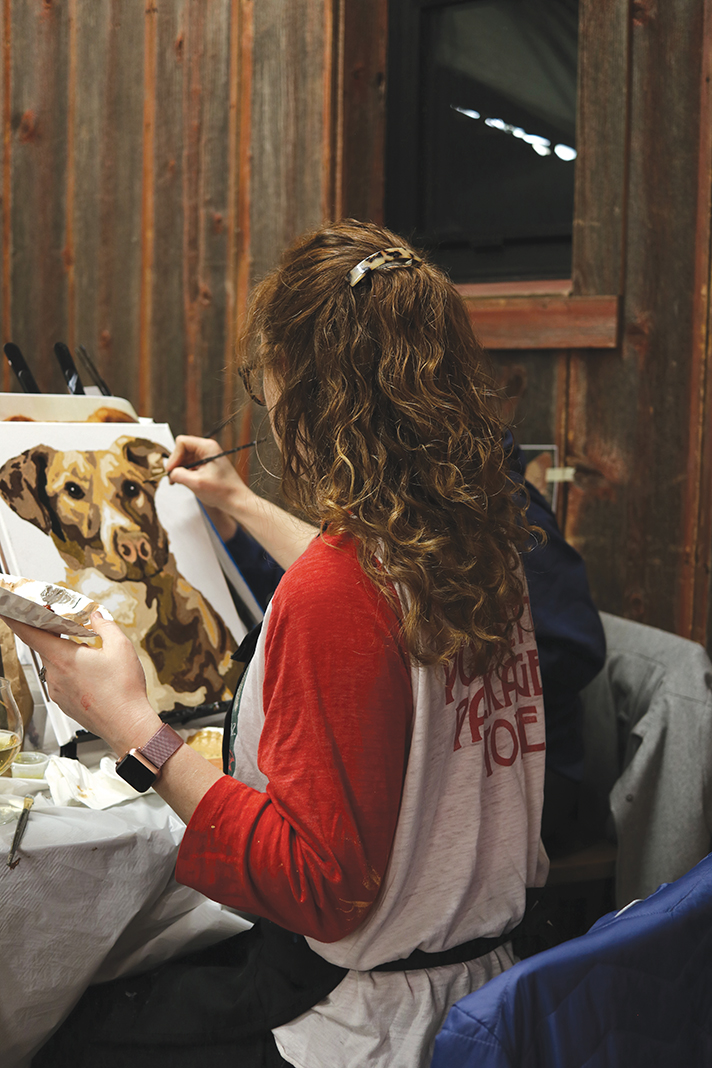 Create with adult
 b
everages nearby
Minnesota's booming DIY community has no shortage of experiences that involve an alcohol component. Two options at Twin Cities-area breweries, several times a month: Gray Duck Art offers "Paint Your Own Pet" classes, and Social Handcrafted Workshop leads "Blankets & Brews" knitting workshops. Upstairs Circus in North Loop has a full cocktail bar and a wide range of project options, from accessories to home decor and art. Look up six Board & Brush locations around Minnesota—some are BYOB, some have drinks on site. And to eat locally sourced meat, cheese, and bread while learning to build a charcuterie board, check for upcoming courses at Kieran's Kitchen—full bar included—in northeast Minneapolis.
Want to get outside and enjoy the snowy season? Click here for our list of outdoor winter activities you'll love. And don't miss these 46 Minnesota events celebrating everything winter.
Facebook Comments