Maybe declaring that you "can't miss" 46 events January through February is a little ambitious. But you can do it. We believe in you.
Sandstone | 1/3-5
Ice climbing has grown in popularity, and so has the Sandstone Ice Festival. In central Minnesota, climbers strap spiky crampons to their boots and dig picks into sheer walls for a 15th year—with clinics for beginners and a gear swap for vets.
St. Paul | 1/3-5 
Minnesota's best in show strut their stuff while you check out exhibits, shopping, and dog seminars at the St. Paul RiverCentre.
Grand Marais | 1/10-12
You can qualify for the Iditarod by mushing pristine miles north of Grand Marais, or simply peep pups from a cozy lodge (try: Trail Center, Big Bear, or Rockwood).
Lutsen | 1/10-11
Lutsen Mountains blends chalet vibes with a six-act local music lineup, including Charlie Parr, the Cactus Blossoms, and Black Eyed Snakes.
Mankato | 1/11 
Taste craft beers from over 40 breweries at the Mankato Civic Center, all while enjoying live music, food vendors, and a chance to learn more from brewers.
St. Paul | 1/11
During a full day of workshops at the Xcel Energy Center, hear Oprah's wellness journey firsthand and work to create your own 2020 action plan. Guest Tina Fey joins her in St. Paul.
Little Falls | 1/11-12
Once again, Little Falls' third annual winter fest targets a world record: Largest Ice Carousel. That's where you chainsaw an enormous circle into a frozen lake, and spin it. How enormous? Enough to host hockey, curling, skating, and smaller ice carousels on it.
St. Paul | 1/12 
Explore the world of ancient Egyptian queens with Dr. Kara Cooney and revel in a time when women ruled the world at the Fitzgerald Theatre in St. Paul.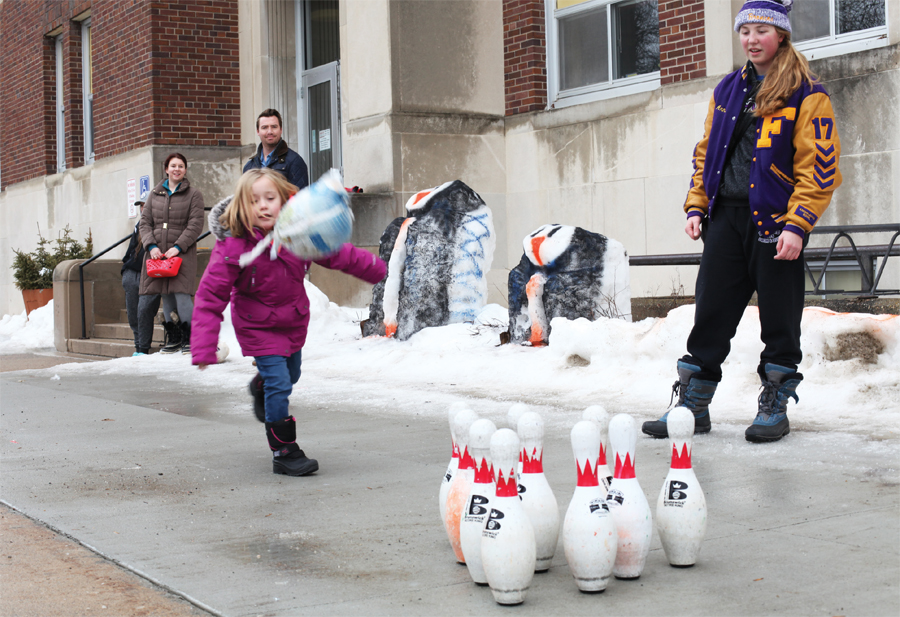 International Falls | 1/16-19
International Falls holds its title as "Ice Box of the Nation." Even as winters trend warmer, the Canada-nuzzling town enters year 40 of frozen-turkey bowling, toilet-seat tossing, collaborative cross-country skiing—plus less eccentric activities, like a chili cook-off, a moonlit snowshoe hike, and a 10K.
Mankato | 1/17-26
For Mankato's inaugural winter fête, outdoor outings go hard: skiing, ice skating, snow sculpting, sled bowling, a learn-to-curl event, and a team challenge that mixes biking and snowshoeing with other chilly pursuits.
Minneapolis | 1/18-2/9
Art installations on frozen Lake Harriet. Read all about their big comeback this year.
Duluth-Grand Portage | 1/18-29
This year, the John Beargrease Sled Dog Marathon—the longest sled dog race in the lower 48—has broadened its appeal: It's now part of an international, four-race circuit that includes Alaska's famed Iditarod. Spectators lodge along the North Shore and can take part in mini races, a beer fest by Canal Park Brewing at Duluth's Glensheen Mansion (Jan. 25), and other pop-up happenings.
Bloomington | 1/19
Olympic hopefuls from Europe, the U.S., and Canada convene at Bush Lake Ski Jumps. While they launch some 300 feet, you, more likely, watch and enjoy hot chocolate, beer, and food-truck fare in the chalet.
Minneapolis | 1/21-26
The 50th-anniversary tour turns a Biblical story into a rock concert at State Theatre in Minneapolis.
Minneapolis | 1/23-26
Tapping into her own Indigenous ancestry, storyteller and activist Dovie Thomason updates the stereotype of Buffalo Bill Cody's "Wild West" with the help of host Kevin Kling at the Open Eye Figure Theatre in Minneapolis.
Minneapolis | 1/23-26
At the Guthrie Theater, Grey Rock looks at the 1969 moon landing through the eyes of a man living in the West Bank.
St. Paul | 1/23-2/2
St. Paul's annual stretch of wintry fun in Rice Park—with kids' activities, on-stage entertainment, multiple ice bars and parades, and contests for ice carving, hotdish making, and snow sculpting (remember the state champ who caught flak for making a Donald Trump sculpture?)—expands across the street this year, to Landmark Plaza. That means a heated tent for craft beers, cocktails, games, and more live entertainment. (WinterSkate relocates from Landmark Plaza to CHS Field.)
Minneapolis | 1/23-26
A Lake Nokomis tradition going strong: Hockey players with a soft spot for outdoor tussling compete in seven divisions, across age brackets and skill levels, for a golden shovel.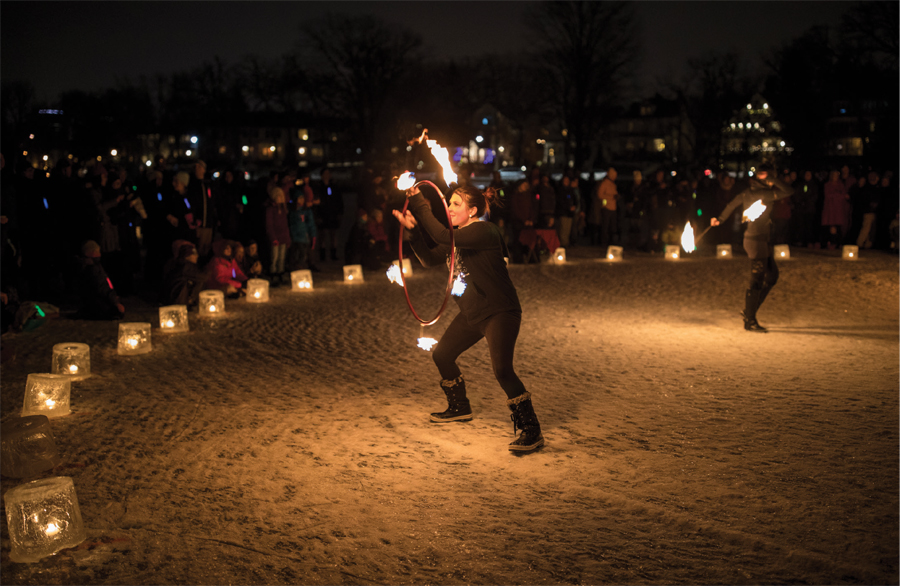 Minneapolis | 1/30-2/2
A "loppet" is a cross-country skiing event, and there are multiple ways to do it: the long-distance race, the sprint, the skijor (with dog). All on Lake Bde Maka Ska, the Loppet Winter Festival also features a walk among luminary lights, plus fat biking.
Nisswa | 1/25
In your wackiest costume, drill a hole into Gull Lake and join thousands for the world's biggest charitable ice-fishing contest. Tiki bars and tailgaters make fishing half the fun, while a $150,000 donation gives back to local causes. Check out our guide here.
Minneapolis | 1/25
Your kite joins a colorful flotilla over Lake Harriet. Plus: family-friendly activities like ice fishing, snowshoeing, and marshmallow roasting.
Stillwater | 1/25
Fight winter blues at an old-fashioned ice cream social in Stillwater. With free ice cream from Leo's Malt Shop, chili, and root beer floats, you won't even feel that windchill.
Minneapolis | 1/29-2/2
Jogging takes on prejudices against Arab women by way of one woman's jogging route through Beirut, at the Guthrie Theater.
Duluth | 1/31-2/2
Novice ice climbers clink beers with the seasoned, then tackle the best icy verticals in Duluth, hosted by the Duluth Climbers Coalition.
Longville | 2/1
Contenders slide pucks down slippery lanes atop Girl Lake, shuffleboard-style, for a shot at a trophy. Teams adjourn to Patrick's Fine Dining after, in uniform as sharks, pigs, Teenage Mutant Ninja Turtles, etc.
St. Paul | 2/4-3/1
A dinner party takes an unexpected turn and tense racial dynamics come to the fore in this play's regional premiere at the Penumbra Theatre in St. Paul.
Ely | 2/6-16
These 10 days in Ely seize the cold: There's an amateur snow-sculpting symposium, a beard championship at BoatHouse Brewpub, a Scandinavian baton-tossing game, a snowshoe hike to Native American rock art, traditional crafts at the Ely Folk School, and more.
Hudson | 2/7-9
Over Hudson, Wisconsin, the Midwest's best hot air balloons take flight, while, below, a plaid-themed fest pulls off a parade, geocaching, ice carving, live music, a chili cook-off, and more.
Wayzata | 2/7-8
Upwards of 1,700 golfers compete on Lake Minnetonka. Instruments of choice? Clubs, hockey sticks, and tennis balls. Spectators get down with snowkiting, ice skating, snow yoga, on-ice Porsche excursions, and a chili contest that taps big-name local restaurants.
St. Paul | 2/8-3/1
Susan Kimberly, the first transgender woman to become deputy mayor of a major American city (St. Paul), tells her story with heart and wit at St. Paul's History Theatre.
Excelsior | 2/9
A new dog sled race skirts Lake Minnetonka's shores, inspired by metro races from the '30s. Social events include Meet-the-Mushers and Hug-a-Husky, with Lakeside restaurant Lord Fletcher's hosting weekend events.
St. Paul | 2/14
The O'Shaughnessy, in St. Paul, hosts Minnesota storyteller Kevin Kling as he reminds us that, though we may live in a frozen wasteland, we will always have skyways.
Minneapolis | 2/16-9/20
Consider six decades of work, spanning media, from one of America's most celebrated artists at the Walker Art Center in Minneapolis.
Walker | 2/20-23 [Cancelled]
Editor's note: On Thursday, January 2, the International Eelpout Festival announced that it would cancel the annual event for this season. "Because we are the only permit holder required to supply services and clean up, and are not allowed to control the lake, the economics no longer work," the statement from festival headquarters says.
Everybody hates on the eelpout—yet these ugly-looking, crayfish-munching, bottom-dwelling fish get kissed an awful lot at the International Eelpout Festival. Whether you're casting a line or casting judgments, this 41-year-old get-together offers a range of entertainment, from kart racing to dog sledding, from an ice bar to a beer pong tournament.
Red Wing | 2/21-22
A weekend of music spread across town. Read about the new February happening—and other things to do in Red Wing—here.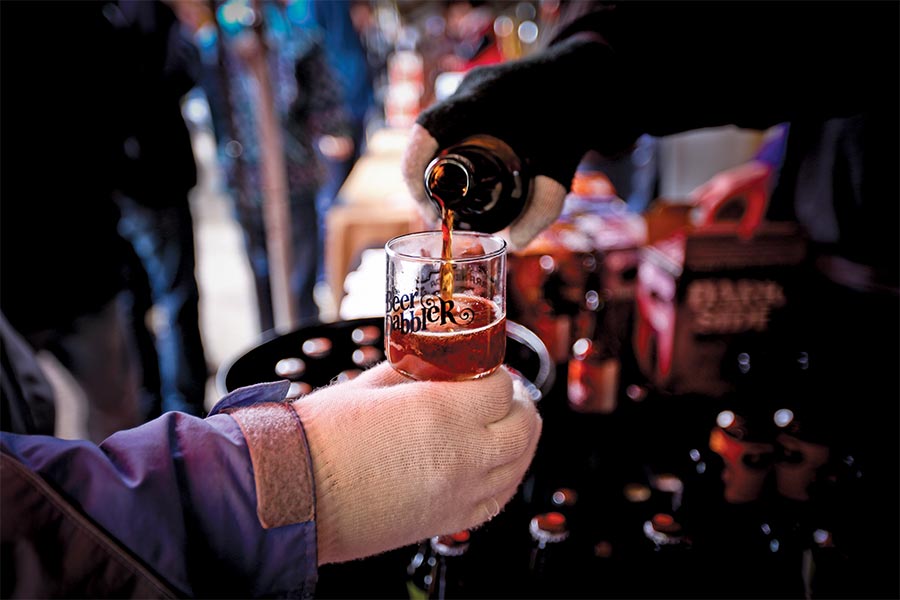 St. Paul | 2/22
Our most Minnesotan (read: coldest) beer festival is also the state's biggest outdoors. Sample from 180-plus breweries and cideries, try your hand at shuffleboard, dance to live music, and stop complaining about the weather.
Minneapolis | 2/23-5/24
At the Minneapolis Institute of Art, see works of art—from sculpture to video—that respond to migration, immigration, and displacement, made by artists from around the world.
Minneapolis | 2/26-3/1
Ring in the warmer weather with this Minneapolis spring staple, to marvel at floral displays and gardens from the best landscapers in the state at the Minneapolis Convention Center.
Prior Lake | 2/28
Known for 30 Rock, SNL, and The Last O.G., Tracy Morgan headlines across the country, including at Mystic Lake in Prior Lake.
Minneapolis | 2/28-29
Enjoy this classic, Minnesota-born comedy show live at State Theatre in Minneapolis, featuring original host and creator Joel Hodgson.
Garrison | 2/28-3/1
Looking out on Lake Mille Lacs, you'll see so many huge, parachute-like kites dragging so many hardy snowboarders and skiers across the lake. Maybe you'll try it this year. Or maybe you'll stick to the on-ice softball, the vintage snowmobile racing, or the food and beverage tent instead.
Houston | 3/6-8
Minnesota, and Houston County especially, is owl country. Our own international center packs a weekend with activities for enthusiasts from across the globe: live owl programs, woodsy walks, pellet dissections, art exhibits, kids' activities, and more.
New Ulm | 3/7
Schell's Brewing Co. hides seven wooden goat heads (bocks) in Flandrau State Park. Folks on the hunt can call upon the wandering "human St. Bernard dogs" (people toting kegs of beer) for pick-me-ups. Or they can stick to the brewery, for brats, kraut, and dark German lagers (also called bocks).
Minneapolis | 3/7-8
Here's your chance to sample bites from the best restaurants around and wash them down with award-winning local and national wines, beers, and spirits, all at Target Field and hosted by Minnesota Monthly.
Minneapolis | 3/14-17
For the first time in two decades, the best cross-country skiers in the world will compete on U.S. snow: at the Trailhead, in Theodore Wirth Park. Spectators can enjoy a block party, live music, and mini races.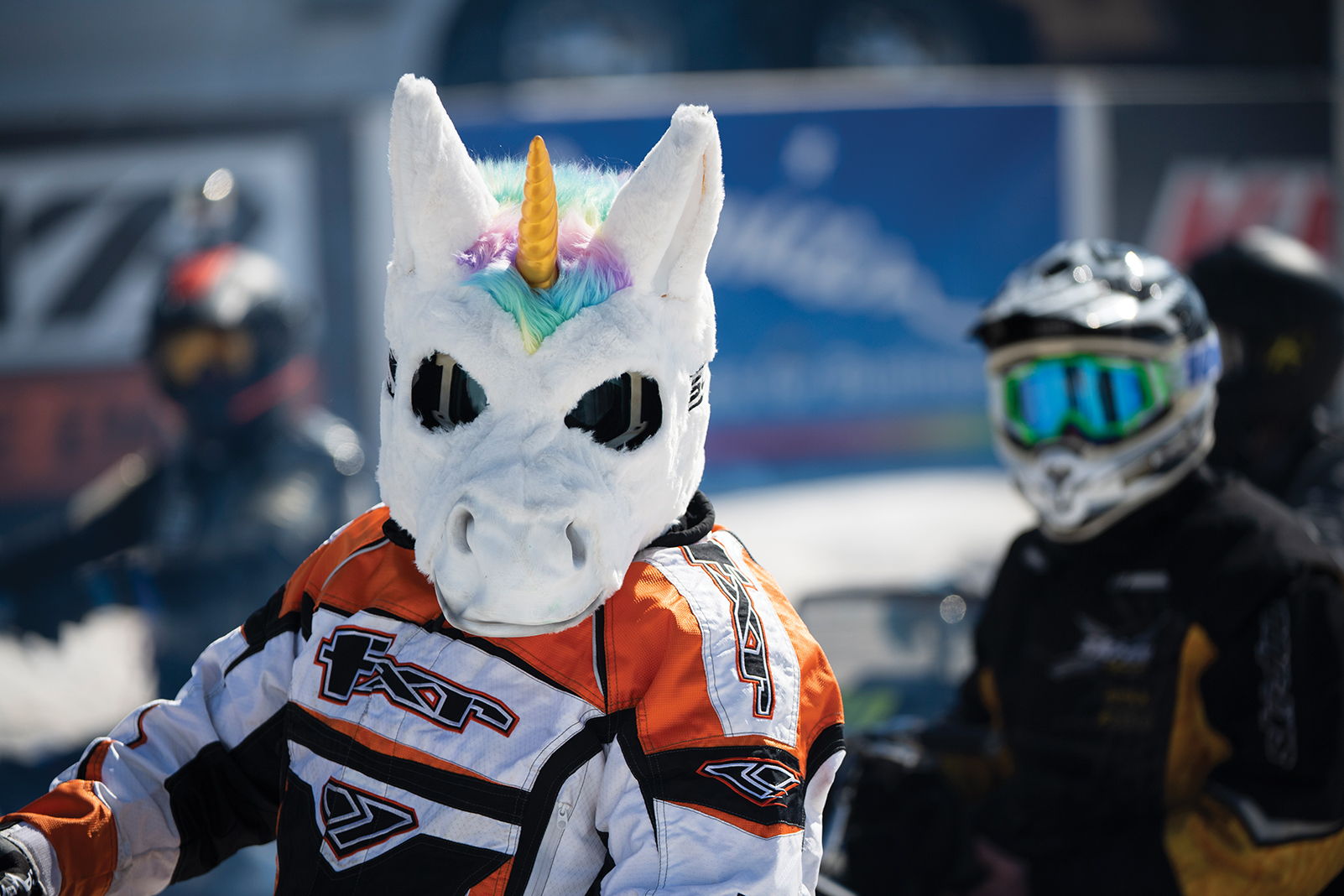 Tri 5
Elk River | 4/4
Longville native Levi LaVallee has been a world-class snowmobile racer and stunt artist for the past two decades. In 2016, the perennial Winter X Games medalist took to the streets of St. Paul and soared off buildings and bridges in a viral video spectacle. Ever the creative competitor, LaVallee hosts an annual Tri 5 race—named for the $500 maximum value for competing snowmobiles, the 599cc maximum engine size, and the abundance of high fives. All proceeds from the three-race event—scheduled for Saturday, April 4, at ERX Motor Park in Elk River—benefit Wings for Life, a nonprofit organization dedicated to improving spinal cord injury treatment. Expect vintage snowmobiles, trippy costumes, and plenty of creative flair. –Reed Fischer
Looking for fun everyday activities this season? Check out our indoor and outdoor winter activities lists. 
Facebook Comments