We are Gods in winter.
Walking on water, gliding through forests—reversing land and lake, and getting away with it. This is every Minnesotan's birthright. So on one of those blue-sky, slanted-sun mornings in the woods east of Ely, when even the wind seems frozen in place, my wife and I strap on snowshoes and stroll across South Farm Lake, following a red fox.  
We are window-shopping the Boundary Waters Canoe Area. Perusing the perimeter marked by yellow plastic posts: "National forest wilderness. Closed to motor vehicles, motorized equipment, bicycles, and hang gliders." Testing our powers.
Charles Kuralt, the late CBS broadcaster, came to Ely for his popular On the Road series in the 1990s and declared it the best place in America to spend July. He didn't say anything about February. Dawn and Mark Otto, our hosts at the Blue Heron Bed and Breakfast on the edge of the BWCA, didn't know what to make of winter here after buying the venerable home in the fall of 2013. They arrived from Le Mars, Iowa, which might as well have been le planète rouge. They had to look up woodpeckers in a bird book. They were excited by deer. They got in late that first night—late for Ely, that is—and had to toast their new lives with Hot Pockets from the gas station. "We didn't even do wine," Mark says. "We didn't know what went with Hot Pockets."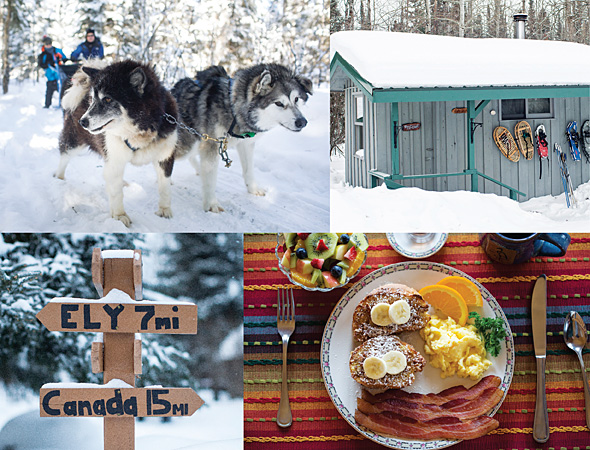 Visitors to Ely can tour the wilderness via Wintergreen dogsleds then retire to the Blue Heron Bed and Breakfast for sweating in the sauna and refueling in the dining room.
Now Mark has a beard and a flannel shirt. He stacks cords of wood like ammunition for an epic battle. He knows the pine grosbeaks (the plump reddish birds) and the evening grosbeaks (the plump yellowish ones) that only live this far north. He seems to
relish winter.
At night, he lights a fire in the big sauna by the lake and leaves two buckets of water for me, hot and cold, the ablutions of winter. I pour the cold water on the crackling rocks, and the allure begins to register in the reflexive opening of my pores, the exotic and paradoxical pleasure of being the warmest I've ever been in the coldest place I've ever been. Like walking on water, an otherworldly thing.
Lucy is being massaged—something involving hot stones and honey—so I meet **Iron Mike myself at the Front Porch cafe. He's surprisingly easy to meet for someone without internet or phone (he chucked the latter in protest when AT&T stuck a 450-foot blinking tower on the edge of the Boundary Waters). He's here every day he isn't in the woods.
Iron Mike Hillman (or Iron Mike, or just Iron, as he sometimes signs the emails he sends from the public library), is wearing tall mukluks laced up like gladiator sandals, which isn't so strange around Ely. He has a red Nordic jacket with embroidered trim, a red pointy hat, and a snow-white beard. It's hard to imagine him in summer.
Iron Mike is Ely's unofficial storyteller, a good job for a guy with a bad back. He tells stories of the sort that have made Ely out to be a Jack London fantasy, the one about the twin orphaned moose that pulled a sleigh around town (true) or the boy who slept inside a moose he shot (probably not). But the best stories around town these days are often about him. How on Groundhog Day in 1996 he camped outside with nothing but a tent, a sleeping bag, and polar explorer Will Steger's underwear. "Charles Kuralt noted that it was colder than both poles that night," he says. It was 72 below.
He greets nearly every other person walking through the door. Old-timers, generally, who remember "old town" Ely—"That wonderful, imagined place!" he says sardonically. The town before the Boundary Waters wilderness formed at Ely's doorstep and changed everything. Before the iron ore ran out.
Iron Mike was a miner, drilling and blasting for taconite. He saw the last train car of iron ore leave Ely in 1967—the richest square mile of iron in the country had been right outside town. Someone put an American flag on the car, and then it was
pulled away.
A new town grew up around tourism. There had always been tourism, of course, but now there was not much else. Iron Mike remembers Bill Rom, the "canoe king of Ely"—a lot of people do. Rom had 500 canoes. In the 1960s, he was the biggest canoe outfitter in the world, touring Hubert Humphrey and actress Zsa Zsa Gabor and anthropologist Margaret Mead. "It was a circus," Iron Mike says.
The Boundary Waters, once just another working forest, eventually became a wilderness. Things quieted down. No motors, no circuses. Ely went from being a center of extraction to the middle of nowhere, which as it turns out is exactly where a lot of people today want to be.
The regal residents of Ely's International Wolf Center; the Timber Trail Lodge; and Ely's unofficial storyteller, Iron Mike Hillman, a man hard to imagine in summer. (Iron Mike photo-submitted)
At dusk, Lucy comes into the cafe, red-cheeked and sleepy. "You were in good hands," Iron Mike observes. He's had a few treatments himself at the Pebble Spa Co., a big antique house on Ely's main drag with hardwood floors, a lot of sunlight, and several fireplaces. The owner makes her own scrubs with wild rice and spices. She launched a makeup line, too, and sells many of these things, along with Anthropologie-style clothing, in the store's front room. North Country cool, and unabashedly so: In their headshots on the spa website, several employees wear winter hats.
Lucy's experience sounds like dinner: a caramel-apple foot treatment and a sweet- cream scrub, with a soak in an enamelware roasting pan. Hot water with pebbles. She had honey brushed on her feet and a bath bomb dropped in to fizz. Then she had a hot stone massage, upstairs in the Arctic Twilight Room, the sky flickering out as the heat seeped in from the half-dozen stones aligned on her spine like tiny warm turtles.
Something like that. Look, Ely is not Sedona; in the 1980s, several thousand New Agers did not descend upon the Boundary Waters and wait for a spaceship to rise out of Lake Shagawa. No one cares to read your aura. As recently as 1999, the Ely Speed Wash a block from Pebble Spa still had a machine marked "Mining Cloths Only."
But once the wilderness opened at its doorstep, in the 1960s, Ely was no longer just a town. It was a portal, and a lot of larger-than-life personalities arrived to pass into the boreal forest whenever they pleased: Will Steger; Lynn Rogers, the bear guy; L. David Mech, the wolf guy; Charles Kuralt, who bought the local radio station (on the condition that Iron Mike manage it); and many less pragmatic types with Into the Wild aspirations. They're still coming.
"This is the last stop for a lot of people on the fringe of reality," Iron Mike tells me with a wink. "People thinking about Alaska." People, he'd be the first to admit, like him.
The Ely Steakhouse is beloved for its retro vibe and snow sculptures at the Ely Winter Festival are a favorite annual tradition, but plunging through the ice offers a full immersion in the Ely experience.
There are two wolf packs around Ely. One to the east, one to the west, like rival gangs. But there's a third near downtown, in the snow-covered outskirts where you might expect a mini-golf course or a mega-church: the four "ambassador" wolves inhabiting the International Wolf Center, lounging in a woodsy pen behind the lodge-like facility like the comfortable diplomats they are. We show up for dinner.
Most of the center is a kind of a museum explaining what wolves are (the fanged linchpin of northern ecosystems) and aren't (Satan's hellhounds). And then we get to the theater in back, the size of a mega-mansion living room with a cathedral-ceiling glass wall. A few dozen families are kicked back on carpeted steps facing the big window and the darkness behind it, listening to a young naturalist in a polo shirt parse the uncomfortable Darwinism of wolf dining. "Should we feel bad for the prey?" she asks rhetorically. Probably not. Snowshoe hares, for instance, "have pretty awesome hearing." She holds a disembodied leg aloft. "Anyone know whose this is?" Moose? someone guesses. The only ungulate that can kick to the side? "Yeah, totally."
Elyites are close to their wildlife, as their wildlife is close to them. I've heard stories of moose wandering the streets, one peering into the Moose Lodge fraternity downtown in an Ely meta-moment. The wolf center opened in the 1980s with the help of L. David Mech, who's been tracking wolves here since the '60s, and now local families show up for these dinners like other people go to the park to feed ducks. You get the feeling that civilization in Ely is just a necessary evil—that if tents held up like homes, there wouldn't be any city here at all.
The theater darkens as the naturalist dims the lights, and the scene behind the glass becomes clear. A wheelbarrow full of glimmering flesh is dumped into the pen near the window: beavers, skinned. Usually the trappers who supply this feast keep the tails for their own dinner, but this time it's the whole naked critter. Wolves emerge from the trees and tear into the mass, ripping and flinging before dragging pieces to privacy. There's no frenzy, just un-self-conscious, blood-on-the-face butchery. This will go on all weekend. By Monday, the naturalist assures us, it'll be down to spinal cords.
The local footwear of choice, Steger mukluks, are great for snowshoeing and dogsledding, but you won't need them inside Wintergreen's sauna.
The ambassador wolves, like snowbirds, mostly take winters off. But every February, when the Netflix queue has bottomed out, the whole town says, Screw it, we are gods in winter, and opens for the Ely Winter Festival: 10 days of candle-lit skiing, professional snow carving in the park, Iron Mike's storytelling, and other excuses to show off new mukluks. As with everything Ely, the line between stunt and seriousness is blurred. This is a town that has pulled some elaborate April Fool's jokes, including a (failed) bid for the 2016 Olympics and last year's press release announcing the Ely Channel, a cable network featuring Sauna Wars and Real Wives of St. Louis County, which at least one editor (briefly) fell for—the one at the top of this magazine's masthead. Understandably so: Because nothing about Ely seems inconceivable.
At the festival's opening ceremony, held in the vast auditorium of the city's historic elementary school, the mayor of Ely hands a two-foot canoe paddle to the grand marshal, Trudy, a surgical nurse and longtime festival helper who recalls prepping for a colonoscopy when she realized she forgot to order the porta-potties. There is a lot of room to stretch out in the auditorium, which is peppered with folks from the older generation who came here in the 1980s and '90s, after the protests of the wilderness restrictions had simmered down. They created much of this tourism culture—the new town—which by now is so endemic it doesn't feel like the activism it once was.
We leave for dinner at the Boathouse Brewpub and Restaurant, one of the newer joints on the main drag, and find the younger generation drinking blueberry blonde beer with all-you-can-eat fish fry. They're listening to a folk band and taking home growlers, like their counterparts everywhere, but in mukluks and down coveralls and beards as practical as long johns. The place is packed.
For a town divided over a potential return to mining—a proposed sulfide operation far more hazardous than the old iron mines, requiring 500 years of cleanup, or worse if something goes wrong—the evening feels like Ely has already moved on. In the old days, Ely's miners prided themselves on being technical specialists, underground badasses ("They had a swagger," Iron Mike tells me), uninterested in slogging through open-pit scars like the mines around Hibbing or the sulfide proposal. That pride remains. Ely, at work or play, favors the epic.
In winter, when the cabins around ely empty out, you can see the town for the tourists. The people who came and never left, never made it to Alaska. You see them on snowmobiles, sometimes more numerous than cars, cruising alleys as though in a parallel universe, a secret snowbound city. You see them at Zup's, the über-local grocery with the moose head peering over the soda machines. You see them at the Ely Steakhouse, with its red walls, its giant fish tank, its one fireplace and one television displaying a fireplace.
You didn't think you came to the wilderness to be around people, but of course you did. Sigurd Olson, the bard of Burntside Lake, knew this: "I must never write of the earth as being beautiful in itself," he admonished himself. "Without the civilizing influence of man, without the warmth of godliness and spirit, the earth is merely a cold and brutish planet." You go to the forest for solitude; you come to Ely for perspective, to see the forest for the trees.
On our last day, Lucy and I go where everyone here eventually winds up: Steger Mukluks and Moccasins, a kind of DSW of moose hide, run by Will's ex-wife. The mukluks are reportedly made from Scandinavian moose, which don't look much like Minnesota moose and apparently aren't as threatened. Lined with thick felt, they're
incredibly warm. Last year, as the polar vortex swirled over the state, Steger sold 128 pairs of mukluks in 36 hours.
Lucy is fitted by a 19-year-old forestry student also working on her taxidermy certification. Summers here, she says, are too warm. Winter is when she thrives. When anything seems possible. When Minnesota seems most Minnesotan. She's planning to move to Alaska.
**"Iron" Mike Hillman died of an apparent heart attack shortly after this issue of Minnesota Monthly went to press. He was 62, the bard of Ely, one of its great myth-makers and great truth-tellers.
---
 A Classic Winter Escape
Ely at a Glance
WHERE TO STAY
Blue Heron Bed and Breakfast is a homey perch on the BWCA just outside town. blueheronbnb.com • For wilderness luxury, rent the Eagle Point cabin on White Iron Lake. elylodging.com
WHERE TO EAT
The Boathouse Brewpub and Restaurant is a craft-beer hot spot serving walleye three ways and a knockout blueberry blonde. boathousebrewpub.com • The perennially popular Chocolate Moose re-opens for the Ely Winter Festival with the best desserts in town. Find them on Facebook. • The Ely Steakhouse is the local retro favorite, with Christmas lights and antlers over the bar. Try the Steer Beer steak, marinated in oatmeal stout from Duluth and served with a gravy boat of horseradish. elysteakhouse.com
WHAT TO DO
The 2015 Ely Winter Festival runs February 5–15 with outdoor activities, snowcarving downtown, and special events at the International Wolf Center, North American Bear Center, and Dorothy Molter Museum. elywinterfestival.com • The Pebble Spa Co. runs the massage gamut from hot stone to his/hers, with locally made scrubs. pebblespaco.com • Ely has enough dogsleds to haul everyone out of town if need be. Stay at Wintergreen Dogsled Lodge (dogsledding.com) for the full adventure, or try Chilly Dogs for a quick and easy pull (elydogsledtrips.com). • Stop into Zup's Food Market for fresh apple and walnut potica, pasties, and zinks (beef, ham, Polish sausage, and onion, ground up and fried). zups.com
Facebook Comments