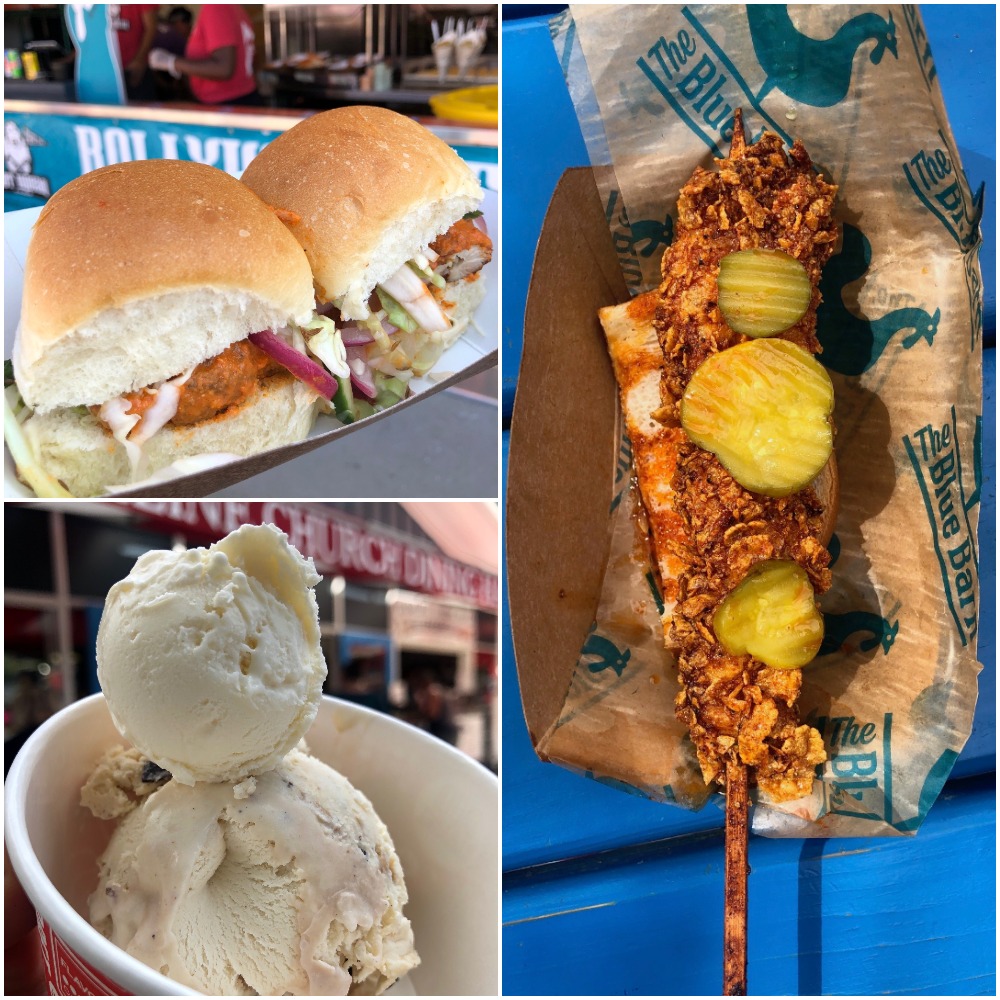 I am eating as fast as I can! With nearly 40 new foods at the Minnesota State Fair, I get in line and buy them so you don't have to.
How we did it: A team of two friends (thanks, Danny Bredahl and Billie Shoen) and my 11-year-old son Sam helped me taste foods throughout the fairgrounds. We take a couple bites each, compare notes, and then move on.
EAT THESE!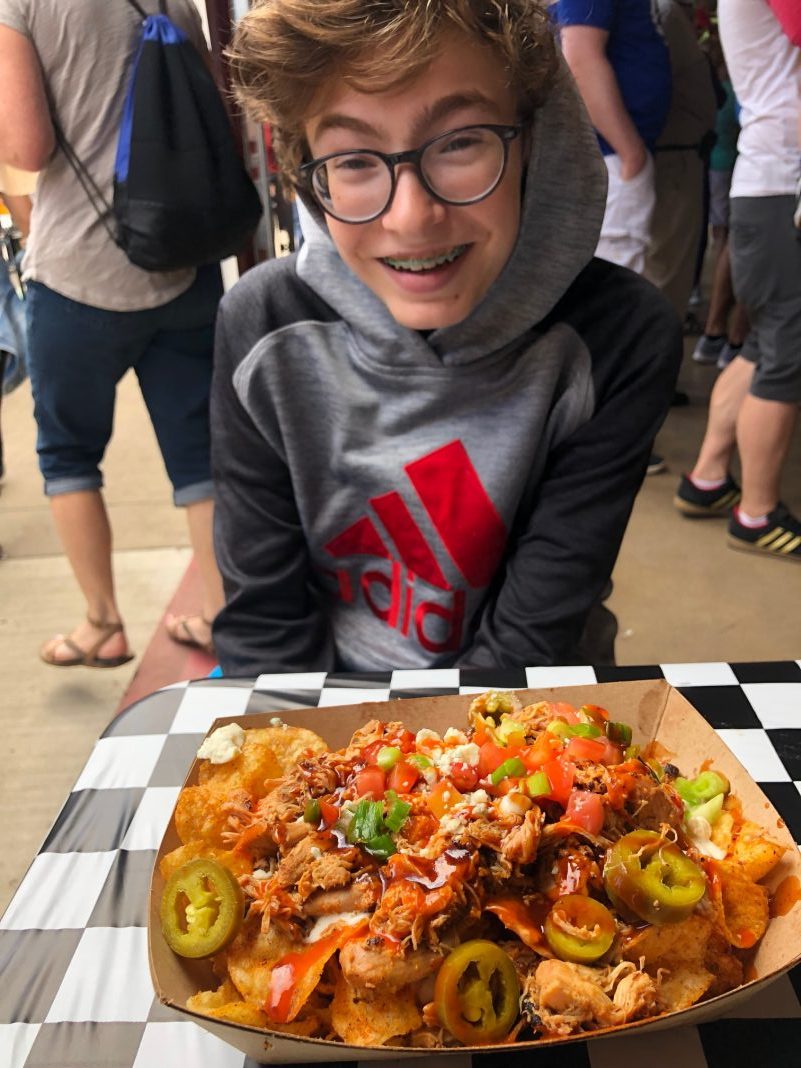 1. Hot Hen at RC's BBQ ($8): The barbecue at RC's (formerly Famous Dave's) is always top-notch. The Hot Hen's pulled chicken was smoky, juicy, with a perfectly balanced Buffalo sauce. A nice amount of blue cheese fondue and pickled jalapeños atop a bed of barbecue chips made this my favorite bite of the fair.
---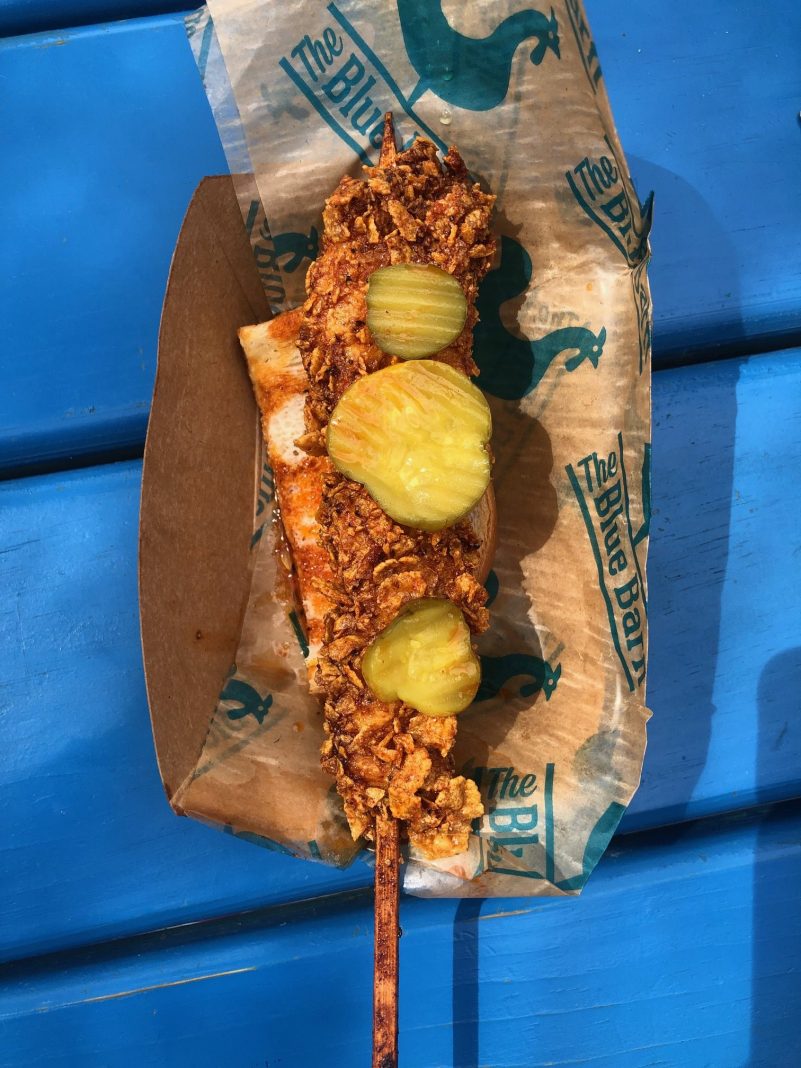 2. Nashville Hot Chicken On-a-Stick at Blue Barn ($9.95): The texture! The flavor! I loved the corn-flake batter and the sweet heat glaze. NOTE: If you are looking for fire-hot chicken a la Revival, go to Revival. This ain't that. But it's a perfectly fun and delicious fair dish.
---
3. Duck Drummies at Giggles' Campfire Grill ($8.75): Perfectly crispy skin, juicy and meaty dark meat, all with a zippy tequila-lime dipping sauce. Come on! Five duck drummies feel like a lot of food for the price, too. Good idea, well done.
---
4. Kentikka Fried Chicken at Hot Indian Foods in International Bazaar ($12): The contrast of the crunchy slaw with the creamy tikka masala sauce on top of fried chicken on a slider—all made for a flavor bomb that I adored. You get two sliders. Plus, how great is this name? Ken-tikka! (LIMITED TIME – ENDS 8/27)
---
5. Jamm'in Brisket Grilled Cheese at RC's BBQ ($10): Another winner at RC's. The red onion jam makes this fancy (I could use a tiny bit less of it), but the combo of cheddar and pepper jack, along with a nicely done slow-smoked brisket, is a crowd-pleaser for good reason.
---
6. Al Pastor at Nordic Waffles ($9): I was really impressed by the quality of the pork in the Al Pastor Nordic waffle—very tender, with an excellent smoky quality to mimic the flavor you'd get in a thinly sliced traditional pastor. The pineapple and pork against the perfectly crisp and tasty Nordic waffle? A winner.
---

7. Halo Cone at Rainbow Ice Cream ($9): The serious food critic will tell you that it's a little challenging to eat cotton candy and ice cream at the same time, as your hands are going to get sticky. And that the blueberry soft-serve doesn't exactly sing with blueberry flavor. But the sheer fun factor of this outweighs those critic-nitpicks, and I couldn't stop laughing and smiling while enjoying this perfect fair food.
---
8. Tacos Al Pastor at Manny's Tortas in the Food Building ($5): One large corn taco with exceptional seasoning. Manny's uses the fresh pineapple they slice to make piña coladas—and to put on burrito-size blue corn tortillas. A great $5 snack.
---
9. Dessa's Izzy's Ice Cream at Hamline Dining Hall ($5.50/small): Great cardamom flavor in this espresso ice cream. Uses Bizzy Coffee's House Blend Cold Brew along with chocolate-covered espresso chips and toffee crunch. Lots of flavors—but they all worked really well.
---
10. Deep Fried Tacos at Taco Cat Midtown Global Market ($12): I was highly amused by the two large, fried tacos on-a-stick at Taco Cat, they looked almost like a taco-sized empenada. Inside: a rather bland chorizo that tasted more like ground beef, along with little fried slices of potato. Outside: a beautiful guacamole salsa and cotija cheese.
MAYBE EAT THESE!
1. Lamb T-Bone Chops at Holy Land in International Bazaar ($6): Great flavor in these palm-size lamb chops. Two for $6 is a terrific value. But I would have liked a little more sear on the chop, and maybe a sauce for dipping.
---
2. Breakfast Potato Skins at Blue Barn ($8.95): Nothing wrong with these; they reminded me of the breakfast bowl Blue Barn had in the past. Blackened beef cubes (chislic) weren't really blackened, but the hollandaise was perfect, and starting the day with a stuffed potato is not a bad way to go.
---
3. Shrimp and Grits Fritters at Funky Grits in the Food Building ($5): I really liked the Creole seasoning in these fried grits fritters—they had a nice zip to them. But I couldn't find any shrimp in them, nor any shrimp flavor. Still, at three for $5, might be worth a shot.
---
4. Bhel Puri at Hot Indian Foods ($10): All the textures—this is an Indian street food snack with puffed rice, peanuts, chickpeas, diced tomatoes, and onions. It has acidic notes from a mango powder, and is strangely addictive. Very shareable, too, but some in our group weren't into all the flavors going on in the cone. (LIMITED TIME – ENDS 8/27)
---
5. Thelma's Handmade Ice Cream Sandwiches ($5): Thelma's is an Iowa brand available at many local grocery stores, and it feels like you're getting something right out of the freezer case. We tried the snickerdoodle ice cream sandwich, wrapped in plastic as delivered. It was delicious after it sat for a couple minutes and softened up—'cause it was hard as a rock on first bite.
---
6. No Bologna Coney at Mancini's ($6.75): The olive tapenade makes this mortadella dog worthy, with its mix of mild giardiniera and olives. Served on a split piece of thick grilled bread. The mortadella itself was fatty (a feature, not a bug), and I found that the flavor of the sausage lingered a little longer than I would have liked.
---
7. Polish Sausage at iPierogi ($8): Why you would want a polish sausage with kraut at the fair is a little beyond me, but this is a perfectly executed polish with a nice crunchy and zippy slaw.
---
8. Carnitas Taco Cone at San Felipe Tacos ($10): This would be better described as a taco salad cone—more cabbage than carnitas. The cone was hard like a taco salad with a fried shell, which made it a mess. That said, the flavor of the carnitas and salad was quite nice.
---
9. Pierogis at iPierogi ($9): The dough is pillowy, the filling is flavorful, but there was a residual greasiness in the tray from not eating the five pierogis fast enough. Eat fast and enjoy.
DON'T EAT THESE (ranked from worst to least worst)!
1. Carolina Pit-Smoked Brisket Taco at Shanghaied Henri's ($9): The brisket was dry and overcooked, the barbecue sauce was overly sweet—this was a mess. Two full-size tacos plus a handful of tortilla chips.
---
2. Turkish Pizza at Blue Moon Drive-In Theater ($9): Tasted like a sloppy joe burrito. My naan crust was way undercooked (I've seen photos from others that looked better). The ground beef is stewed in tomato and seasoned with a heavy dose of cumin.
---
3. Cheesey Sriracha Funnel Cake Bites at Funnel Cakes by the Grandstand ($8): Why? Deep-fried funnel-cake hunks weren't really sweet, they didn't put sriracha in the batter—it's just a deep-fried funnel cake with a decent sriracha aioli. Felt like a fried gut bomb.
---
4. Pebbles & Bam Bam at Nordic Waffles ($8): I admit to being biased against sugar bombs, and this is designed for children, not for me—but I didn't like the flavor of the Fruity Pebbles against the melted spread from Reese's Peanut Butter Cups.
---
5. Tipsy Pecan Tart at Sara's Tipsy Pies ($7): Gluten-free shortbread crust = dry. The pecan pie filling itself was nice, with a hint of the Irish whiskey. Not overly sweet, but the dryness of this makes it a no for me, unless you're desperate for a GF treat.
Facebook Comments