There is no doubt the classic mayonnaise-based potato salad is delicious. But there are many opportunities throughout the summer to switch it up and try a new potato salad, too. Here are a few ideas that help you spice things up with Middle Eastern flair, a refreshing picnic-friendly take that pairs potatoes with cucumbers, and a tangy and zesty recipe that is light and vegan.
In addition to making a delicious side dish, gluten-free potatoes offer more nutrients than you might think. Did you know a potato has more vitamin C than a medium-sized apple and more potassium than a medium-sized banana? Potatoes are also free of fat and cholesterol and a good source of vitamin B6 and dietary fiber. Sounds like even more good reason to try spud salad variations this summer.
Middle Eastern Potato Salad
Makes 10 Servings, Recipe by Lisa Lin courtesy of the Idaho Potato Commission
1¼ pounds Idaho red potatoes
1¼ pounds Yukon Gold Idaho potatoes
3 tablespoons extra-virgin olive oil
½ teaspoon ground cumin
½ teaspoon ground coriander
½ teaspoon smoked paprika
1 teaspoon dried marjoram
¼ cup finely diced red onions
2 to 3 tablespoons parsley, chopped
1½ tablespoons lemon juice
kosher salt
Wash and scrub potatoes. Chop them into ½-inch cubes.
In a large pot, cover diced potatoes with water and add a few teaspoons of salt. Bring water to boil and continue cooking until just tender, about 3 to 4 more minutes.
Drain and run potatoes under cold water. Spread potatoes on a baking sheet to cool for 5 more minutes.
Add potatoes to a large bowl and toss with oil, cumin, coriander, paprika, marjoram, red onions, parsley, lemon juice, and a small pinch of salt. Serve immediately or cover in plastic wrap and refrigerate for 3 hours before serving.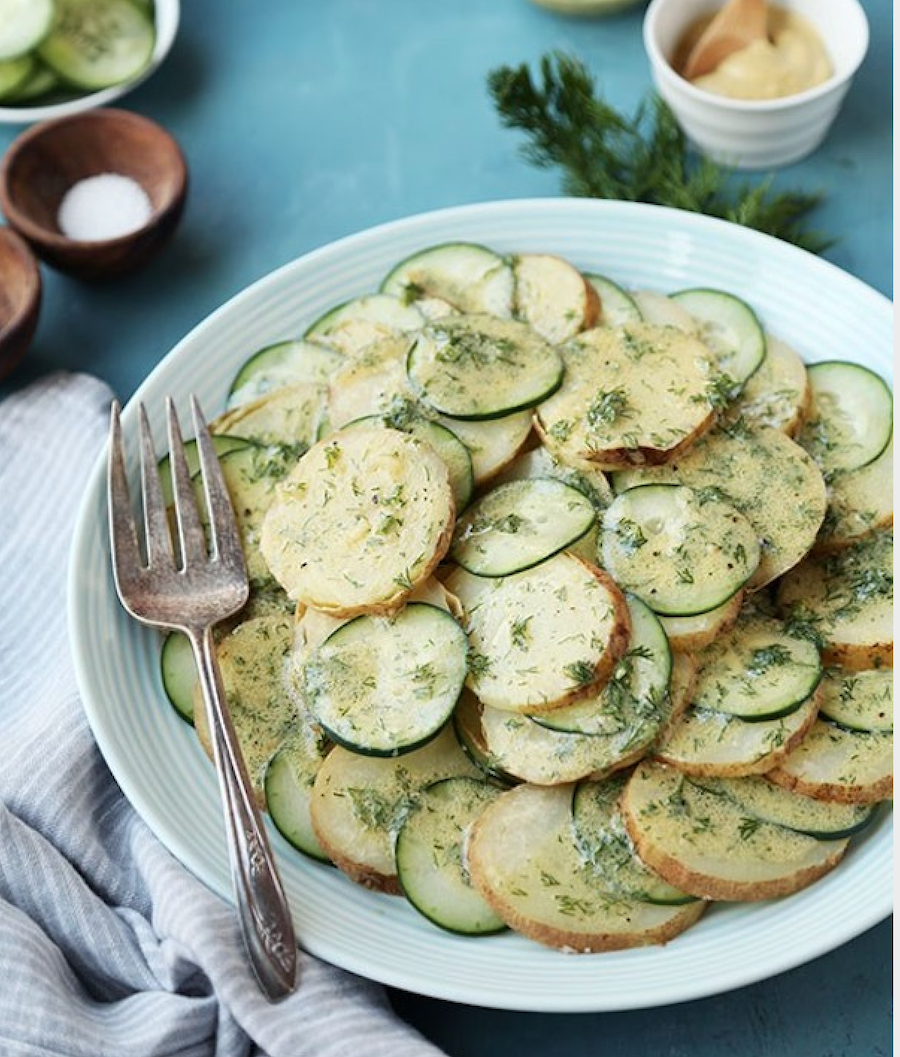 Idaho Potato, Cucumber and Dill Salad
Makes 4 (1 cup) Servings, Recipe courtesy of the Idaho Potato Commission
Perfect for a picnic, this refreshing salad will not spoil in the hot summer sun. Leave the vitamin-rich skins on these thinly sliced spuds for a bit of extra texture and taste.
3 large Idaho potatoes, unpeeled and thinly sliced (about 3 cups)
¼ cup rice wine vinegar
1½ tablespoons Dijon mustard
¼ cup canola or vegetable oil
½ cup chopped fresh dill, or 1 tablespoon dried whole dillweed
½ teaspoon salt
1 large cucumber, unpeeled and thinly sliced (about 1½ cups)
Place potato slices in a 9-inch square microwave-safe baking dish. Cover with microwaveable plastic wrap and microwave at HIGH 9 to 11 minutes or until tender, stirring gently every 3 minutes.
Combine vinegar, mustard, oil, dill, and salt in a small jar. Cover tightly and shake vigorously.
Pour vinegar mixture over potatoes. Cover and refrigerate until chilled.
Gently mix in sliced cucumber before serving.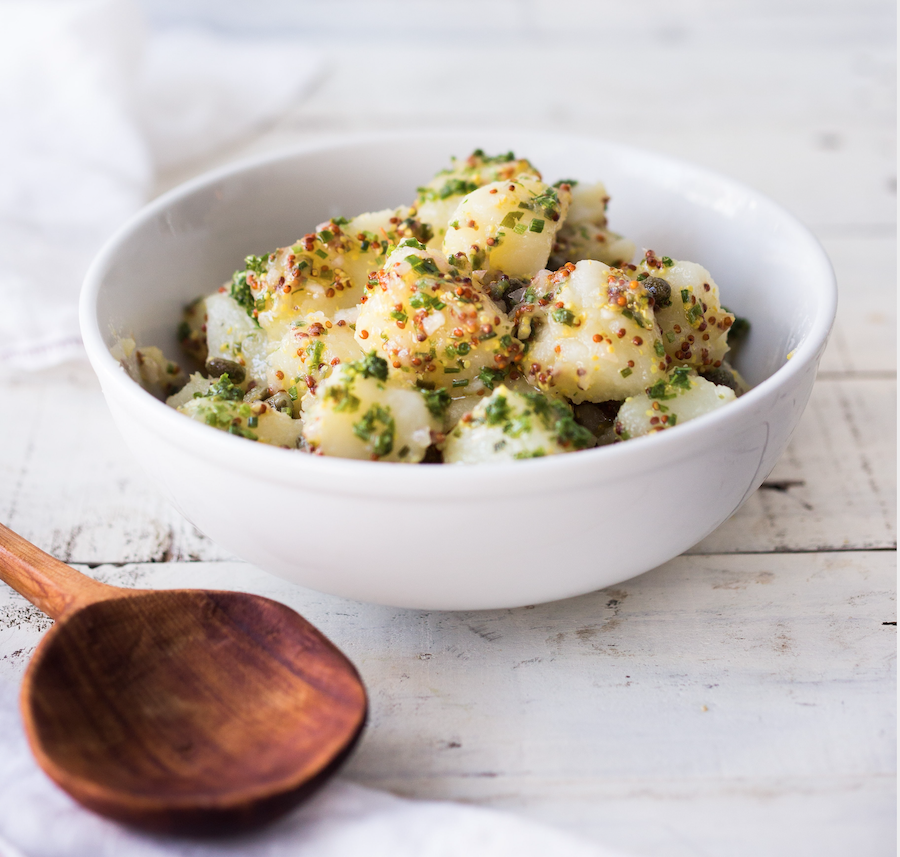 Potato Salad with Chives, Mustard, and Capers
Makes 4 servings | Recipe by Sylvia Fountaine courtesy of the Idaho Potato Commission
A tangy zesty recipe for potato salad that is healthy, light, and vegan.
1½ pounds russet Idaho potatoes, cut into 1½-inch cubes
1 teaspoon salt
For the Dressing
2 tablespoons diced chives
1 tablespoon shallot, finely chopped
3 tablespoons olive oil
1 tablespoon capers
1 tablespoon whole grain mustard
½ teaspoon each salt and pepper, plus more to taste
In a medium pot, cover potatoes with water. Add salt and bring to a simmer. Simmer gently until just fork tender, about 15 to 17 minutes, being especially careful not to overcook, keeping them slightly al dente.
While the potatoes are simmering, make the dressing. In a small bowl, mix the chives, shallot, olive oil, capers, mustard, salt, and pepper together and set aside.
Strain and gently rinse the potatoes with cold water until cooled. Drain well. Place in a bowl and very gently toss with the dressing. Chill until ready to serve. Taste for salt, adding more if necessary.
Facebook Comments