Maybe because I spent my high school years as a wannabe actor, or maybe because I spend my grown-up years as a TV news anchor, I'm always drawn to the dramatic. A restaurant is theater, isn't it? The set design, the lighting, the stage itself—all combine to create an experience, not just a meal. Downtown Minneapolis' newest hotel restaurant Giulia gets that: a stunning room with soaring white marble columns, perfect lighting to set the mood, and a team of marquee stars in the kitchen.
Yes, we've seen chef Steven Brown, from Tilia and St. Genevieve, in the kitchen at Giulia, along with the resident chef Josh Hedquist (formerly of Copper Hen and Spasso). Both have teamed up for a tight, northern Italian menu that focuses on clean, simple ingredients.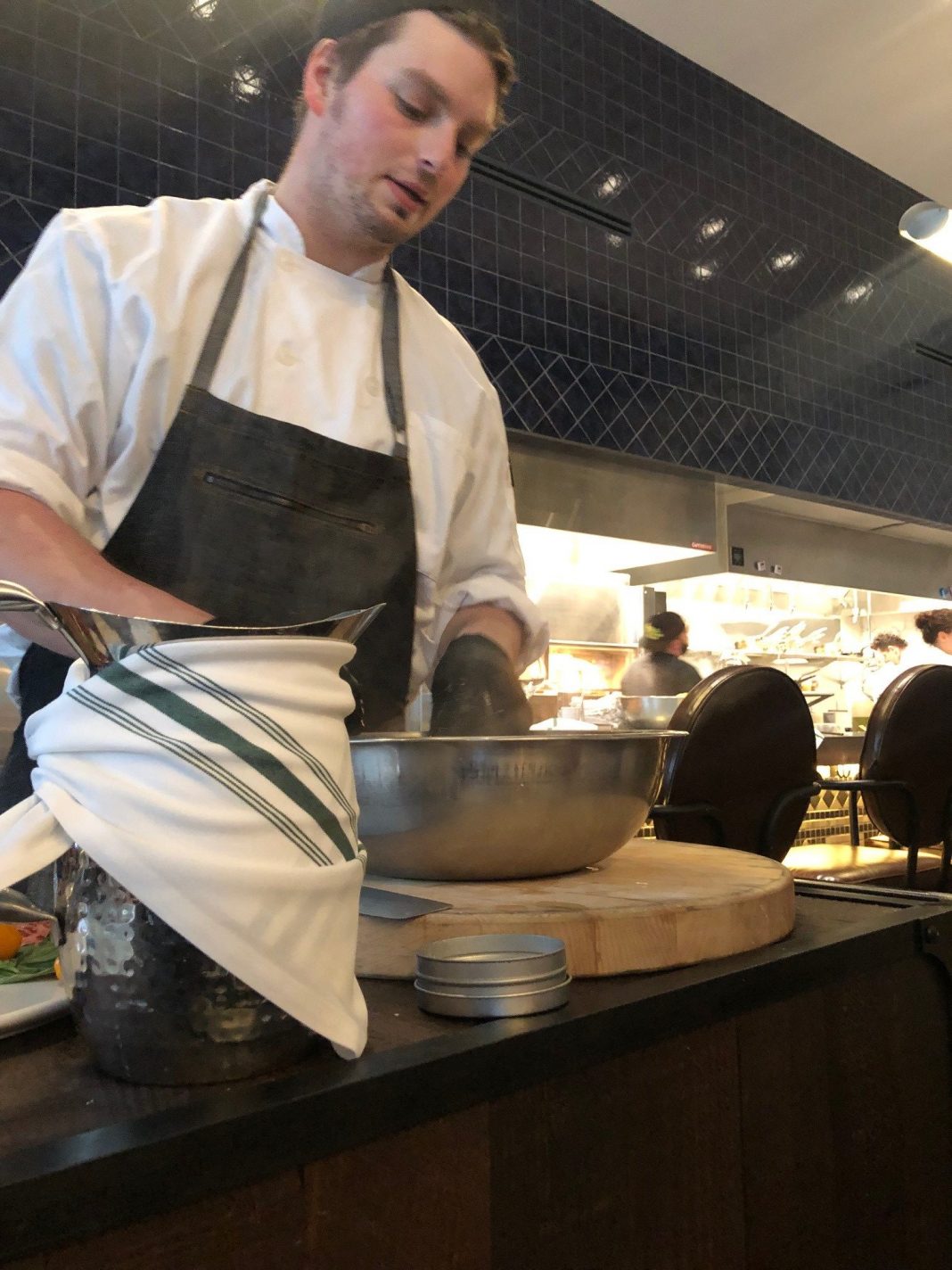 You've probably heard about the tableside fresh mozzarella "a mano." If you love tableside guac, this is next level. The ingredients roll up to your table on a cart, and a chef takes it from curd to shiny, salty incredibleness in just about 90 seconds. It's a show, but it's a show with purpose, because fresh mozzarella is more crisp, more salty, more chewy on the inside than any mozzarella you've ever bought at the store.
The focused, northern Italian dinner menu has lots of highs, too: The agnolotti is light and simple, filled with a venison sugo and topped with fried sage and shaved Parmesan. All pastas are made in house, including a delicious watercress gnudi, served with orange oil and hazelnuts.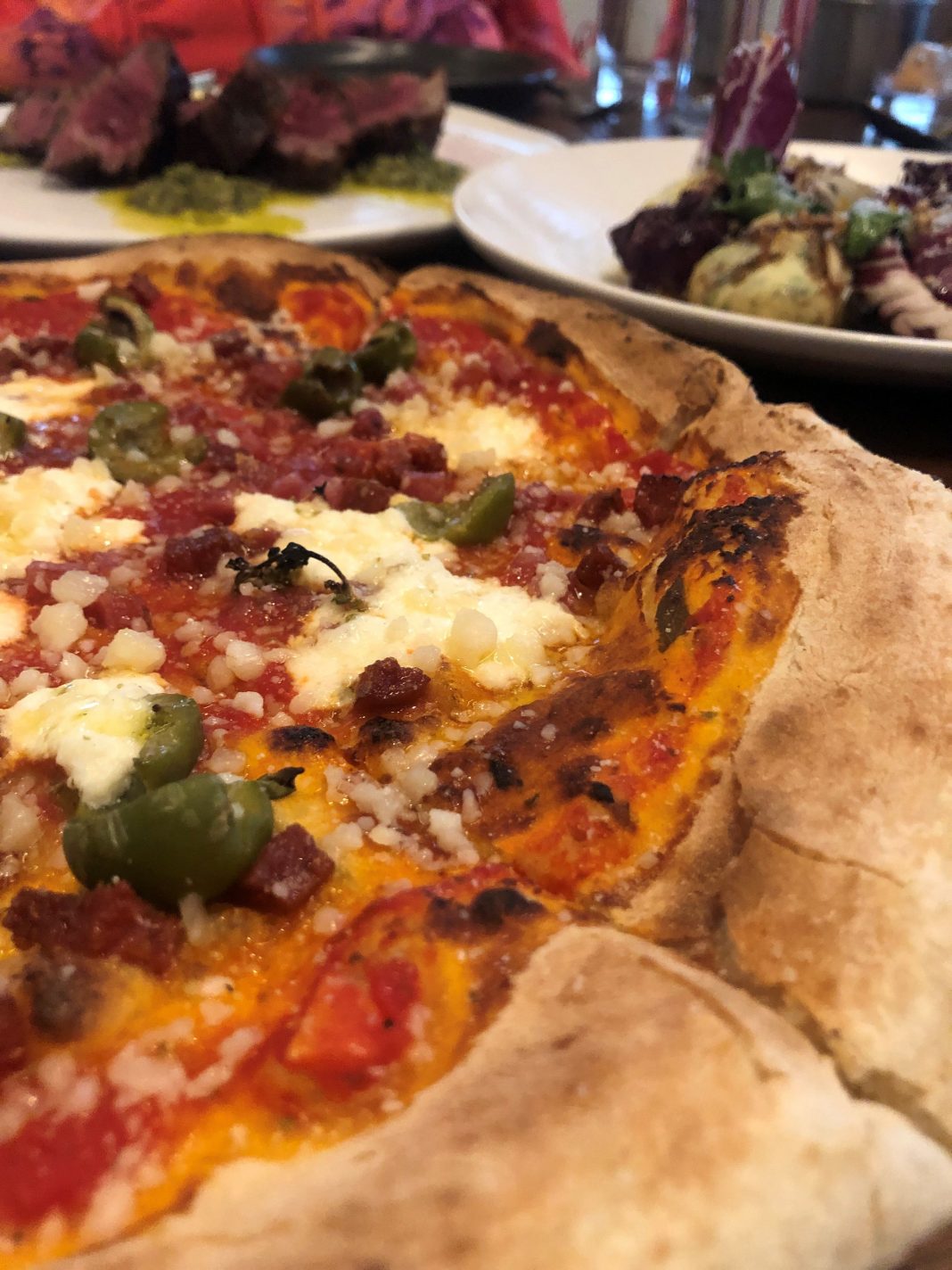 The wood-fired pizzas are also rock solid. We enjoyed the salumi with smoked ricotta, pepperoni, and olives, as well as the white-sauce clam pizza with pecorino, rapini, and chili flakes. Nice dough.
When it comes to main courses: There's a beautifully cooked pork chop with braised radish, carrot, and rhubarb, but my favorite was the bronzino saltimbocca: a lemon-stuffed, tender whole fish wrapped in speck (a prosciutto-like ham that has a little more smokiness to it) and drenched in a bright salsa verde.
If you valet park at Giulia, you'll walk through the incredibly lush, greenscaped lobby of the Hotel Emery, formerly the Hotel Minneapolis. The design team has managed to make the restaurant feel warm and friendly and modern yet still impressive and imposing because of those huge columns. Because it's a hotel restaurant, they serve lunch, dinner, and have a nice happy hour. The bar is also beautiful, and it's focused on Italian drinks—including a menu of four negronis (try the Spaghetti Western, with mezcal and aperol).
Save room for dessert: The impossibly black chocolate budino is the perfect final act to an exciting new downtown restaurant.
Giulia
215 S. Fourth St., Minneapolis
612-215-5450
Facebook Comments