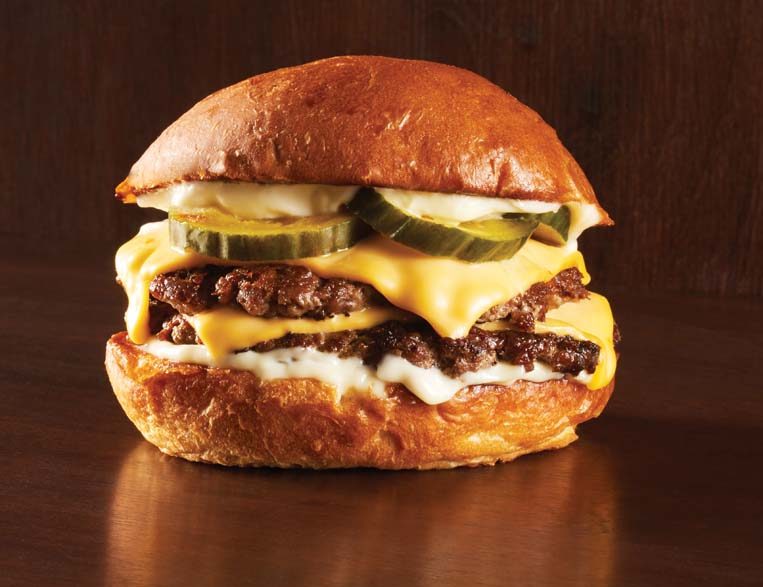 Best Cheeseburger: Revival
Order: Revival Burger
Key Ingredients: Beef, American cheese, mayonnaise, bread and butter pickles, brioche bun
The first time someone told me to get the burger at Revival, I thought they were kidding me. What sort of crazy person orders a burger at one of Minnesota's premier restaurants for fried chicken? Chef Thomas Boemer obsessively analyzed every single cut of beef that he could grind. No surprise he landed on brisket for flavor, but even he didn't expect the secret would turn out to be the richness and texture he got from beef short rib. If you add bacon, know it's reverse-engineered just for the burger: thick-cut to 5/16 of an inch, and Boemer uses a hot smoke like he would with a pork belly—melting the fats, making it chewy, and putting the cherry on top for a burger that almost makes you forget about the Tennessee Hot Chicken.
Locations in Minneapolis and St. Paul
"The first year, I can't tell you how many burgers I ate. It shaved years off my life for sure. You bite into it, it's like you ate a whole two-pound steak." –Thomas Boemer, chef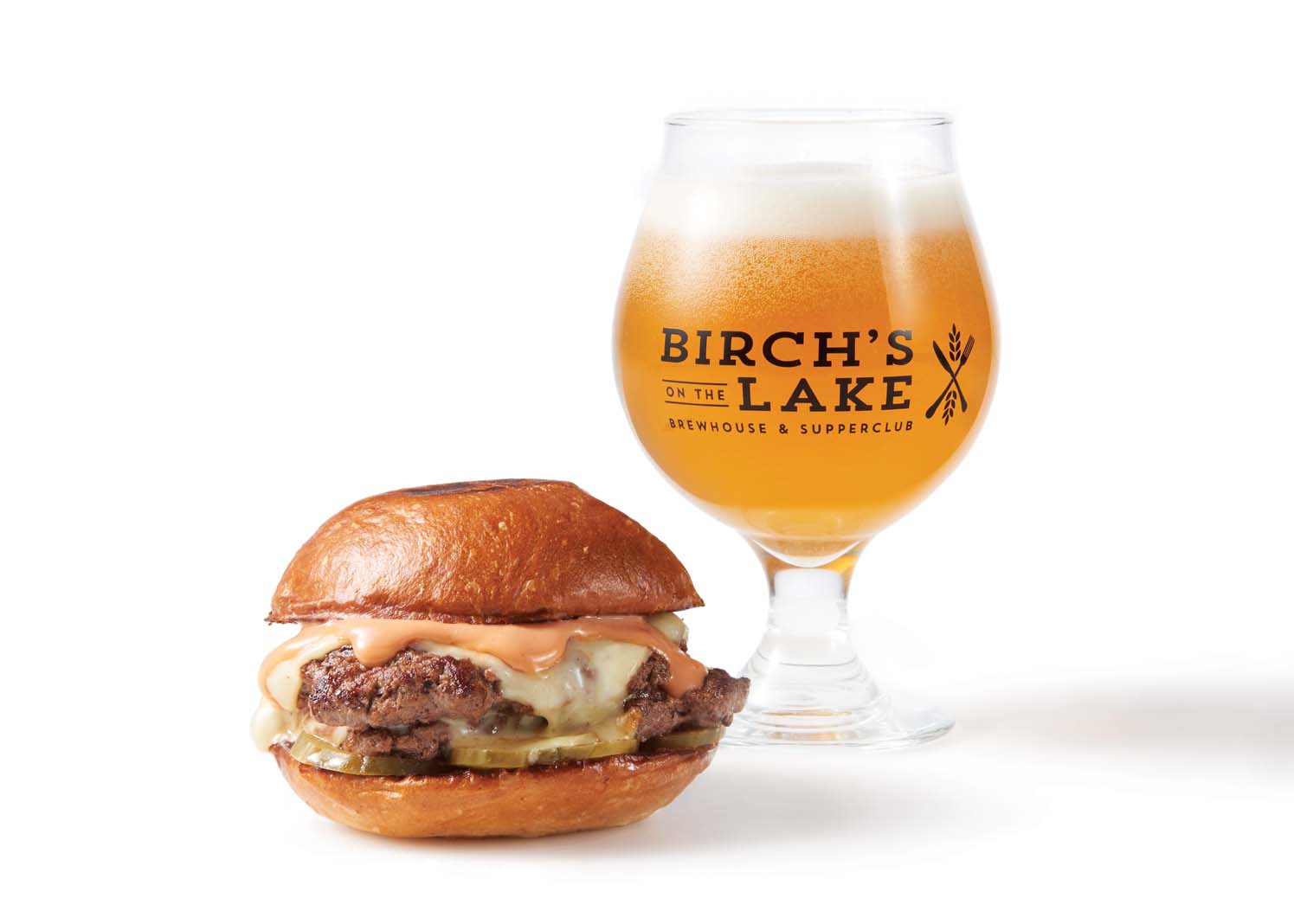 Best Beer Hall Burger: Birch
'

s Lowertown

Order: Birch's Burger
Key Ingredients: Salty Tart bun, Market House Meats beef, white American cheese, pickles, Fancy Sauce

Beer is meant for sharing with your friends, your squad, your team. So it only makes sense that the best beer hall burger is created by a team of friends and businesses within St. Paul's Market House Collaborative. The beef comes from the collective's butcher shop (Market House Meats), the bun from the bakery (Salty Tart), and the recipe from the chef, OCTO Fishbar's Shane Oporto. The result is excellent: beef created from a single cow, including trimmings of the good stuff. Simplicity reigns with the beef—just salt and pepper on two smashed, three-ounce patties, with white American cheese and a "Fancy Sauce" of Japanese Kewpie mayo and ketchup. Wash it down with one of Birch's blonde or coffee chocolate golden ales.
289 Fifth St. E., St Paul

"It seems like such a simple thing: Let's make a good burger. But when you break it down and try and make sure every bite is what you want—that's brutal." –Shane Oporto, chef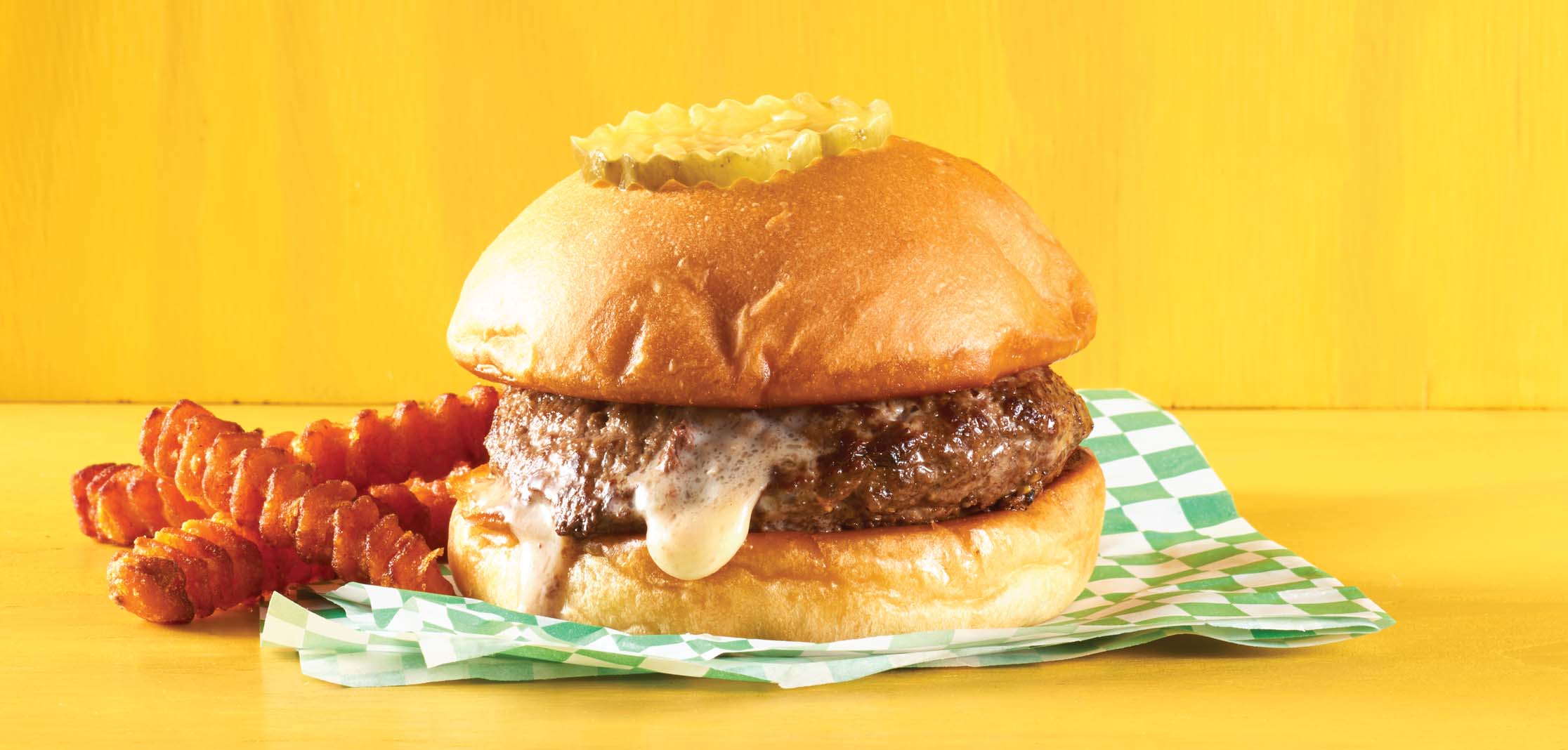 Best Juicy Lucy Burger: Casper's & Runyon's
Nook
Order: Paul Molitor
Key Ingredient: Pepper jack cheese
Maybe being in the shadow of the baseball field where Paul Molitor and Joe Mauer learned how to play inspired excellence, because it's hard to beat the Nook in St. Paul. For good reason, the line to eat sometimes stretches nearly to center field at Cretin-Durham Hall high school. The place was already famous for burgers before best friends Ted Casper and Michael Runyon bought the place in 2000. They were just 20-years-old, and the Juicy Nookie was the innovation that propelled the Nook to icon status: a custom beef blend with perfect char and so much oozing cheddar cheese. The Paul Molitor is my lead-off batter, though—there's something about the slight kick from pepper jack cheese that cuts the richness of the beef. Pro tip: They serve the same burgers in their other, larger restaurant, Shamrocks in St. Paul.
492 Hamline Ave. S., St. Paul
"When we took over in 2000, the Juicy Lucy craze hadn't hit yet. Mickey Brausen, who owned the Nook for 30 years, said she put them on special back in the '60s but they never caught on. We thought it would be a cool thing to do and we wanted to jump on board." –Michael Runyon, co-owner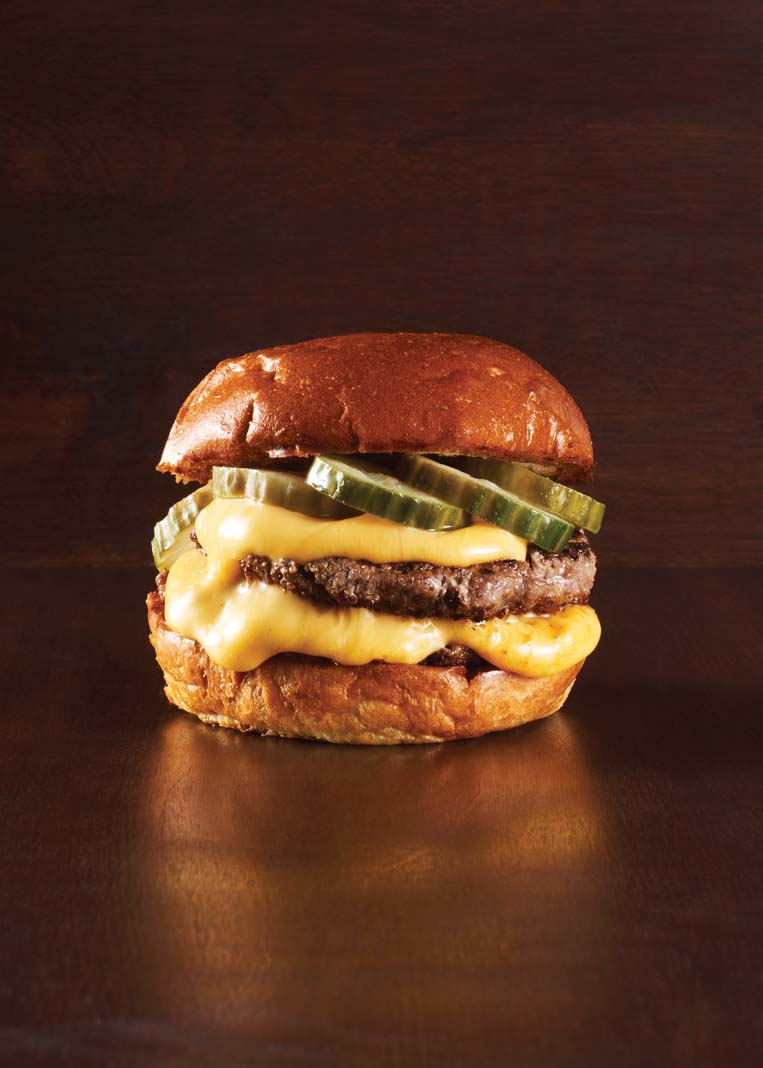 Best Gourmet Burger: Saint Dinette
Order: Cheeseburger
Key Ingredients: Dry-aged beef, yellow "American" cheese, pickles, brioche bun
Don't let someone take your picture while you're eating the Saint Dinette burger: It's messy thanks to the extremely melty "American" cheese they make from Gruyère, cheddar, and a kiss of cava. Plus, that look of satisfaction on your face should probably be reserved for a person you love. Chef Adam Eaton spent three months tasting and testing burgers. He dry-ages brisket, chuck, and sirloin and blends that meat mix with an obscene amount of butter. It's an emulsification that only a chef who trained with the best in the Twin Cities could dream up. They smash the patty lightly on the flat-top, leaving a slight crunch around the edges but plenty of juice in that thin patty.
261 Fifth St. E., St. Paul
"We wanted to do what Au Cheval [in Chicago] was doing. Not to copy them, but it's the principle behind it. We wanted a balance of elevated food. It was important to have cravable things on the menu, and then push the culinary boundaries with everything else." –Adam Eaton, chef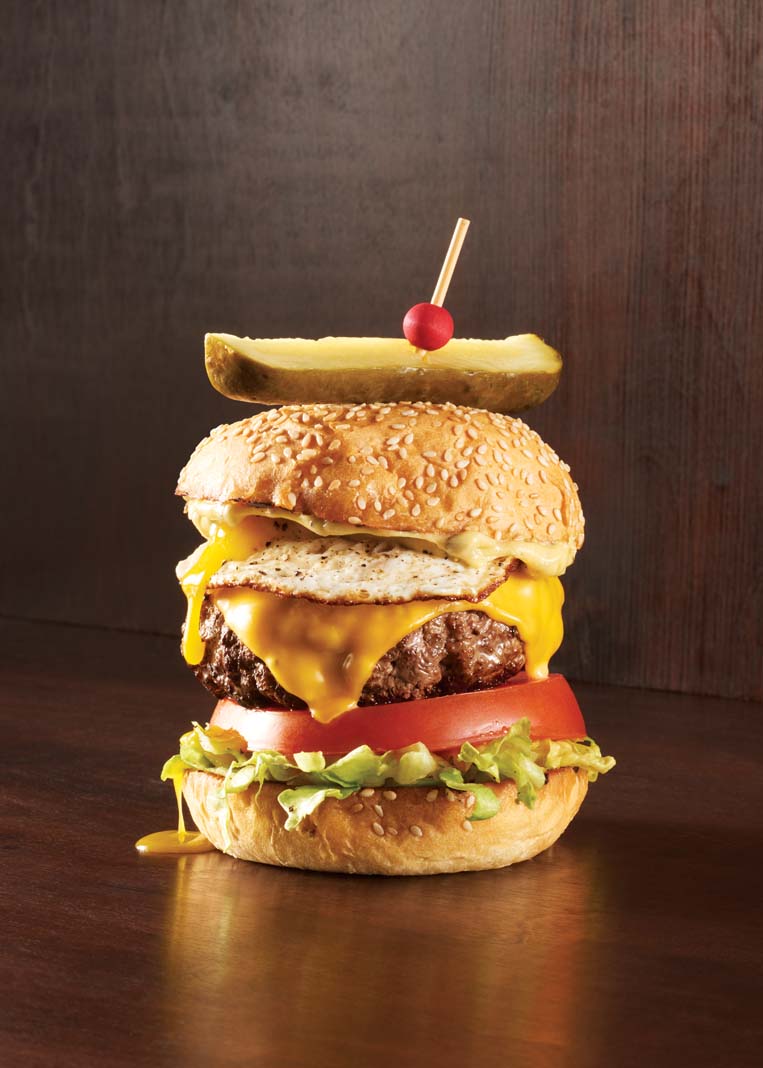 Best Steakhouse Burger:
Gianni's Steakhouse
Order: Steak Burger
Key Ingredients: Kraft American cheese, USDA beef, lettuce, tomato
There's something truly decadent about a steakhouse burger, especially when they're using the trimmings from a steak someone is paying $50 for at the next table. At Gianni's in downtown Wayzata, Steve Vranian cubes New York Strip and adds 21-day dry-aged brisket and chuck. Three cuts of meat are marinated overnight with seasoned salt, ground in the afternoon, and hand-pattied into 1-inch-thick, half-pound burgers. Such richness and depth of flavor—plus the perfect amount of salt and seasoning, and topped with the classic flavor only a slice of American cheese can give. Unlike most burgers, this one is grilled instead of griddled, adding a char that puts the whole package over the top.
635 Lake St. E., Wayzata
"The first thing the owner of Gianni's, Terri Huml, told me is she wanted a good hamburger, and I knew that once we started cutting Gianni's steaks we had it. This truly is a steak pretending to be a hamburger." –Steve Vranian, executive chef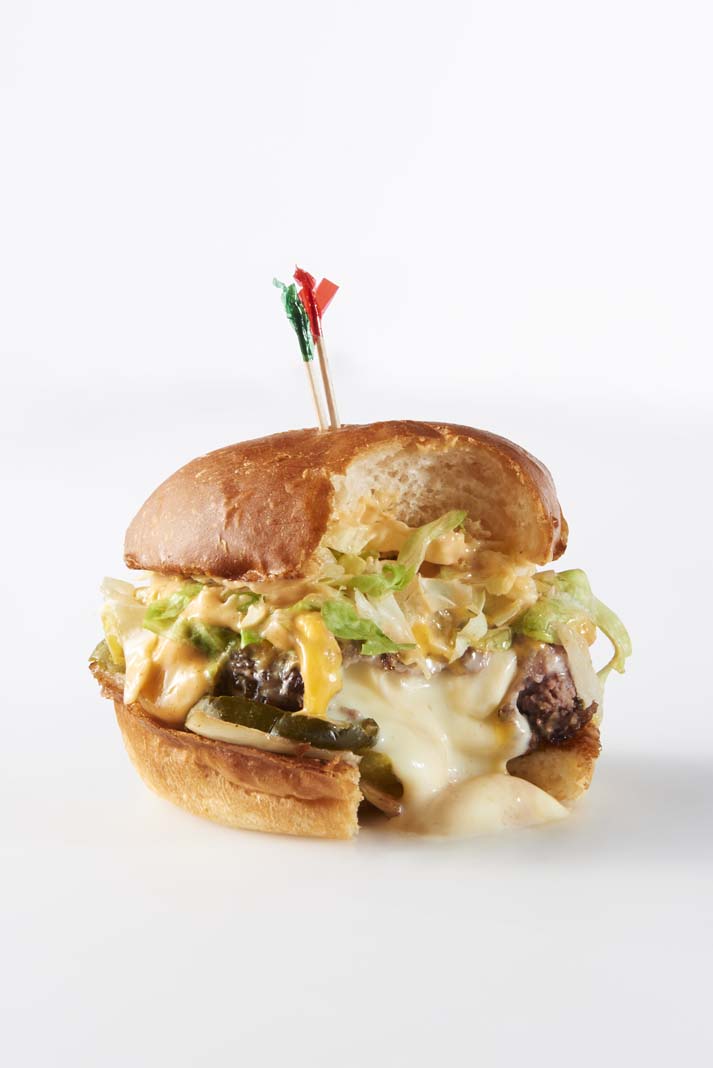 Best Local Chain Burger: Blue Door Pub
Order: Cease & Desist
Key Ingredients: White and yellow American cheeses, pickles, onions,  lettuce, 'Merican sauce
Sometimes true burger success comes in taking a risk, like opening a restaurant during the worst recession of the last 30 years, or messing with the cheese inside the traditional Juicy Lucy. Blue Door Pub did both. Putting blue cheese instead of American inside two beautifully seasoned patties of Minnesota beef and calling it a "Blucy" seemed crazy. But the bomb of umami from the earthy cheese and the beefy burger is glorious, the name is trademarked, and one eastside location is now five spots, including an outpost at the airport. Don't miss the Bacon Blucy, with smoked bacon-cheddar cheese.
Locations in Minneapolis and St. Paul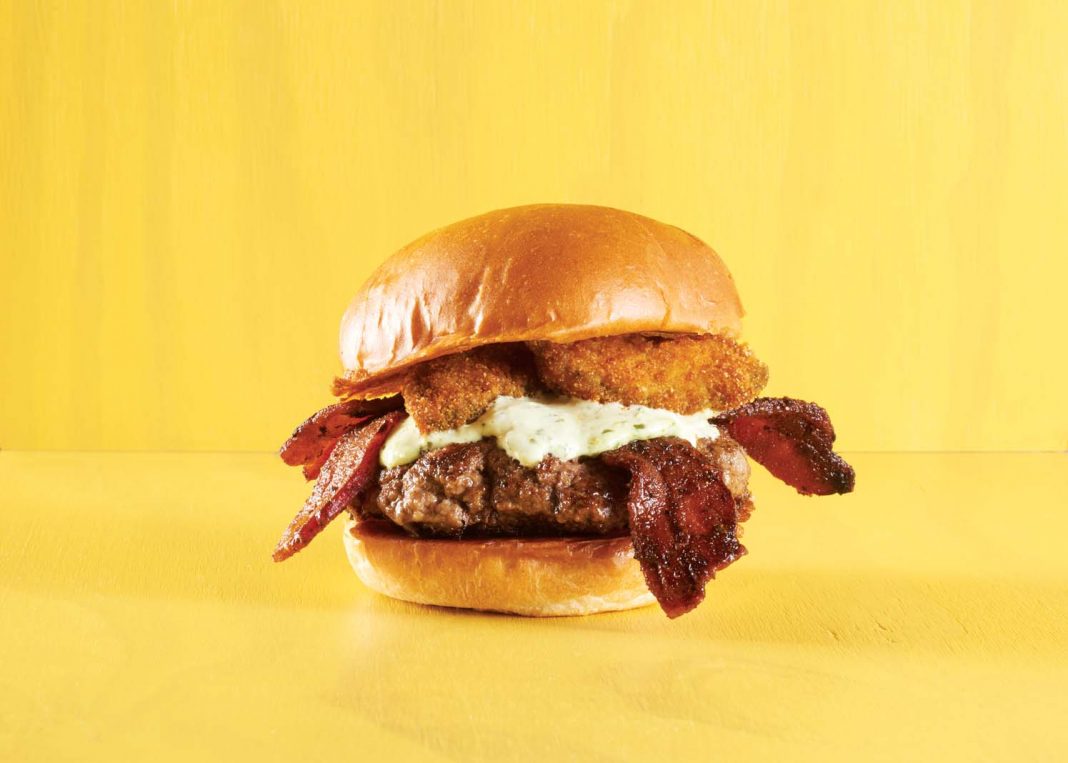 Bonus: The impossible-to-bite Mount Blucuvious, with fiery ghost-pepper cheese, fried avocado, spicy bacon, and cilantro-lime sauce.
"There's a story behind the Cease & Desist Blucy. It's a gourmet Big Mac, originally named the McBlucy. After receiving a cease and desist letter from McDonald's, we decided to have fun with it and keep it on the menu as the Cease & Desist." –Marissa Schafer, creative and marketing director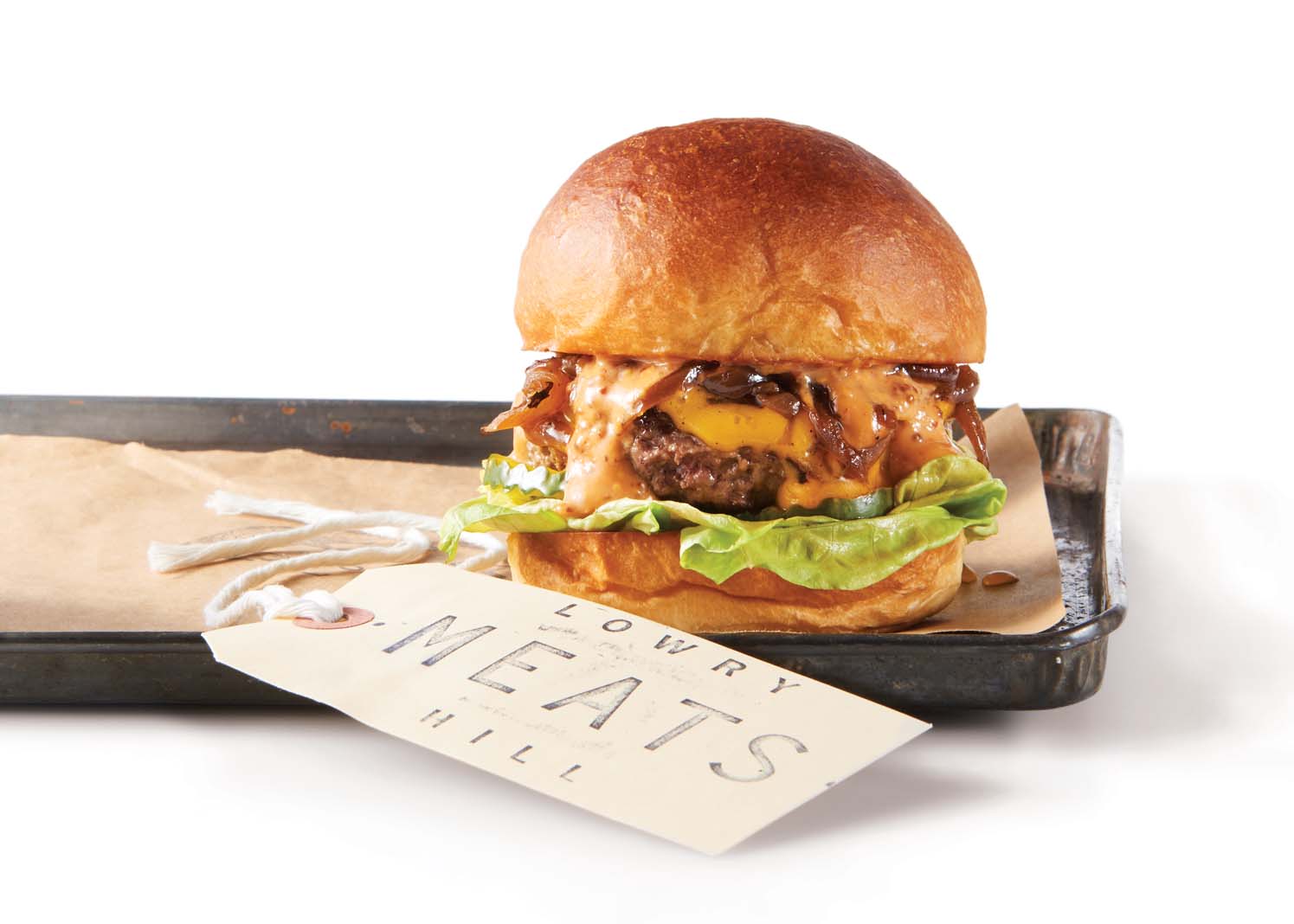 Best Butcher Burger: Lowry Hill Meats
Order: Burger
Key Ingredients: House-ground beef, American cheese, pickles, brioche bun
Every butcher shop sells a burger, but at Lowry Hill Meats you'll want them to cook it for you. Erik Sather brings in a whole steer from Blooming Prairie Natural Beef, processed in Geneva, every Tuesday, and after butchering it, he has some leftover trimmings. He grinds it up, cooks it in fat from that same cow. Initially, he sold it as a special on Wednesdays. Surprising to no one, it was hugely popular, and customers demanded it be added to their sandwich menu every day. This burger might be the best $10 you ever spend: a quarter pound of single-source beef, cooked in beef fat, served on a brioche bun baked using pork fat from the butcher shop. A little salt, a homemade American cheese, special sauce, lettuce, and homemade pickles—it's a perfect expression of the flavor from one delicious cow.
1934 Hennepin Ave., Minneapolis
"I appreciate a simple burger. I don't like tons of stuff on there. We have really good meat; there's no reason to mask all that flavor with anything else." –Erik Sather, owner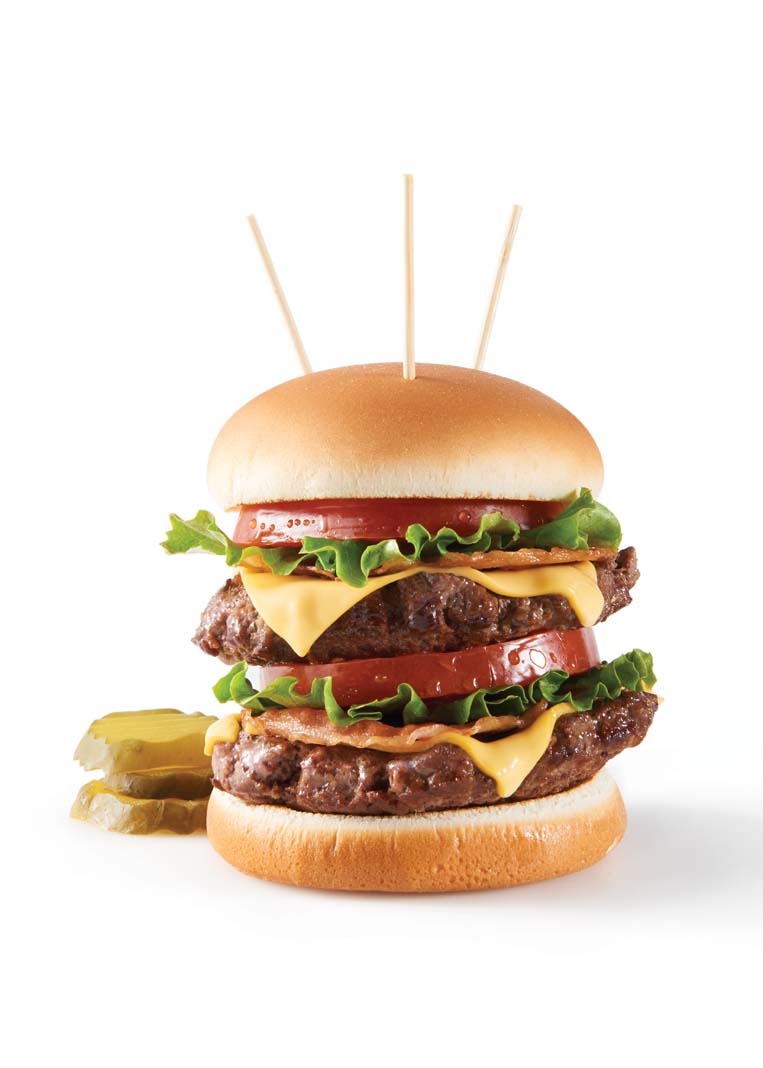 Best Classic Burger: Lions Tap
Order: Hamburger, Cheeseburger
Key Ingredients: Pan-O-Gold bun, American or Swiss cheese, 80/20 Swanson Meats ground beef
Making a simple burger is, of course, not simple at all. And making simple burgers shine for more than 40 years, well, that's a bit of a miracle. Lions Tap does the work: no eggs on top, no donuts for buns, no gimmicks here. It's fresh meat from the same supplier they've used for the past four decades. They're hand-pattied in house and cooked to order, to temperature. This isn't a well-done smash burger; this is the kind of burger your mom would grill at home if she really loved you. Each patty gets a generous sprinkling of their secret Lions Tap season mix—salt, pepper, and eight other secret herbs and spices they won't give up (although you can buy the seasoning). It's $4.10 for a burger, and $4.75 to put Swiss or American on it. A destination restaurant that's in the middle of nowhere in Eden Prairie, and worth the trip.
16180 Flying Cloud Dr., Eden Prairie
"People have to seek us out. The fact we have done simply hamburgers and fries for 42 years is key to our reputation. We do one thing and we do it well." –Bonnie Notermann, owner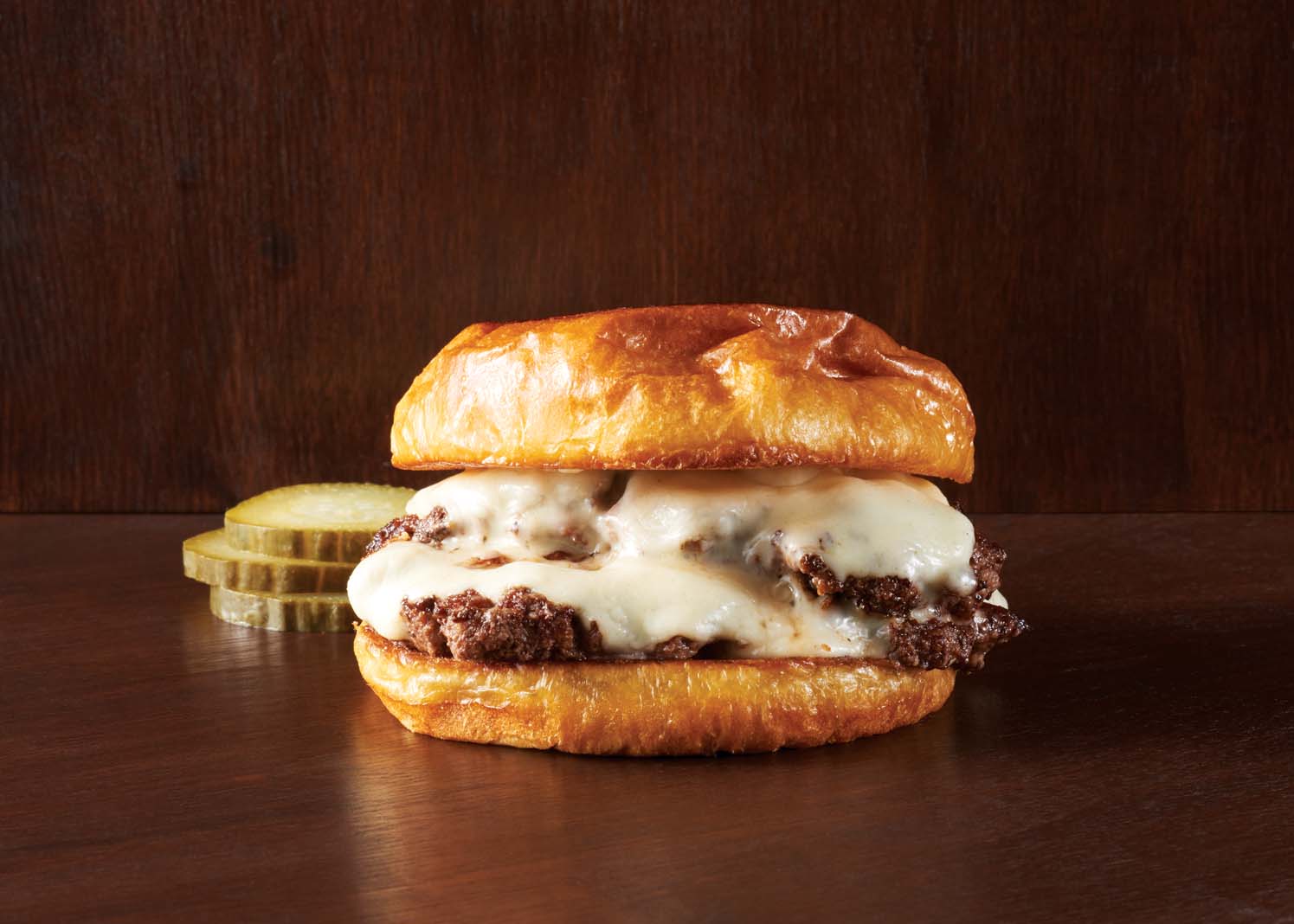 Best Go-To Burger: Parlour
Order: The Burger
Key Ingredients: Ground chuck, ribeye, and brisket patty, white American cheese
On a cold, snowy winter night in January 2013, no one could have guessed that a bar designed to elevate the cocktail would change the burger game. Parlour's thin-in-size, but packed-in-flavor, double-patty burger spawned dozens of imitators. Nothing compares to the O.G. It's rich, it's fatty, it's full of meat flavor thanks to a blend of ribeye, chuck, and brisket. They sear it at a really high temperature to caramelize the beef, and melt a thick slice of white Swiss/American cheese on top. So good, it launched a stand-alone Parlour in St. Paul and a stand at Target Center. Last year, 96,000 were sold. Icon status achieved.
730 N. Washington Ave., Minneapolis
"The Parlour Burger is one of my favorite things to make, and, of course, eat. The melt-in-your-mouth patty, ooey-gooey cheese, and buttery bun is extremely difficult to turn away. For me, that's the hardest part of working in the kitchen—I need to limit myself on how many burgers I actually eat." –Mike DeCamp, chef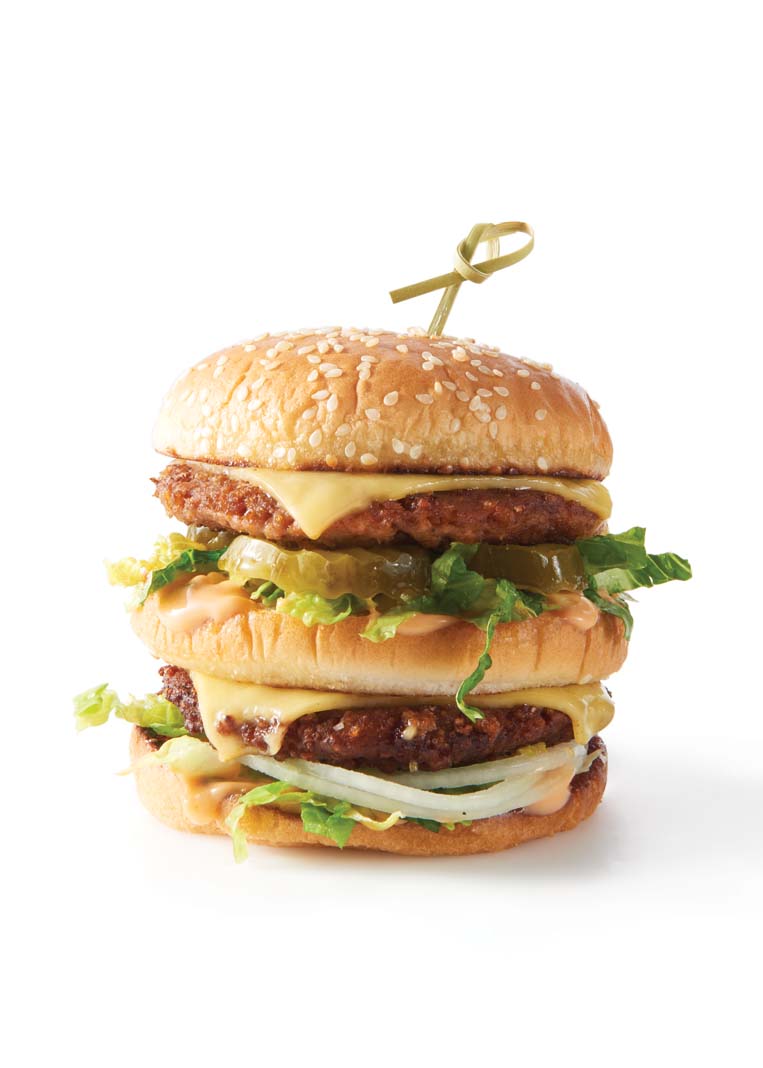 Best Not-Beef Burger: J. Selby's
Order: Dirty Secret
Key Ingredients: Two all-plant patties, special sauce, non-dairy cheese, pickles, onions, vegan sesame bun
It may not have the same ring as the McDonald's Big Mac song from the 1970s, but J. Selby's Dirty Secret does have a remarkable similarity in flavor. We've come a long way from the bean burger being the only option if you want to hold the meat. This St. Paul plant-based restaurant uses the Beyond Burger (an all-vegan meat substitute), seasons it to mimic the legend, and places the thin patties on a fully vegan bun made by the same St. Paul bakery that creates millions for the Golden Arches. Does it taste like a Big Mac? Not exactly. But the special sauce, the squishy bun, and the crunchy lettuce strips all evoke a taste memory that even a carnivore would love.
169 Victoria St., St. Paul
"Our vision is to foster plant-based eating so that it becomes the norm. To do that, we have to provide fully plant-based meals that are familiar enough to appeal to a broad audience." –Matt Clayton, owner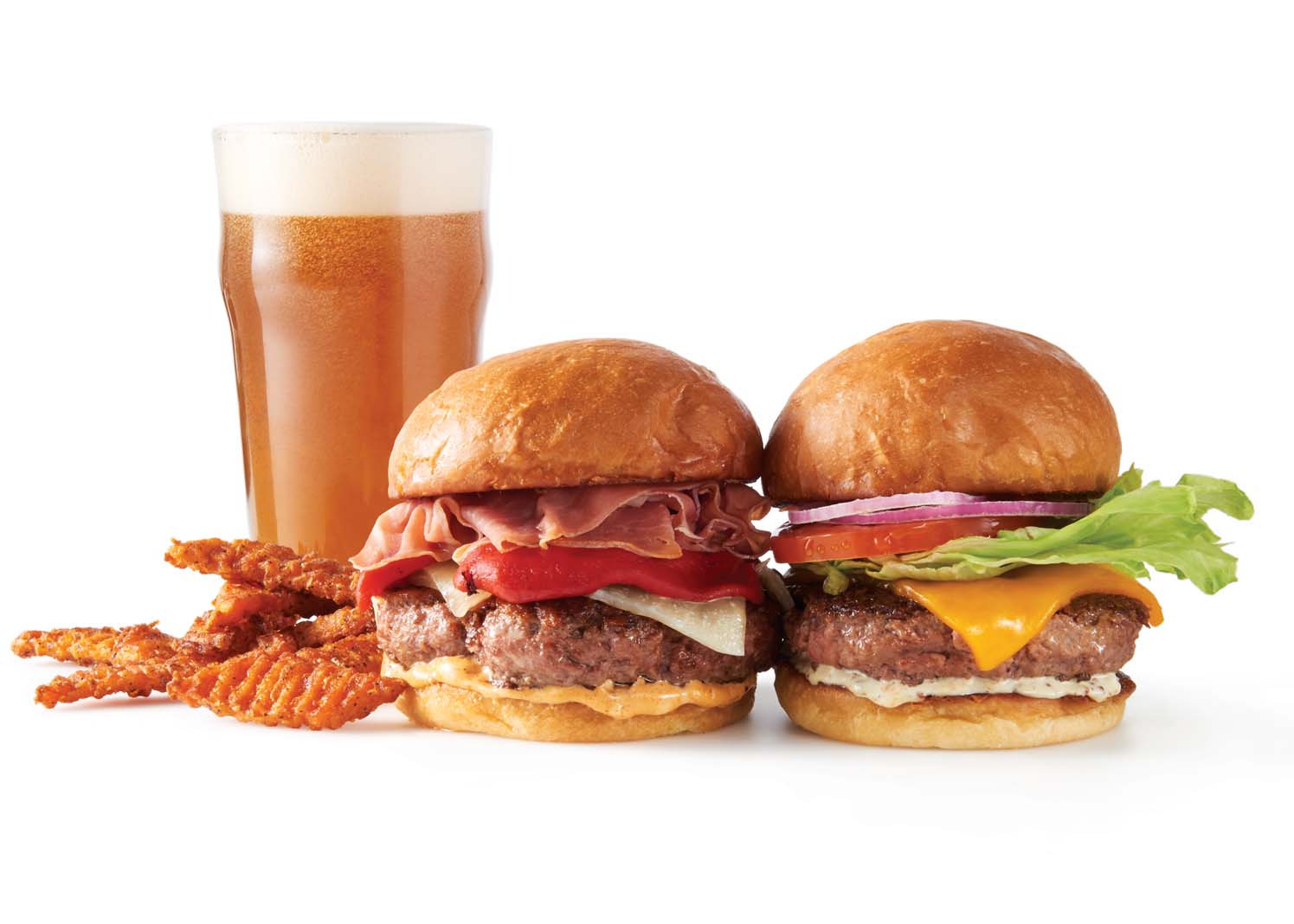 Best Innovative Burger
:
R
ed
C
ow
Order: Barcelona Burger
Key Ingredients: Patty made from 70 percent chuck and 30 percent steak cuts, Wuollet Bakery bun
The line between burger innovation and obnoxious gimmick is thin, but Red Cow's varied menu has mastered it. Inspired by the cocktail, the Manhattan features bacon confit, Gruyère, and a cherry-red wine reduction on top of a super-unctuous meat blend of 21-day-aged ribeye, chuck, short rib, and brisket. Killer, but my favorite innovation is the Barcelona Burger, inspired by the owners' travels to Spain: piquillo pepper, Manchego cheese, and prosciutto (jamón ibérico was too expensive). The innovation doesn't stop with the burgers. Red Cow made it cool to pair your burger with a great cocktail or a top-notch glass of wine, too.
Locations in Edina, Minneapolis, and St. Paul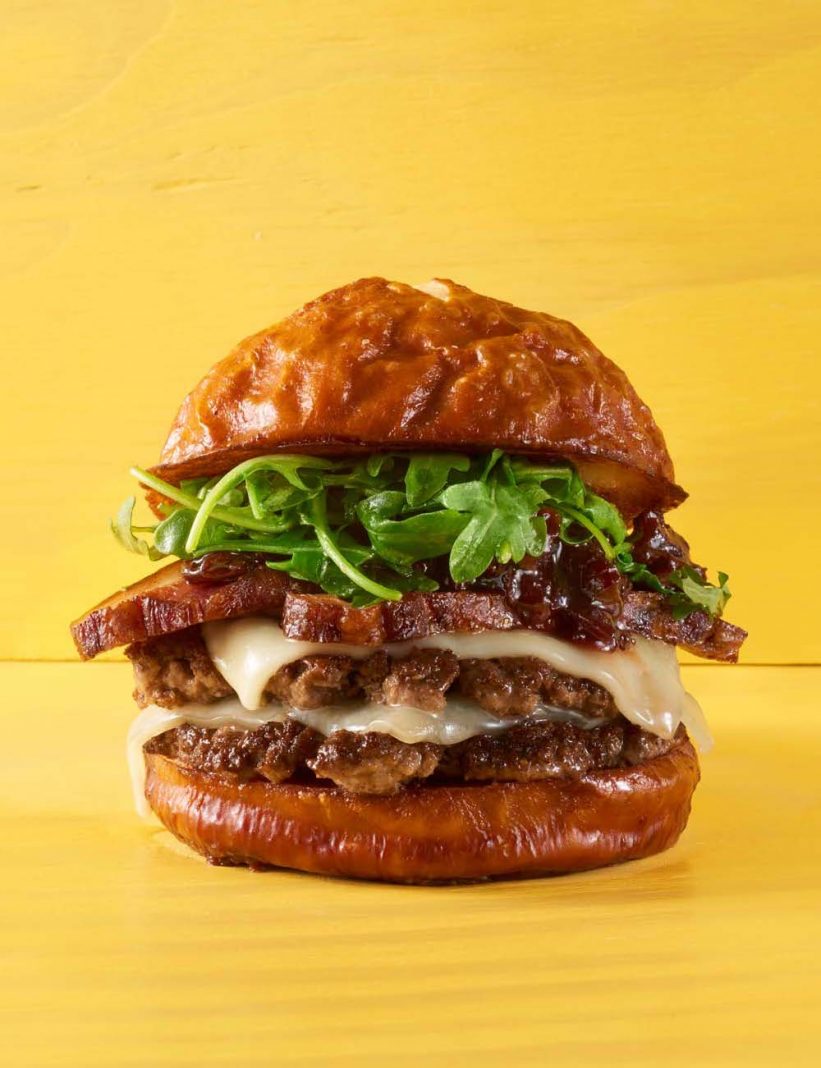 Bonus: The Manhattan 2.0, with double patties, bacon confit, Gruyère, arugula, dried cherry-red wine chutney, and pretzel bun.
"At a tapas space in the Boqueria Market in Barcelona, we had pinchos with piquillo pepper, Manchego, ibérico jamón, and spicy sauce. We immediately said this would make a great burger topping. The layers of flavor that dance across your palate excite you to keep going back for more bites. It is the total package, from initial bite through completing the whole burger." –Luke Shimp, owner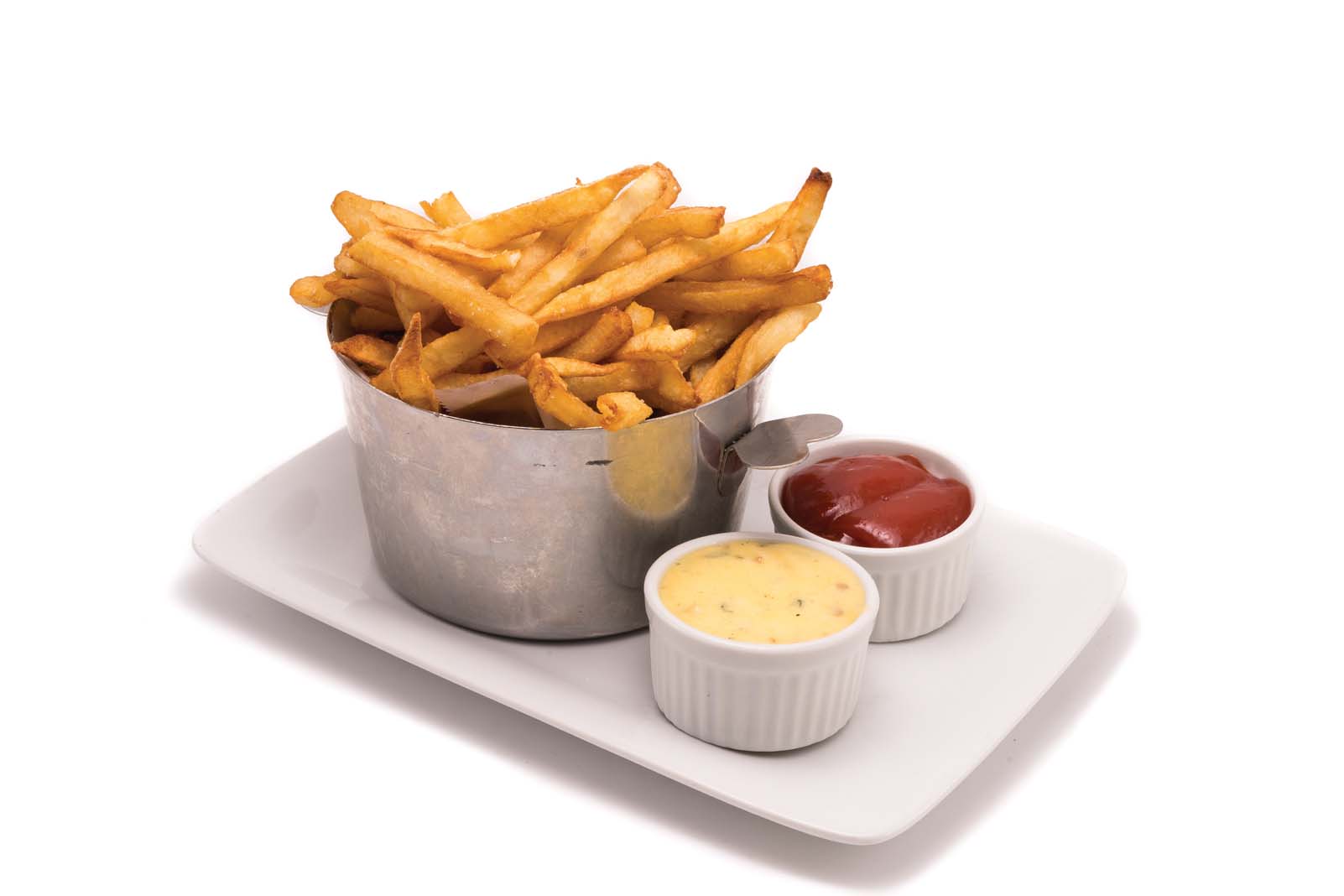 Top 5 French Fries
Meritage


St. Paul

Barbette
Minneapolis
Café & Bar Lurcat
Minneapolis
Fresh French Fries (In fact, they're Jason's favorite State Fair food, as ranked here.)
Minnesota State Fair
Amsterdam Bar & Hall
St. Paul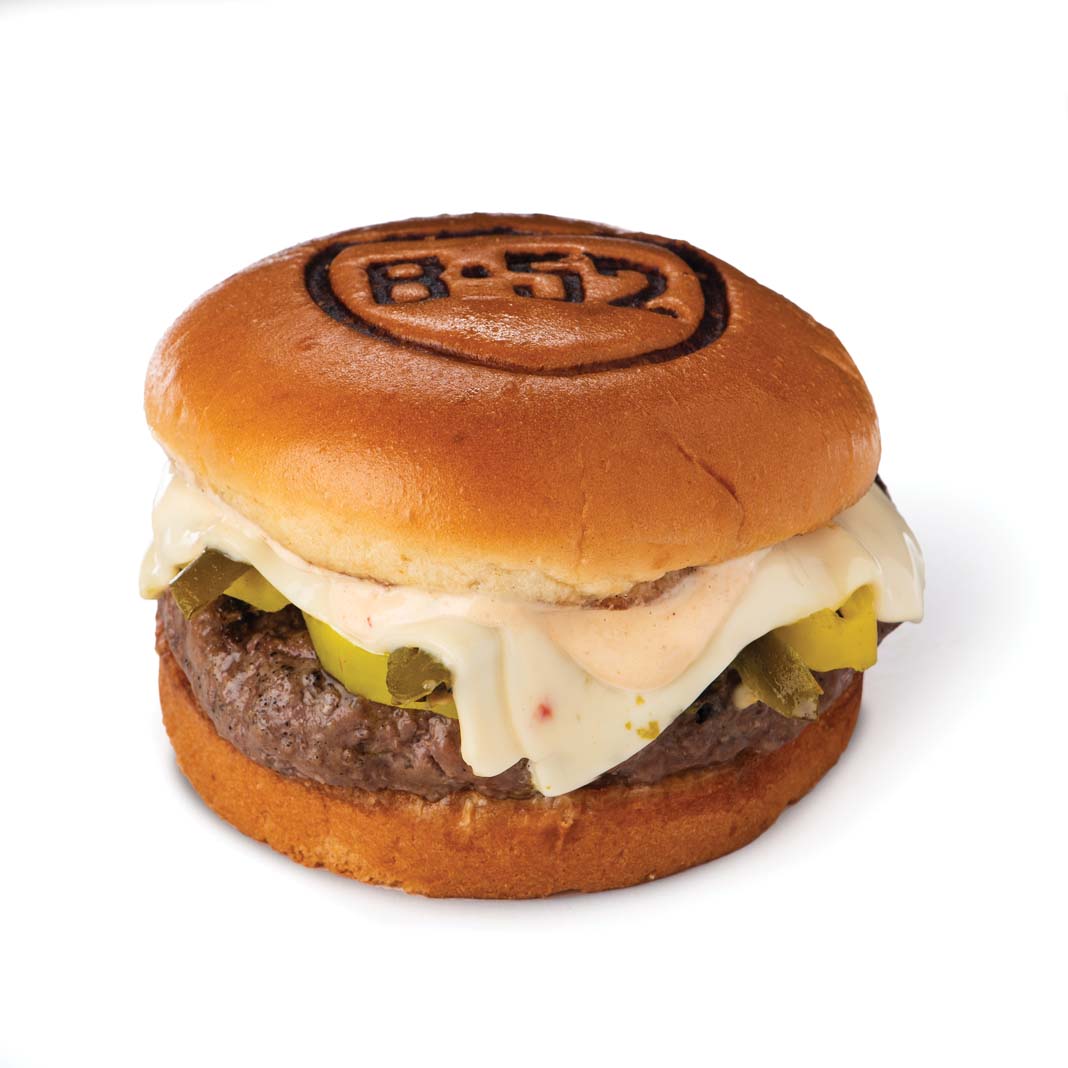 Top 5 Suburban Burgers
Lyn 65
Richfield
B-52
Inver Grove Heights
Gold Nugget Tavern & Grille


Minnetonka

Barker 's Bar & Grill
Hudson
The Local, West End
St. Louis Park
See what Jason's eating now by following him on Instagram, @derushaj, and by reading his most recent restaurant reviews here.
Facebook Comments