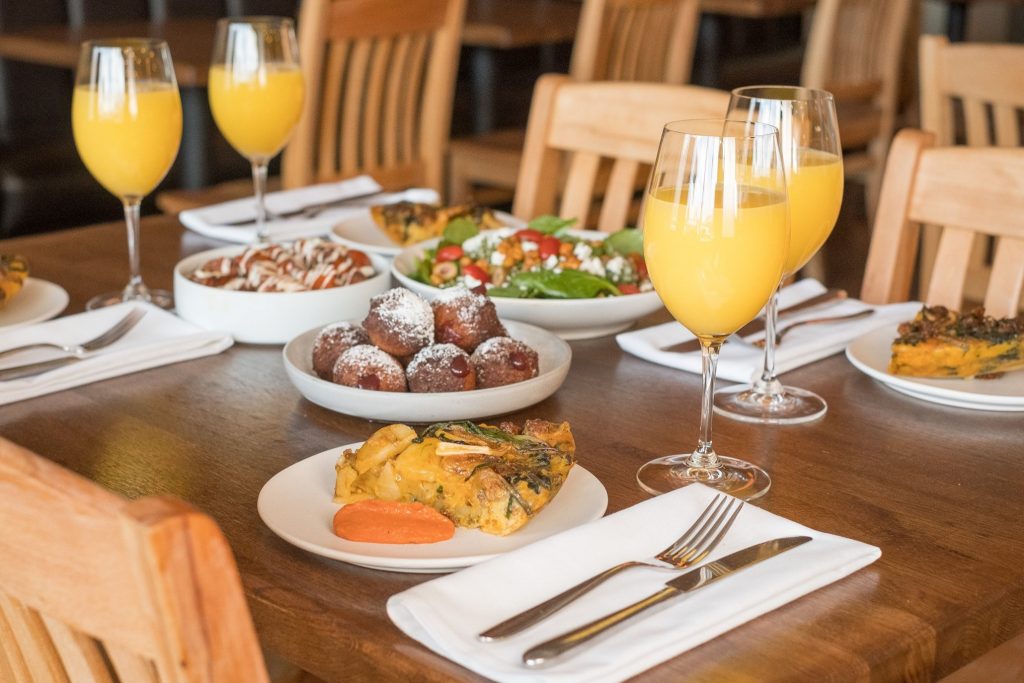 Mother's Day is typically among the busiest days of the year for Minnesota restaurants. Mom loves to be taken out for brunch! This year, because of COVID-19, that's obviously not an option. But there's no reason you can't bring brunch to Mom, in a social distancing in mind, thanks to the multitude of local restaurants offering special packages.
See Also: 30 Mother's Day Gift Ideas From Minnesota Makers
Should you be on the list? E-mail me!
Birchwood Cafe
Curbside pickup Saturday and Sunday from 8am-2pm: Menu includes Asparagus Millet Parmesean Savory Waffle, Salmon or Ham Benedict, Avocado Toast, Birchwood Cinnamon rolls. Add sustainably frown tulips from Ladyfern Flowers for $15. Riverbend Farm will also be running a plant sale with vegetables, flowers and herbs. Order brunch online here, the plant sale will be online later in the week, choose "Plant Sale" in the "Choose a menu" dropdown on the online ordering site.
The Buttered Tin
Limited quantity of Mother's Day Brunches for 4-6 available, featuring an egg hotdish with roasted corn, red pepper, white cheddar, and ranchero sauce. Plus a house salad, a berry bowl, and fresh baked corn bread for $80. Add guac, chorizo, bacon, ham, pies, etc. Order online by 1pm Wednesday for pickup Sunday morning.
Colossal Cafe
Pick up available at Grand Avenue and Como Avenue locations in St. Paul, take-and-bake menu items are a la carte and serves 2-3 people. A $14 roasted tomato and feta egg bake looks great, or the French toast with white chocolate creme anglaise. Chicken, ham, and don't forget the cinnamon rolls or the orange lavendar quick bread. Order online by Noon Thursday, May 7 for pickup Saturday, May 9, between 8 a.m.-1 p.m.
Estelle
Estelle has been closed but announced on Instagram a pop-up for Mother's Day. Pick up a family heat and eat meal for four with lemon ricotta zeppole with raspberry, spinach chickpea salad, tortilla espanola with chorizo and ramps, and patatas bravas with lemon aioli for $100. You can add on a make-at-home mimosa kit for $25 with cava and fresh squeezed orange juice. Pre-order by Thursday, emailing info@estellestp.com.
Hope Breakfast Bar
Pre-order a breakfast-in-bed meal kit for pickup Friday, Saturday or Sunday. Included: Everything-Spiced Breakfast Eggs, Pork Belly, Seasoned Hash Browns, German Chocolate Pancakes, 12 oz Bag of Whole Bean Folly Coffee and a Growler of Gray Duck Chai for $75. Order online.
Italian Eatery
It's a Mama's Day pouch for four-to-five people that you make at home. Pick from cinnamon rolls or tiramisu; select spinach spaghetti or ham spaghetti fritatta (GF available). Then you get asparagus or fruit/yogurt salad, celery root scalloped potatoes, Italian sausage patties, or bacon plus a rustic loaf of bread. Pick up Saturday, order online.
Jax Cafe
Order by Sunday May 3! Jax is doing a 2 lb. beef tenderloin dinner for 4-6 with leftovers for $200. Comes with salmon too, baked Parmesan lefse, Jax salad, buns, au gratin potatoes and green beans plus Double "O" cookies for dessert. http://jaxcafe.com/shop/store_motday.php
The Kenwood
Food, flowers, and bubbly. The curbside menu includes a gem salad with strawberries, 10-ounce grilled ribeye, potatoes, veggies and Chef Don's mom's apple crisp for $55. That's designed to be a per person menu/price. Call 612-377-3695 to order, pickup in Sunday. Menu details here.
Kieran's Kitchen
Take and heat brunch for 4 in the total locavore fashion. Mixed Greens Salad, Egg Frittata with Cheese Curds and Salami, Ham and Brie Buckwheat Crepe, Overnight French Toast with Local Maple Syrup, Bleu Cheese Roasted Radishes and Red Table Maple Breakfast Sausage. $95 feeds four, order online for pickup Saturday May 9.
The Lexington
How about the classic Mother's Day via the Lex in St. Paul?! Take-and-bake for four includes ramp and wild mushroom egg bake, smoked ham, grilled asparagus salad, herb-roasted potato, banana chocolate chip coffee cake, fresh fruit, and orange juice for $100. Order online and pickup Saturday or Sunday.
The Lynhall
Breakfast for Mom or dinner for Mom, the Lynhall has options. For brunch: an $80 bundle for four which you can customize with your frittata choice (salmon and leek, pea and zucchini) along with asparagus on the side, greens, red potatoes. You can add an $18 pastry board by Chef Katie, $10 mimosa Kit, $15 flowers from Apricot Floral and present it all in a $29 limited-edition custom wooden tray. Just heat and serve. Pre-orders online only. Pickup Mother's Day, May 10, from 8 a.m.-12 p.m. For dinner – serving one, two or four ($25/$48/$92) you choose your bundle. From rotisserie chicken and broccolini, salmon and rice, short rib and potatoes, cauliflower curry and black rice. Add on desserts including a gluten free chocolate raspberry torte or lemon caramel cake available whole or by the slice. Pickup or delivery on Mother's Day, May 10, from 1-5 p.m.
Milkjam Creamery
I'm so tempted by this beautiful ice cream pie: strawberry and rhubarb pie with crème fraîche cheesecake ice cream in a graham cracker crust. $27, order online to pickup Saturday or Sunday 11 a.m.-4 p.m.
Murray's Steak House
Murray's for Mother's Day! Surf & Turf: two 8 ounce filets and six Shrimp Scampi served with Caesar salad, au gratin potatoes, poblano creamed corn and buttermilk chocolate cake. Order by Thursday, May 7 for pick up Sunday 12-6. Add tulips or peonies by Indulge & Bloom for one stop shopping. Celebrating moms all week with dessert and grill pack wine pairings $25-$155. Bring mom a whole Murray's signature raspberry pie (with 72 hour notice) to secure favorite child status. Regular to-go items also available through online pickup.
Nicollet Island Inn
It's tragic that you can't bring mom to the Inn right now – it's the ultimate Mother's Day brunch spot. But the Abdo Family is doing it right – you can do brunch or dinner. Brunch brings you Baked Ham, Quiche, Fruit & Berries + asparagus, carrots, potato puree and chocolate mousse.  Dinner is a NY Strip loin, Salmon, Brussels sprouts, carrots, potatos, green salad and velvet cake.  There are a variety of a la carte choices too if you want shrimp cocktail or a cheese plate. Packages are available for 2 ($85), 4 ($160), or 6 ($240). Check out the full menu and order online by Thursday at 7pm.
The Oceanaire
Four-course Mother's Day dinner you take and finish at home. Jumbo shrimp cocktail, mixed greens salad, choice of 6 ounce filet mignon or grilled salmon, along with a jumbo lump crab cake with sides of asparagus, green beans, mashed potatoes, fresh strawberry cheesecake for dessert. $49 per person, and Pre-order by 5pm Friday, May 8. 612-333-2277
P.S. Steak
Mother's Day take-and-bake quiche kit serves four for $75: you'll get pie crust, quiche base, with your choice of filling: ham and gruyere or goat cheese and asparagus. Each kit comes with a baby greens salad with radish, cherry tomatoes, cucumbers, and dijon vinaigrette, fresh fruit with orange-honey yogurt and chocolate hazelnut brownie with brandy whipped cream. You can add on an extra quiche kit for $30. Pick up Friday, Saturday, or Sunday and order online through Tock.
Red Cow and Red Rabbit
This is a feast for 4-6 including chicken piccata, tenderloin with bearnaise sauce, shrimp cocktail, burrata, wood-grilled veggies and baby potatoes, mixed greens salad, sticky toffee cake. Pickup Saturday or Sunday at Red Cow Uptown or Red Rabbit St. Paul, order online by Thursday.
Saint Dinette
Can't beat the quality from Saint Dinette in St. Paul's Lowertown: Brunch for four with quiche Lorraine, hash brown casserole, baked french toast—all packaged cold for you to reheat at home. $115. Order online, add a mimosa kit too!
Shish on Grand
Maybe the best deal of them all – you can feed 4-8 people with a Greek or veggie quiche, plus creme brulee French Toast, berries & cream for dessert, syrup and 40 ounces of coffee. Easy to rehead. Pre-order Mother's Day brunch by noon May 8 online. Pick-up from 8am-Noon Mother's Day.
Smack Shack
Perfect for the outdoor social-distanced family gathering. Get a family-size lobster mac and cheese, a mixed greens salad for four and dessert for $75. Call 612-259-7288 or order online.
Spoon and Stable
Mom's dinner is a pork crown roast, grilled asparagus, and wild rice pilaf. Serves 1-2 for $85, or 4-6 for $160. Add on options include a selection of six pastries, monkey bread, take-and-bake biscuits, shortbread, and then the savory cream of mushroom soup, field greens salad, salmon tartine and cheddar broccoli quiche. Pickup Saturday or Sunday, order online.
Surdyk's at Home
Get Mother's Day Brunch à la carte and a really great Mother's Day gift box through the Surdyk's at Home online order form. Three beautiful cheeses, plus a baguette from Baker's Field, jam, chocolate bars, a bath soak, plus a bottle of wine. The base box is $100, then you add your drink. Brunch options include an asparagus or ham quiche, cinnamon-sugar croissant bread pudding, take and bake berry scones and more. Pre-orders online due by Wednesday, May 6, for curbside pickup at Surdyk's Liquor or no-contact delivery on Saturday, May 9.
Wise Acre Eatery
Egg bake for four with ham, Swiss cheese, asparagus and spring onion. Also includes Cheesy breakfast potatoes, four pieces of our famous french toast with maple yogurt and syrup, four mini buttermilk biscuits and a bottle of Baron De Seillac French sparkling wine with farm grown berry sauce for creating your own Bellini. $80.00. While supplies last! Email orders@wiseacreeatery.com to reserve your Mother's day brunch. Please provide your name, phone number and what time you'd like to pick up your order. Orders may be reserved for pick up between noon and 6pm on Saturday, May 9th.
WESTERN SUBURBS
Rock Elm Tavern (Maple Grove & Plymouth)
Pre-order brunch by Friday, May 8, and pickup Saturday between 11 a.m.-5 p.m. Reheat and serve for Mother's Day, these serve four. Choose dill butter salmon and pork loin for $95 or prime rib for $120. Both include fingerling potatoes, brussels sprouts, spring salad, vegetable egg bake, desserts, cinnamon rolls. Online ordering.
Travail Kitchen (Robbinsdale)
A feast for three-to-four people, Travail includes a Spanish Omelette ("mom"elette") w/ Chermoula & Parmesan, one whole roasted chicken w/ Cordon Bleu sauce, bacon-wrapped tenderloin, whole roasted cauliflower with green coconut curry & fresh herbs, garlic smashed red potatoes w/ mushroom gravy, spinach & micro green salad (w/ green goddess dressing, pistachio, & dried cherries), four dinner buns, and pineapple upside down cake for dessert. Pickup Friday or Saturday, order online at Tock.
Marna's Eatery (Robbinsdale)
Dinner for three-to-four for $100 includes Shrimp cocktail, bacon-wrapped stuffed turkey breast, cornbread stuffing, arugula mashed potatoes, rolls, brown sugar thyme carrots, and tres leches cake. Preorder by Thursday online.
France 44
Pick a Mother's Day Brunch for 4 ($100) with a 6-inch suiche, mini muffins, freshly baked cinnamon rolls, fresh squeezed orange juice, and a small cheese and meat board. Or go for the gift: you'll get a strawberry shortcake that Mom can share (or not), locally grown tulips courtesy of Foxglove, a bottle of dpHue apple cider vinegar hair rinse, a piece of triple creme brie, a Rose Street Patisserie baguette to spread it on, a bottle of Laurens Blanquette de Limoux to drink with it, locally made Thumbs cookies, and a tin of chocolate truffles. And with every purchase of this gift, France 44 will make a $25 donation to Second Harvest Heartland. Orders must be placed by Thursday.
Bellecour (Wayzata)
Mom wants prime rib for dinner along with asparagus, fingerling potatoes, gravy and rolls. Add on bakery items like a strawberry shortcake, lemon cream torte, or maybe a shrimp cocktail or Waldorf salad. $170 serves two, $330 for four. Order online, pickup Saturday.
6 Smith (Wayzata)
Featuring slow-roasted prime rib with au jus & creamy horseradish, blackened sea bass with cilantro crema, house-smoked salmon with capers, pickled red onions & house-made dill cream cheese, roasted beet & watermelon salad, key lime pie, 50 Shades of Chocolate cake & much more! Menu serves 4-6 people for $285. Order online.
Craft & Crew (The Howe, Stanley's, Pub 819 and The Block)
All four locations have a great Mother's Day breakfast in bed kit for two or four ($36 or $72). Honey-glazed ham, fresh fruit and berries, cheesy potatoes, bacon, sausage patties, scrambled eggs, biscuits and their popular "bisnuts" which are a biscuit/donut combo. Order by Thursday, pickup May 10, pick your location here.
Bacio Restaurant (Ridgedale Mall)
Dinner for 4-6 for $150 is a roasted salmon dinner or rotisserie local prime rib! It includes the delicious ciao baby salad, a spring quiche, butter-braised asparagus and carrots, roasted baby potatoes, and bread pudding for dessert. Call 952-544-7000 by Wednesday to order. Pickup Saturday or Sunday, details here.
Birch's on the Lake (Long Lake)
Heat-and-serve brunch for a family of four for $199. Features choice of two main entrees (fresh roasted turkey breast, sliced New York Strip or grilled salmon filet) and then all sorts of good stuff like smoked trout, hot lobster & artichoke dip, berry salad, egg frittata, cheesy whipped potatoes, mac & cheese, chicken tenders for the kids, cheesecake bars, lemon bars, chocolate-dipped strawberries and choice of salad. Order online by 8 p.m. Thursday and pick up Saturday or Sunday.
EASTERN SUBURBS
Mendoberri and Foodsmith Pub (West St. Paul)
Mother's Day brunch for two with Tomato & Mozzarella Caprese Salad, Lemon-Herb Roasted Chicken, Red Wine Cherry Sauce, Polenta Cake, Mixed Vegetables and Vanilla Cheesecake for dessert. Order online for pickup Saturday afternoon, $53.
Cherokee Tavern (West St. Paul)
Oven-ready Mother's Day for 4 features beef tenderloin with bordelaise sauce, truffle mashed potatoes, grilled asparagus, Caesar salad, French bread and cheesecake. $85 for pickup Saturday, May 9 between 4-6:30pm. Order by emailing sales@cherokeetavern.com or call 651-755-4798.
San Pedro Cafe (Hudson)
Curbside brunch is available on Mother's Day from 9am-3pm. full brunch and lunch menu featuring the Hammock breakfast burrito, brunch enchiladas, and Jalapeno & Cheddar Sausage hash. Find the menu online and order online as well.
Mason Jar (Eagan)
$75 Mother's Day Dinner serves four and includes: choice of prime rib with au jus or Norwegian salmon with lemon beurre blanc, cheesy au gratin potatoes with shallots, choice of side and salad, and dinner rolls. Add on a fresh-baked 6-inch cheesecake for $20. Flower bouquets, wine, sparkling wine and gift cards also available for purchase. Pre-order online by Friday, May 8, for pickup 10 a.m.-6 p.m. Mother's Day. (No other takeout available that day.)
Chart House Restaurant (Lakeville)
Brunch for 2 adults to-go, pre-cooked with heating instructions. Pick your entree: champagne chicken, prime rib or baked salmon. You also get 6 piece shrimp cocktail, pancakes, cheesy hashbrowns, caramel rolls, bacon and sausage, angel food cake, bottle of champagne. What a feast for $75! Order online to pick up Saturday night or Sunday morning.
Lake Elmo Inn
Beef Bourguignon and seafood newburg plus saffron rice, veggies, fresh fruit, baguette and mandarin orange salad. Plus cheesecake for dessert. $160 for 4 people, $80 for two. Pick-up cold Sunday morning, prep time one hour to heat it up. Call to reserve 651-777-8495.
Betty & Earl's (Roseville & Smack Shack!)
Pick up at Potluck at Rosedale Center or at Smack Shack in the North Loop when you preorder online. Order a three-pack of Mother's Day biscuits online by Friday, May 8, to get yours. Three-packs include a raspberry rhubarb biscuit, lemon blueberry biscuit, and a ham, cheddar & chives biscuit for $17.50. Pickup Sunday between 9-11 a.m.
Baldamar (Roseville)
Quite a brunch feast with lemon pepper salmon and a mushroom risotto loaded frittata as your mains. Look at the full menu with 14 different dishes online here – it costs $28.95 per person. Plus you can choose a Bloody Mary Mix kit with both Original Baldamar and Verde Bloody Mary Mixes that serve up to six for $23.95 (just add your own vodka or tequila), or a Mimosa Bar @ Home with ingredients for Classic of Strawberry-Pineapple Mimosas along with La Marca Champagne that serves up to six for $20.95. Order online or by calling 651-796-0040
Facebook Comments