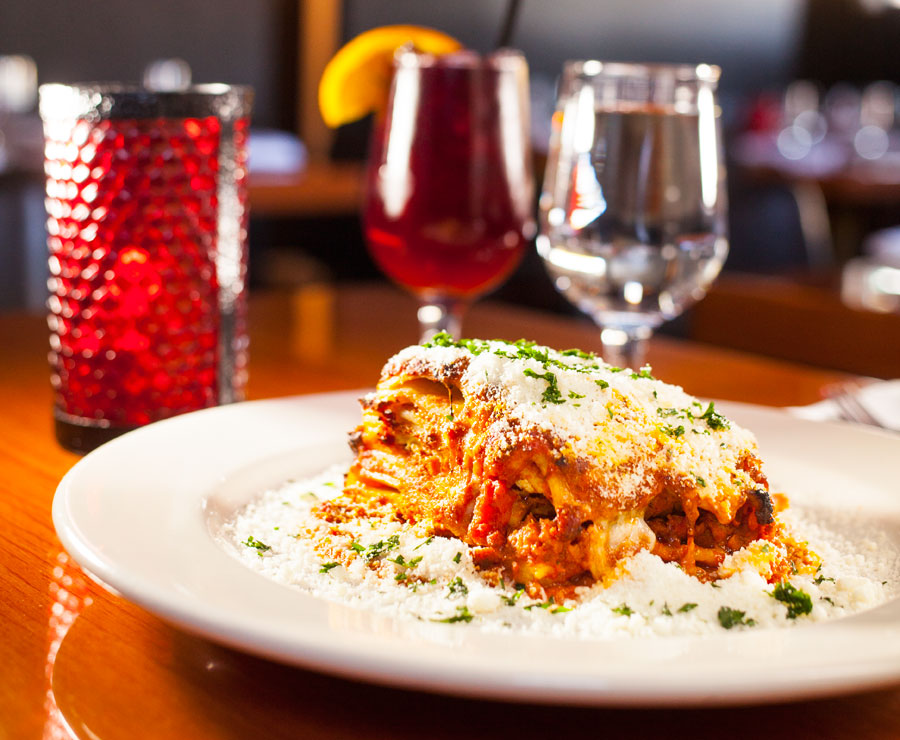 The Drive-By is Jason DeRusha's bite-sized (get it?) reviews of curbside takeout meals from restaurants around the Twin Cities, and beyond.
Italian food is ideal for takeout—pasta travels well, it's easy to reheat, pizza is a no-brainer for this. And Mucci's owner Tim Niver has been very innovative in shifting around his menus and his hours to protect his staff members and make sure we feel comfortable picking up.
The Restaurant: Mucci's Trattoria in Lyn/Lake (similar setup at Mucci's Italian in St. Paul)
The Order: We are semi-frequent guests at Mucci's, so many of our favorites are available for takeout. We adore the lasagna ($18) and the fried dough pizzas ($14-$17), especially the Camilla with fried chicken and peppadew peppers. On this visit we got the chicken Parmesan ($22), a Juicy Mucci (a meatball burger stuffed with cheese that's been replaced on the menu by $12 orders of chicken wings), and several varieties of fresh pasta ($5 per pound), plus a large frozen lasagna to save for later ($22).
The menu in St. Paul is slightly different—they're offering spiedini (skewered meats for $11-$16), including a variety pack of one flank steak, one shrimp, and one veggie spiedini served with paprika rice and ramp pesto.
The System: Online ordering makes it easy (click here for Minneapolis and here for St. Paul), as you are able to reserve a pick-up time. This helps for planning ahead. When you arrive, you call the restaurant and they bring you your order. Minneapolis has a parking lot right behind the restaurant, so you can pop your trunk and never have contact with the team, if that's how you want it.
The Verdict: Everything we ordered made the drive from Minneapolis to Maple Grove with no problem. The chicken Parm was still hot, and the Mucci's sauce had soaked into the spaghetti very nicely. I loved the Juicy Mucci, a beast of a sandwich with absolute rockstar flavor (hope they bring that back!). And the fresh pasta has been a go-to for us. Five dollars per pound is an absolute steal—we've loved the rigatoni and tagliatelle.
Hours: Thursday-Sunday, 4-8 p.m.
Location: 901 W. Lake St., Minneapolis; 786 Randolph Ave., St. Paul
Beer & Wine: Yes! Fifteen dollars for a surprise bottle of red or white; $13 for a six-pack of Indeed Shenanigans or Lagunitas Flavorwave IPA in Minneapolis; $20 for a Mucci's juice kit with a bottle of red, four cans of Shasta, and Minnesota ice
Closest Park: LynLake is obviously close to the Midtown Greenway and the Lakes, but you can also sneak away to Painter Park at 33rd and Lyndale to escape the crowds. In St. Paul, you're two blocks from Palace Park and not too far from the Mississippi River.
Facebook Comments