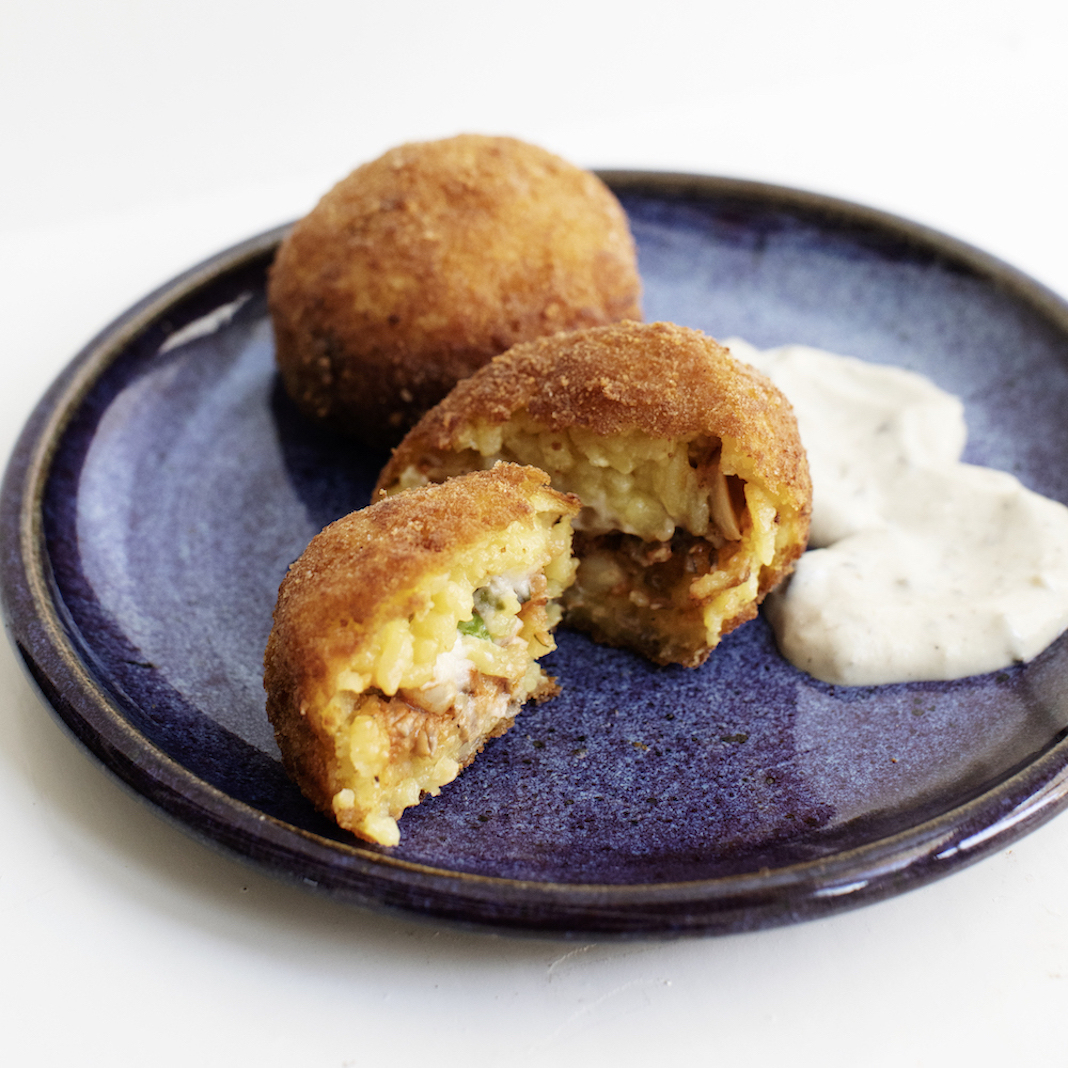 It can be hard to find good—really good—vegan food in the Twin Cities. Thankfully, 16 local eateries are taking part in a little friendly competition  this month to see who can create the best vegan dish. Vegan nonprofit Compassionate Action For Animals is bringing together vegan and non-vegan diners and chefs  to celebrate the abundance within plant-based cuisine with their annual Vegan Chef Challenge competition. I spoke with two local vegan chefs to learn what they're bringing to the table this year.
Bringing a Piece of Southern Soul to Minnesota
Aaliyah Garrett is the owner and chef at Miss Garrett's Vegan Soul, a catering company that recently partnered with Sammy's Avenue Eatery in northeast Minneapolis. There, she's able to serve her food at a brick-and-mortar location on Wednesdays and Fridays. When it comes to vegan food, Garrett wants people to know that it is more than just a dietary alternative: it can contain flavor, love and soul that goes back generations.
"I was actually going to open up a non-vegan restaurant," recalls Garrett, who originally went vegan for dietary reasons. "I switched all my recipes that I got from my grandma, my mom, and my great-grandma to be vegan-friendly. I found a way that I can incorporate multi-generational recipes into vegan food."
Challenging Assumptions
Miss Garrett's cuisine fights misconceptions around both veganism and soul food. Coming from Mississippi, Garrett has found many Minnesotans aren't familiar with true Southern soul food. Her submission for CAA's contest is the Soul Food Platter—an authentic taste of real, down-south soul.
"People say that there's no soul food places here in Minnesota," Garrett says. "People from down south are like 'where's the greens at? Okay, but where's the vinegar? And where are the tomatoes?' A lot of people in Minnesota don't know that that's how we eat our greens."
Garrett wants diners to know that vegan food isn't something to be afraid of. "Our mission is to let people know that veganism isn't like, nasty. We get a lot of that. They don't have to be scared to try it. When they hear 'vegan,' they don't have to run. It's a small, Black-owned business, but it's a family Black-owned business as well. And I'm doing this not just for me and my kids. I'm doing it for generations after that, and after my kids."
Ethical Dining
Like Miss Garrett's, Minneapolis caterer and pop-up Root To Rise kitchen began as a non-vegan enterprise. Owner Heather Klein began a catering business in 2015 using mostly organic, whole food ingredients. A vegan family member encouraged her to watch the film Vegucated (2011), which inspired her to think more critically about the meat she was using and eventually transformed her company to be 100% vegan.
Klein's vision for Root to Rise is to bring "all diners to the table."
"I try and recreate traditional foods like mac n' Cheese, 'steak' and potatoes, walking tacos, etc.," Klein says. "It's a fun and exciting way to get non-vegans excited about trying [vegan food]. Once I get them to try, they usually love it and can't believe it's vegan."
Though the pandemic has caused hard times, Klein says she's had more time to focus on projects.
"I had slowly been building connections in the community to make my ambitions a reality," says Klein. "We started the first plant-based farmers market in Minnesota in North Minneapolis and are highlighting some wonderful vendors while bringing health and wealth into the underserved community of North Minneapolis. I am building out a shipping container store front and have partnered with non-profits to bring plant based free meals to people's doorsteps."
For the vegan chef challenge, Root to Rise Kitchen is serving up Fettuccini Alfredo with king oyster scallops, Lion's Mane mushrooms and broccolini. They'll be doing curbside pickup on Friday, Feb. 19th from 5p.m.-7p.m. It will also be available at the Plant Based Pop Up Market on Feb. 28th from 11a.m.-3p.m.
A Safe Space for Everyone
Katherine Pardue, the co-owner and chef of Hark! Cafe, a 100% plant-based and gluten-free restaurant in downtown Minneapolis, knows the difficulties of trying to find quality food that meets her dietary needs. Pardue, who has celiac disease, wants to create a safe haven for gluten-free diners.
"A big part of [our mission] is that people who have celiac can have a place to eat safely," Pardue says. "There are very few places where I can eat just because you really cannot have any cross-contamination from other things in the kitchen."
Hark! Cafe challenges the idea that all vegan food needs to look like leafy greens. With a menu full of cheesy comfort food largely inspired by Pardue's Sicilian heritage, Hark!'s submission for the Vegan Chef Challenge is Hot Dish Arancini—deep fried risotto stuffed with meaty mushrooms, peas, sweet corn, and cheese all served with cream of mushroom dipping sauce. "Because it's saffron risotto, it tastes like an improved-upon tater tot texture. It's Sicilian food, but also hot dish—the ultimate Minnesota comfort food."
Opening the Door to Change
Pardue believes the best way to open people up to the world of plant-based eating is simple: by eating really good food. "I have a ton of friends who aren't vegan, who we invited over for dinner before COVID and they would say 'Oh, this food is actually really good.' I think that a lot of people are interested in veganism and plant-based diets because of the impact the animal agriculture industry has on climate change and a huge cause of horrible labor conditions. What we want to do is provide a little bit of a gateway."
For vegans on the hunt for a new regular takeout spot or non-vegan looking to see what the hype is all about, there's no doubt the Twin Cities is full of decadent dining options made from plant-based goodness. You can try Miss Garrett's Vegan Soul on Wednesdays and Fridays at Sammy's Avenue Eatery or find out more on their Facebook and Instagram.
Root to Rise will be serving their special via curbside pickup on Friday, Feb. 19th from 5p.m.-7p.m. It will also be available at the Plant Based Pop Up Market (1729 N 2nd St., Minneapolis, MN, 55411) on Feb. 28th from 11a.m.-3p.m. More information can be found on their website. Hark! Cafe is open Tuesday-Friday, 7 a.m.-4 p.m., and Saturday-Sunday, 8 a.m.-3 p.m. Or, order online at their website. 
More information on the challenge, the many more restaurants competing, and how you can vote for your favorite can be found here.
Facebook Comments