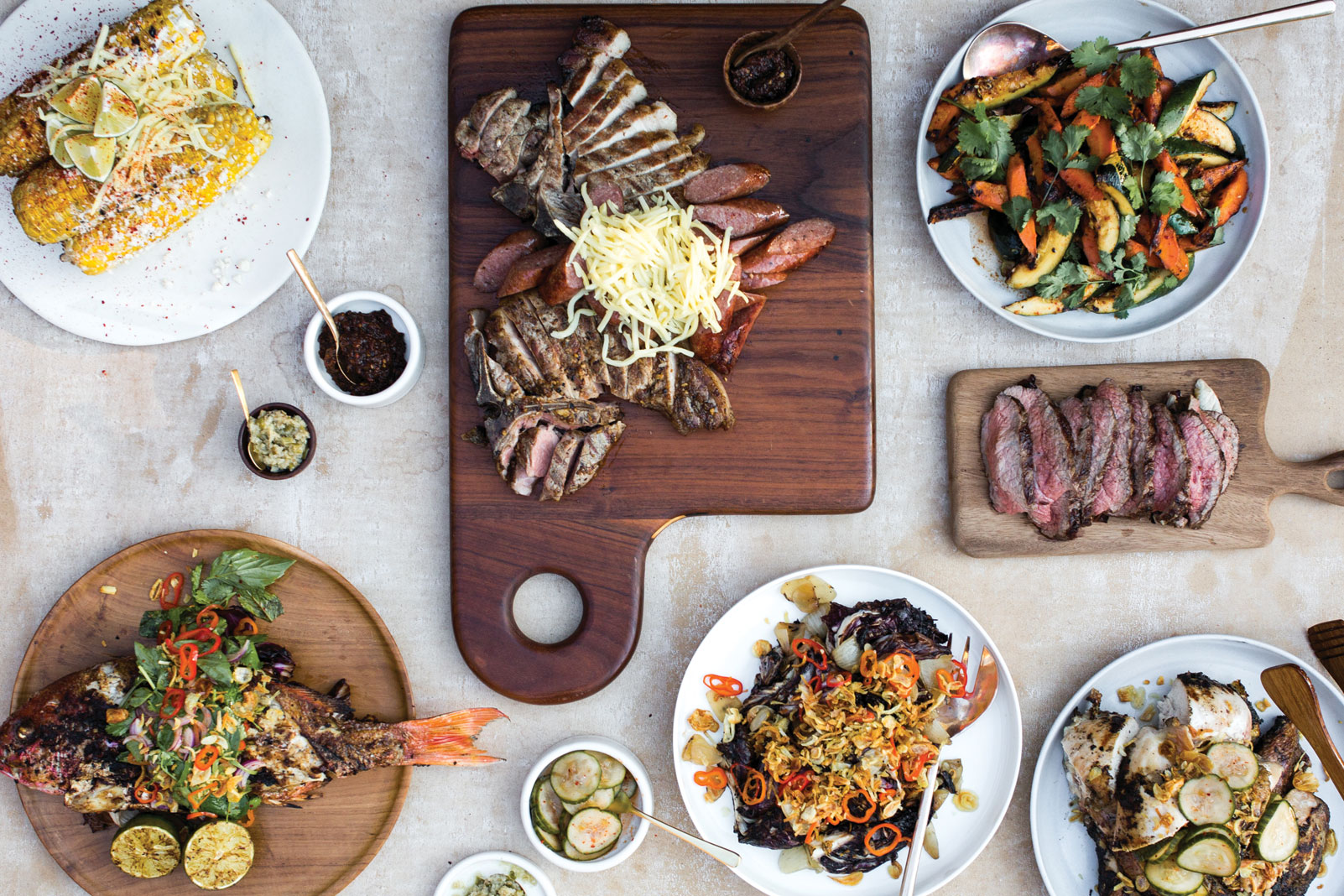 What does it mean to dine globally in 2019?
Five years ago, magazines were still using the word "ethnic" to talk about food. That word now sounds as outmoded as ham in aspic, and hopefully will someday be considered with the same head-shaking derision.
Whatever you call it, "global," "international," or "world," food is exactly that: food. Look under the hood even a little and you'll find that African American cooking is a big slice of the origin story of American cuisine. And before that, there was Native cooking—both of which happen to be some of the most exciting food stories happening locally at the moment.
Minnesota's broad Southeast Asian, East African, and Latinx populations are putting down deep culinary roots catering to their own communities.
The good news is, anyone can engage, and there has never been a better time to do so in the Twin Cities than right now. A young generation of culinarians, who have grown up on restaurants, on the internet, and on the exciting idea that all food is for everyone, is reaching beyond perceived boundaries of culinary—and human—experience.
Here are 20-plus ways to join them along the way.
Second-Generation Southeast Asian
"Why are we waiting around for white America to come and approve of us?"
That's Yia Vang, who in a couple of short years has become an ambassador for second-generation Southeast Asian cooking. That is, kids who were either born or raised in the United States, on their own families' cooking. Unlike their parents, people of Vang's generation have the relative extravagance of embracing their true culinary roots, rather than Americanized Thai or Cantonese food to appease the dominant culture. Vang and his peers are ardently paying homage to the flavors and traditions of their own people.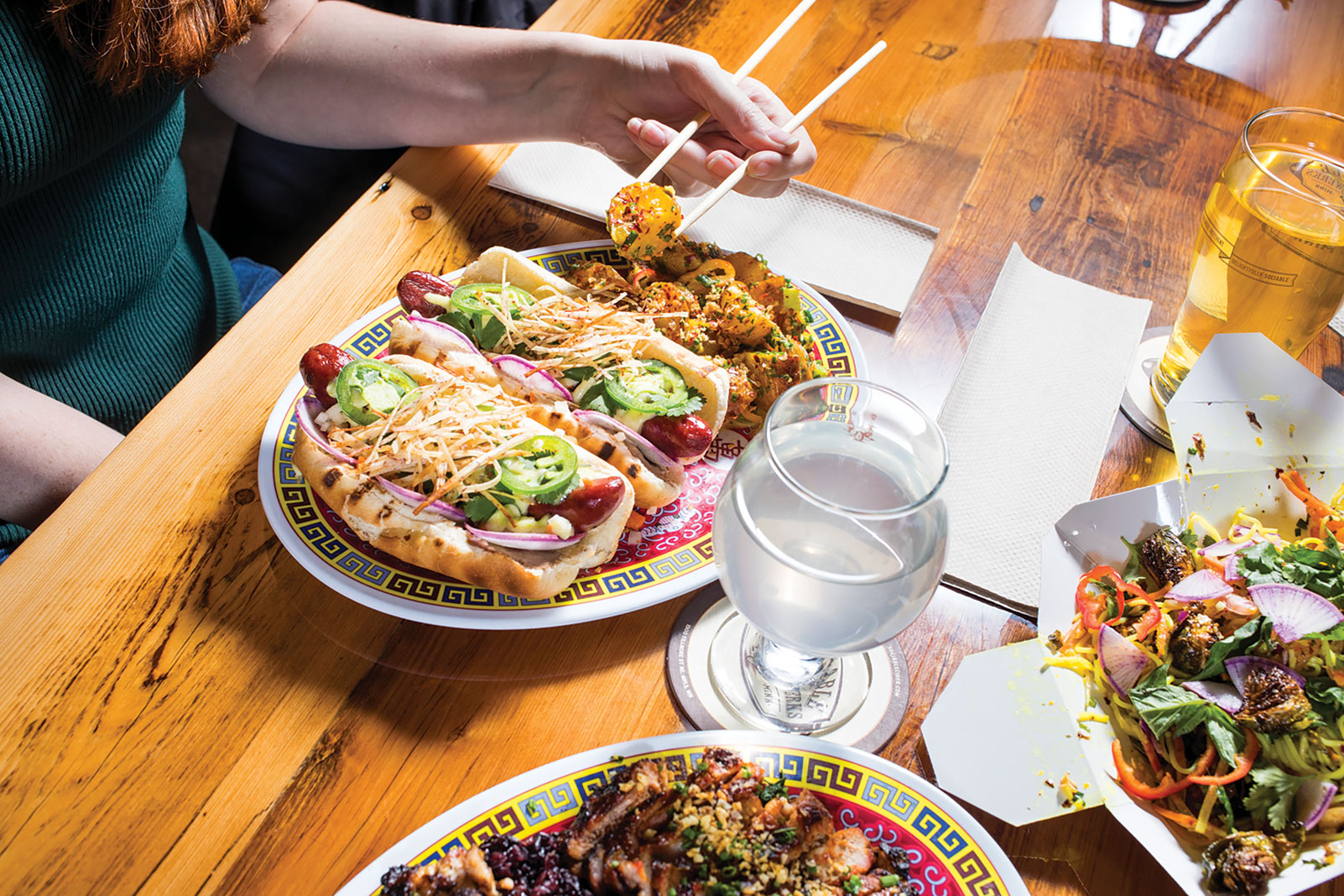 Union Kitchen at Sociable Cider Werks
It's hard to believe that Yia Vang has only been on the food scene for a couple of years. In that time, without a storefront to call his own, he's created an enviable bandwidth for himself and an overdue narrative for Hmong cooking.
Though Minnesota is home to the largest urban Hmong population in the world, lots of non-Southeast Asian locals couldn't begin to say what Hmong cooking is like. And that's in part thanks to the cuisine itself, heavily infused with traditions culled from the countries that the persecuted and forcibly-nomadic people found when they traveled in search of a home—in Thailand, Vietnam, Laos, and China, among others.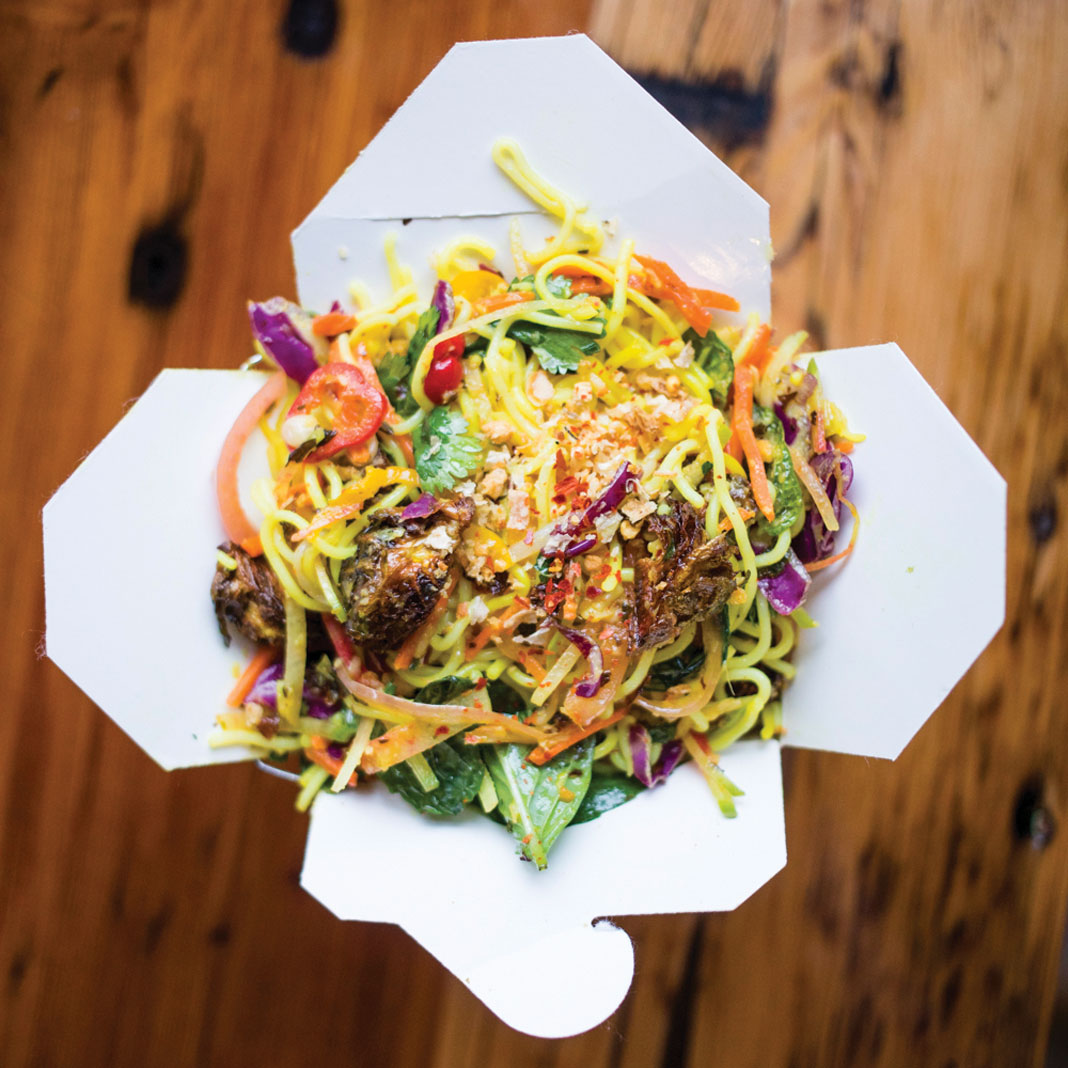 But speak even briefly to Vang, and he will quickly disabuse you of the notion that Hmong cooking is not distinctive and unique to itself. And his new, semi-permanent residence, in a trailer kitchen at Sociable Cider Werks, provides him with a place to do that.
Expect piles of noodles garnished with plenty of herbs and chile vinaigrette; barbecue pork with pickled onions and hot sauce; and Nqail ci, grilled meats on or off skewers and pretty much god's answer to what to eat with a cider. And, because so many Hmong now call Minnesota home, expect influence familiar to Minnesota, in the true Hmong tradition of adaptation.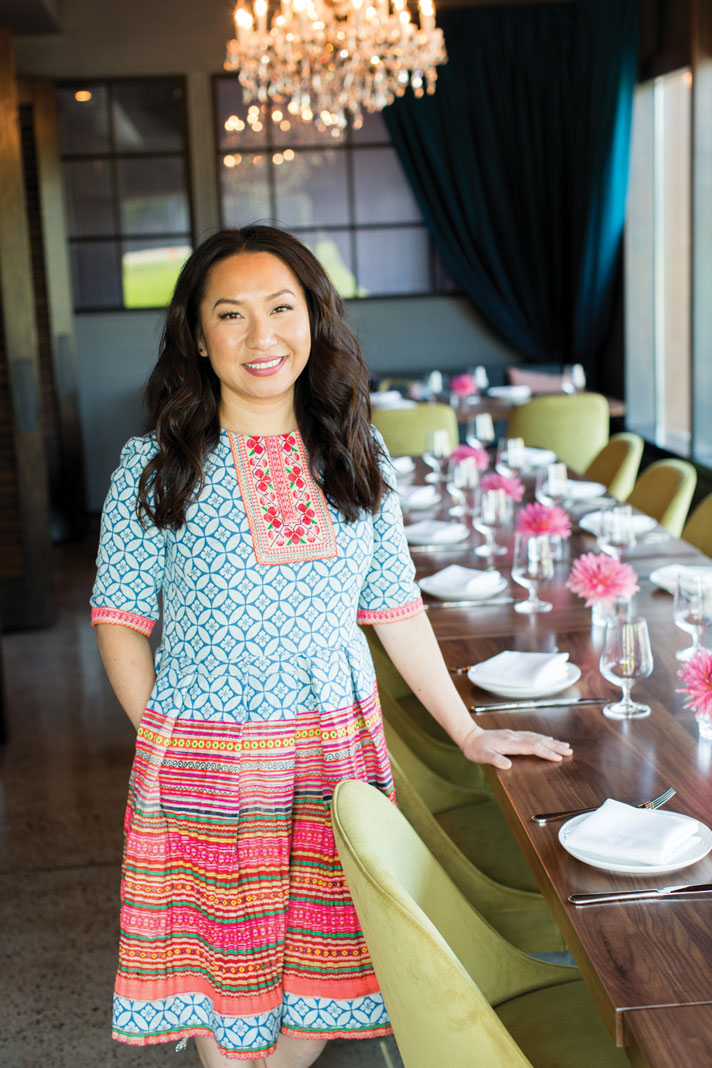 Lat 14
After more than a decade of serving Thai cooking to suburbanites, Ann Ahmed, who was born in Laos, has decided she's ready to cook what she really wants to be cooking. Brooklyn Park's Lemongrass, Ahmed's first restaurant, is still wildly popular. But, she says, requests for orange chicken and other dishes more associated with Cantonese cooking—not Thai—have died down, giving her further vigor to push forward.
You can find dishes from the 14th parallel of the globe (hence the name) on the Lat 14 menu, but that's not the most progressive thing about it. Instead, it's that the restaurant refuses to pander to the idea that Asian food is supposed to fall into any "cheap eats" category.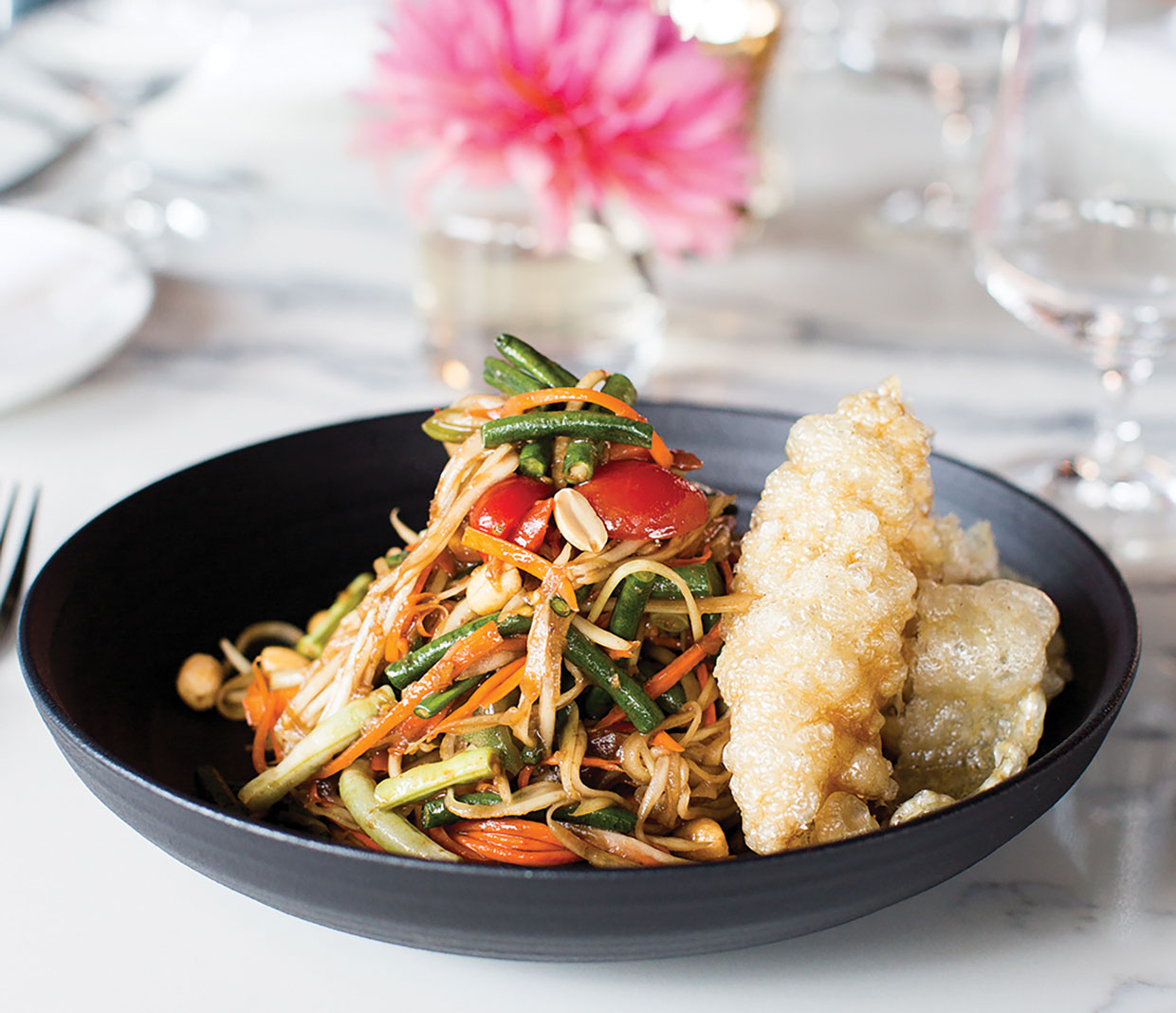 Enter this stunner of a room (the fact that it's housed in a former Perkins might be the brain teaser of the season) and find a full, brigade-style open kitchen, a craft cocktail program that could be the best in town, crisp-uniformed servers, and magnificent entrées, like Thai Basil Duck or the Whole Fried Snapper with a curry as fragrant as perfume—designed to rival the most luxurious hotel kitchens in Asia.
Apoy

Filipino cooking (some colloquially call it "Pinoy") has had a notoriously difficult time gathering momentum in the restaurant setting locally. Chefs say many Filipino households have avid and serious cooks at the stoves, and if restaurant dishes can't stack up to grandma's or uncle's, why bother?
But since its barnstormer of an opening, Apoy has been packing in diners across all communities for a crack at their piquant, vinegary adobo; their unapologetically porky everything (see the Dinuguan, with sliced pork, pork intestine, and pork blood); and, on Thursdays, their reservation-only Kamayan, where piles of seafood, pork parts, veggies, and lumpia (fried spring rolls) are laid out on banana leaves, and everyone enthusiastically digs in with their hands, all convivial-like.
Soul Lao

Eric Phothisanh is estranged from his parents, and his grandparents who raised him are both deceased, so he's on a mission to keep his family connection alive through food. Because his grandmother, the soul of his family kitchen, had dementia before she passed away, his cooking is "straight up from memory." And, because he says the Twin Cities are "definitely ready for different flavors," Soul Lao brings you Naem Khao—crisp coconut rice balls, deep fried and partially smashed, then tossed with fresh herbs and fermented pork sausage—and Khaopoon Nam Gai, a red-curry noodle soup with optional blood cubes and chicken feet, among many other traditional Laotian dishes. Watch for their food truck—which includes an onboard rotisserie—and pop up schedule.
The Argentine Wave
Five years ago, no Argentine restaurants locally. Today, enough to make trend spotters spot a trend. Why? Homesickness.
In Argentina, Sunday dinners are an all-day affair, and empanadas are a way of life. For many Argentinians away from home, something eventually had to give. More specifically, for the chefs and owners of Linden Hills seafood-and-grilled-meats staple Martina, and inventive empanada purveyors Boludo, Del Sur Empanadas, and Quebracho, life without the tastes of home was bleak.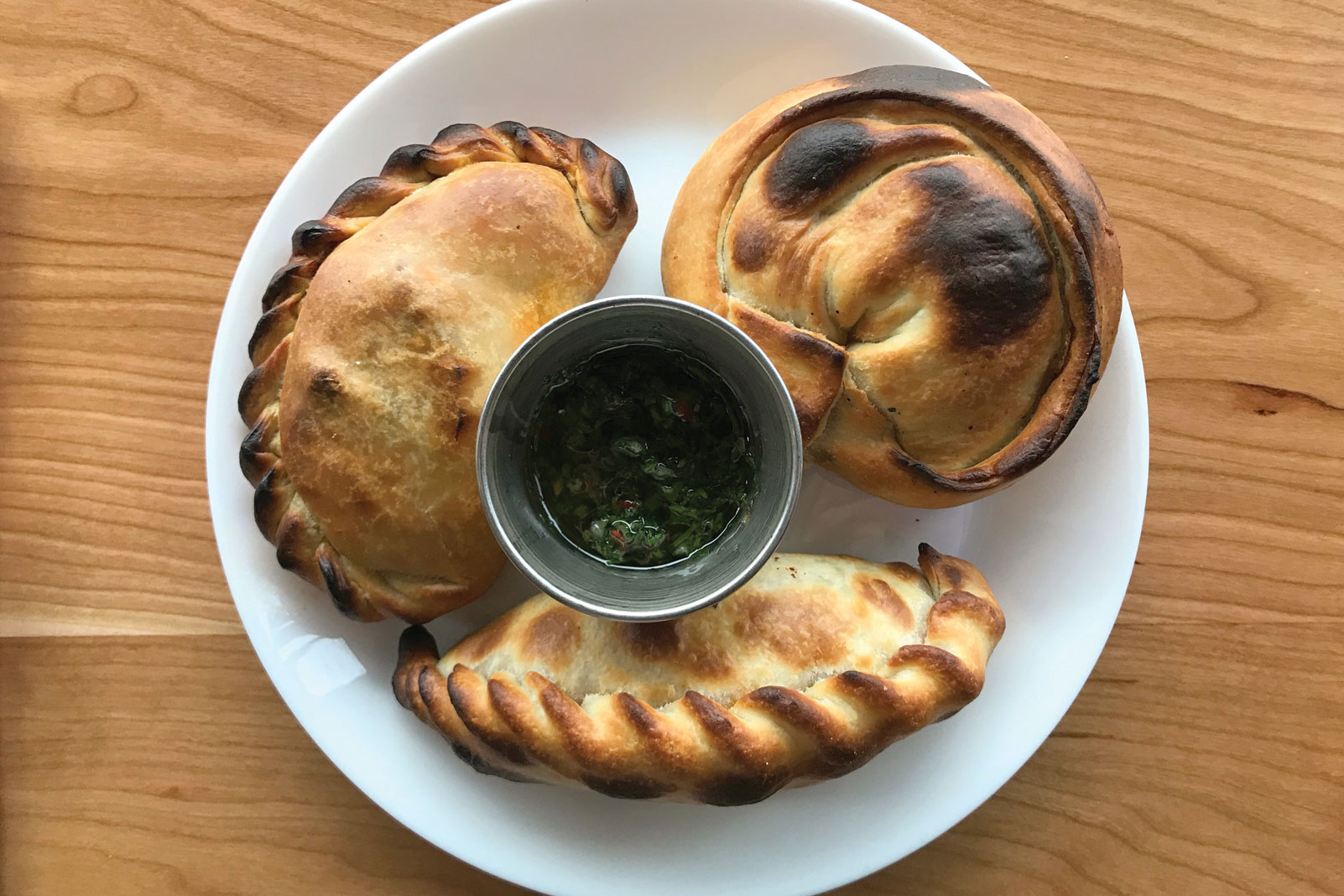 The empanada—a filled pastry that's usually savory, but sometimes sweet—occupies a similar space in Argentine culture as, say, pizza in the U.S. Which is to say they're ubiquitous and, in fact, delivered by a guy on a motorcycle with a hot box on the back. Speaking of pizza—absolutely, positively do not miss the sleeper hit at Boludo: Argentine pizza. At least part of the secret seems to be in the coarse salt finish, which you'll have to taste to believe.
African Flavors
As one of the largest Somali diasporas in the country, Minneapolis-St. Paul has an opportunity to enjoy East African cooking as our birthright—much the same way Vietnamese cuisine has become just that to many Minnesotans of an older generation. 
Ziadi's
About two years ago, Hassan Ziadi's Moroccan Flavors appeared seemingly out of nowhere at the Midtown Global Market, in south Minneapolis, introducing a wee and tidy counter-service space way in the back of the complex. It became immediately clear that his talents were way too colossal to remain wee and tidy. 
Ziadi's, in Midtown's former Rabbit Hole space, is now the captivating, sophisticated sister to Moroccan Flavors. It operates alongside Ziadi's wife and partner Raja's jewel-box-size bakery, serving Moroccan sweets—a best-kept secret in its own right. At Ziadi's, the chef puts his culinary training—at some of the best hotels and restaurants in the world (Ritz Carlton Marrakesh, anyone?)—on display, as with his charming mezze buffet or the signature tagines, which beg for new words to evoke "moist" and "tender."
Frankincense
Jamal Hashi is a prodigal son of local East African cooking. He opened one Safari restaurant in south Minneapolis and then a second in Harlem, New York City, still in operation but under new ownership. The Safaris offer an "all are welcome" vibe that feels open to even the most reticent diners. His upcoming Frankincense, a rotisserie, will spice meats with both East and South African spice blends. They include the heady, slow burn of berbere, and peri peri, with more tang and outright fire. The East Lake Street spot is expected to open yet in 2019.
Excellent Japanese
Once upon a time, there were exactly zero dedicated ramen shops locally. Much of our sushi real estate was devoted to all-you-can-eats and the sticky-ickiness of caterpillar rolls.
Today, we have a haute Kaiseki restaurant that devotees regularly compare to their Japanese travel discoveries; a ramen shop with handmade noodles; and an indie, Japanese-owned, quick-serve sushi marvel that's about to go national.
Kaiseki Furakawa
"What's kaiseki?" everyone wanted to know. A year after their buzzy opening, Kaiseki Furakawa (and their sister sushi restaurant, Kado No Mise) in Minneapolis' North Loop has seemingly convinced many, if not most, that kaiseki—which is, in short, a many-course Japanese meal of seasonality, order, balance, and if-you-have-to-ask-you-can't-afford-it price points—can exist in Minneapolis. At over $500 for two people (after wine, sake, and gratuity) that's not an easy sell. Get that bonus at work and see for yourself.
kaisekifurukawa.com
PinkU
John Sugimura has an extraordinary knack for knowing what Minnesotans want out of sushi. And by that, we are not talking about mayonnaise-y monster rolls (though those do have their place and time). Instead, he knows we love our tuna, we love our salmon and shrimp, and we love texture and relative familiarity.
That's why his sliver of a counter-service space, PinkU, strikes a smart balance between low and high brow, accessibility and elegance. The trim menu, of fewer than a dozen choices, means easy ordering. Spicy tuna lovers go for the spicy tuna crispy rice, and salmon lovers should check out the quick-sear technique, a signature. Get in and out for lunch in less than 30 minutes and under $15. This can't-miss formula has Sugimura on the verge of an airport empire, in different U.S. cities—the first at MSP International, opening this summer.
Ramen Kazama
Minneapolis went bananas when we finally got Ramen Kazama in south Minneapolis, our first ramen-only spot (although, in reality, they serve some small plates, too—and run an adjacent sister restaurant, Fish Bowl, serving Japanese-influenced Hawaiian poke). Its adherents are still frenzied, and the place is perennially packed, but don't let that deter you. Order your fave from just five bowls at the counter, and a table will magically open, just in time for slurping. (Check out the new Como Avenue location, too.)
Tori Ramen
Tori Ramen, in St. Paul, and sister Tori 44, in Minneapolis, are trailblazers on one detail alone: They're the first local ramen shops to tackle the gargantuan effort of housemade noodles. But, at both spots, owner Jason Dorweiler's inventive bowls are also more beautiful and original (no pork, ever) than they need to be, by a long shot. Noodles available for retail purchase at the Tori Store, for the headspinningly low price of $3 per 6-ounce portion.
Zen Box Izakaya
It wouldn't be an overstatement to say that John Ng and his wife and business partner, Lina Goh, of Zen Box Izakaya in downtown Minneapolis, are obsessed with ramen. They have devoted their lives to iconic bowls and share them feverishly with their following. They've even created an annual Ramen Attack! event, where chefs converge from around the country (and sometimes the world). Ng is an architect by training and builds his bowls with an artisan's attention to detail, beautifully sketching out his next masterpieces on paper. Keep an eye on their social media for specialty bowls when the two return from regular trips to Japan, inspired anew.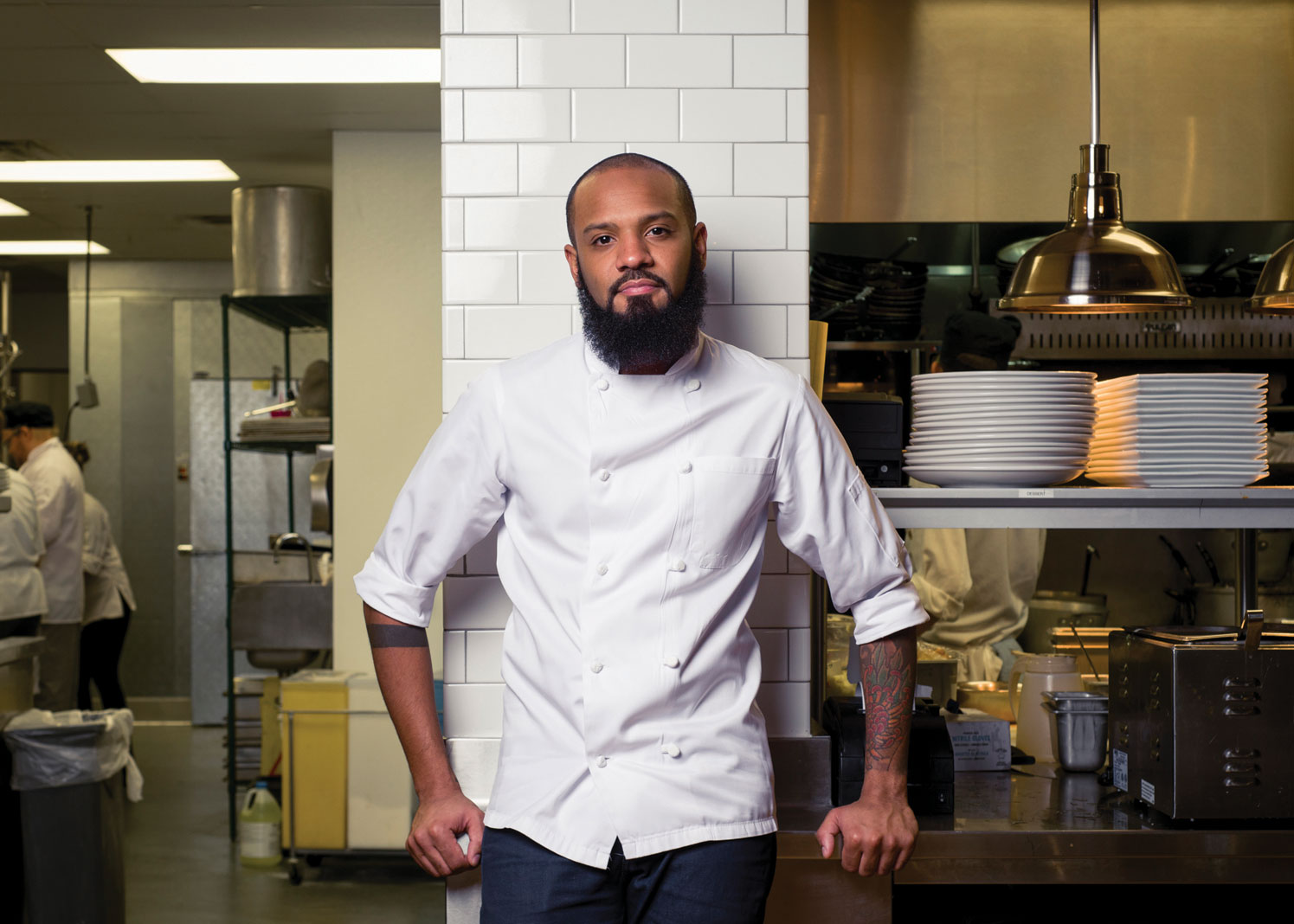 The New Black Movement

The thing about black-owned and -operated restaurants is that they often get pigeonholed as "soul food." We love soul food. But it's important to understand that black culinary contributions to America started long before the 1960s, when the term for that style of cooking was coined.
Enslaved black people were some of America's first chefs. Many of them were classically trained. It's very much time to give them long-overdue respect for shaping the way America eats. Minneapolis-St. Paul has seen a recent boom in local black talent running an exciting array of food businesses, including both soul favorites and some who are doing their very own, new-school thing.
Model Citizen
Mateo Mackbee and his partner Erin Lucas had the same dream as many chefs: of a restaurant and land to grow the food that goes into the restaurant. Funny thing is, they're actually doing the damn thing about 100 miles west of the Twin Cities in New London.
Model Citizen is not just a restaurant within a brewery (Goat Ridge Brewing) that has its own farm. It's also a benefit corp that brings in kids from surrounding areas to teach them about farming. And, coming this year, it opens Krewe, in homage to Mackbee's mother's native New Orleans. Expect New Orleans deep cuts, like turtle soup and stuffed mirliton, plus muffalettas and po' boys assembled on real-deal bread that's baked in the adjacent French bakery, with Lucas at the ovens.
Justin Sutherland's Empire
A year ago, Justin Sutherland was the handsome chef of Handsome Hog, the Lowertown "urban Southern-ish" restaurant. This year, he's much, much better-known. As an Iron Chef winner. As a Top Chef contestant. As the rapidly growing Madison Restaurant Group's managing partner. And as Allianz Field's culinary consultant. In other words, Sutherland is currently That Dude, having his big moment.
The chef's visibility is not only exciting for him, but exciting for Minnesota, long under-representative of black people cooking food on a household-name level. He was instrumental on the committee for this year's wildly popular national culinary competition Cochon 555, featuring a lineup much browner than it has been in years past, including Jose Alarcon (Popol Vuh), Yia Vang (Union Kitchen), and Mateo Mackbee (Model Citizen). Sutherland says he'll remain in the Twin Cities and continue to be a booster for all that is good, right here.
Native Recipes
As food traditions continue embracing local sourcing, the dishes passed down from Minnesota's Indigenous people are being rediscovered and celebrated. Of course, the only thing "foreign" about them is their ubiquity.
The Sioux Chef
Sean Sherman began his culinary career like any other—trying to find a place to fit in. Eventually, the Lakota chef had a revelation—what did Native American cuisine mean? He embarked on a quest to find out. Now he's the James Beard Award winner (along with co-author Beth Dooley) of 2018's Best American Cookbook The Sioux Chef's Indigenous Kitchen, helped develop the Tatanka Truck food truck, and is on the cusp of opening his first restaurant at the foot of the Stone Arch Bridge.
Instrumental to his culinary model is creating satellite projects around tribal regions, to facilitate their own indigenous food business, and then hopefully expand into networks that can flow into other large cities, in addition to Minneapolis.
The Mexico Obsession
Hordes of tourists visiting the trendy cities of Tulum, Oaxaca, and Mexico City in recent years has stoked an obsession with Mexico's deep culinary wisdom, passed down from the early artistry of Mayan and Aztec cooking. It's proven irresistible for excavation.
As a result, find Mexican-tinged, highbrow places cropping up all across the U.S.—even one of America's most lauded chefs, Thomas Keller, has opened La Calenda in California. These developments have opened conversations about cultural appropriation and who owns the rights to tortillas. Two places are opening that conversation right here, now.
New Ann Kim Project
James Beard Award-winning chef Ann Kim (Young Joni, Pizzeria Lola) says she's hesitating to call her upcoming place "Mexican." Instead, she says the restaurant, due to open around fall, will focus on the craft of the tortilla, specifically the nixtamalized (in which the corn is soaked and cooked in an alkaline solution and then hulled) traditional to Oaxaca.
"They're right on our border, and it's exciting," she says of Mexican cuisine and the current trend of big-name chefs, like herself, mining Mexican culinary tradition. "The depth and breadth goes way beyond tacos and chips and guac." Just as she once wanted to eat great pizza, she now wants to eat great tortillas. "I got obsessed." That obsession might result in a Mexico/Korea mashup, of the sort that has made Kim's pizzeria Young Joni a national sensation.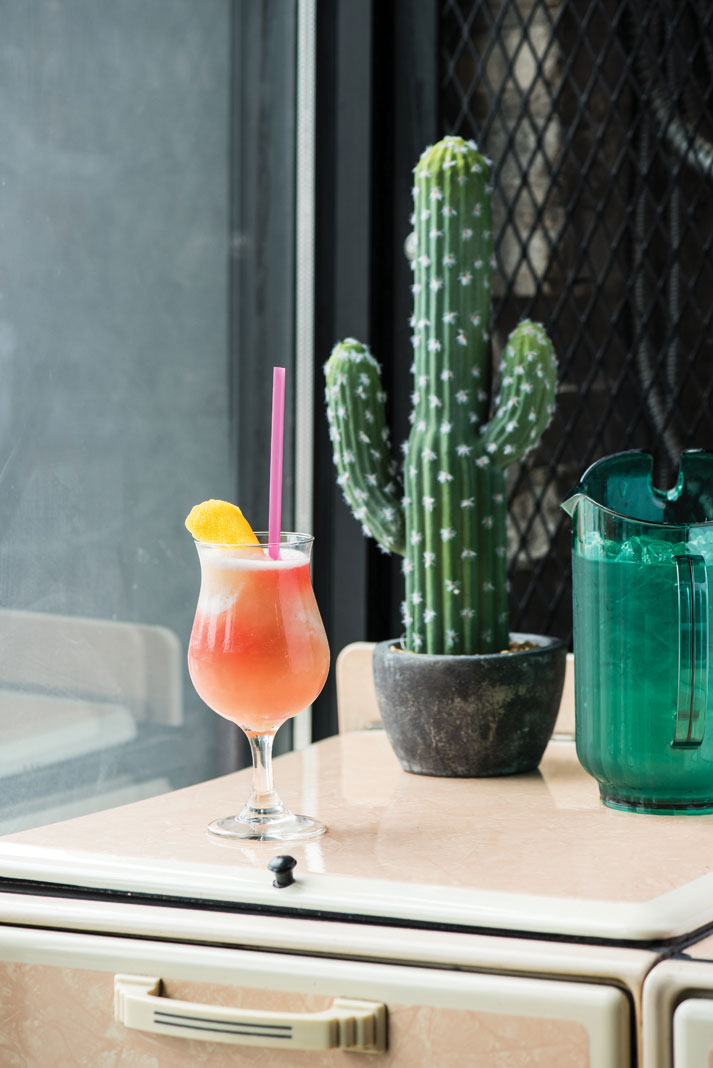 Popol Vuh/Centro
Early to the party, the team behind the progressive, and collective, Lyn 65 began planning Popol Vuh and Centro way back in 2016. True to their collective roots, they also made the extremely savvy move of putting Jose Alarcon, one of their cooks and a native of Morelos, Mexico, at the front. The result is Centro, a boisterous taqueria with inexpensive tacos and more-expensive cocktails, and Popol Vuh, a Mexican answer to progressive dining, the likes of which you might find if you hit up one of Mexico's progressive, chic restaurants right now.
Colita

As possibly Minneapolis' most admired chef of the moment, Daniel Del Prado (currently of Martina, formerly of Burch) went Mexican for his newest project. As an amenity to south Minneapolis' posh Armatage neighborhood, Colita offers a whimsical craft cocktail program (see a margarita that arrives with salt foam and a rubber ducky sticking out of it, bubble-bath style) and wood-smoker-forward menu. Handmade blue-corn tostadas provide a rustic edge against gossamer raw tuna and tempura fried shrimp. It may also be the only place in town to try chapulines—crickets—garnishing the aguachile, perhaps not coincidentally the finest dish on the menu.
South Asian Inventions

Since the Twin Cities have a lower South Asian population than many major cities, Indian and Pakistani food hasn't had as much opportunity to show its dazzling, technicolor potential as lovers of its rich cooking might fully enjoy. But two new restaurants are experimenting with some modern flourishes.
Pizza Karma

Eden Prairie, a growing South Asian enclave, is now home to a tandoor-fired pizzeria by noted cookbook author Raghavan Iyer. The clean space, outfitted not unlike a Punch Pizzeria, is fragrant with curry and masala, and imposing tandoor ovens behind glass exhibit the firing of naan, which emerge golden and become beautiful bases for ingenious pizzas.
If you think everything has already been done to pizza, try this captivating iteration of everybody's favorite food—this time with paneer, not mozz, and washed down with mango lassi instead of beer; though Pizza Karma has that, too, with a state-of-the-art tap system you have to see to believe.

Elephant Bar

While chef Lucas Almendinger says that his new St. Paul spot is not a Pakistani or South Indian restaurant, it's difficult to not to think of Elephant Bar as such, especially when the most exciting dishes on the menu are not the simply-seared halibut or dearly-priced ribeye entrees you can get anywhere. Instead, toggle over to the small plates section. A lamb kebab, packed with a market's worth of spice, gets enveloped in paratha so buttery it drips with each bite. Or, saffron basmati rice, served in a tagine frizzled 'til crisp as Saltines thanks to copious hot ghee, finished with duck confit and pretty pink pomegranate seeds.

Groundbreaking Pop-Ups
Not so long ago, if you didn't have a door and a sign to hang upon it, you didn't have a restaurant. Now, the fresh and ever-evolving way to be a food pro involves forgoing the endless barrage of expenses and woes related to traditional restaurant ownership for "playing restaurant" on a monthly or weekly basis. It's likely not a coincidence that minority chefs have found their way into the pop-up movement, and, with them, some of the most compelling food not available elsewhere.
Ophelia

Fine-dining pedigreed chef Tre Donte Hardy, most recently of Joan's in the Park, has been popping up at St. Paul's Octo Fishbar with his Ophelia brand. The seasonal experience features the likes of steelhead trout, ramp gnocchi, and a puree made from wild, foraged watercress making appearances on some of the prettiest plates anywhere.
Soul Bowl
With arguably the best soul food in the Twin Cities, Gerard Klass has nailed a winning, millennial-friendly formula of soul classics in a build-your-own-bowl format, mashed up with hip-hop culture in a youthful, fun package. Watch for a storefront coming soon, and, in the meantime, Sunday brunches at Breaking Bread from 10 a.m. to 3 p.m. Also, during baseball season, Soul Bowl is also the first and only black-owned vendor at Target Field.
El Norte
If you've never had a Sonoran-style burrito, know that they are indeed worth waiting in line for, outside and around the block. That is, after all, the strength of the pop-up: stuff you can't get around here anywhere else. Stuff like El Norte burritos, which start with specially ordered flour tortillas, arriving from Arizona, filled and then re-seared on the flat-top to give it a golden patina and crunch. Also serving Sonoran Hot Dogs, wrapped in bacon, seared, and finished with mayo, beans, and avocado; carne asada fries, perfect churros, and more.
Ono Hawaiian
When Warren Seta and Jess Kelley planned a pop-up at Cook St. Paul, to sate a hankering for the takeout lunches in Seta's native Hawaii, they never could have anticipated guests lining up 400 bodies at a time. Reminiscent of a "meat and three," an Ono Hawaiian Plate is served in a styrofoam clamshell box with two scoops of sticky rice, a scoop of macaroni salad, and an entrée, such as chicken katsu, Korean barbecue, or kalua pork. Don't miss banana breads served by the loaf.
Golden Horseshoe at Cook St. Paul

When Andrew Zimmern opened his pan-Chinese restaurant in St. Louis Park last winter amid a firestorm of bad press, national entities took note. Namely, the Washington Post, after Eddie and Eve Wu of Cook St. Paul and Chris Her of Union Kitchen decided to host a "clapback popup" entitled "Horseshit," cheekily referencing Zimmern's assessment of the Chinese restaurants that populate the Twin Cities.
Well, the dust-up has not exactly settled. The Wus received a call from one Gen Lee, a well-known Chinese chef living in Las Vegas (among his claims to fame include being a former private chef to Donald Trump and partner to Peter Chang, the chef whose name once appeared on an allegedly stolen Lucky Cricket menu item). Anyway, Lee had an idea: He'd send Szechuan master chefs to Cook St. Paul for a residency, as well as offer to train Chinese chefs in the area in the art of true Szechuan cooking—no shit. Golden Horseshoe runs Thursdays to Sundays through July.
House of Gristle
What is a restaurant if it doesn't have four walls? If it's a pop-up, but it doesn't just pop up? If what it reps goes way beyond cooking good food? Jametta Raspberry's House of Gristle pop-up is a movement. She founded her "house" as a hard-won response to the few places she could find to fit in as a black woman chef working in Minnesota.
In her quest, Raspberry found that she wasn't alone and is moving through the Twin Cities as a vocal emissary for creating spaces in the food world for women, people of color, and specifically black women. Look for her pop-ups, yes, but also watch for a podcast, curated parties, chefwear by and for women of color, and more.
Drinks
ONE Fermentary & Taproom
As the person behind the second black-owned taproom in Minnesota (the first is Montgomery Brewing, in Montgomery), Ramsey Louder has created representation in brewery culture where it was lacking, ever since brewery culture became a thing.
"It never occurred to me that I could do this as a career because I never saw anyone like me doing it," he says.
At ONE—a brewery, cidery, winery, and distillery in one—there will be people like him. There will be all kinds of people. "It will be a really diverse staff—people of color, women of color, queer folks. A place where everyone can feel comfortable," he says. "Hopefully people just refer to it as 'One,' which signifies community. A space for everyone. One unit."
For libations, expect a diverse menu, too—everything from session ales that are "tasty and not watered down," to lagers, to the "complex and experimental." And bring your beer-hating friends, because this place is one of the few in town that will serve it all. ONE opens this year in the North Loop.
Du Nord Craft Spirits
You already know that Du Nord Craft Spirits has been open and going strong in Minneapolis for years. But you may not know that it is, quietly, the first black-owned distillery in Minnesota, and the third in the nation. Which means it's not only a great place to get a mean neat whiskey or one of our finest local products, L'etoille Vodka—it also means it's a place of way more diversity than we've come to expect from cocktail-room culture.
Turn to Du Nord for black comics nights, black mixologists (all too rare locally), and community gathering events, such as Eat for Equity fundraisers that go far beyond cocktails and pretty ice cubes (though they have those, too).
A previous version of this story briefly referred to Jambo Kitchen, which has closed, and stated that it was on the East Bank instead of the West Bank. We apologize for any confusion.