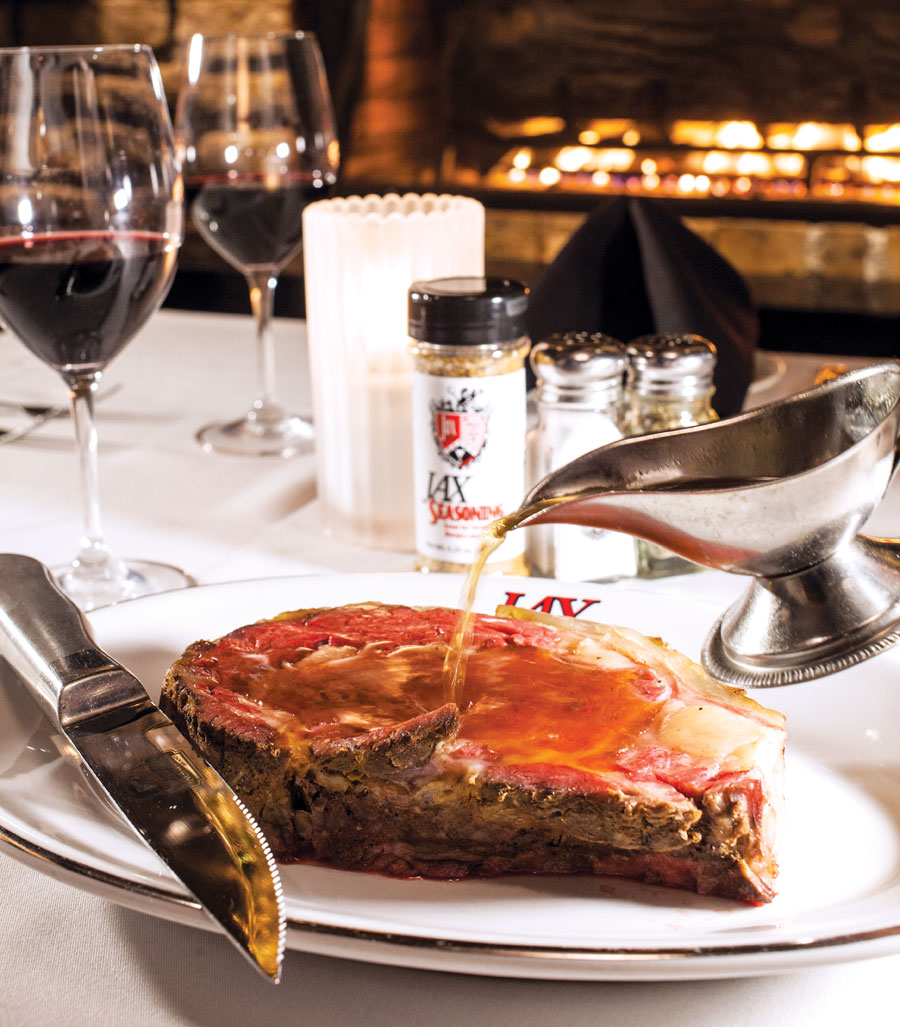 Easter dinner is going to be very unusual this year. We likely won't be gathering with a big family, and, frankly, some of us aren't going to feel up to cooking a big meal after we've been cooking dinner, running homeschool for our kids, and trying to manage working from home (assuming we're lucky enough to still be working).
Ordering Easter dinner to take home has the dual benefit of supporting our restaurants and giving yourself a break. Scroll to the bottom for grocery store options, but first here's our list of some of the best Easter takeout meals around the metro:
6 Smith
Added option for 2! Ham and prime-rib dinner for 4-6 ($195) or 8-10 ($325). Includes starters of Peel 'N' Eat Shrimp with Cocktail Sauce, House Smoked Salmon with Capers, and Toasted Baguette. Then, salads include Caesar and Grains & Fruit, with sides of Roasted Asparagus & Carrots with Green Goddess; Creamy Cheddar Mac 'N' Cheese; and Yukon Gold Mashed Potatoes with Beurre Monte & Scallions. Pick a pie (key lime, triple berry, or apple). Order via Tock and pick up Easter Sunday.
Bacio
Ready-to-heat dinner for 4-6 for $100: salad, asparagus or carrots, roasted or mashed potatos, braised brisket or ham plus 4 individual strawberry cheesecakes and fresh homemade bread and butter. Pickup or delivery, order by April 7. Call (952)-544-7000.
Baldamar
A per-person pricing model here provides an Easter brunch at home: Bread and cinnamon caramel rolls, chef's salad and fruit, then prime rib, ham, French toast, scrambled eggs, or tortellini with sides of bacon, sausage, and more. It's $24 per adult, $12 per kid. Pre-order by April 10, pick up Easter Sunday 10 a.m.-2 p.m. Details and online pre-order here.
Bellecour
Order a full Easter dinner or go a la carte: dinner serves 4 to 6 with sliced maple and mustard glazed Easter ham, pommes puree, glazed carrots, broccoli, gravy, rolls and coconut cream pie for $155. A la carte, order a dozen deviled eggs, a whole spinach and gruyere quiche, or any of the sides. Order online by Friday, April 10th for pick-up Easter morning.
Birch's on the Lake
Smoked pit ham, roasted turkey breast, peel-and-eat shrimp, scalloped potatoes, Gruyere whipped potatoes, corn-and-wild-rice casserole, carrots with herb butter, green beans along with a salad, and either cheesecake or lemon blue cake for dessert. It's $130 for 4-6 people, $230 for 6-8 people. Pre-order online by April 9, pick up Saturday 11 a.m.-5 p.m.
Brasa
Glazed ham with cheddar potatoes, collard greens with smoked chicken, brown sugar candied yams, spinach and cranberry salad, and cornbread. Feeds four people for $125. Order online by April 6, pick up Saturday, April 11.
Brickhouse White Bear Lake
Choose between ham, smoked turkey breast, or prime rib. Choose three sides, between scallop potatoes, mashed potatoes with gravy, green bean casserole, carrots with honey- ginger glaze, house salad, and spring greens. Two people can go for a $36 or $58 prime rib; four go for a $70 to $116 prime rib; and for eight people, a $130 or $220 prime rib. White chocolate raspberry cake is extra, $8-$30. Call 651-528-6958 by April 9 (2 p.m.-8 p.m.) for pickup on Easter Sunday.
The Capital Grille
Order a three-course family-style Easter dinner including a whole rack of bone-in filet, grilled asparagus and mashed potatoes plus a freshly baked Apple Crostata. Dinner for 4-6 for $185. Call the restaurant in Minneapolis to order at 612-692-9000.
Cherokee Tavern (West St. Paul)
A real bargain for Easter dinner – get sliced ham, roasted turkey, mashed potatoes and gravy, green bean casserole, chopped salad, rolls and a half apple pie to serve 4-5 people for $60. Call 651-755-4798 or email sales@cherokeetavern.com by Thursday, April 9. Pickup Saturday 2pm-5pm.
Cossetta
This is a feast! 8 pound double smoked ham half glazed with madiera, asiago scalloped potatoes, spinach cranberry salad, green beans with roasted peppers, 2 house made French baguettes and oh baby that award-winning Tiramisu pastry. This is dinner for 8 (or 2 with lots of leftovers) for $120. Pre-order by Friday, April 10th and schedule your pick-up upon request through Saturday, April 11th. Call Cossetta's Italian Market at 651-222-3476, Ext. 2.
Craft & Crew Restaurants (The Block, Pub 819, Stanley's NE, The Howe)
Meals for 2-3 or 3-4! There's a vegan brunch option too. Easter dinner has ham, caramel rolls, fresh fruit, cheesy potatoes, bacon, sausage patties, scrambled eggs, pancakes. Order online from The Block,The Howe, Stanley's or Pub 819.
Create Catering
This Easter menu includes a spinach-and-cheese egg bake, Truffle deviled eggs, ham, creamy cornflake potatoes, green beans, hot-cross buns, and carrot cake. Serves four, to pick up Saturday, April 11. Order online.
DeGidio's
My in-laws are Italian, and this sounds like their kind of Easter feast. Not traditional- but it's the DeGidio's heat & serve meal kits. Spaghetti & Meatballs, $49, Lasagna & Salad, $69, Mostaccioli & Sausage, $49, or Tortelloni Bolognese & Burrata, $59. These meals feed 4-6 people and all come with a garlic baguette, chocolate chip cookies, and instructions on how to easily heat them up. They are available from 3-8pm for Take-Out // Curbside, 4-8pm for Delivery, and you can pre-order them online through Saturday, April 11th.
France 44 Catering
À la carte Easter menu, featuring house-smoked ham, leg of lamb, or Alaskan coho salmon. Sides: a Manchego-leek quiche, mac 'n' cheese, and Comté scalloped potatoes. Order online here.
Hazellewood Grill & Taproom (Tonka Bay)
Easter to-go for 4 people for $100 (options for 8 or 12 available). 2 pounds of ham or turkey, smoked gouda potatoes, green beans, 4 slices of cheesecake. Call 952-401-0066 by April 8, pikcup Saturday April 11 from 1p-4p.
Jax Cafe
Easter brunch to-go serves four to six people. Pineapple glazed ham, Polish sausage and kraut, Jax bacon, cheesy hashbrowns, Jax chicken salad, egg strata casserole, and Danish Kringle. It's $150 per package. A dozen pierogis are available à la carte for $11. Order at reservations@jaxcafe.com, and enter "Easter Pickup" in the subject line. You'll pick up Saturday, April 11.
Keys Cafe
Keys in Hudson, Woodbury, and Roseville offer a pick-up brunch and dinner. Robert Street St. Paul and the Foshay Tower offer pick-up dinner. For dinner there will be a turkey & ham option including dessert and sides. The brunch will include quiche, potatoes, fruit and caramel rolls. Call your preferred location to order.
Kieran's Kitchen
Easter dinner for 4-6 features: Abundance Board featuring Red Table Meat Co salumi, Alemar Cheese Company soft-ripened cheeses and Baker's Field bread with house-made ferments and preserves. Ginger Braised Red Table Meat Co Ham, Creamy Polenta, Roasted Beet and Kale Salad, Carrots with Cheese Fondue and Garlic Breadcrumbs, Roasted Fingerling Potatoes with Garlic and Rosemary. Order online, and pick up Saturday, April 11.
Lake Elmo Inn
Two-pound ham, whole roasted chicken, potatoes, carrots, vegetable pasta salad, fruit salad, rolls with butter, and your choice of cakes: lemon-poppyseed, raspberry whipped-cream, or carrot cake torte. Serves four for $120, plus tax. Call 651-777-8495 to pick up on Easter morning, between 9 a.m. and noon.
Legends Club (Prior Lake)
Choose from glazed ham ($80), prime rib ($130), or a combo of the two ($115). Choose three side dishes: cheesy potatoes, potato salad, pasta salad, mixed greens, corn, green beans, or veggies. Plus, 12 dinner rolls and 12 iced sugar cookies. Pick up on Easter, 11 a.m. to noon or 4 p.m. to 5 p.m. Order by calling 952-226-9989.
The Lexington
Easter pickup dinner features sliced maple-glazed ham, green beans almondine, scalloped potatoes, house mixed green salad, 8 house rolls with butter and carrot cake. Serves four for $100. Pick-up Saturday, April 11 from 1-4pm or Easter Sunday from 9am-Noon. Call (651) 289-4990.
Lola's Lakehouse (Waconia)
Carved ham, au gratin potatoes, mac 'n' cheese, house salad, dinner rolls, spring veggie medley, and carrot cake. Serves four people for $75. Pick up on Sunday, April 12, between 10 a.m. and 2 p.m. Order by calling 952-442-4954.
The Lynhall
Easter "Take Lynhall" Home Dinner Bundles for singles, 2 people and up to 4 people featuring Chef Nettie's Rotisserie Chicken, Roasted Leg of Lamb, Pit Ham, Herb Crusted Prime Rib or for the vegetarians, Welsh Cauliflower Curry. Your dinner includes a mixed green salad and choice of a starch: Whipped Yukon Potatoes, Fried Red Potatoes, Creamy Mac & Cheese or Jeweled Rice and choice of a veggie: Grilled Broccolini & Kale, Roasted Baby Carrots, Green Beans. Price ranges from $25-$125, Order online by Thusrday April 9 at 5pm for take-out on Easter Sunday 11am-4pm.
Mason Jar (Eagan)
Easter Dinner for 4 ($70) includes herb-roasted strip loin with a mushroom demi-sauce, au gratin potatoes with shallots, choice of Brussels sprouts or seasoned vegetables, choice of garden salad with house-made balsamic dressing or caesar salad, and dinner rolls with butter. Add on a fresh made-from-scratch 9″ Key Lime Pie for $15. Call 651-340-7809 to order by 5 p.m. Apr. 10 for pick-up between 10 a.m. – 5 p.m. Easter Sunday.
The Oceanaire
Four-course dinner: jumbo shrimp cocktail and a 6-ounce filet mignon paired with four crab cakes, plus sides of asparagus, lobster mac 'n' cheese, and mashed potatoes. Key Lime Pie for dessert. Dinner for four is $150. Details here. Call 612-333-2277 to order.
Patisserie 46
Order Easter brunch for two for $60 or for 4 for $125. The brunch for four includes 4 slices of quiche (Lorraine or veggie), 4 croissants, 6 hot cross buns, 6 butter rolls, a jar of apricot jam, 2 praline eggs, 2 lollipops, 1 package of Sunny side filled caramel eggs and a 6 piece box of bonbons. (the brunch for two doesn't include the hot cross buns or the bonbons) Order online by April 9th for pickup Saturday or Easter Sunday.
Red Cow
Dinner is ham ($129) or beef tenderloin ($179), with cheesy Gouda hash browns, green bean casserole, roasted carrots, shallots-and-chili honey creme fraiche, French bread with garlic butter, and carrot cake. Serves four to seven people. Pick up at Red Cow in Uptown on April 10 or 11. Order online.
Rock Elm Tavern (Maple Grove & Plymouth)
Dinner for 4 for just $85: includes Honey Clove Glazed Ham, Cheesy Potatoes, Spring Salad, Baguette, Glazed Carrots, Sugar & Spice Sweetery Cinnamon Rolls (4 pack), Sugar & Spice Sweetery Cookie Dough (choose from Sugar, Peanut Butter or Chocolate Chip).
Details online, call to order: Plymouth 763.208.4451, Maple Grove 763.205.9784
Saint Dinette
A Saint Dinette dinner with Jello Salad! Yep – Dinner for 4 with 2 pounds of Maple-Glazed Spiral Sliced Ham, Scalloped Potatoes | mornay, cheddar, corn flakes, Asparagus | gribiche, Glazed Carrots, Dinner Rolls with whipped butter (8 rolls). Order online $125.
Tavern 4&5
Take and bake Easter dinner: honey glazed ham or rotisserie turkey with Kings Hawaiian rolls, tavern potatoes, asparagus or green beans, house salad, deviled eggs, bread pudding. $119 for 4-6 people. Call 952-934-4545 to pre-order through Thursday, April 9 at 3pm. Pick up Saturday Noon-4pm or Easter Sunday 9am-1pm.
Grocery Store Easter Dinners
Cub 
Ham dinner with scalloped potatoes, baby carrots, waldorf salad, King's Hawaiian rolls and a creme pie. Serves 6-8 for $80. Order online for store pickup or delivery.
Hy-Vee
Hy-Vee has a variety of Easter Meals: Applewood Ham, Brown Sugar spiral cut ham, chicken alfredo, smoked meats, lasagna, prime rib, or turkey breast. Prices range from $80-$180 serving from 6 to 12. Order online for pickup Saturday, April 11.
Kowalski's Markets
Order a ham dinner or a quiche breakfast. Breakfast has a 9″ quiche (ham & Cheese, denver, veggie or Feta Spinach) with a mini pit ham, fresh cut fruit, cheesy hash browns, a coffee cake and fresh orange juice. Serves 6 for $80. Dinner is a spiral-cut ham, carrots, 4-cheese hash browns, 18 dinner rolls, spring salad, and lemon champagne cake. Serves 8 for $130. Order online.
Facebook Comments