In 2021, it will take bundling up, seeing our surroundings anew, delving into fresh pursuits, and practicing patience to get us through the cold and the pandemic's changing stages. (That, and some takeout fried chicken or new cookbooks.)
The season doesn't have to be all blankets, Netflix, and booze—nor should it be none. The experiences we can share safely will get us through. Plus, those epic sunrises and sunsets bookending the days ahead. The world has already created enough for this to be an unforgettable winter. Now, add the tricks up our merino wool sleeves. Here are some moves—ranging from aspirational to totally doable—for the winter months ahead.
Ice Rink
For a DIY pro, it's all about engineering the whole thing from scratch. But some of our neighbors in the Twin Cities and western Wisconsin got an assist from IceTimeMN. (Related: How Backyard Ice Skating Rinks Saved This Winter.) The company can do a full install, or leave you with some boards and a set of instructions. They're even able to rig up a refrigeration system to keep the rink is usable for the longest possible stretch. You can turn to boot hockey, curling, and skating when the stir-crazies set in. icetimemn.com
Fire Pit
For many of us, the best hope of an adventure this winter is in our homes' outdoor spaces. Fire pits—either traditional wood-burning or gas—helped make patio space so crucial over the summer for socially distant hangouts and fresh-air relaxation. Ten X Ten Studio recently upgraded such a patio, in the Kenwood neighborhood of Minneapolis, to an artistic gathering space. With a gas-fire pit surrounded by wind-cutting birch trees, sitting around this fire feels like a forest retreat—but in the middle of the city. Optimize your own space to keep the drafty, cold air at bay with either natural or person-made windblocking protection, as well as heat lamps, heated seats, blankets, and the right gear. That's an atmosphere for hot beverages after an afternoon of snowshoeing or sledding. tenxtenstudio.com
Outdoor Projector
Keep movie nights alive this winter with an outdoor projector. And just think: no pesky bugs while you're bundled up with cozy blankets, masks, and hot chocolate. Outdoor Theater Systems in Eden Prairie is a source for projection screens, ranging from 8 to 20 feet, and sound systems designed in-house. outdoortheatersystem.com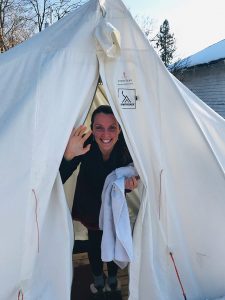 Sauna
Twin Cities-based Stokeyard Outfitters and Duluth's Cedar + Stone have multiplied sauna access across the Twin Cities and beyond. Past winters have seen full-on interactive sauna villages, but during the pandemic Stokeyard has been all about mobile sauna builds and rentals. For adventurers, they've developed 8-by-10-foot portable sauna tents made to be unpacked, assembled, and enjoyed while camping, or next to your patio.
(Re-)Discovering Chess
For those in search of a pastime that's thought-provoking and perfect for pairing with tea or a hot toddy, here is your official reintroduction to chess. With a quick refresh on the rules, the game fits inside your breakfast nook and next to the picture window. Not only did the recent Netflix phenomenon The Queen's Gambit spark chess set sales, it showed the game's potential as a mind-sharpening escape from racing thoughts. (Notable local tie: Minnesota grandmaster Wesley So, who resides in Shoreview, recently won the U.S. Chess Championship for the second time in October of 2020. We chronicled his rise back in 2017.) If you don't have a board and pieces, and don't feel like ordering one, you can compete online.
Curated Food and Beverage Boxes
Now is not the time for aimlessly wandering the liquor store aisles or fastidiously measuring out bulk coffee. The convenience of subscriptions and specialty boxes preceded the pandemic, but they make infinite sense currently.
With the Beer Dabbler's events on hold, the company rolled out the Dabbler in a Box series at Surdyk's to bring together a reliable, seasonal 12-pack of locally brewed excellence.
Duluth-based Wild State Cider is suddenly one of the state's best producers, and Friends of the Wild Cider Club sends a bimonthly 12-pack, plus goodies and perks your way.
Let your fromage-ination run wild with Surdyk's Cheese of the Month Club. Common Roots Cafe has added subscriptions for baked goods, meals and noshes, and even a monthly shabbat box, and Grand Cafe's upscale "The Grand at Home" meal boxes often come with MartinPatrick3 home goods packed inside—from candles to mixology tools—to add opulence to your experience.
Many of the best local roasters also offer coffee subscriptions, including Peace Coffee, Misfit, Wesley Andrews, Bootstrap, and Dogwood.
At-Home Cocktail Kits
Many fine cocktail purveyors offer up new colors and flavors to mix and match with their spirits in your at-home glassware. Norseman Distillery has more than 20 limited-run, non-alcoholic elixirs in 12 oz. cans—like Hazy Smoke, combining a tiki punch with Northwoods smoke. Flying Dutchman Spirits has added warm cocktails, including a Green Tea Hot Toddy, to its deep roster of packages, featuring a bottle of liquor, mixer, garnish, and recipe. Parlour St. Paul also added a hot-buttered cocktail kit with candied walnuts. One of the easiest? Tattersall Distilling's new pre-made Manhattan, which requires putting ice in glass, opening the bottle, and pouring until you like what you see. Up to you on installing more dimmer switches to complete the mood.
Facebook Comments