Pivots
Such creativity! Tim Niver's Saint Dinette focused takeout around their beloved cheeseburger. Bardo turned into a music recording studio and a hot dog joint. Jamie Malone's Eastside became La Pistola with lobster fries, Iberico Jamon, and anchovy sandwiches (and now it's Woodfire Pizza). Surdyk's Catering turned into a family meal service, France 44 sold mystery cheese boxes (which tasted better than it sounds), Broder's and Frankie's in New Hope created take-home pizza kits we loved. West St. Paul's Cherokee Tavern started Friday family fish fries and Saturday prime takeout night, and has been reborn as Jameson's Irish Bar.
Places We'll Miss

No doubt 2020 will bring the end of at least 100 Twin Cities restaurants. Some were teetering on the edge already, and others were destroyed because of COVID-19. When the Dayton brothers threw in the towel on The Bachelor Farmer and Marvel Bar we knew it was real. The ambition of In Bloom couldn't survive the shutdown at Keg & Case Market. Gavin Kaysen closing Bellecour in Wayzata felt momentous. Butcher & The Boar, no more. More than just high-end closures, though: Surly Brewing's Brew Hall and Pizza Upstairs closed indefinitely, and losing a neighborhood icon like Moose & Sadie's perhaps hit the hardest.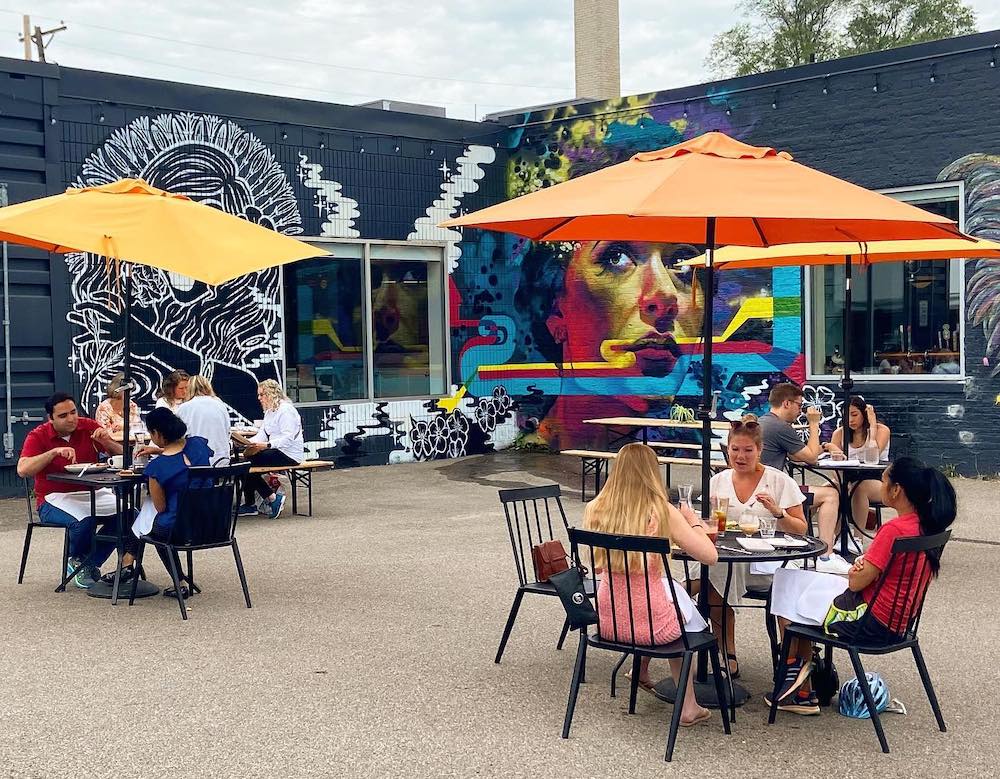 Pandemic Patios
It's been a tremendous year for the luxury outdoor tent industry. With restaurants opening only for outdoor dining in the summer of 2020, parking-lot patios popped up in the most unlikely of places. Anchor Fish & Chips, in northeast Minneapolis, set up their food truck in a lot next to the restaurant and built a socially distant escape. Pig Ate My Pizza opened a window onto downtown Robbinsdale's biggest outdoor pizza party. There's lush greenery in Martina's new outdoor space in Linden Hills, and before The Lynhall opened their second location in Edina, they built a huge outdoor tented patio on Lyndale in Minneapolis. In Stillwater, you're dining near dumpsters and in an alley, but there's still something charming about the patio shared by Lolito Cantina and Lumberjack Axe Throwing. Be careful about too much mezcal while you're trying to hit the bullseye, though.
Curbside Wine
We're trusting our wine experts to pick great bottles for us: Peter Vars travels the globe for his cellar series at Thomas Liquors in St. Paul. High-end drinkers are spending their money at Lisa Impagliazzo's North Loop Liquors. Chuck Kanski moved his rosé tent tasting to a curated case format at Solo Vino. Don Hanson and Mitch Zavada highlight wines from neighborhood restaurant lists at 1010 Washington.
Takeout
Back in winter, we wrote a cover story on takeout because more and more of you are eating out. Now, we all are. Centro's take-and-bake enchiladas and DIY nacho kits delighted, and I'll never stop ordering chef Yia Vang's Union Hmong Kitchen family meals featuring barbecue pork and purple sticky rice. Due Focacceria's namesake bread and walk-up window made for ideal picnic lunches. And everyone's turning their restaurants into a pantry: We got to cook with Mucci's fresh pasta, get veggies and meat directly from Wise Acre Eatery's farm in Plato, and I even made G&Ts with the fresh custom tonic made at Meteor Bar.
Drive-In Eats
After nearly five years sitting with its neon lights off, St. Louis Park's longtime sock-hop spot returned in time for socially distant dining, with a new owner (Mark Saliterman) and name (Clays Galaxy Drive In). Good luck deciding between nine different steak burgers and eight snappy dogs, along with a fried banana split that Archie's crew would approve of.
Bread Delivery
If Chris MacLeod and Tiff Singh opened a brick-and-mortar tomorrow, it'd be the best sourdough bakery in town. Which makes sense; they worked under carb wizard Steve Horton (Baker's Field, Rustica) before joining forces as Laune Bread. The small-batch service is driven by weekly deliveries and dropoffs, along with rotating "Baker's Whim" revelations like sesame flax and cinnamon raisin loaves that are anything but basic. –Andrew Parks
Snack
With or without wine, Angie's BOOMCHICKAPOP Rosé-Flavored Kettle Corn became an Instagram-ready pantry staple for these times. Its millennial-pink aesthetic spilled over into a DIY rosé candle project that would undoubtedly last longer than these virtual happy-hour-friendly bags of kettle corn.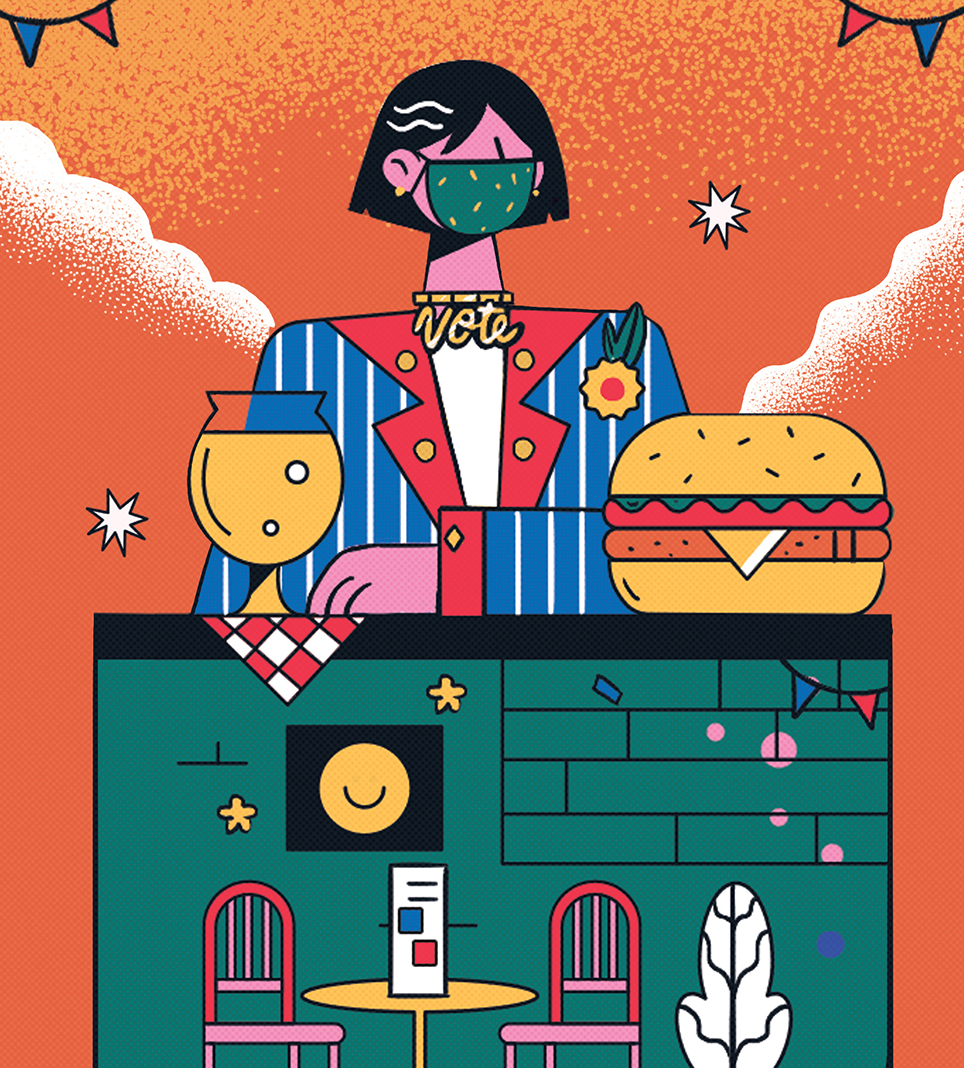 Helping Hands
Despite huge struggles, the food and beverage industry has stepped up immeasurably in 2020. Is there a chef or restaurant owner who hasn't donated meals or shifted to a community-based mission during the height of COVID-19 or after the death of George Floyd? We're particularly inspired by the work of Tomme Bevas, who turned Pimento Jamaican Kitchen on Eat Street into a community donation and supply center, feeding thousands of neighbors in need. Brian Ingram's Hope Breakfast Bar boxed up free pancake meals and teamed up with fellow St. Paul restaurateurs Justin Sutherland and Leo Judeh, together using the Fare Well food truck to bring meals to public school kids who didn't have easy access to school lunch.
Free meals have gone out to kids all over the state: Chapala Mexican Restaurant in Cambridge, Manea's Meats in Sauk Rapids, Molly's Cafe in Silver Lakes, Fitger's Brewhouse in Duluth, and Milissa Silva's El Burrito Mercado in St. Paul are heroes.
Gavin Kaysen used his national profile to advocate for those systemic efforts, fighting for a bailout package that restaurants still desperately need.
Duke Kim, owner of Duc's Restaurant in Woodbury, donated gift cards to first responders, then raised $5,000 for Second Harvest Heartland. Linda Goh and John Ng served ramen for free to anyone in need at Zen Box Izakaya, and everyone else was asked to pay what they could, which netted several thousands of dollars in donations that Zen Box paid forward to the COVID fighters at the M Health Fairview healthcare cooperative.
Tattersall Distilling, Brother Justus, and Du Nord Craft Spirits turned their stills into hand sanitizer factories, making more than 100,000 gallons. When rioters in his neighborhood set Du Nord on fire after the death of George Floyd, Chris Montana turned one of the few Black-owned small distilleries in the country into a food shelf for the community.