Restaurant of the Year: Demi
It's the first of the month and I've been doing the same thing I've done on the first of the month since March: sitting in front of a Tock website, trying to reserve one of the 20 seats in the hottest restaurant in the state of Minnesota.
Chef Gavin Kaysen's Demi is worth the effort, it's worth the cost, it's worth the wait. "The creation and personality started 14 months before we opened," Kaysen told me. "What we kept coming back to was that we need this place to be fun. It doesn't need to feel like fine dining has felt."
Located a few feet away from Kaysen's Spoon and Stable in Minneapolis' North Loop neighborhood, Demi brings the technique and precision and innovation you'd expect in a fine dining restaurant with a casual, fun, friendly service style that is very much the opposite. It's not stuffy. It's not pretentious. And with food this beautiful, it easily could be.
"My first fine dining experience of my life, I was 20 years old and I ate at the French Laundry," Kaysen says. His culinary career had begun at a Subway in suburban Bloomington, and he needed to buy a suit to meet the dress code at the legendary Napa Valley restaurant.
"I sat down and asked for a menu. The captain caught on, brought the menu they give you at the end of the meal and said, 'Sir, this is the meal for the afternoon. We bring out every course,'" Kaysen recalls. "Throughout that whole time I was never made to feel inadequate. I was treated like everyone was treated, even though I had no idea what was happening."
You buy a ticket to Demi because it is an event. It's $125 for the most expensive tasting menu—and before you think, "That's too expensive!" bear in mind that those tickets sell out in just minutes. So maybe it's underpriced. Upon arrival, you go into a tiny bar space, and then you're escorted through a velvet curtain to the horseshoe-shaped bar in the dining area. Each meal has somewhere between 10-15 courses, served by the chefs, and often Kaysen is there pouring the first warming course of broth.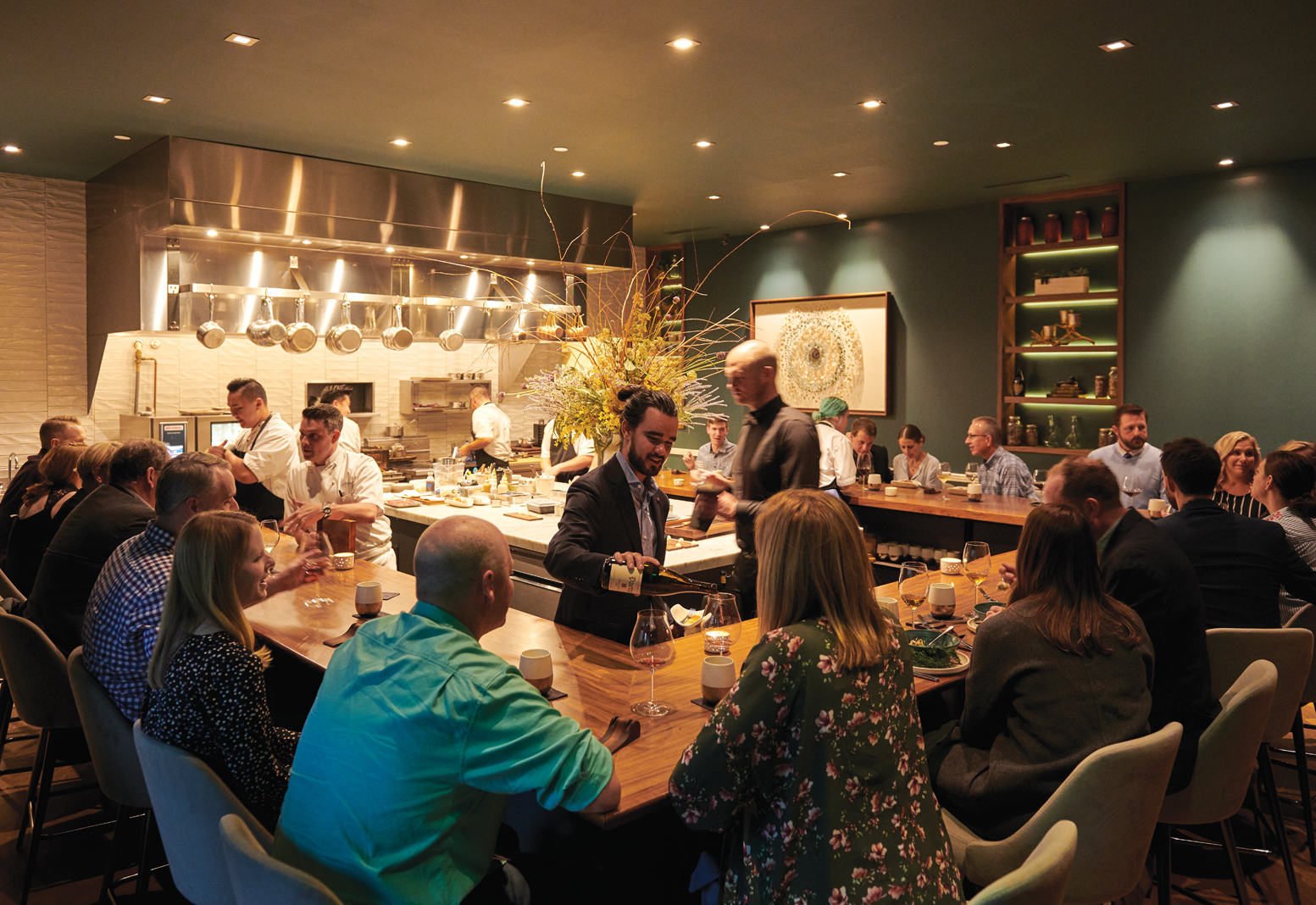 I know. That description even feels intimidating to me. "How do we make it not a terrifying experience?" Kaysen asks.
How did he do it? Kaysen tapped the best service and kitchen people from his restaurants Spoon and Stable and Bellecour. Their mission is not only to blow your mind with the food, but to blow your mind with the experience.
"I see it happen every night, they walk into that bar and are like, 'Whoa, this is different.' It's a small place, there's no menu, and it's behind this curtain. Once they sit down, we smile, we have fun with them," he says. It's a chef or server joking with you, a non-condescending explanation of ingredients, a presentation of a dish that's so surprising it makes you laugh. We expected Demi to be a top-notch culinary experience, but the feeling we had while eating there is Demi's greatest achievement, and it's why we had no doubt about naming it the best new restaurant in Minnesota.
If you get one of those limited seats, you'll experience an incredible sense of place and precision in the cooking. Rich sauces layered over fish, or rabbit, or mushrooms. Maybe a nettle mustard or a malt vinegar sabayon created by a local brewery. The microgreens or the honey might come from a friend of a friend of the sous chef. Chef de cuisine Adam Ritter came from Spoon and Stable, and his boss says Demi is next level. "At Spoon or Bellecour you have lulls in the service, where you can clean and organize," Kaysen says. "At Demi, you don't stop until you're done at 11:30, you never stop moving. It's a lot of pressure. As a chef, [Ritter has] really grown." Ritter did great stuff at Spoon, but the creativity he's showing now is something else. The intensity of creating a start-to-finish experience for 200 people a week has him shining.
Tristan Pitre's wine pairings are exciting at the standard level ($75) and luxurious at the reserve (as they'd better be at $105 each). And Diane Moua's desserts are as you'd expect: Perfect. Decadent. Whimsical. Not just in the beautifully plated desserts, like her orange and chocolate cremeux, but in the tiny bites that come next—perhaps a perfect sesame ball, an impossibly light macaroon.
It's no surprise that guests have come from as far away as South Korea just to enjoy a meal. "We want it to be a place that's only built in Minnesota, not that it was built for Minnesota. I am at Demi in Minneapolis, Minnesota. This is the only place that this restaurant could exist," Kaysen says. Combining the best ingredients and techniques from around the world with vegetables and meats that you can only find here in Minnesota, Demi not only is an achievement within its tiny walls, it also cements Kaysen's place in the top tier of culinary minds in the region and beyond.
Read Jason's original review of Demi.
---
Best Italian: Giulia
If you had told me in 2018 that chef Steven Brown, the genius behind Tilia and St. Genevieve, would help open a hotel restaurant featuring mozzarella freshly pulled at your table—let's be honest, you would never have told me that. Because it's crazy. But we love crazy! And it turns out that Giulia is far more than a one-trick, tableside-mozzarella pony.
Brown and chef Josh Hedquist, a Copper Hen veteran, make beautiful pastas. A venison agnolotti is a standout. Don't miss their pizzas, either—the clam on pecorino and the salumi with smoked ricotta are both excellent. Even the salads are special. I crave the black kale with the Calabrian honey vinaigrette.
The restaurant itself is stunning: soaring ceilings with marble columns, lush greenery, and huge windows to the street. Italian bitter spirits dominate the cocktails, including four Negronis ranging from the traditional to Mezcal. Located walking distance to U.S. Bank Stadium, it's my new favorite spot before a game or concert.
My fave: Trout saltimbocca with artichoke and salsa verde
Read Jason's original review of Giulia.
---
Best Downtown: Fhima's
Downtown dining in Minneapolis has been a relatively generic and overpriced wasteland over the past five years. And the grand, vast, dated, historically protected art deco Forum Cafeteria has been where two other restaurants quickly rose and died this decade. So who else but chef David Fhima would be crazed enough to take another shot?
And he is nailing it, with exciting food, impressive desserts, and thrilling cocktails. A flair for the dramatic has always been a part of the Fhima show, but here it's harnessed, restrained, and directed in ways that enhance the quality of the food or drink.
This food has heart and soul: the Moroccan salmon with charmoula, the shakshuka tomato stew with eggs, the Moroccan fried chicken with harissa barbecue sauce. The bar has life and energy, and thanks to Fhima's son Elijah, it's also a great spot to watch stars—from Timberwolves, Lynx, and Vikings players to hip-hop artists performing downtown. Fhima's is a redemption: for the old Forum, for downtown, and for David Fhima himself.
My fave: Rabbit stew with gnocchi and Gorgonzola cream
Read Jason's original review of Fhima's.
---
Best Fast Casual: Zettas
Tucked inside a nondescript building on Minneapolis' Eat Street, Zettas is a small but mighty restaurant. It's worth the hunt. The concept for seven flatbread sandwiches is simple: They make the ricotta, they make the dough. After you order, the dough goes through a flattener and is then freshly grilled on a flat top.
Ricotta is the base. You can go super simple and just have that luscious cheese with some oil or rosemary and honey. My 11-year-old loves the pepperoni and arugula, my wife wants the tomato jam and bacon. Simple, honest flavors from a trio of owners who love being a neighborhood spot all add up to a far better result than you'd expect.
My fave: Number five with prosciutto, tomato, arugula, and pesto
Read Jason's original review of Zettas.
---
Best Nordic: Willards
Erick Harcey was one of our state's most acclaimed chefs, chasing a James Beard Award, running two beloved restaurants, but also driving hundreds of miles every day to work. He got burnt out, and walked away.
After some recharge time, he and a friend bought the department store he worked in as a teenager in Cambridge, and put in a restaurant. Willards is open, airy, and Nordic—much like his Linden Hills spot Upton 43 was, but more casual and approachable. More…Cambridge. You'll find classics from his other old space, Victory 44, like the Perfect Burger and the Devils on Horseback (bacon-wrapped dates stuffed with blue cheese). But he's also doing a duck sausage and a Swedish potato dumpling called a Kroppkakor. Swedish meatballs, but also shrimp and crab cake. Most importantly, Harcey is able to coach his kids' sports teams and see his wife more often. His joy is evident as he works the room, and our joy is evident now that we get to eat his cooking again.
My fave: Swedish Caesar with ymerdys
Read Jason's original review of Willards.
---
Best Steakhouse: P.S. Steak
In a state where the steakhouse is king, it took some stones for the team behind Parlour Bar, Monello, and Constantine to open a new one, price it at the top of the market, and house it in the former home of the Upper Midwest's best restaurant, La Belle Vie. P.S. Steak delivers.
Outfitted by the forward-thinking Shea Design, this historic building near Loring Park exudes sex appeal. Chef Mike DeCamp's food matches the modern sense of the space. Sure, you can get hashbrowns, but why not roll with a cheesy, creamy aligot mashed? And who else is serving roasted carrots with a preserved lemon chimichurri? Save room for the baked alaska: salted-caramel ice cream and sponge cake—ignited tableside after a Chartreuse liquor bath.
My fave: Denver Steak
Read Jason's original review of P.S. Steak.
---
Best Suburban: Lolito
It's hard to get it right in the St. Croix river town of Stillwater. You're serving antiquers, day-trippers, boaters, and bachelorette parties—but can't be too fancy or fussy for the locals. The team behind LoLo American Kitchen on Main Street nailed it once, and now again at the Mexican-inspired Lolito.
Pick among four types of guacamole (I love the charred tomatillo), or try the unique, flavorful dumplings made from masa and served with chorizo and queso. Every dish has a twist that elevates it: king oyster mushroom tacos with avocado crema, a fiery burger with habanero and poblano peppers, pork chops with bacon and chimichurri. The tequila- and mezcal-heavy cocktails are glorious, and the service is even better.
My fave: Duck carnitas tacos with charred salsa verde and crispy duck skin
---
Best East of the River: In Bloom
The first thing you notice: So. Much. Fire.
In Bloom's 20-foot-long, centerpiece hearth is the biggest I've ever seen in a restaurant. Dominating a corner of St. Paul's Keg and Case Market, this masterpiece space is from chef Thomas Boemer and restaurateur Nick Rancone, the team behind Revival and the soon-to-be-reconcepted Corner Table.
Fire-kissed duck hearts, roasted dates and grapes, grilled fennel salad—it's not just the main proteins that benefit from the flame. But oh how it transforms the double-thick Berkshire pork loin, and the Vietnamese spin on a pork belly with nuoc cham. The two-pound porterhouse steak is the showstopper, but it's the elegant mastery of the fire for the more-delicate dishes like the venison gnudi and grilled zucchini soup that make In Bloom something special.
My fave: Chicken thigh with barley leek risotto and morel mushrooms
Read Jason's original review of In Bloom.
---
Best West of the River: Colita
Hard to imagine a lot of people thought a high-end Oaxacan restaurant would be packed virtually nonstop throughout 2019, but the team behind Colita created real magic in the bones of a south Minneapolis auto service station.
Remodeled with lush greenery everywhere, Colita transports you to southern Mexico with exotic ingredients and surprising flavors. You love cacio e pepe on pasta? Transform those flavors into a stack of tostadas. The beef tartare pops with roasted Fresnos and burnt onion. Cocktails from Marco Zappia couple delicate fermentations with presentations that make you smile, laugh, and post immediately to your Instagram.
My fave: Chicken liver memelita, topped with shiso leaves and sprinkled with hibiscus
Read Jason's original review of Colita.
---
Best Noodles: Magic Noodle
Does a hand-pulled noodle taste better than a noodle rolled out using a machine? One trip to Magic Noodle on University Avenue and you'll be a believer. Witness the stretching and twisting and spinning strands of dough to not-quite-identical thicknesses. Taste the Sichuan cold noodles or the Lanzhou noodle soup, and you'll notice the extra human touch behind the terrific flavors that can't be store-bought. Don't sleep on the non-noodle dishes: The cumin mutton hand-pie sandwich, Sichuan wontons, and beef fried rice all delight. The value here is ridiculous; almost every dish is around $10.
My fave: Chongqing Spicy Noodles
Read Jason's original review of Magic Noodle.